ioSafe
SOLO G3 USB 3.0 Fireproof and Waterproof External HDD
The safest, most advanced, fireproof, waterproof external hard drive in the world, the ioSafe Solo G3 delivers unmatched data protection for your digital lift - your memories media, and documents - at a price anyone can afford.
Overview
The Strong Silent Type
Perfect for sensitive ears in the home, home office or studio, the ioSafe Solo G3 + Data Recovery Service (DRS) is a fanless fortress for your data. For users who demand that data storage be protected and not heard – the Solo G3 with the latest fanless FloSafe Vent Technology is strong and silent.
Combining an array of proprietary technology the ioSafe Solo G3 + DRS delivers unparalleled protection for your digital life in a solution that is pure simplicity.
Fanless FloSafe Vent Design for near silent operation
Fireproof - Protects data from loss up to 1550°F for 1/2 hour per ASTM E119
Waterproof - Protects data from loss up to 10ft for 72 hours
Data Recovery Service - Up to $2500 for forensic recovery
USB 3.0/USB 2.0 Connectivity - Mac and PC Compatible1, 2
1
For capacities of 3TB and higher, support is limited to Windows 7 and Mac's with an Intel Processor.
2
The Solo G3 does not support Windows Server or Linux. If support for these operating systems is needed, please choose the eSATA SoloPRO.
Features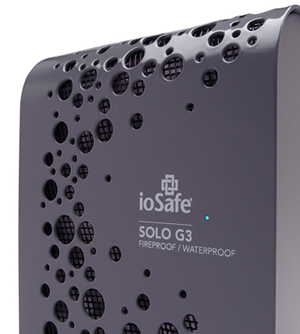 In a League of Its Own
While other drive manufacturers were spending their time masking the same old unprotected hard drives in brightly colored enclosures, we were busy creating the ioSafe Solo G3 – the safest, most advanced hard drive in the work. Then to top it off, we wrapped it in a purely elegant design and backed it with an unparalleled Data Recovery Service.

The result: A combination of technology, design and versatility that is truly in a league of its own.
Like an Airplane's "Black Box" for Your Data

Fireproof
Protects Data from Loss up to 1550°F for 1/2 Hour*
DataCast endothermic fire insulation technology protects your data from extreme heat. The DataCast formulation forms a chemical bond with water molecules that, at temperatures above 160°F, releases water vapor to limit the internal temperature of the unit during a fire.
*Per ASTM E119

Fan-less Near Silent Cooling
Perfect for Home, Small Office or Studios
Our latest FloSafe airflow cooling technology designed for near silent operation. Perfect for customers with sensitive ears who want the cooling and fire protection but want the silence. If destructive heat levels are sensed, such as in a fire, the FloSafe vents limit and protect your data from the extreme heat.

Waterproof
Protects Data from Loss up to 10ft for 72 Hours
HydroSafe water barrier technology is designed to protect data loss from fresh or salt water damage, including full immersion. While keeping your data dry, the HydroSafe technology still allows heat to dissipate during normal operation.

Theftproof
Kensington Lock Slot + Bolt Down Capable + Padlock-able
A Kensington lock slot is compatible with all Kensington Locks. The built in anti-theft tab allows you to easily secure the ioSafe Solo to any surface and keeps your data protected in the event of a break in. Securing the drive also prevents the drive from moving during a disaster.

Data Recovery Service
1, 3, or 5-Year Plans Available
The ultimate safety net for the ultimate hard drive, the ioSafe Data Recovery Service (DRS) provides a one time use, no questions asked data and hardware recovery service. For any loss, no matter the reason.

USB 3.0
Backward Compatible to USB 2.0
Blazingly fast, yet plug-and-play USB 3.0 connectivity, allows you to use your ioSafe with virtually any Mac or PC. Data transfer up to 5Gbps.

No-Hassle™ warranty
If your ioSafe Solo G3 stops working for absolutely any reason within the warranty period, we'll replace it or repair it. It's that simple.

Backup Software and Encryption
Includes the award-winning Genie™ Timeline Pro backup software ($60 retail value) that features Continuous Data Protection, Full System Disaster Recovery, Open File Backup, backup of files synced between your iPhone/iPad/iPod or BlackBerry device and computer, and more. Open-source encryption software TrueCrypt is also supplied.
A Plug and Play Disaster Plan for Your Digital Life

Protect Your Memories
With the ioSafe Solo G3 fireproof waterproof external hard drive you can rest knowing that your priceless memories – your family photos and home videos – are safe no matter the circumstance. Spend your time making memories, not worrying about how to protect them.

PC and Laptop Backup
Want to protect your entire digital life – your photos, videos, media, emails, and documents – in one fell swoop? The ioSafe Solo is the simplest and safest way to instantly protect your entire PC or laptop. Never again worry about losing your data when your computer or hard drive crashes. When you backup your data to an ioSafe Solo restoring your computer after a disaster is fast and painless.

Simple Plug and Play
With its simple yet blazingly fast USB 3.0 interface, getting the ioSafe Solo up and running is as simple as plugging it in. Plus, USB 3.0 gives you the ability to use your Solo with almost any Mac or PC.

In-Home Media Vault
With the ioSafe Solo G3, your extensive music and movie libraries are protected against almost anything. Never again will you have to worry about losing your favorite albums, playlists, or movies. With your media protected, you'll get to spend your time enjoying your media collections – and never risk wasting time and money restoring them.

Supplement Online Backup
Don't leave yourself vulnerable for weeks or months trying to backup your entire computer to the cloud when you can have the ioSafe Solo G3 protecting your entire digital life in minutes. Complementing your existing online backup solution with an ioSafe Solo gives you the best of both worlds. Online provides offsite redundancy while the Solo G3 gives you the real-time backup, fast recovery speeds, privacy, and security life demands on a daily basis.

Protect Your Identity
With the ioSafe Solo G3 you can easily and instantly protect and secure your personal financial information. Protect your private personal financial information from corruption, loss or identity theft by storing it locally and privately on your Solo.

Theft Protection
With the ioSafe Solo G3 built in Keningston Lock Slot and bolt down flange you can bolt the drive down to any surface so you'll never have to worry about your data walking out the front door in the event of a break in or robbery.
Data Recovery
The Ultimate Safety Net for the Ultimate Hard Drive
The ioSafe Solo G3 Data Recovery Service (DRS Basic) provides a no questions asked data recovery service. For any loss, no matter the reason. Whether you're a victim of a drive failure or your child throws your drive in the family swimming pool – we've got you covered.
With the ioSafe Solo G3 DRS Basic you get to enjoy the peace of mind that comes from knowing your data is protected by the best data recovery service in the industry.
Data Recovery Service for any reason. No deductible for initial
Up to $2500 included for forensic data recovery if required
Global, mail-in repair coverage with free shipping for DRS events
Direct access to ioSafe's experts – one point of contact
Replacement hardware pre-loaded with recovered data
Extend No-Hassle Warranty too.
Only 99¢ per Terabyte/Month to extend coverage up to 5 years – compare to cloud backup!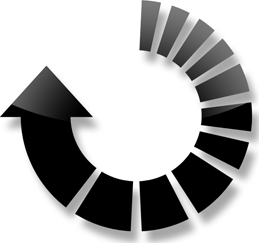 Unmatched Coverage – Standard
Every ioSafe Solo G3 comes with a one-year limited warranty and one-year of complimentary data and hardware recovery support. That means right out of the box, you get the most thorough data protection plan in the world - for free.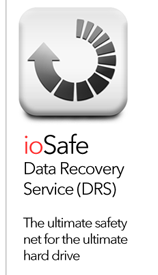 Step It Up a Notch
Want to step up your data recovery protection even more? No problem. For as little as 99¢ per Terabyte/Month, your coverage and warranty can be extended up to five years. Pre-pay for the five years and save up even bigger.

Any loss. Any reason. Really.
When we say "any reason" we mean it. It doesn't matter what happens. We've got you covered.
Need a few examples? We've got that covered too.
Fire damage
Flood damage
Accidental damage
Human Error
Disk failure
External Enclosure failure
Accidental deletion
Viruses
Power failures
Soda / Juice / Maple Syrup accident
Anything you can think of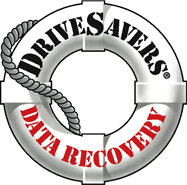 Forensic Data Recovery
ioSafe's recovery experts are able to fully recover the vast majority of disaster exposed drives, but if ioSafe is not able to recover your data in-house, ioSafe will team up with the experts at DriveSavers to help recover your data. The ioSafe Data Recovery Service provides up to $2500 towards forensic data recovery efforts.
One Point of Contact
Because efficiency of communication is vital during a crisis, the ioSafe Data Recovery Service gives you one-stop service and support and a personally assigned Recovery Team Leader who will guide you through the entire recovery process.
Gallery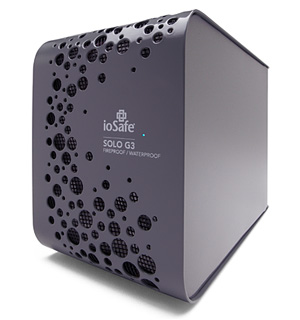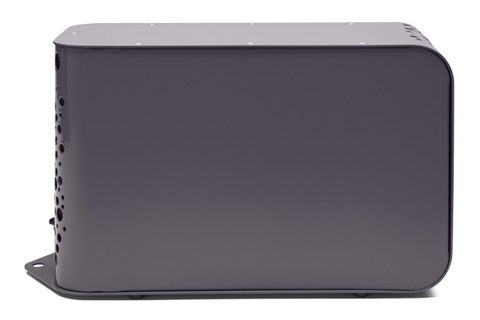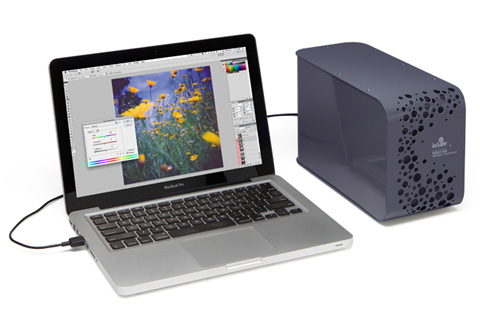 Tech Specs
Operational Details
Single 3.5" SATA drive
Fanless, near silent cooling
Multi-platform compatibility: Windows and Mac
USB 3.0, up to 5Gbps
Disaster & Security Specifications
Protects Data From Fire: DataCastTM Technology. 1550°F, 1/2 hour per ASTM E119 with no data loss.
Protects Data From Flood: HydroSafe™ Technology. Full immersion, 10 ft. for 3 days with no data loss.
Tested per UL, FCC and CE Standards
Proven data protection and recovery. Tested to ASTM E119 standards for fire exposure.
Physical theft protection: Cable lock or floor Mount capable
Support
1 Year Data Recovery Service (DRS Basic) Extended plans up to 5 years available.
1 Year No Hassle Warranty for any malfunctions. Warranty extends with extended DRS plan.
Inside the Box
ioSafe Solo G3 USB External Hard Drive
USB 3.0 Cable
Power Supply
Solo G3 Quick Start Guide
Electrical
Electrical – AC input
Voltage: 80 ~ 264 VAC at 50/60HZ
Typical Power Consumption: <25W
System Requirements
Intel Pentium II 350 MHz-compatible or Mac G3 processor & greater
Microsoft Windows XP/Vista/7 or Mac OS 8.6 & greater
USB supported for Microsoft Windows XP onward, Mac OS X onward.
For USB 3.0 speeds, the system must support USB 3.0 specifications
Physical Specs
Dimensions (W x H x L): 5.0 x 7.1 x 11.0"
Weight: 15lbs