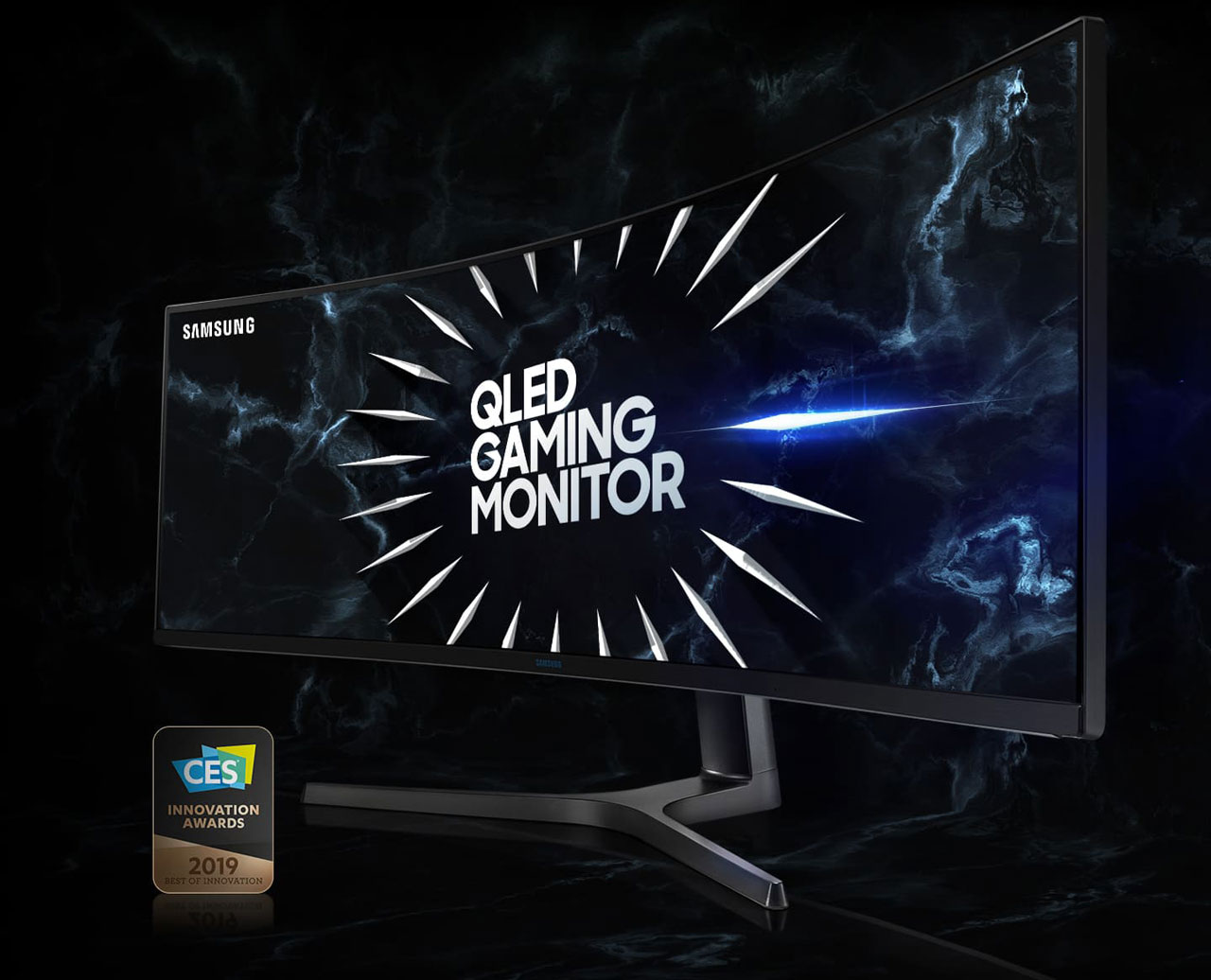 Samsung CRG9 Series C49RG90S
49" QLED Gaming Monitor with Dual QHD for the ultimate gaming experience
Immerse yourself in an expansive, super detailed gaming world with 32:9 ultra wide, curved screen with up to 5120 x 1440 resolution. You can also display two different video sources side by side on the screen, turning it into two traditional 16:9 monitors, but with zilch bezels. In terms of picture quality, this monitor features Quantum Dot technology, HDR1000 capability and up to 120 Hz refresh rate, with low blue light and flicker-free technology for comfortable all-day use. Gamers will delight in an array of gaming-oriented features like Game Mode, Low Input Lag Mode, onscreen crosshair, and AMD FreeSync that eliminates stuttering and tearing.
One HDMI 2.0 and two DisplayPort 1.4 inputs interface with your computer and game console, and two USB 2.0 and two USB 3.0 ports are built onboard for your convenience. Plus, the stand supports adjustment of tilt, swivel and height, allowing you to customize the position to match personalized comfortable needs.
Dual QHD Display
The CRG9's 5120 x 1440 Dual QHD resolution provides a super ultra-wide aspect ratio that lets you view more content in superfine detail. With screen space equivalent to two 27-inch QHD displays side by side, the 49-inch curved monitor delivers a wider view for winning play.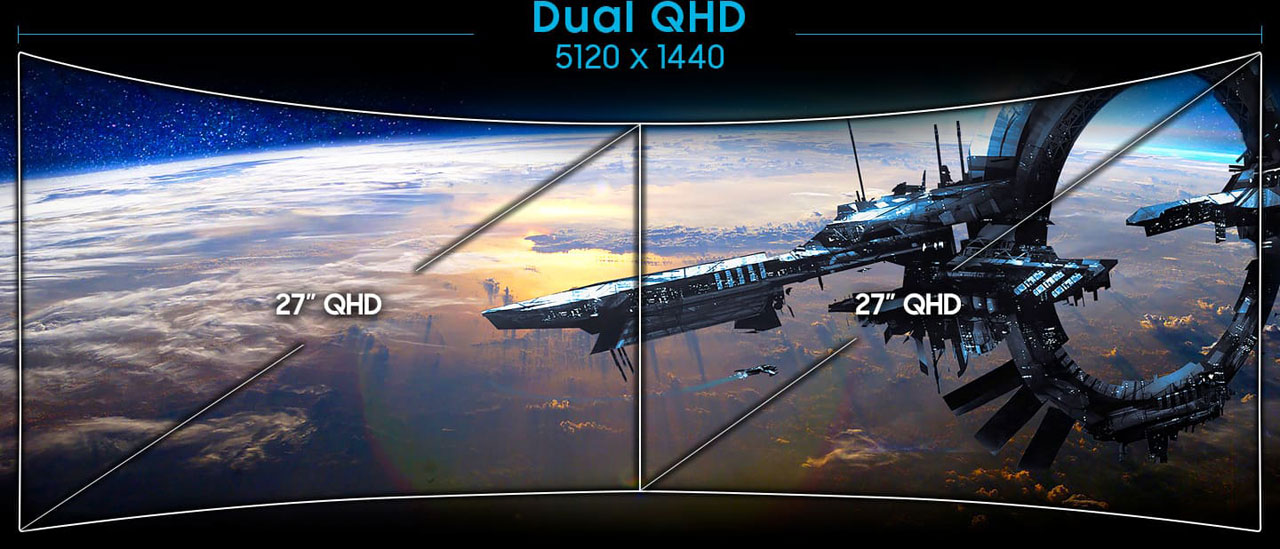 Super Ultra-Wide Curve
With a Super Ultra-Wide 32:9 ratio, the CRG9 curves around your field of view to immerse you in all the onscreen gaming action.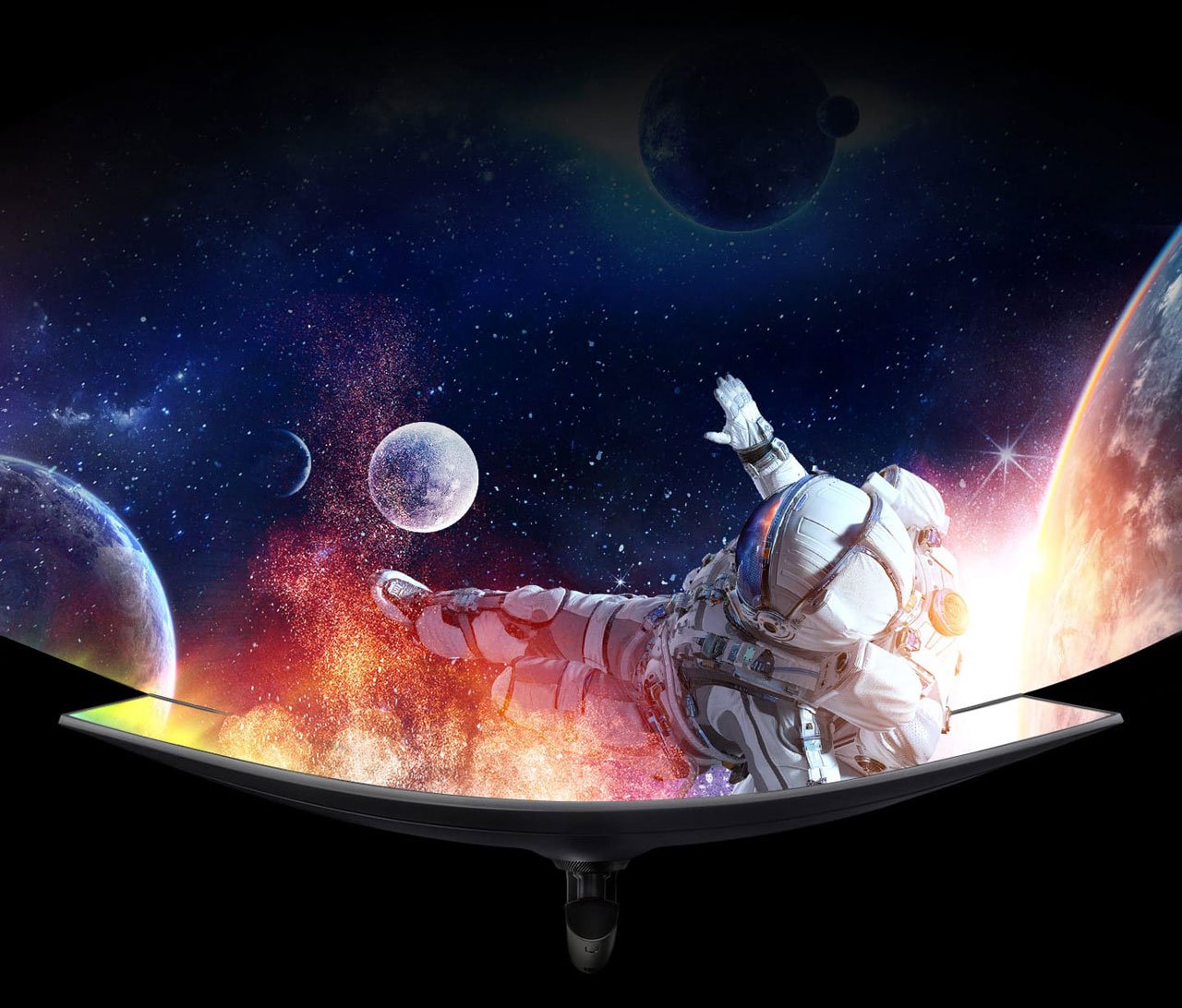 HDR1000 and QLED
HDR1000 supports a peak brightness rating of 1,000 nits for true high dynamic range (HDR content). And with Samsung QLED technology delivering 95% DCI-P3, colors are purer, brighter and truer to life than ever.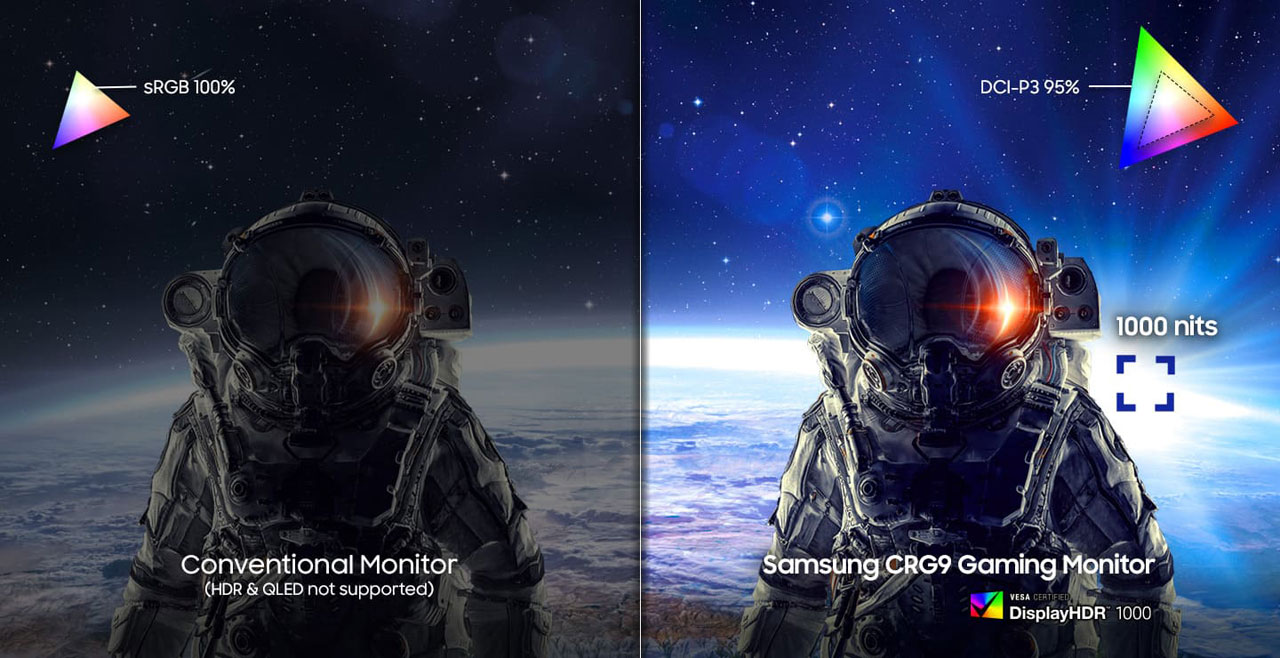 AMD Radeon FreeSync 2
Based on the adaptive sync technology of the original AMD Radeon FreeSync 2 HDR Technology to reduce stutter and screen tearing, premium features in FreeSync 2 include support for HDR content display, reduced input latency, and Low Framerate Compensation (LFC) for effortlessly smooth gameplay.
120 Hz Refresh Rate
The rapid 120 Hz screen refresh rate minimizes image lag and motion blur for smoother gaming. The user-friendly 60 Hz settings let you quickly optimize performance via the on-screen display without having to access the display setting menu.
* Color support limited to 16.7M when using 120Hz refresh rate.
Play to Win
The game-optimized monitor is designed to let you play to win. Turn on Game Mode to instantly adjust contrast and color settings for any game genre, switch to Low Input Lag Mode for even faster response times, and target your enemies more accurately with Virtual Aim Point onscreen crosshairs.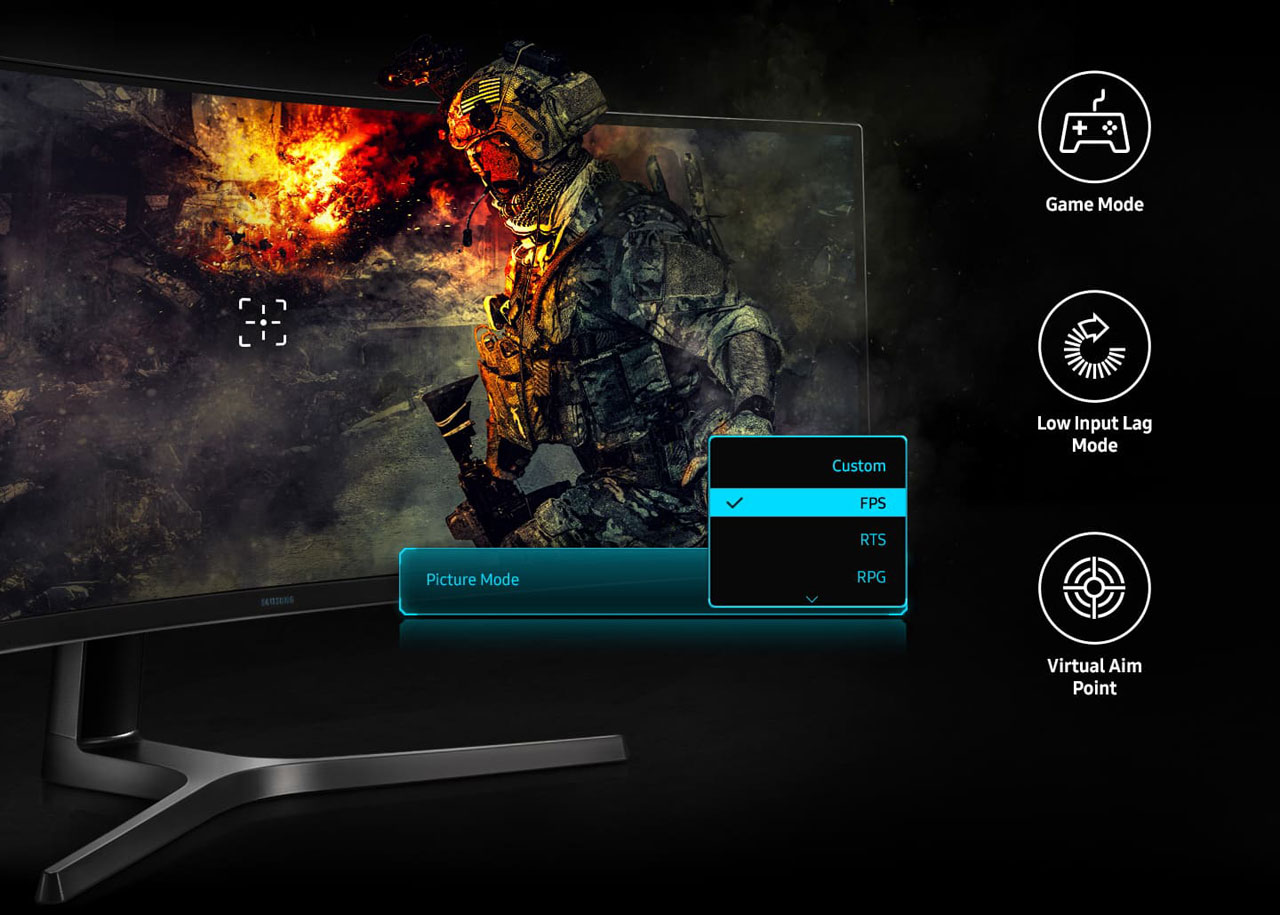 Picture-by-Picture
With Picture-by-Picture you can connect and view input sources without degrading the original image quality. Picture-by-Picture offers convenience for PC games. For example, you can watch a movie and do a web search whilst playing your favorite game.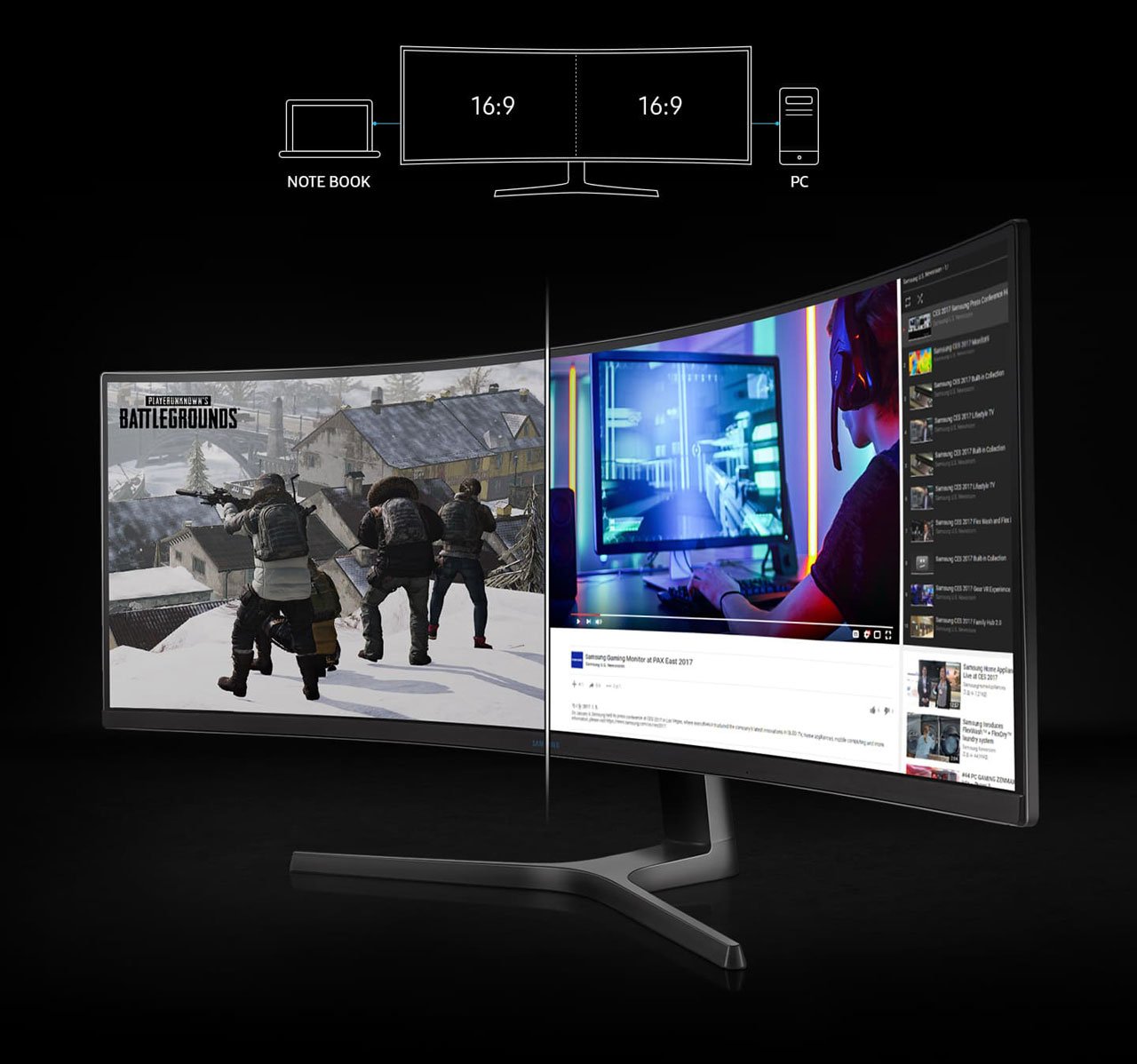 Eye Comfort
Eye Saver Mode reduces fatigue-inducing blue light emissions and Flicker Free technology suppresses distracting screen flicker, letting you play for longer with less eye strain.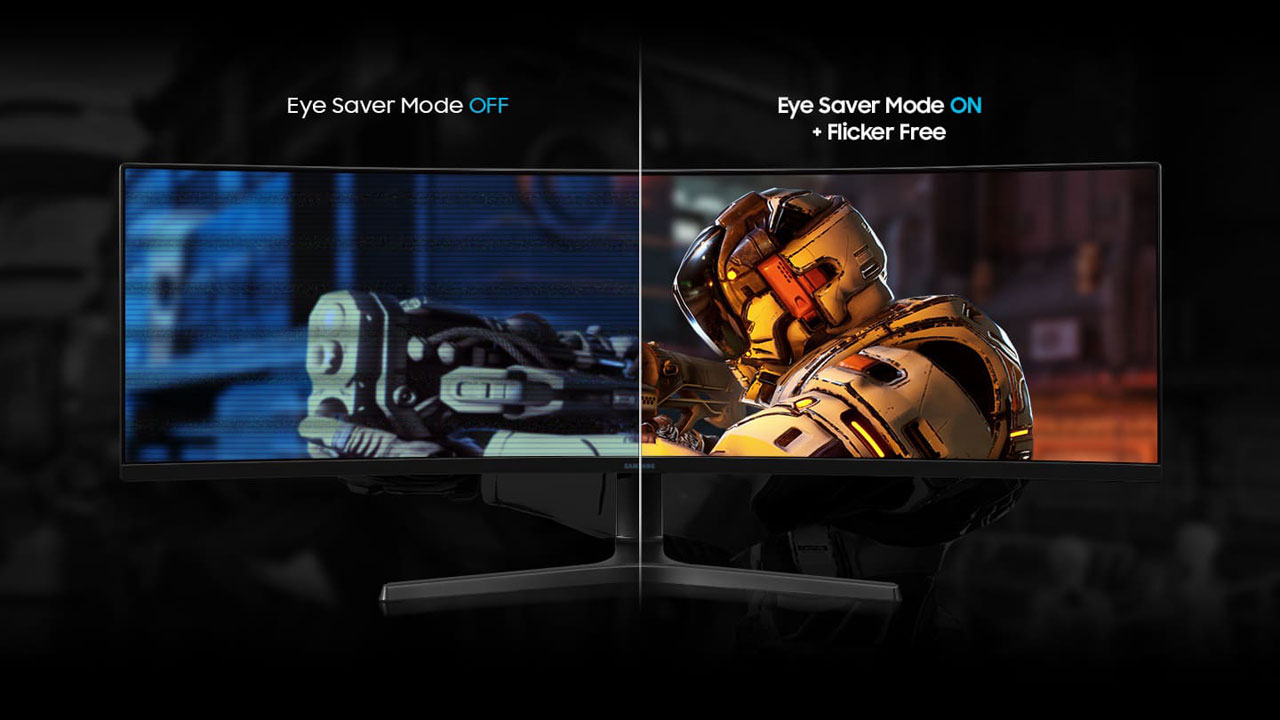 Optimized Viewing
The swivel/tilt and height-adjustable stand offers all the flexibility you need to position the screen for maximum comfort. The panel's VESA Standard mount also offers the option of mounting on VESA-compatible arms.