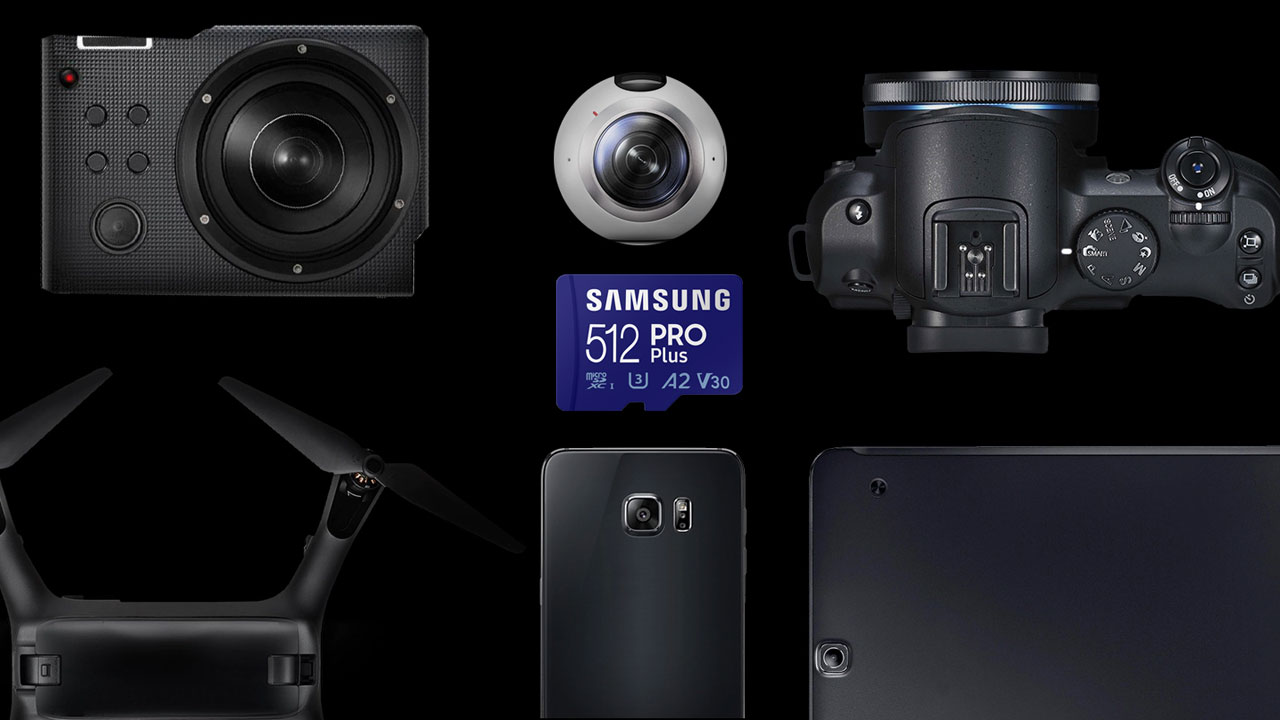 Samsung PRO Plus microSDXC card
Get the most out of your drone, action camera, dash cam or even pro-level imaging devices. This ultra-fast memory card captures and saves 4K videos and burst photos without missing a frame, while Application Performance Class 2 (A2) rating means your Android apps and games run smooth and responsive. Capacity of up to 512 GB lets you shoot and save more videos, and up to 160 MB/s sequential read speed allows you to transfer that footage fast. The PRO Plus card is also engineered to be tough and durable, so your precious memory stays safe and sound no matter what rigor your adventures throw your way.
Your new go-to card
Supercharged write speeds and trusted performance lets you capture seamless 4K videos¹ on your compatible phone or drone. While expanded storage gives you freedom to play more high-performance, intensive games on your tablet or gaming device.
¹ Requires a compatible phone or drone capable of filming 4K video.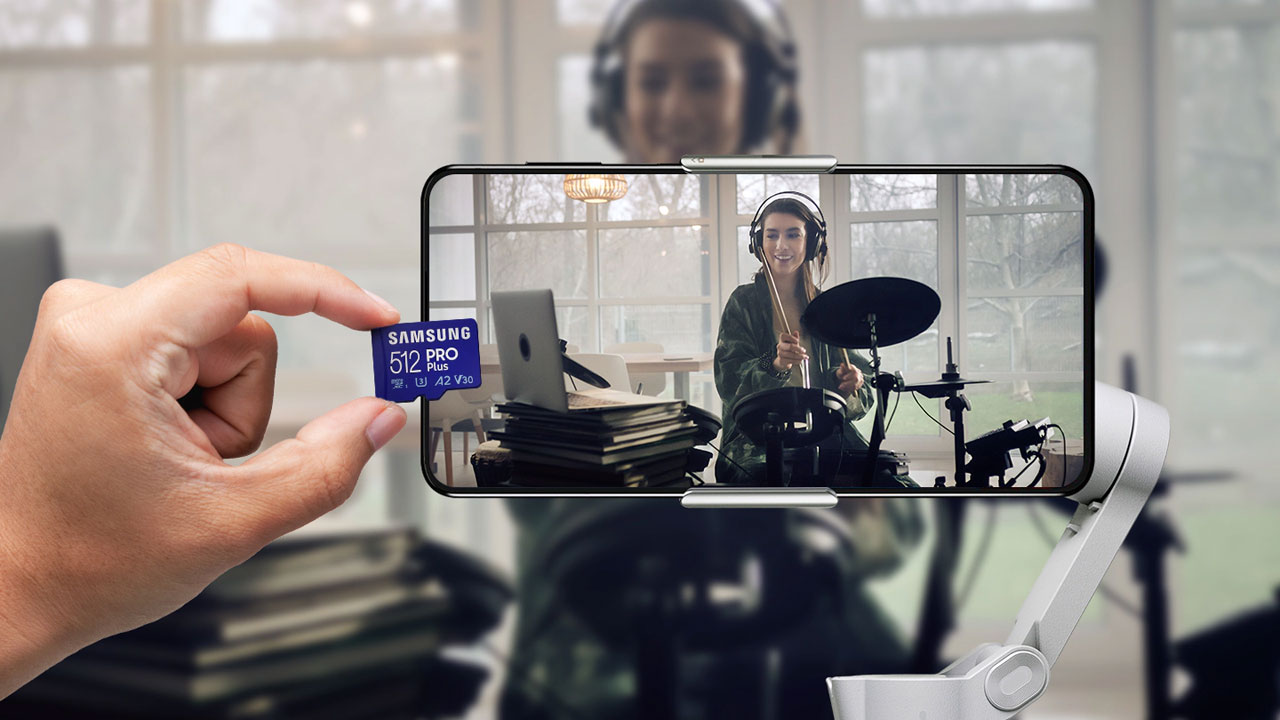 Take your burst shot
Stunningly fast U3, Class10 rated read/write speeds up to 160/120MB/s¹,² lets you shoot more photos faster and transfer with ease.* 4K videos look sharp with UHS-I, V30 rated speed and A2 rating provides more storage for apps and games.
* Comparisons based on 2020 PRO Plus microSD models.
¹ The foregoing read & write speed performance is based on testing of 512GB capacity under standard conditions. Actual speeds may vary depending upon card capacity.
² Stated performance is achieved by using PRO Plus microSD cards with Samsung adapters.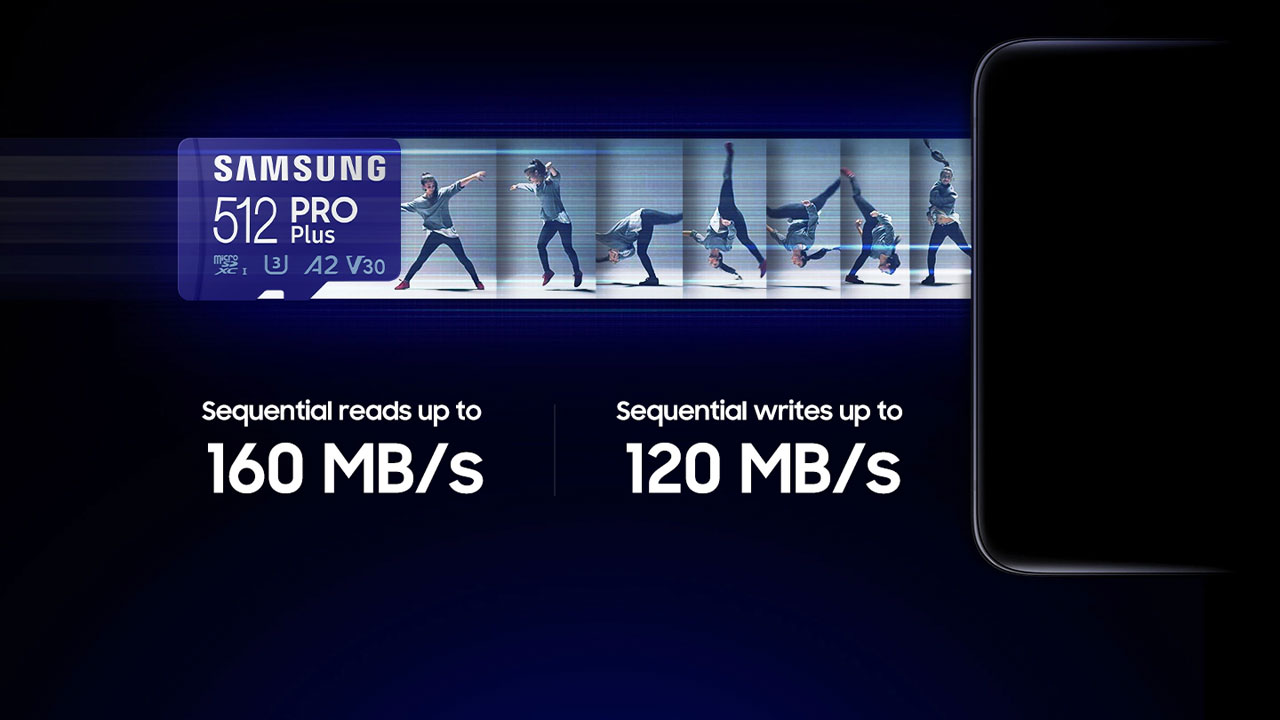 Add space, keep it all
Huge capacities of 128GB, 256GB, and 512GB give you plenty of storage space. Shoot as many long videos¹,² and high-resolution photos³,4 as you want, or load up on must-have apps and media. Now you've got the room.
* Test Device: Samsung Note Ultra
¹ 4K Video (3840*2160) 30fps (Video size 30Min 7.93 GB)
² FHD Video (1920*1080) 30fps (Video size 30Min 2.95 GB)
³ Image 4000*3000 (Avg Pic size 2.36 MB)
4 Image 4000*1868 (Avg Pic size 1.81 MB)
You're fully protected
6-way peace of mind. The PRO Plus takes on life's adventures with water,¹ temperature,² X-ray,³ magnet,4 drop,5 and wearout6 protection.* Your experiences are irreplaceable and deserves reliable storage.
* Samsung is not liable for any damages and/or loss of data or expenses incurred from memory card data recovery.
¹ Waterproof: withstand up to 72 hours in seawater.
² Temperature proof: operating temperatures of -25 C to 85 C; non-operating temperatures of -40 C to 85 C.
³ X-Ray proof: up to 100mGy, equal to airport X-ray machines.
4Magnetic-proof: up to 15,000 gauss, or the magnetic field equivalent of a high-field MRI.
5 Drop: withstand drops up to 5meters (16.4 feet)
6 Wearout: up to 10,000 swipes
* Proofs are for the microSD card and do not include the adaptor.
World's No.1 Flash Memory Brand
Performance and reliability you can count on from the world's number one brand for flash memory since 2003.* All firmware and components are produced in-house, including our world-renowned DRAM and NAND, for quality you can trust.
* Source: 2003-Q3 2020 IHS Markit data: NAND suppliers' revenue market share.