TSP700II
Thermal Receipt Printer
50% Higher Speed, Higher Print Resolution for Graphics, 50% Longer Print Head Life, 100% Longer Autocutter Life, and an Even Sleeker Look - That's the TSP700II from Star Micronics.
Building on the industry success of the TSP700 from Star Micronics, with a print speed of 48 receipts per minute (250mm/sec), the TSP700II is the best single-station printer you can find. The TSP700II now features a double resolution mode to increase sharpness to any graphic! Eye catching graphics for company logos and/or coupons are a print away.
Its improved and sleeker design features a new top cover which extends to the edge of the printer making it more difficult for dust and liquids to penetrate and harm the printer. In addition to the extended cover, sound and vibration dampening channels within the printer help reduce printing noise and also add an extra layer of protection from moisture or dust when used in harsher environments.
Now available with WebPRNT and Bluetooth technology, Star's TSP700II supports label printing and is ideal for a variety of applications ranging from date labels on prepared foods at a local deli to price labels in a retail boutique.
Star's TSP700II BTi label printer is Apple MFi Certified for use with iPod Touch®, iPhone® and iPad®. The TSP700II BTi label supports iOS, Android and Windows operating systems.
The TSP700II ships complete with interface cover, wall mount kit, power switch cover, start-up roll of paper and a Driver CD. The TSP700II is ideal for high-volume retail establishments such as lottery, grocery stores, healthcare, banking, and restaurants. To prove Star's full confidence in this ultra reliable printer, Star is offering the best warranty in the industry: a complimentary three year Extend-A-Star, bumper to bumper warranty.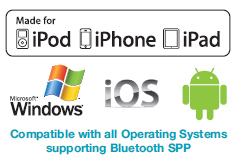 Lightning Fast Speed (250mm/s)
Ultra Highly Reliability
Splash and Dust Proof Design
Includes Installation CD with Full Driver Suite and Configuration Utility
Small Footprint
Swappable Serial, Parallel, USB, PoweredUSB and Ethernet
Available with WebPRNT and Bluetooth connectivity (Bluetooth models enabled with black mark sensor for label printing)
FEATURES
HARDWARE FEATURES AND BENEFITS – TSP700II
Ultra High Speed
Can print 48 six-inch receipts per minute (250mm/sec)
High Reliability
MCBF: 60 Million Lines
Ultra Reliable Guillotine Auto Cutter
MCBF: 2 Million Cuts
Small Foot Print
Save precious counter space
"Drop In & Print" Paper Loading
Clamshell design allows for very fast and easy paper loading
Apple MFi certified Bluetooth Interface
Provides dedicated wireless label printing via Apple MFi certified Bluetooth with support for iOS devices such as iPad®, iPhone® and iPod Touch® in addition to Android and Windows devices
WebPRNT Ethernet Interface
Enables Printing from Web-based Applications Via HTTP Requests
Swappable Interface Connections
Future interface upgrades are fast and simple to do. With swappable interfaces, there's no need to purchase a new printer just to upgrade the connection
Included Interface Cover
Helps protect cables from being damaged on the counter top
Horizontal or Vertical Orientation
Use the printer in the orientation that suits you best
Spill / Dust Proof Design
Foam inserts in the printer cavity, a new cover, and removable sticker over the rear feed slot are just some of the new features to help protect the printer and paper from damage from moisture or airborne debris
Rear Feed Slot
Use a larger paper roll mounted behind the printer by feeding it externally through the rear feed slot
Double Resolution Mode
Increase resolution to 406 x 203dpi for beautifully crisp and clear graphics and bar codes
2D Bar Code Printing
2D bar codes store more information than traditional 1D types and replicate the data multiple times for better scanning reliability. PD417 and QR Code are supported
Wall Mountable
Need more counter space? Create more room by mounting the printer to the wall
Maintenance Counter
Keep track of how many times the auto cutter has cut and the distance that the print head has printed for hardware performance measurables
Digitally Signed Driver (WHQL)
Certified by Microsoft for worry-free operation
Installation CD Included in Box
No need to download drivers or utilities
Innovative Value Add Receipt Design Software
Customize and brand receipts to keep customers coming back time and time again with professional graphics (logos, coupons, and merge images)
SOFTWARE FEATURES AND BENEFITS – TSP700II
Simple-to-Use Utilities
Included on Installation CD, free, easy to use
Partial FuturePRNT Receipt Redesign Software
Quickly and easily add logos and coupons for professional receipt branding, Reverse Text for vertical orientation, and more!
Logo Utility
Store logos and other graphics for professional receipt branding
Memory Switch Utility
Fine-tune your print outs or print in different languages by enabling, changing, or disabling certain settings
Ethernet Interface Set Up Utility
Setting up and configuring an Ethernet printer has never been more quick and easy!