How to Protect Your Wireless Network
Table of contents
The CPU (Central Processing Unit) is essentially the brain of the computer. It interprets and executes instructions and data contained in software programs. The more generic term "processor" is often used to refer to a CPU as well, and the more specific term "microprocessor", meaning CPUs that are manufactured on integrated circuits, is also widely used nowadays. These three words mean exactly the same thing in this article, and elsewhere in most cases.

What are the basics I need to know when selecting my CPU?
There are many different ways of classifying processors, and the most common ones are:
By CPU brand name (Intel, AMD) and series - e.g. Core 2, Athlon 64 X2, etc.
By processor core: Prescott, Conroe and Windsor, etc.
CPU socket geometry, e.g. Socket 939/AM2, LGA 775, etc.

Major Manufacturers and Product Series
Intel and AMD are the two most prolific CPU manufacturers in the current PC market; they provide almost all the processors used in PCs.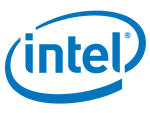 There are several different Intel desktop processor product lines on offer today: the very well-known Pentium 4 and Pentium D (dual-core) is prepared for the mainstream segment, the Celeron D is for budget and entry-level users, the Core 2 Extreme and Pentium Extreme Edition is for high-end users/enthusiasts just as the name suggests. The latest Core 2 Duo processor is a dual-core processor that intends to replace the current Pentium 4/D in the future.
For mobile computing or laptops/notebooks, Intel provides Core Duo/Core Solo, Pentium M and Celeron M processors and the latest Core 2 Duo processors. With proper motherboard, you can build a desktop computer using these processors too. Xeon series processors aim at workstation/server market and are usually more expensive.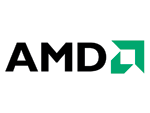 AMD offers four desktop processor product series. The best-known Athlon 64 is provided for the mainstream segment, the Sempron (include Sempron 64) for entry-level users, the Athlon 64 FX for high-end users/gamers, and the cutting edge Athlon 64 X2 is a dual-core processor that intends to replace the current Athlon 64 soon.
Mobile Athlon 64/Sempron and Turion 64 (X2) processors are AMD's offerings for mobile computing, and Opteron is AMD's workstation/server product.
The following table gives a quick reference on the processor series.
What is the Processor Core?
We often use the term "core" (this is not the same as Intel's "Core" brand of processors or "Core microarchitecture") to represent the microarchitecture (cache size, number of pipeline stages etc.) of the processor. For example, the Pentium 4 has been produced using such cores as the Willamette, Northwood and Prescott etc. Their internal microarchitectures are different, and their performance levels are different at equal clock speeds.
Socket Type and Platform
The CPU socket is the interface between the processor and the motherboard. When building a computer system, you must make sure the CPU socket matches the motherboard's CPU socket (i.e. Socket AM2 processors for Socket AM2 motherboards, LGA775 processors for LGA 775 motherboards), and that the motherboard supports the particular CPU model. The example below is of a LGA775 (or Socket T) motherboard socket.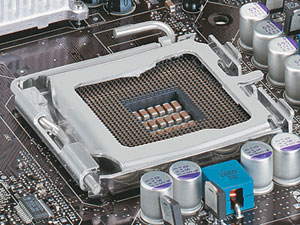 The LGA775 is currently the mainstream socket type for Intel desktop processors, but Socket 478 processors are still available on this market. Pentium M, Xeon and Core Duo etc. processors utilize different socket types respectively.

The Socket AM2, Socket 939 and Socket 754 are the most popular/mainstream AMD desktop processor socket types. Elsewhere, Socket A (Socket 462) processors such as the Athlon XP and Duron have been phased out and are only recommended when upgrading from old Socket A systems if you do not want to upgrade your entire system. There are also Socket 940 and Socket F processors from AMD, which are under the Opteron brand and are designed for the workstation/server market.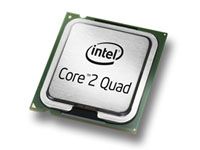 Socket match aside, your chosen motherboard (mainly the chipset on the motherboard) must be able to support the processor. Otherwise, the system will not work or will not be able to function properly. An example of a non-matching combination is a 915/925 motherboard and Pentium D processor – the motherboard simply does not support the new dual core processor despite both motherboard and processor being LGA775 compatible. A 945, 955 or nForce4 SLI Intel Edition etc. chipset-based motherboard is needed to support the Pentium D properly.

Traditionally, the memory controller formed a part of the chipset on the motherboard. Therefore, the choice of processor had very little to do with the system memory. That is not the case with the AMD K8 (Athlon 64 series and most Semprons) processor since the memory controller is now integrated into the processor. The Socket 754 processor supports single channel (64bit) DDR SDRAM of up to 400MHz (DDR400) frequency, while the Socket 939 processor supports dual channel (128bit) DDR400 memory. All Socket AM2 processors support up to dual channel (128-bit) DDR2 667, with the exceptions of Athlon 64 X2 and Athlon FX models supporting up to dual channel DDR2 800 memory.
For More Info, please check the following resources:
Intel Desktop Processors Introduction
AMD Desktop Processors Introduction

Why do we need to protect our wireless networks?
When a wireless network is built, all our wireless-ready computers (desktops, notebooks and PDAs) are connected to the network. This enables the sharing of files and use of printers in the local area network. While there are plenty of benefits to a wireless network, there are security problems as well. As the wireless network broadcasts data signals through the air, it is impossible to physically prevent other wireless network clients from intercepting them or attempting to connect to the network. For example, an unauthorized user or hacker can break into your wireless network and steal or alter important data, or use the Internet via your network at no cost.
It is therefore extremely important to secure your wireless network against unauthorized access and hackers. Most wireless routers today provide wireless network security features need to be enabled in order for them to work.

Tips for wireless network protection
1. Modify the router's default administrator password
Most routers/APs (Access Points) provide a web interface for setup where the administrator can assign usernames and passwords (or only a password) for log in purposes. Routers/APs come with a username and password by default and products from the same manufacturer/brand will typically come with the same default username/password which is usually a very popular word (such as admin, 123456) making it extremely vulnerable to attack – hackers can easily break into your network, change the network settings and even take over your Internet access account.
A feasible solution is to change the default password and username (if needed) of your wireless router/AP to a complex character string after your wireless network is built.
2. Disable SSID broadcasting and SSID renaming
The SSID (Service Set Identifier) is the ID or name of a wireless network and can be a string of up to 32 alphanumeric characters. The SSID is broadcast to all devices in the wireless network by default, and wireless clients receive the SSID to connect to the wireless router/AP and join the wireless network - wireless network clients cannot access the network without knowing the proper SSID. Security is increased by disabling the SSID broadcasting function, but the network administrator must set up the correct SSID manually to enable wireless client access to the wireless network.
Like the default password, the SSID is often by default the same among models from the same brand or manufacturer. Some devices simply use "SSID" or use the brand name as the SSID making them very vulnerable to hacker attacks. Setting a new SSID using a complex character string may be helpful in preventing unauthorized connections.
3. Enable data encryption
Disabling SSID broadcasting and renaming it may thwart some hackers, but data can still be intercepted and stolen during transmission over the wireless network. A viable way of protecting data is via encryption so that hackers cannot obtain the original data even if they do manage to intercept a data transmission.
Here are the three most popular wireless data encryption protocols.
WEP

WEP (Wired Equivalent Privacy) is a security protocol for wireless networks. It aims to protect data via encryption over radio waves with point-to-point transmission. A shared key (similar to a password) is used to allow communication between the wireless adapter and the wireless AP/router.

WPA

WPA (Wi-Fi Protected Access) is built on the foundation of WEP. WPA also protects wireless data transmission via a key similar to WEP, but the added strength of WPA is in its automatic encryption key changes making it much more difficult for a hacker to invade a wireless network.

WPA2

As the successor to WPA, WPA2 (Wi-Fi Protected Access 2) is offered to users requiring the highest level of wireless security and is capable of offering a stronger encryption mechanism over WPA via AES (Advanced Encryption Standard).
Note that wireless security protocols require the support of both the wireless network adapter and the wireless network AP/router, meaning that protection via the wireless security protocol will not take effect if either of the two does not support it.
4. Enable MAC address filtering
Every network device (including the wireless network adapter) has a unique MAC (Media Access Control) address (e.g. 00-05-5D-85-6A-74). Once the MAC address filtering in the router is set, only network adapters with MAC addresses recognized by the router will be able to join the wireless network, regardless of SSID information and encryption. This can make it very hard and even impossible for hackers to invade your network.
Note: To enable MAC address filtering you must input the entire wireless network adapter's MAC address into the router's management program. When adding new MAC addresses, the wireless router may need to restart when applying the new settings, during which time the entire network will disconnect before becoming available again.

Demystifying the Specifications
The specification of a processor may seem boring for most people, and you do not have to know all these technical stuffs to choose the right processor for you. But if you are willing to know a bit more things about processor, this section should be able to help you.
Clock Speed/Operating Frequency
A processor can execute instructions more quickly using a faster clock speed, resulting in increased performance of the processor and system. Clock speed is still an important feature contributing to performance, especially when comparing processors based on the same core, for example, a 3GHz Prescott core Pentium 4 is faster than a 2.8GHz processor using the same core.
FSB
The front side bus carries all data that travels between the CPU and other devices of the system such as system memory and graphics. A faster front side bus can increase performance and responsiveness by transferring data faster. Current Intel desktop processors feature FSB speeds of 533MHz, 800MHz and 1066MHz.
L2 Cache
A larger capacity (e.g. 2MB vs. 1MB) allows more data to be accessible from the fast L2 Cache storage area, and benefits most applications by increasing performance and responsiveness.
Process Type/Manufacturing Process
The manufacturing process is the typical width of basic wiring that connects parts of the semiconductor to the assembly circuit. Contemporary processors utilize the 130nm (0.13 µm), 90nm and 65nm manufacturing processes. The smaller this value is, the higher the number of transistors that can be integrated into the same-sized piece of silicon, and the higher the clock speed the processor can reach. Advanced (smaller) manufacturing processes reduce processor power consumption and production cost as well.
Multi-Core
With the Intel Pentium D and AMD Athlon 64 X2 dual core processors successfully hitting the desktop market in 2005, the core count became a new way of establishing processor performance. Multi-core design is the acknowledged trend for the future. Where multi-core or dual-core processors have the advantage are in multi-threading applications where multiple programs are running simultaneously, and/or applications specifically optimized for multi-threading.
As Intel and AMD are both pursuing a multi-core future, we can expect there to be an increasing number of applications/programs optimized for multi-threading. Choosing a dual-core processor now can safeguard your investment for a considerable amount of time.
In practice, dual-core processors excel when running two or more computing-intensive program simultaneously. For example, you can perform video encoding in the background while playing 3D games. There are also applications that can take advantage of dual-core processors now, with video processing/encoding/decoding being some of the most attractive. Dual-core processors can boost performance by up to 50% or even more in these applications when compared with single-core processors of the same core design and same clock speed.
Hyper-Threading and Hyper-Transport
Hyper-Threading enables multi-threaded software applications to execute two software threads in parallel on a single processor execution core, thereby improving system responsiveness. Hyper-Threading is an Intel technology and is helpful when running multi-threaded applications or multiple tasks simultaneously (e.g. running virus scanning software while using your everyday software).
HyperTransport Technology is a high-speed, low latency, point-to-point link designed to increase the communication speed between integrated circuits in computers. AMD K8 processors utilize this technology for communications between the processor and the chipset. Socket 754 K8 processors support 800MHz HyperTransport, while 1GHz HT is supported by the Socket AM2 and Socket 939 K8 processors. That is 1600MT/s (million transfers per second) and 2000MT/s or 6.4GB/s and 8GB/s respectively.
64-bit Support
AMD64 from AMD and EM64T from Intel bring 64-bit support to desktop PC processors. They are both designed to enable simultaneous 32- and 64-bit computing, and improve performance by allowing the system to address more than 4 GB of memory.
Note: EM64T and AMD64 require a computer system with a processor, chipset, BIOS, operating system, device drivers and applications enabled for them (or x86-64). Otherwise, the processor will still work in 32-bit mode.
Power Consumption
Performance is definitely not the only requirement to consider as power consumption and heat dissipation are both currently very serious problems and deserve extra attention. A lower power bill is usually pretty nice to have as well. New technologies such as EIST (Enhanced Intel SpeedStep Technology) from Intel and Cool'n'Quiet from AMD have been developed to reduce processor power consumption.
Retail vs. OEM
There are two types of the packaging often seen in the retail market: boxed (retail) and tray (OEM or Original Equipment Manufacturer). The boxed version is for the retail market with a processor and a CPU cooler included. The OEM package, which is often cheaper and contains only a processor, was originally provided only to the PC manufacturers. Boxed/retail processors usually have better/longer warranties.
CPU Cooler for the BTX Form Factor
Some Intel boxed processors come with a BTX CPU cooler now, instead of a "traditional" ATX cooler. This BTX cooler must be used on a BTX motherboard and installed in a BTX case. The BTX cooler is not compatible with ATX cases. The processor itself is the same, however, and you can install it in both ATX and BTX systems. If you don't have a BTX-compatible motherboard and case, do not buy boxed processors with BTX coolers unless you have or are willing to buy another suitable CPU cooler.
As the brain of a computer, the processor (or CPU) plays a defining role in the total PC system. The performance of a PC system is roughly determined by the processor, so choosing the right processor is key when building your own computer. The other components, such as RAM and hard disk drive, also play important roles, while the video card is crucial when it comes to 3D graphics performance.

Zero-in on Your Applications
It is very important to figure out the applications you will run most often and your real performance requirements when choosing your processor. Processors of different cores (or microarchitectures) perform differently according to the application.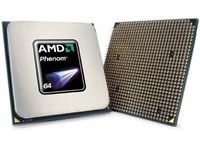 Price/Budget Concern
Price is always an important factor to consider regardless of what you are buying. Finding the price/performance sweet spot is usually the best way to choose a processor for most users.

As a matter of course, processors with higher clock speeds typically cost more (vs. products of the same series/core) but provide higher levels of performance. After choosing the processor series based on your own applications/requirements, you should consider your budget when deciding what clock speed to get.
Our Recommendations
For Mainstream Users

A 3.2GHz Pentium 4 or an Athlon 64 3200+ may provide sufficient performance for many users (for web browsing, word processing, multimedia application, gaming etc.), but if you perform video processing/encoding very often or want to play the latest 3D games under very demanding graphics settings, you may want to look at processors with higher clock frequencies.

 

However, there currently are some entry-level dual-core processors in the Athlon 64 X2 and Pentium D lineups that are quite affordable and still able to deliver very good performance.

 

For Power Gamers/Hi-End Users

If you are a power gamer or require extremely high computing power, the Athlon 64 FX processors from AMD and the Core 2 Extreme from Intel are made especially for you. They are the most powerful desktop processors available at the moment. Intel also provides the Pentium Extreme Edition processor that is capable of running four threads simultaneously, which is great for multi-tasking and multi-threading situations.

 

For Mainstream/Performance Users

The Core 2 Duo processors from Intel and the Athlon 64 X2 processors from AMD are the only choices if you want decent performance at a reasonable price. Intel's Core 2 Duo processors are able to deliver top-of-the-line computing power and low power consumption, while Athlon 64 X2 processors offer attractive price-to-performance ratios.

 

For Budget and Entry-Level Users

If your computing requirements are not very high, or your budget is somewhat tight, a budget processor may be all that you need – here we can call it an entry-level processor.

 

Both AMD and Intel provide entry-level processors in the form of the Sempron and Celeron D series products respectively. Entry-level processors are always performance and/or feature-reduced versions of mainstream processors: the Celeron D is a humbler version of the Pentium 4, just as the Sempron (Socket 754/AM2) is a junior Athlon 64. These processors perform more than well enough for users who do not run CPU intensive applications such as gaming or multimedia encoding/editing.
Cooling Devices & Thermal Pastes
Heat dissipation is a critical problem for today's processors, as thermal power for the most powerful processors can go beyond 100+ watts, bringing along with it undesirably high temperatures, instability and reduced CPU service life.

Generally speaking, the stock CPU cooler included with the boxed processor is capable of dissipating the heat generated by the processor. However, this may be insufficient in a variety of scenarios, for example, when ambient temperatures are very high and heat dissipation becomes more challenging. The problem is even more serious for those one who overclock their processors. In these cases, a powerful CPU cooling device is recommended. The same applies to the thermal paste - decent aftermarket thermal paste can help reduce temperatures as well.

Performance is not the only reason to replace the stock CPU cooler. Some users may find the stock coolers too noisy, and others simply prefer the aesthetics of aftermarket products. The various aftermarket CPU cooling devices are able to fulfill a variety of different requirements.

Buy Wireless Routers at NeweggBusiness