Mini Surge Protector with USB Charger
Now you can add outlets and peace of mind on business trips and vacations with the Belkin BZ103050-TVL Mini Surge Protector. It offers three AC outlets and two USB charging outlets that are perfect for charging MP3 players, mobile phones etc. Rated to withstand a power surge of 918 joules, it provides superior surge protection for all your sensitive devices. The 360-degree rotating plug with four locking positions makes it easy to fit in small spaces. The compact, lightweight design provides excellent on-the-go portability. Easily slip it into your laptop bag or carry-on and take it with you anywhere you go.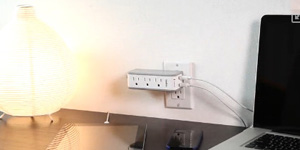 Superior Surge Protection
The Belkin BZ103050-TVL is rated to handle 918 Joules and provides protection against power surges and spikes, since the smart traveler is looking for protection of essential gear and irreplaceable data, not just extra outlets.
Lets You Charge More Devices Easily
This surge protector acts as a power strip, letting you plug three AC devices into a single wall outlet. In addition to its three AC outlets, this surge protector features two surge-protected USB charging ports*. This allows you to easily charge tablets, smartphones, and other devices powered via USB. These ports make it exceptionally easy to keep your devices running without blocking your computer's USB ports. And with 1.0 amp between them, they deliver the power needed for fast, efficient charging.
* The USB ports are intended solely for charging devices. They cannot be used as a USB hub and do not transmit data..
Unique, Efficient Design with Rotating Plug for Added Versatility
Its compact, lightweight, and efficient design means that you can easily slip this mini surge protector into your laptop bag or carry-on. And because Belkin knows that working on the road often means trying to plug in despite awkward outlet or furniture positioning, a 360-degree rotating plug with four locking positions makes it easy to use this device in tight spaces.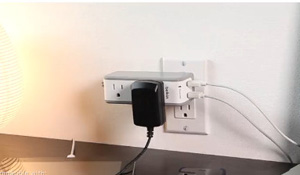 Mini-USB Power Cable Included
You may be able to leave long, tangle-friendly cords and clunky item-specific chargers at home, since this mini surge protector comes with a mini-USB cable. This is especially convenient now that many phones, including Blackberries and Motorola RAZR phones, feature USB power connections.