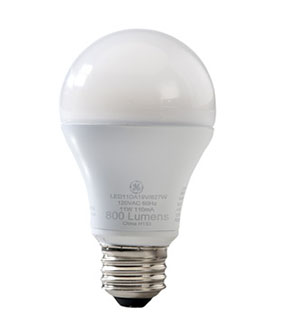 Save energy and money without sacrificing brightness. The GE Lighting 89984 Energy Smart LED General Purpose Bulb is designed to replace the traditional 40W incandescent lamps. This bulb takes less energy but produces warm white light once your turn it on. You will be able to experience considerable energy savings throughout the years. Thanks to its long lifespan of around 22.8 years based on 3 hours per day usage, you will enjoy lower TCO (Total Cost of Ownership). Plus, this bulb fits in many of the same fixtures as standard incandescent bulbs.

Energy Efficient
Utilizing the advanced LED technology, the light bulb emits 470 lumens of warm white light, while dramatically reducing energy consumption to only 7 Watts. It uses 75% less energy, making them a brilliant idea for your budget. It's expected to yield almost $90 in energy savings over the life of the bulb based on 3 hours per day usage.

Long Lifespan
Unlike standard incandescents, this bulb last up to 15,000 hours - more than a decade at 3 hours per day use and equal to 15 incandescents.

Warm White Light
With color temperature ranging from 2600 K to 2900 K, the LED bulb produces warm white light instantly, making it ideal for reading and other indoor tasks.