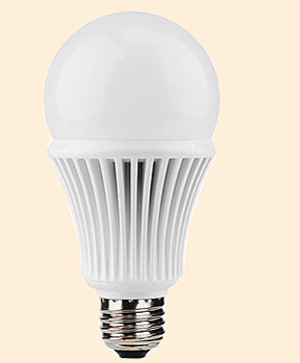 Save Energy. Save Money. Enjoy Warm Bright Light.
The Euri Lighting introduces a bright, high-efficient EA19-1000 LED light bulb to replace the traditional 60W incandescent lamps. This bulb takes less energy but produces bright soft white light once your turn it on. You will be able to experience considerable energy savings throughout the years. You'll also be pleased with its extra features - including dimming options, shatter resistance, mercury free exposure, and long lifespan.

3000K - Soft White
With color temperature ranging from 3000 K to 3300 K, the bulb produces warm white light, providing a desirable indoor atmosphere. It's perfect for use in residential interiors / retail / restaurants / hotels / fixtures (such as sconces, table lamps, antique lamps etc.)

Energy Efficient
Focus more on the things you care and less about your energy bill. Utilizing the advanced LED technology, the EA19-1000 light bulb emits bright light of 850 lumens while dramatically reducing energy consumption to only 11Watts.
Instant On
Say goodbye to the slow fading-in and fading-out particularity of traditional incandescent bulbs. With Instant On you'll be able to exhibit your interiors immediately without any delays or flickers.

Dimming Options
Enjoy the convenience of having dimming options and be able to create meaningful ambient moods.
Long Lifespan
The EA19-1000 light bulb offers an estimated 25,000 hrs. long lifespan, providing comfort and constant bulb performance.
Mercury Free
Unlike various energy saving lamps and fluorescent tubes all Euri Lighting LED bulbs are mercury free.
Shatter Resistant
Most Euri Lighting LED bulbs are incorporated with a plastic diffuser, which eliminates the risk of dispersed broken glass.