A Must-Have Backpack for the Flashy You!
The Ranipak Utility Backpack3 is perfect in every way. It looks casual and classy, is durable and water-repellent, and offers comprehensive pockets. Pack all your daily items – such as notebook, tablet, accessories, and more – and rock your own style when you're on the move. It is a multi-colored backpack: choose from six multi-color combinations.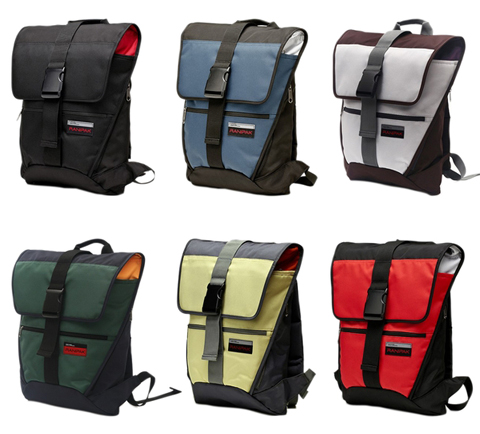 For the unique you
The Ranipak Utility Backpack3 is a class by itself. The front flap, the buckle closure, and the appealing logo coordinate with each other to create a casual touch. This backpack is great for everyday commuting.

Feel the quality
Made from durable 1000D Twill Poly, the Ranipak Utility Backpack3's back, sides, and bottom are every bit as tough as you. The flap and the front are specially crafted from 900x1200D Dobby for amazing quality and a classy look. To ensure amazing protection for all of your items, the Ranipak Utility Backpack3 sports a fully lined interior with 210D. It is also water-repellent.
Comprehensive pockets
Whether it is your notebook, your tablet, or other daily odds and ends, the Ranipak Utility Backpack3 can accommodate them all with its comprehensive pockets. The neoprene FlexSleeve laptop compartment inside the large main compartment fits a 15.6" notebook. The middle zippered pocket has an iPad/Tablet compartment and other organizer pockets. The easy-access front zippered pocket offers a smartphone organizer. A side water bottle pocket is also provided.
Comfort is king
The strap wings from the bottom front seam make for weight compression. Well-padded, the back panel offers amazing comfort. Just adjust the shoulder straps to fit you perfectly, and begin a new day!