IVIEW-SMART VACUUM WITH FLOOR MOPPING
Keeping your home clean is a never-ending task. The Iview WiFi 2-in-1 Smart Vacuum with floor mopping makes cleaning easy and smart. With powerful suction and a low-profile design, every corner will be cleaned seamlessly and silently no matter the floor type. It automatically avoids collision with obstacles, eliminates drop-offs when cleaning around stairs, and charges itself – ALL BY ITSELF. All you see is that its slim body freely moves around the room. Control it via the remote, Iview iHome free app, or even voice commands through Amazon Alexa. You can even schedule your cleaning. The Iview WiFi 2-in-1 Smart Vacuum with floor mopping is a good way to free your hands.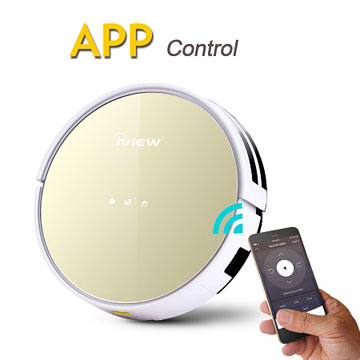 Remote or App Control
The Iview Smart Vacuum with Floor Mopping is shipped clean-ready, remote control included. Start, pause, or end cleaning cycles. Grab the remote and with a single press of a button, your new toy will be finding its way around your home. For more empowerment, the robot mop and vacuum can be controlled via app. Enjoy seamless app control anytime and anywhere on your iOS or Android device. Downloading the Iview iHome free app and pairing your smartphone with the best robot vacuum takes just a few moments. After which, users can control each unique smart vac features over Wi-Fi (Supports WiFi 802.11 b/g/n, 2.4 GHz Only).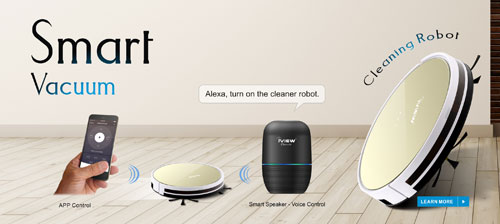 Amazon Alexa Compatible
No remote? Not a problem! You won't be fumbling for the remote control nor would you have to exit an app you're currently using to power up your Iview robo-vac. Compatibility with Amazon Alexa makes the Iview Smart Vacuum even easier to operate. Simply tell Alexa what you need to do. Hands-free, you can command your hard floor robot vacuum to start mopping or vacuuming, stop, or return to dock. Your new Iview automatic cleaning machine will be your very own personal home assistant for a long time.
Powerful Suction
Vacuuming experiences are enhanced with the Iview Smart Vacuum's powerful suction. It efficiently picks up debris, dirt particles, and tiny crumbs littering the floor. Hair won't get tangled in the vacuum brushes. The robot cleaner will clear all the mess and leave behind dirt-free floors, whether hardwood, laminate, tiles, or carpet. Carpeted floors given some deep-cleaning will be safer for little ones to crawl or walk on. Everyone in the household breathes cleaner air with allergens and contaminants lifted into the dust container. The robust and powerful vacuum as well as wet mop components are tough on stubborn dirt yet gentle on your floors. Surfaces will not be scathed, only vacuumed and mopped clean. You'll see the results for yourself once you welcome the Iview 2-in-1 Smart Vacuum into your home!
Interchangeable Water Tank
Switching from vacuum to mop function is easy on the Iview Smart Vacuum. It has a 600 ml dust tank capacity that's sufficient for a number of cleaning sessions. Maintenance is fairly low, unlike the need to frequently change dust bags or filters in traditional vacuums. As a robotic floor cleaner mop, the Iview 2-in-1 Smart Vacuum rids the hassles of hauling a pail of water with its 300 ml water reservoir. Both water tank and dust tank are easy to access and maintain.
Robot Mop
Got a pet who loves to play outdoors? Floors will look and feel cleaner when you have a smart Iview machine. After wet mopping, there won't be any trace left of pet messes like muddy pawprints and blotches of soil. Any spilled milk or juice by little children and the sticky residues will be mopped away. Hardwood and tile flooring will be free of smudges and grime without the trouble of soaking and washing mopheads. Wet mopping with the robot vacuum for tile flooring deals with stains and caked-on debris for a sparkling clean home.
Scheduled Cleaning
The Iview smart WiFi vacuum cleaner can be programmed to clean your house as scheduled. Set up cleaning time according to your personal preferences using the FREE APP: Iview iHome. Do it before you leave for work or program the robot hard floor cleaner on-the-go. Simply set and forget. The automatic floor mopping machine will retain and follow through on your instructions. You can rely on it to give your floors a good clean while you take care of more important things, even when you're away from home.
Slim Design: No Hidden Spots
Say goodbye to back pain that comes with bending and stretching to get to hard-to-reach narrow spaces. Makers of the Iview 2-in-1 Smart Vacuum innovated the slim 88mm design of the robot cleaner. It can get by along walls, access nooks, corners, and hidden spots that are normally missed when using traditional vacuums. Navigating around furniture won't be a problem. Vacuuming hard-to-reach areas, such as underneath sofas and beds, can be effortlessly achieved. No worries of the robot floor cleaner getting stuck either. Technology makes it possible for the Iview robot floor cleaner to track areas that were already cleaned and where it still has to go. Dirt, dust, hair, and lingering bacteria will be picked up wherever they hide.
Not only is the Iview robot mop and vacuum brilliantly designed, but is beautiful and stylish to fit the modern home. No more hiding your cleaning tools and accessories in a rush before guests arrive! Use your remote to stop cleaning operations in just one click. Command your Alexa-compatible robot vacuum to quickly return to the charging dock on its own. Anyone would be impressed with such a high-tech device quietly roaming around your home with elegance.
Quiet Operation
Vacuum cleaners are notorious for its loud operation. Poor pets scurry away at the sound of the traditional vacuum. Neighbors get annoyed when vacuuming ruins the peace and quiet on a nice day. With noise levels lower than 50db, the Iview 2-in-1 Smart Vacuum is the perfect solution.
Anti-Drop and Anti-Collision
Iview Smart Vacuum with Floor Mopping was built to adapt to its surroundings. Running on two wheels, intuitive Iview robot floor cleaners can climb inclines and cross doorsills smoothly. Intelligent built-in sensors serve as the robot's guide. It doesn't matter if you haven't moved clutter out of the way. The robot mop and vacuum will move seamlessly across living spaces and give rooms of all sizes a thorough clean.
The Smart vacuum can detect objects along its path to avoid collisions. Obstacles like chair and table legs or lamps will be avoided during hardwood, tile or carpet cleaning. Expensive home decor and priceless collections will be kept intact. Rubber bumpers beneath the robot vacuum carpet and hard floor cleaner prevent accidental drops. It can impressively keep itself from falling, much like having a mind of its own, which works toward the protection of your robot vacuum cleaner investment.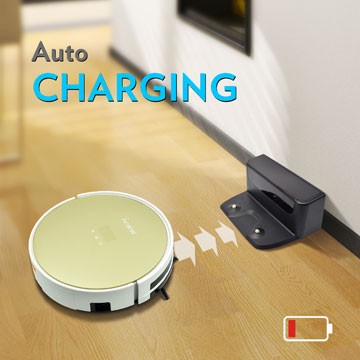 Battery Life
Iview eliminates the hassles of wires and running short on cable length during cleaning. The Smart Vacuum recharges on a dock and connects via Wi-Fi. Equipped with a high-capacity 2600mAh Li-ion battery, it'll run on sufficient power to clean large spaces and different rooms of the house. A 3-4 hour charge time will have your robot vacuum and mop cleaning tirelessly for 3 hours spanning 200 square meters of space. You can be certain it won't run out of charge right when something spills on the floor or ground soil sinks into the carpet. Wireless robot cleaners also offer security when you have kids or pets in the house, without cables to keep out of the path and their grasp. It's about time you let go of your traditional vacuum!
Auto Charging Dock
The convenience of in the 2-in-1 Iview machine doesn't stop in helping you effortlessly maintain a clean home. The included dock automatically charges your robot floor cleaner when not in use, so there's no need to keep tabs on battery levels. Your Iview smart vacuum will return to the auto-charging station on its own once scheduled cleaning is completed. The compact size of the robo-vac and relatively small dock station makes it convenient to carry around wherever you need it.