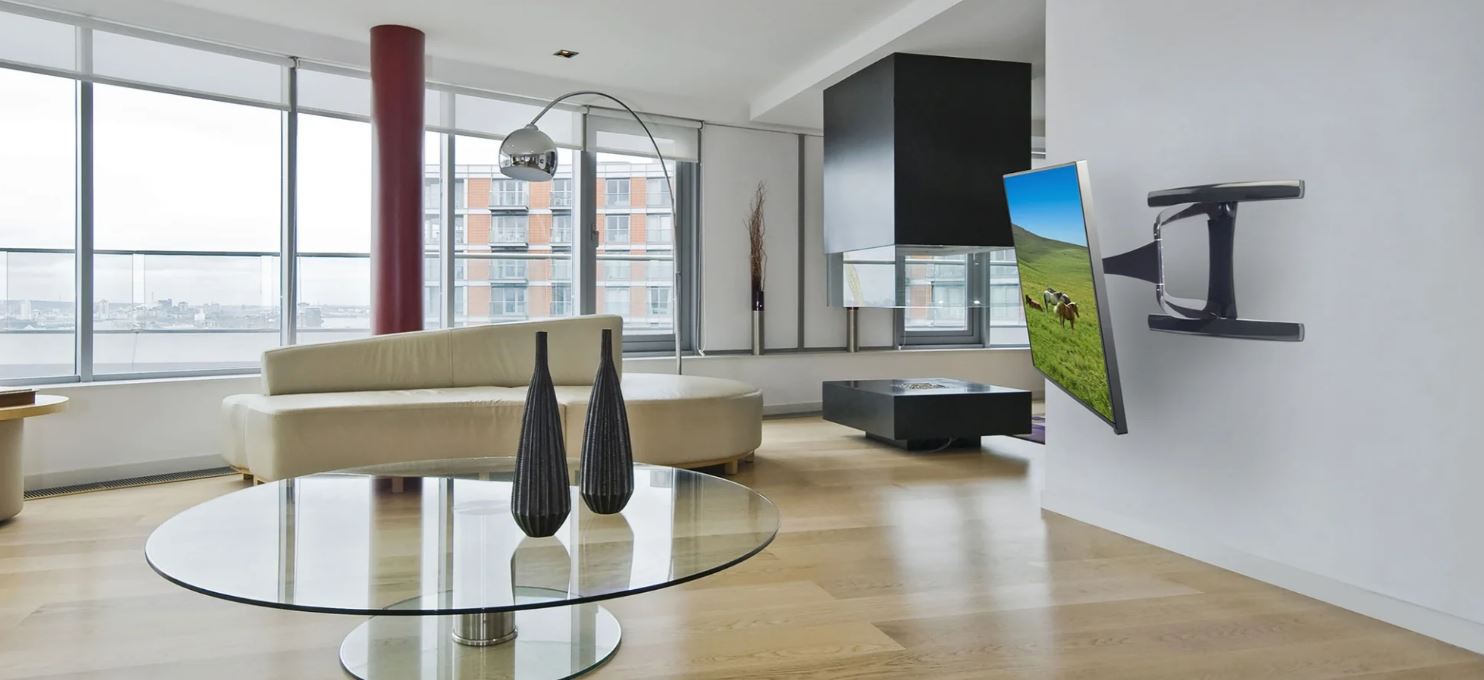 Designer Series Universal Ultra Slim Articulating Wall Mount
For 37" to 65" Ultra-thin Displays
One of the thinnest wall arm mounts on the market, the Peerless-AV® DesignerSeries™ Universal Ultra Slim Articulating Wall Mount is designed exclusively for ultra-thin displays. The SUA761PU is built to hold medium to larger displays firmly in any position – landscape or portrait – while still offering an ultra-low profile. An innovative I-shaped adaptor plate makes it easy to access the back of the display, keeping hardware hidden, and features internal cable management, providing a clean, professional look that transitions smoothly from the wall to the display. With a gloss Black finish, the SUA761PU matches any décor.
1. ULTRA-LOW PROFILE DESIGN
Creates an aesthetically appealing look
2. FLEXIBLE MOUNTING LOCATIONS
Mounts to wood stud, concrete, cinder or breeze block
3. INTEGRATED CABLE MANAGEMENT
Protects, contains and conceals cables for a clean, professional installation
4. I-SHAPED ADAPTOR PLATE
Helps avoid blocking connections on back of display
ADJUST FOR THE PERFECT VIEWING ANGLE
Arm retracts to 1.85" (47mm) and extends up to 24.85" (631mm) from wall
One-Touch™ tilt mechanism allows adjustment of +15/-5° without the use of tools
Up to ±90° of side-to-side swivel
Added ±5° of roll for post-installation display leveling without the use of tools
Up to ±0.5" (13mm) of vertical adjustment for post-installation leveling and height adjustment fine-tuning
Notes:
* This display size range is simply a guideline for product selection. Displays larger than the screen size range may still be compatible as long as they fall within the VESA® pattern and max weight of the Peerless-AV® product.
** Designed for use with displays that are less than 3" (76mm) deep.
*** The display must have a flat mounting surface, or mounting holes need to be on the furthest back surface of the display.