A computer desk and also a full-featured chassis, the LIAN LI DK-02X desk chassis once again leads the industry in the innovation of computer case design. It's capable of accommodating two systems: one full HPTX system for work, and one mini-ITX system for entertainment. Support for up to eight case fans and a water cooling solution provide the maximum cooling performance. The two systems offer a generous interior space, giving DIY builders the ultimate flexibility to build the system. They can also show off their hardware creations through the tempered glass desktop.
The DK-02X features a lockable sliding door to make installations and upgrades easy. The adjustable/removable keyboard tray makes typing and mousing comfortable, and the side-mounted pocket with a headphone rack allows users to easily store unused accessories. The convenient I/O panel for both systems allows handy connection to peripherals.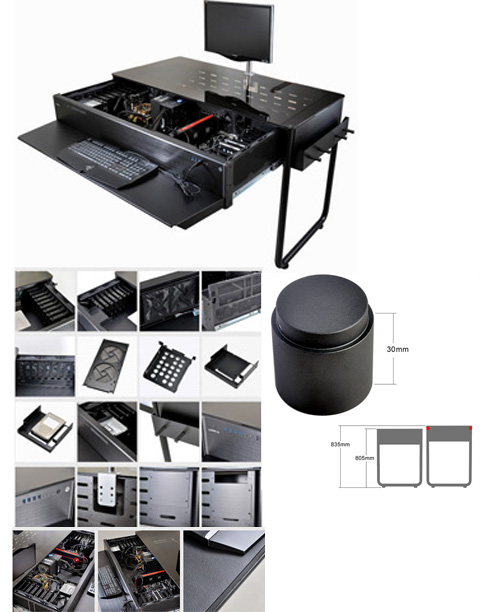 Comfort for Your Viewing Pleasure
The DK-02X desk chassis is constructed of aluminum, and combines the symbiotic relationship of a desk and a computer case. It has a height of 805mm (31.7in), but can be raised to 835mm (32.9in) to provide more leg room. On the back, up to three monitor mounts can be installed for multiple display setups.

Unique locking door
The DK-02X features a lockable sliding door. It can slide out and allows you easy access to the internal components of your system, making installations, upgrades and maintenance a lot easier.

Versatile front panel
The front panel also forms an adjustable and removable keyboard tray, while the side-mounted pocket with a headphone rack helps you store your mouse and other peripherals.
Superior cooling capacity
The DK-02X is preinstalled with up to eight fans to remove hot air from the chassis. It offers room for 360mm radiators on the side, and also has room for two more 240mm mounts.

Excellent hardware compatibility
The DK-02X chassis boasts two systems. The gaming-oriented system "1" supports the mini-ITX motherboard, while the workhorse-oriented system "2" supports motherboards up to HPTX. The chassis supports a high-end graphic card up to 400mm (system "1": 300mm), a power supply up to 400mm in length (system "1":160mm), CPU coolers up to 175mm in height, and a radiator up to 240mm in length. In addition, this chassis also provides eight HDD bays, three expansion slots for the system "1", and nine HDDs, eight expansion slots for the system "2". All the storage is flexible and removable, and you can configure it until you have something you're happy with.

Convenient Connectivity
The I/O panel is located at the front side of the sliding drawer. The DK-02X includes four USB 3.0 ports and HD audio connections for both systems. In addition, located on the front sliding drawer of the DK-02X is a slim optical drive bay, which can house an SSD.