The Cooler Master HAF XB EVO offers a perfect blend of design, performance and function in a unique cube design that stands out immediately. It comes in a dual-layer design to accommodate your high-performance components in an ultra compact footprint. You can cram an ATX motherboard, VGA card up to 334mm in length, and CPU cooler up to 180mm in height, and mix and match multiple ODD, HDD, and SSD to meet your storage needs. All the components are efficiently and effectively cooled thanks to the superb thermal solution, which already includes two pre-installed fans, meshed panels and can be upgraded in future with extra fans and water cooling. The motherboard tray can be removed for easy installation and debugging. And with the recessed handles, you can easily transport your gaming rig to a LAN party and show off your gaming prowess.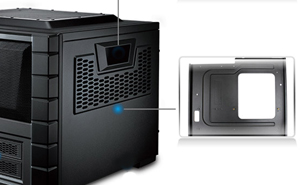 Removable Motherboard Tray
With the removable motherboard tray, you can easily transform the case into a test bench – ideal for enthusiasts and overclockers.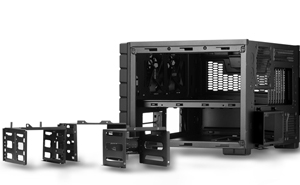 Flexible HDD/SSD Support
In addition to two 5.25" drive bays, this case supports up to four 3.5"/2.5" drives via the front bays. The HDD cages are also removable for enhanced convenience and flexibility.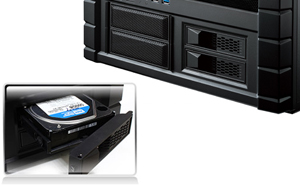 X-dock Bays
Of the four HDD bays, there are two X-dock bays that allow easy access to your 3.5"/2.5" drives.
Upgradable Cooling Solution
Air cooling system
Top: 200mm fan x 1 (optional)
Front: 120mm XtraFlo fan x 2 (installed; 1200 RPM, 17 dBA), or 140mm fan x 2 (optional)
Rear: 120mm fan x 1 or 80mm fan x 2 (optional)
Liquid Cooling system
Front: 240mm radiator x 1 (optional)
Rear: 120mm radiator x 1 (optional)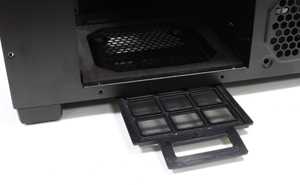 Easy Maintenance
Dust filters helps prevent dust buildup that may compromise cooling or even cause damage to your components. And the filters can slide out easily, making cleanup a breeze.
Easy Front I/O Panel
Two USB 3.0 ports and two audio ports located on front panel allow for easy connection to peripherals.