Elite 350
RC-350

Cooler Master introduces a great value combination - case plus power supply with the Elite 350. This mid tower case has a spacious interior, great for system upgrades. The superior airflow design - with front, side and rear ventilation - keeps the system running cool. It is powered with a quality 350W, 400W or 500W power supply, with life-time of 100,000 hours and protection for OVP and OPP.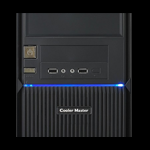 Front panel with grill design for rugged look and excellent air intake.
Stylish front panel blue LED.
Front I/O panel for easy access.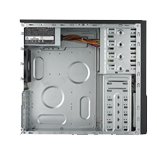 Dual side ventilation for unsurpassed ventilation.
Includes 350W, 400W or 500W power supply.
Rear 120mm fan provides excellent airflow.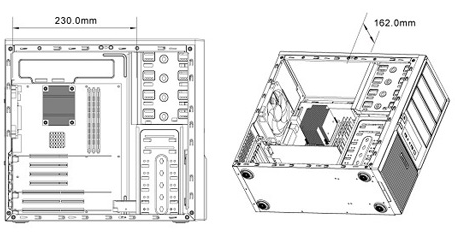 Specifications
Model
RC-350-KKN1 (without PSU)
RC-350-KKR400 (with 400W PSU)
RC-350-KKR500-GP (with 500W PSU)
Available Color
Black
Dimensions (W x H x D)
7.08 x 16.06 x 17.87 inches
(180 x 408 x 454mm)
Weight
Net Weight: 10.36 lbs (4.7kg)
Gross Weight: 11.90 lbs (5.4kg)
Material
Steel body, ABS plastic front bezel
Motherboards
ATX / m-ATX
5.25" Drive Bay
4 Exposed
3.5" Drive Bay
6 Hidden
1 Exposed
I/O Panel
USB 2.0 x 2, Spk x 1, Audio x 1, IEEE 1394a x 1 (optional)
Cooling System
Front: 120 x 25mm fan x 1 (optional)
Rear: 120 x 25mm fan x 1 / 1200RPM / 17dBA (pre-installed) | 80 / 90mm x 1 (optional)
Expansion Slots
7
Power Supply
Standard ATX PS2 / EPS 12V
UPC Code

RC-350-KKN1 (without PSU) - 884102009822
RC-350-KKR400 (with 400W PSU) - 884102007125
RC-350-KKR500-GP (with 500W PSU) - 884102007132