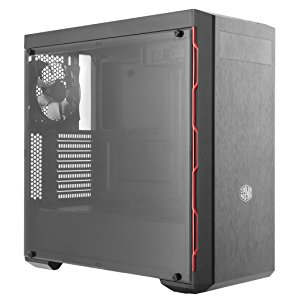 MasterBox MB600L
Sleek and Elegant Design
The MasterBox MB600L with its sleek design, brushed front panel and red side trim gives the case an elegant outlook. The edge to edge transparent acrylic side panel provides easy access and a clear view to internal build components. A full black coating and PSU cover, for a clean build with easy cable management.
Sleek Design Red Side Trim
Acrylic Side Panel
Supports 4 x 120mm Fans
240mm Radiator Support
400mm GPU/VGA Support
GRAPHICS CARD SUPPORT UP TO 400MM

You won't ever have to worry about the fit of your graphics card, with support for even the largest, widest cards.
SLEEK AND ELEGANT OUTLOOK DESIGN

The stylish brushed front panel gives the chassis a sleek and elegant design.

MasterBox Lite 3.1

MasterBox Lite 5

MasterBox Lite 5 RGB

MasterBox MB600L
Model Number
MCW-L3B3-KANN-01
MCW-L5S3-KANN
MCW-L5S3-KGNN-02
MCB-B600L-KA5N-S00
Motherboard Support
Micro-ATX, Mini-ITX
E-ATX, ATX, Micro-ATX, Mini-ITX
ATX, Micro-ATX, Mini-ITX
ATX, Micro-ATX, Mini-ITX
Dimensions (L x W x H)
456 x 208 x 381mm
468.8 x 200 x 454.5 mm
468.8 x 200 x 454.5mm
464 x 212 x 454.5mm
Fans Included
Rear: 120mm x 1 black fan
Rear: 120mm x 1 black fan
Front: 120mm x 3 RGB Fans*
(Additional controller or compatible motherboard required for RGB functionality)
Rear: 120mm x 1 black fan
Rear: 120mm x 1 black fan
Fans Support
Front: 120mm x 2
Rear: 120mm x 1
Front: 120mm x 3 / 140mm x 2 fans
Rear: 120mm x 1
Front: 120mm x 3 / 140mm x 2 fans
Rear: 120mm x 1
Front: 120mm x 2 / 140mm x 2 (w/ODD)
Rear: 1 x 120mm
Radiator Support
Front: 240mm x 1
Rear: 120mm x 1
Front: 240mm / 280mm / 360mm radiator (limited) up to 50mm thickness without fan
Rear: 120mm x 1
Front: 120 / 140 / 240 / 280 / 360mm radiator (limited) up to 50mm thickness without fan
Rear: 120mm x 1
Front: 120/140/240/280mm radiator (w/ODD)
Rear: 120mm x 1
Side Panel
Acrylic Side Panel
Acrylic Side Panel
Tempered Side Glass Panel
Acrylic Side Panel
Maximum CPU Cooler Height
160mm
160mm
160mm
180mm
Maximum GPU/PCI Card Length
380mm
400mm
400mm
400mm
Warranty
2 Years
2 Years
2 Years
2 Years