Antec 900 Ultimate Gaming Cases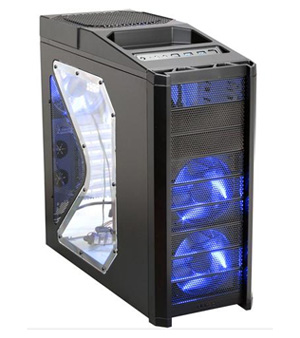 The Most Versatile Gaming Case Ever!
Ultimate gamer case? You bet! With a partially perforated package that still finds room for four huge yet quiet fans, you have a seriously cool gaming case, and that's no joke. You can expect the Antec 900 to be ready for lift off, especially with the 200mm TriCool exhaust fan and perforated port atop this stylish case. Even mount a 120mm fan on the side panel! Contrary to some expectations, this case is extremely quiet, unless you have all the fans going at their highest settings, at which point you might hear...something.
The 5.25" bays will hold optical drives, burners, or even (gasp!) your aging floppy drive, and up to six 3.5" drives can be installed in cages behind the fans, arranged along the front any way you like. This case provides a plethora of possibilities, with room to explore new configurations of all the pieces. The PSU, in a departure, is at the bottom of the case, for better stability and thermal environment for the CPU.
The side window on the case, in addition to letting you show things off, provides additional ventilation, either by way of the vented screen or by the fourth fan in the box mounted into plastic for a clear and elegant installation. This is a sturdy case built of steel, with enough cooling technology to keep things frosty in the hottest action. Take one home today and build yourself the "coolest" rig around!
Specifications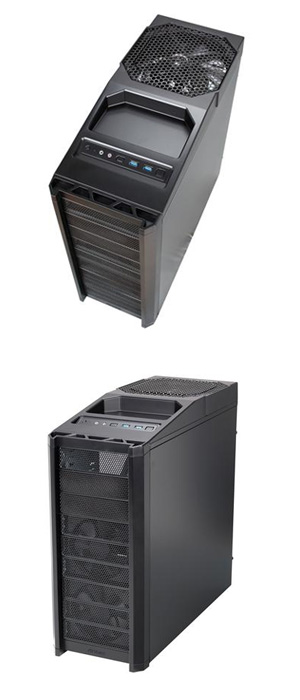 Unique Top mounted 200mm "Big Boy" TriCool exhaust fan cools the hottest systems
Perforated front bezel for maximum air intake
Two front loaded HDD cages for up to 6 hard disk drives
The HDD cages act as air ducts to take air in more efficiently. Optional middle 120mm fan bracket cools the hottest graphics cards or CPU
Two 120mm TriCool blue LED front fans cool hard disk drives
Window side panel comes with an optional 120mm fan mount for maximum VGA cooling
Top tray for your MP3 player, digital camera, etc.
Power supply mounts at the bottom of the case (power supply not included)
Advanced Cooling System:

One top 200mm TriCool fan with 3-speed switch control
One rear 120mm TriCool fan with 3-speed switch control
Two front 120mm special black TriCool lue LED fans with


Three-Speed Switch Control Cools HDDs


One side (optional) 120mm fan cools graphics cards
One middle (optional) 120mm fan cools CPUs or graphics cards

Nine Drive Bays

Three External 5.25"; Six Internal 3.5" for HDD, or
Six External 5.25"; Three Internal 3.5" for HDD, or
Nine External 5.25"

Maximum Video Card Size: 16" (406mm) (Note: some video cards may require removal of the adjacent hard drive cage)
Compatible Motherboards: Mini-ITX, microATX, Standard ATX
Seven Expansion Slots
Top mounted I/O ports

Power and reset buttons
Two USB 3.0
Audio In and Out

Unit Dimensions (HxWxD):

19.4 x 8.1 x 18.4"
(49.3 x 20.6 x 46.7cm)
What's in the Box