The new Focus G Mini from Fractal Design is the cornerstone for your PC build, showcasing the hardware at the heart of your system with elegant accents and sophisticated style.
Its intelligently designed Micro ATX layout offers a massive choice of conflict-free hardware combinations including high profile CPU coolers, up to two dual-fan radiators, full-length graphics cards and expansive storage.
The Fractal Design Focus series hits the mark for discerning the PC enthusiast seeking an aggressively priced chassis that stands out from the competition.
SEE AND BE SEEN
With full interior visibility, clean contemporary styling and two Silent Series LED fans, the Focus G Mini makes your hardware the center of attention.
CONTEMPORARY DESIGN
A spacious open Micro ATX layout accommodates high-performance components with smart and efficient space utilization for a compact footprint.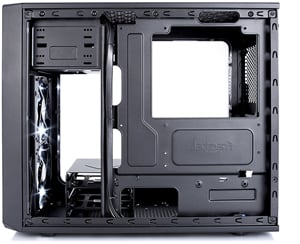 EFFORTLESS CABLE MANAGEMENT
Generous routing room behind the motherboard tray along with a myriad of cable management options gives you everything you need to make the inside of your case as clean as its sleek exterior.
VIBRATION DAMPENING
Open design drive cage with sturdy tool-less trays and vibration-dampening rubber grommets cushion your hard drives for smooth, quiet and reliable operation.
PURE AIRFLOW
Easy-to-clean removable dust filters in front, top and base vents maintain a dust free interior with minimal airflow restriction.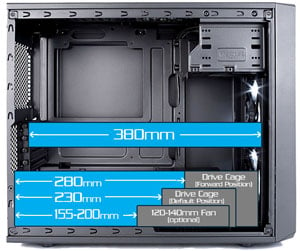 VERSATILE HARDWARE SUPPORT
Even the largest enthusiast-class GPUs leave plenty of room for thick dual-fan rads in the front.
A multitude of drive cage and fan mounting options on the case floor can accommodate the most lengthy heavy-duty PSUs.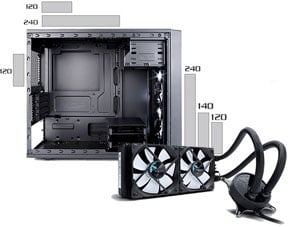 EXPANSIVE COOLING CAPABILITY
Six total fan positions allow for extensive air and liquid cooling setups with support for radiators up to 240mm in the front and top.