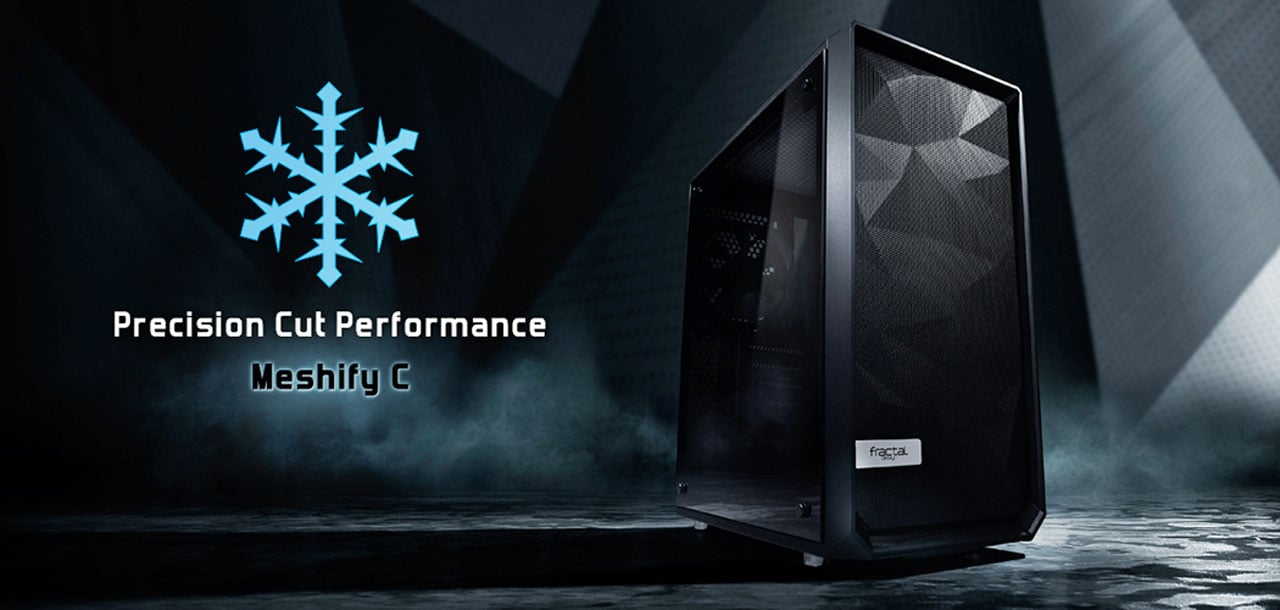 Meshify strikes an aggressive pose in the Fractal Design lineup with unparalleled cooling performance and a defiant new look.
Like black-diamond facets, the angular asymmetry of the Meshify C carves a space uniquely its own as a new dominant force in high-airflow design. Tempered glass with a distinctive tint completes the stealth-inspired black-on-black aesthetic with exceptional style. A compact yet spacious open ATX layout creates an unrestricted airflow path from front intakes directly through key components to exhaust, ensuring heat is never an issue.
When performance is top priority and compromise is not an option, Meshify has you covered in style.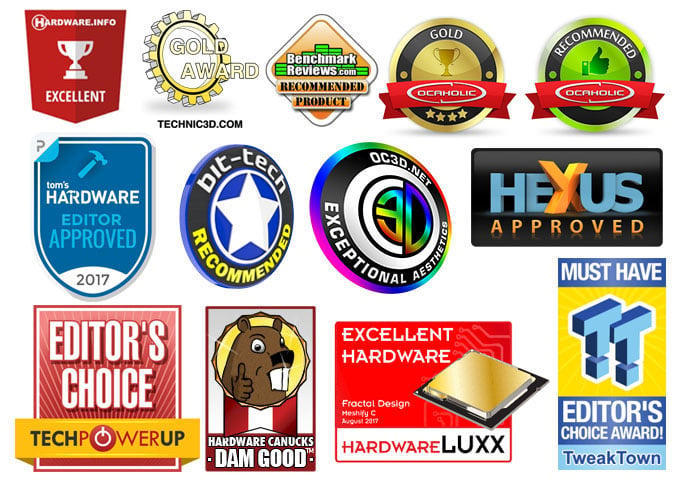 A DEFIANT NEW LOOK
Meshify's distinctive styling features a newly designed angular mesh front panel that maximizes air intake.
TINTED TEMPERED GLASS
Edge-to-edge interior visibility complements a clean exterior profile.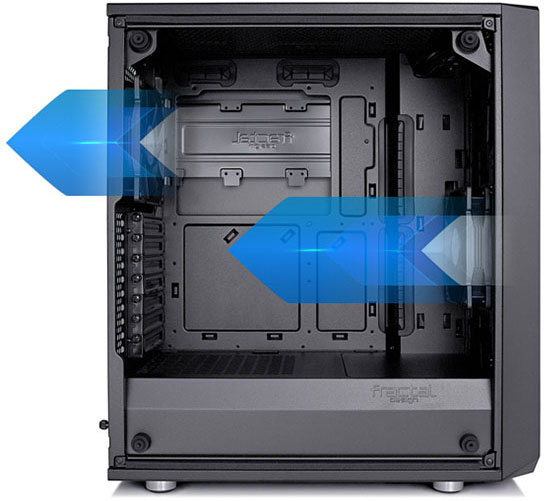 UNRESTRICTED AIRFLOW
An open interior with full-length ventilated steel power supply shroud hides drives and cabling to create an unobstructed airflow path from front intake to rear exhaust.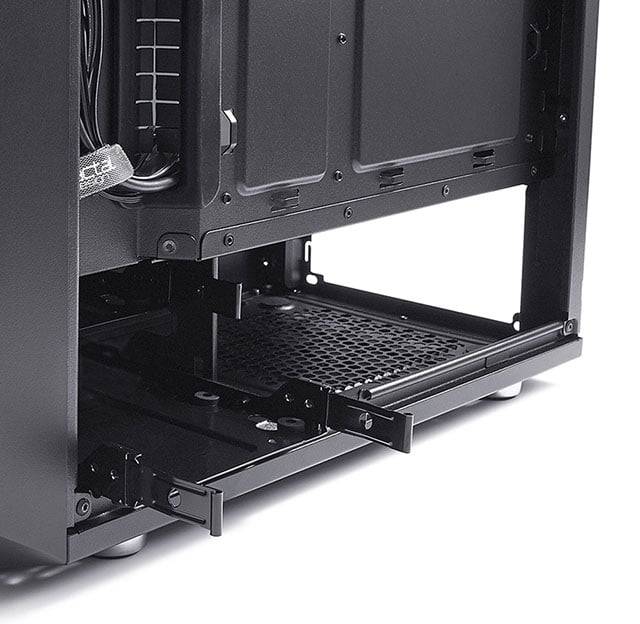 VIBRATION DAMPENING
Sturdy steel trays and vibration-dampening rubber grommets cushion your drives for smooth, quiet and reliable operation.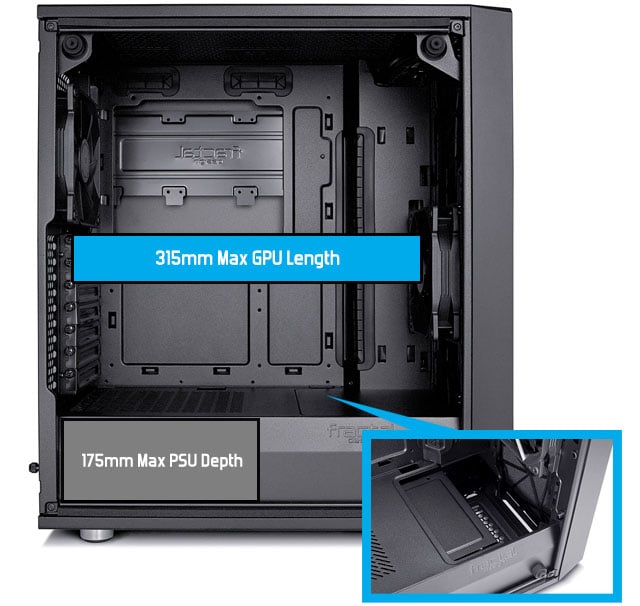 VERSATILE HARDWARE SUPPORT
Even the largest enthusiast-class GPUs leave plenty of room for thick triple-fan rads in the front. The adjustable drive cage can be moved or removed to fit even the lengthiest heavy-duty PSUs.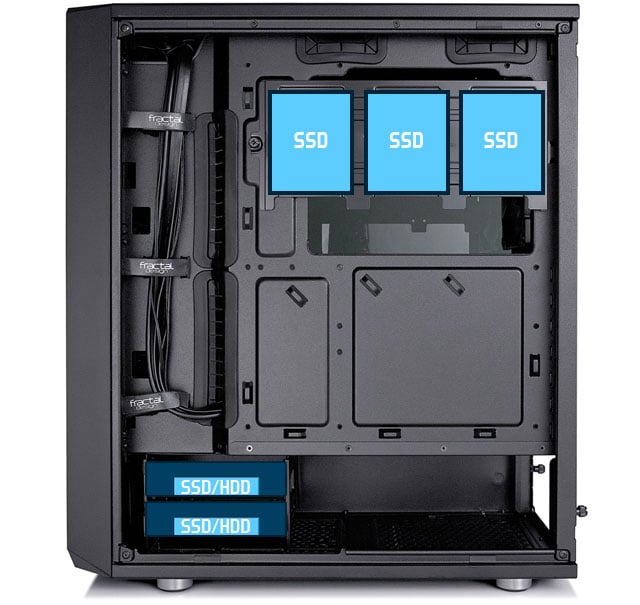 FLEXIBLE STORAGE OPTIONS
Conceal up to five storage devices with an adjustable and removable drive cage beneath the PSU shroud plus dedicated SSD mounts behind the motherboard tray.
PURE AIRFLOW
Removable front, top and base filters channel clean air with effortless maintenance and convenient front access.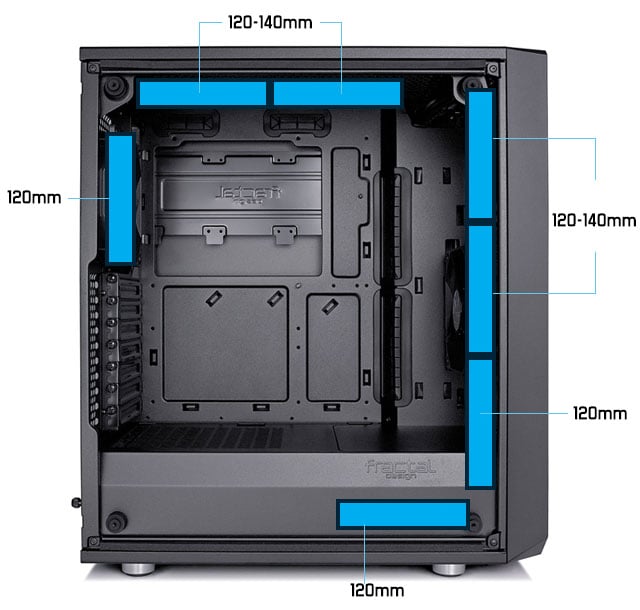 SUPERIOR AIR COOLING
Seven total fan positions allow for extensive air cooling. Two Fractal Design Dynamic X2 GP-12 fans come pre-installed for maximum airflow, minimal noise and 100,000-hour life expectancy.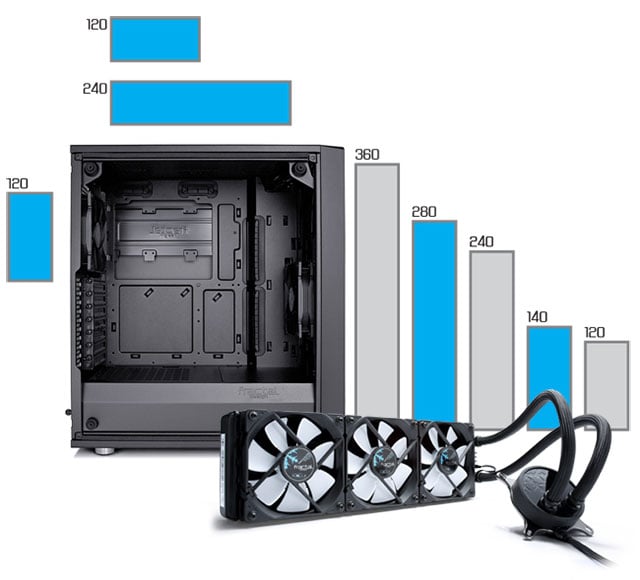 EXPANSIVE WATER COOLING
Whatever your liquid cooling ambitions may be, Meshify C can make it happen with support for radiators up to 360mm in the front and 240mm up top.