The DIYPC Skyline-07 is a quality ATX Full Tower computer case with ample room to accommodate your high-performance components like VGA card up to 330mm in length and tower cooler up to 165mm in height. Up to seven pre-installed fans produce substantial amount of air flow to cool your entire power house, while three-channel fan control allows you to set the desired balance between cooling and noise depending on the load level. An HDD/SSD hot-swap docking on the top makes it easy to access your bare HDDs/SSDs, without the need of opening the case or fumbling with the cables. Other features you expect on a premium gaming case are also included, like cable routing space behind motherboard tray, bottom-mounted PSU design, tool-less mechanism for ODDs and HDDs, and top-mounted USB 3.0 connectivity, making the Skyline-07 the second-to-none choice for your new gaming build.
Available in black with Red, Green or Blue color scheme, choose the one that best suits your preference.
Robust Cooling
Two front 120mm LED red fans, two top 120mm red fans, two side 120mm LED red fans and one rear 120mm red fan work together to create cyclonic airflow that takes the heat away and helps keep your system running stable and always at peak performance. The glowing LEDs give out eye-catching light that liven up every gaming session.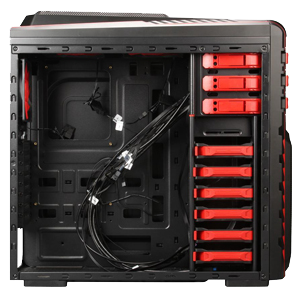 Great Expandability
Inside the chassis there is a spacious interior capable of support up to 330mm long VGA card, 165mm high CPU cooler. There are also eight PCI expansion slots, three 5.25" drive bays, three 3.5" drive bays and three 2.5" drive bays to meet your needs of today and tomorrow. Tool-free design for 5.25" and 3.5" devices allows easy drive installation and removal.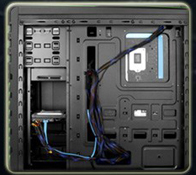 Advanced cable management of 27mm behind motherboard tray lets you organize and hide the cable for less clutter and better air flow.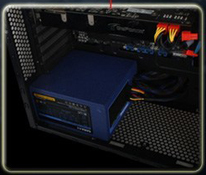 Advanced bottom-mounted power supply design enables better case stability and independent PSU cooling.
Top-mounted HDD/SSD hot-swap docking offers a quick and convenient way to transfer data with your bare SATA drives.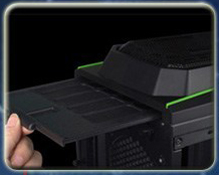 Front panel dust-proof mesh design, and dust filter on top/bottom panel helps prevent the dust buildup that could compromise cooling and performance.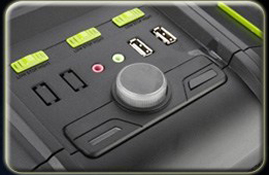 Integrated three-channel fan speed controller lets you control front, top and rear fans separately for balance of cooling and noise.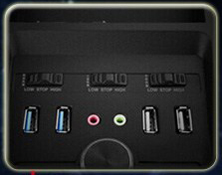 Top-mounted I/O ports, including two USB 3.0, two USB 2.0 and two audio ports, allow easy connection with your peripherals.
Please Note: The image display or configuration may be different on each model, please refer to the specification.