The Coboc CL-AD-DP2HD-6-BK is a high-performance dongle-style DisplayPort to HDMI passive adapter converter. With a male DisplayPort connector at one end, and a female HDMI connector at the other end, it lets you easily connect your computer to an HDTV for Full HD video (1080p) and premium audio streaming, or to an HD monitor/projector by using an HDMI cable(not included). And, the connectors are gold-plated for optimal signal transfer and maximum durability. It measures only 6-inch in cable length to help reduce strain, and prevent cable damage. The FCC and CE approvals ensure maximum reliability, while plug-and-play support allows for easy installation.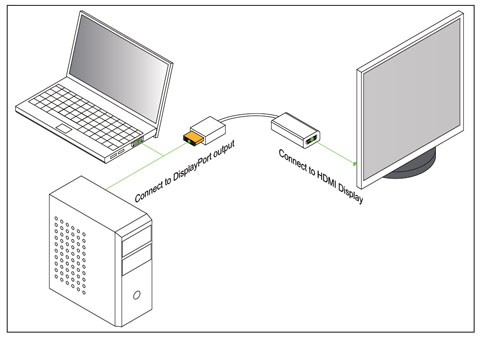 Audio pass-through Configure
In Some Cases, Source like laptop or desktop would set built-in speaker as default playback device. When use this adapter to enjoy movies on the big HDTV, please configure your HDTV as default audio device if you just get video, no audio output.(Make sure your computer supports audio over DisplayPort)

Example of Windows system: 1. Control Panel 2. Hardware and Sound. 3. Sound 4. Set HDTV as Default Device. Please check the following picture.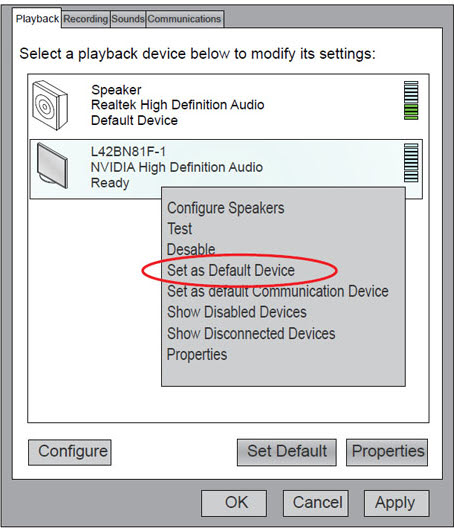 Passive Adapter
The Coboc CL-AD-DP2HD-6-BK is a passive adapter that requires a DP++ port (DisplayPort++). This means that DVI and HDMI signals can be passed through the port.
HDTV 1080P Resolution support
The Coboc CL-AD-DP2HD-6-BK adapter supports HDTV resolution up to 1080P, allowing you to take full advantage of HDMI video capability. This adapter allows for audio pass-through as well if supported by the video source.
6-inch cable length
The 6-inch cable length allows for compact installation. It lessens strain on the source port, prevents damage to the cable, and reduces the potential of blocking other nearby ports.
Plug and play
No more annoying configurations. This adapter supports plug-and-play; no software is required.

A reliable converter
FCC and CE approvals make the Coboc CL-AD-DP2HD-6-BK a reliable converter you can count on. Take it home, and use it with confidence.