Power eSATA to eSATA and USB Adapter - M/F
The StarTech ESATAUSBBO Power eSATA to eSATA and USB Adapter offers an easy and fast to connect a computer equipped with power eSATA ports to standard eSATA drives. It features a power eSATA port at one end, and an eSATA port and USB port at the other end [1]. Just insert the adapter into a power eSATA port on your laptop or desktop computer, and then connect a separate eSATA cable for data and a USB cable for power[2].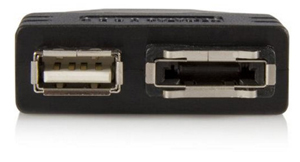 Note:*
1.This high-quality adapter is expertly designed to provide compatibility with existing eSATA and USB standards.
2. The cables are not included; sold separately.