Use the BYTECC SATA-118C serial cable to connect SATA hard drives to motherboards for a secure and efficient connection. The serial ATA 150/300 cable can help you use your SATA hard drives. Plus, the cable saves power with low voltage. It also uses durable materials to allow for years of use and has clever enhancements that improve speeds and connections.
Bytecc SATA-118C Serial Cable has High-Speed Advantages
When using the Bytecc 18-in. serial ATA cable, you can transfer data at fast speeds. Transferring speed is 150MB/s while it is also able to transfer data at 300MB/s and 600MB/s. Fast speeds can create a smooth and effective connection.
Power-Saving Efficiency
The low-voltage signal levels of this serial ATA 150/300 cable can save power. A voltage differential of 500 mV is achievable, which is ideal for most PC technical requirements. The compatibility of this SATA cable to your motherboard can make use more efficient and seamless.
Durable Design
The red SATA-118C cable is 18in. in length, which allows for versatile and flexible setups between your SATA hard drive and your motherboard. A locking latch comes with this cable for a secure connection when the device is in use. Materials used to construct this cable are strong and designed with the intention to last for years, even with frequent use. Also, you can remove the terminal lines and use the tie-in, meaning the body size is smaller and the trans-positional space is greater.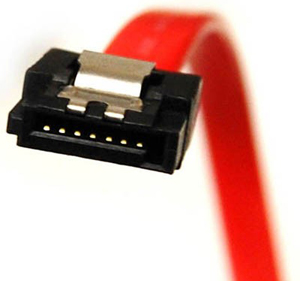 The BYTECC SATA-118C SATA 150/300 cable allows you to take full advantage of your high-speed SATA hard drives. The locking latch ensures secure connection and solid contact for reliable performance. Plus, this cable is built with premium materials for lasting durability for years to come.
Compared with the Parallel ATA, Serial ATA has more advantages as listed below:
Lower voltage signal level: The level of voltage to the Serial ATA is of differential 500 mV, and it's more suitable for PC's technical request than that of 5 Volt Parallel ATA, and it can save more power as well.
Pin Pitch Advantage: Serial ATA connector includes a line of 7Pin signal terminal and a line of 15Pin power terminal. These two lines of terminals can be detached to the freestanding tie-in, therefore, it not only reduces its body size but also enlarge is trans-positional space.
Transferring Speed Advantage: It almost has no potential to fasten the transferring speed of Parallel ATA. But for the Serial ATA, the transferring speed for its incunabular design is 150MB/s , and now it is striding forward to the speed of 300MB/s and even up to 600MB/s.