The Coboc CL-ACAD-MDP2DVI-6-WH is a high-performance Mini DisplayPort V1.2 to Single-link DVI-D active adapter. With a male Mini DisplayPort connector at one end, and a female DVI connector at the other end, it lets you easily connect your computer/graphics cards with Mini DisplayPort to a DVI-D/DVI-I-enabled display/monitor. Since it fully supports MST application through Eyefinity technology, it can even work with graphics cards that are not capable of outputting DP++ signals. It supports sharp HDTV resolution up to 1080p, and widescreen monitor resolution up to 1920 x 1200, giving you the ultimate viewing experience with reality-defining clarity.
Moreover, the connectors are gold-plated for optimal signal transfer and maximum durability. It measures 6-inch in cable length to help reduce strain, and prevent cable damage. The FCC and CE approvals ensure maximum reliability, while plug-and-play support allows for easy installation.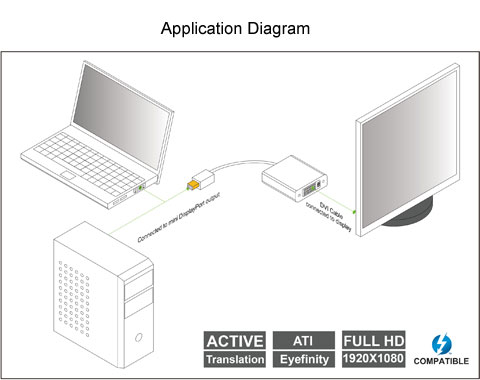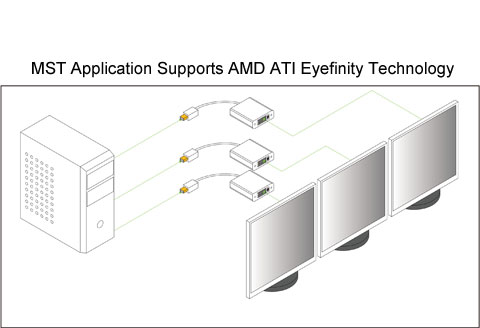 A DisplayPort to Single-link DVI Active Converter
Wider display connectivity is possible by using the CL-ACAD-MDP2DVI-6-WH – a high-performance Mini DisplayPort to Single-link DVI converter. It is constructed with complex circuitry to convert the DisplayPort signal from the graphics card, modify it to the new display signal required for the attached monitor, and for transmission. It is suitable for graphics cards with DP and DP++ outputs.
ATI Eyefinity
This adapter enables ATI Eyefinity multiple-display configurations with more than two displays. It supports a total of six independent displays (depending on graphics card). It is an ideal product for graphics design, playing video game, business presentation, spreadsheet analysis etc.

High resolution support
The Coboc CL-ACAD-MDP2DVI-6-WH adapter supports PC 1920 x 1200 and HDTV 1080p resolution, allowing you to take full advantage of DVI video capability.

6-inch cable length
The 6-inch cable length allows for compact installation. It lessens strain on the source port, prevents damage to the cable, and reduces the potential of blocking other nearby ports.

Plug and play
No more annoying configurations. This adapter supports plug-and-play; no software is required.

A reliable converter
FCC and CE approvals make the Coboc CL-ACAD-MDP2DVI-6-WH a reliable converter you can count on. Take it home, and use it with confidence.