With one 6-pin PCIe male connector on one end, and two 6+2-pin PCIe female connectors on the other end, the Coboc PCIE6SPL28P-6 Y splitter cable turns one PCIe connector into two. It's great for adding more PCIe connectors, or using your older power supply with newer hardware, which eliminates the hassle and cost of upgrading to a 6+2(8)-pin PCIe equipped PSU. You can connect two video cards, or a video card that requires two PCIe connectors. Quality build and 18AWG tinned copper ensure reliable and lasting performance.
Select Your Suitable PCI Express Card Power Cable
There are two different 6-pin PCIe power connectors on the market. It is easy to identify the difference, just check the top center pin socket (The side near the locking latch).
- One is that the top center pin socket is tapered on two sides
- The other one is that the top center pin socket is square
This PCIE6SPL28P-6, the top center pin socket of the PCIe 6-pin female is tapered on two sides (Please check the following picture). Before purchasing the PCIe power cable, please make sure which type of connector your PCIe card or PSU has.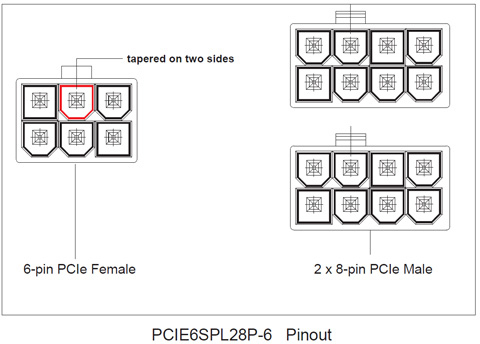 6-Pin and 8-Pin Flexibility
With a detachable 2-pin design, you can use the cable with device requiring 8-pin connector, or device requiring 6-pin connector with the two pins detached.

Quality Build
Built with 18AWG tinned copper, this cable provides robust and stable power delivery for your components.