Roku 3 – New Streaming Superstar
Everything you love is here
Roku 3 Streaming Media Player comes with an enhanced remote with voice search, private listening, and motion control for games. The intuitive interface and high speed processor make search lightning fast. Just in seconds, you will get numerous services and arranging results by price. It supports up to 2000+ streaming channels – free, subscription, rent & buy. You will always find something worth watching in glorious 1080p.
Connect it to any TV with HDMI connection and then to the internet, and start enjoying easy access to your favorite entertainment sources.
2000+ Streaming Channels
Choose from the best selection and widest variety of streaming entertainment, including movies, TV shows, music, sports, news, and more.
Lighting Fast and Powerful
Experience ultra-smooth performance with a fast processor and extended-range wireless.
Enhanced Remote with a Headphone Jack, Voice Search, and Motion Control
The remote features a headphone jack. Just plug in your headphones and enjoy a late-night flick without disturbing the household.
The voice recognition eliminates the need to scroll to type one letter at a time. Your voice is the only thing it takes to give you various results.
Enjoy action-packed games with a motion-control remote.
One-stop Search
Find your favorite movies and shows in a flash from top channels like Netflix, Hulu Plus, Amazon Instant Video, and VUDU.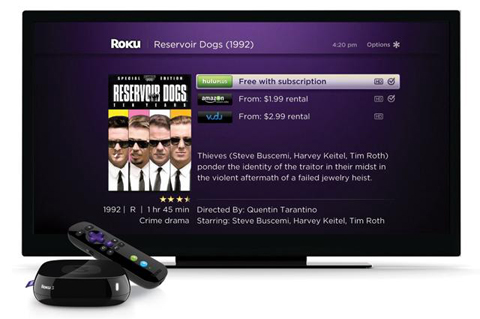 Free iOS and Android App
Transform your mobile device into a Roku remote. Browse and add new channels. Even use your phone or tablet to send your music, photos, and personal videos to your HDTV.