ASUS WS C621E SAGE Motherboard
Based on Intel C621 chipset, the WS C621E SAGE is a workstation/server motherboard that supports dual Intel Xeon Scalable Processors (up to 205W) in Socket P (LGA 3647) packaging. In addition to dual CPU sockets, this EEB form factor motherboard comes with four PCIe Gen3 x16 slots, four U.2, a M.2, USB 3.1 Gen2, Dual Intel Gigabit LAN, support for 12 DIMMs of ECC DDR4, Intel VROC and Intel Optane Memory compatibility, offering a great foundation for processing- and graphics-intensive systems for scientific computing, content creation and more. It also features industry-leading 7.1-ch HD audio, exclusive SafeSlot design for stronger, firmly anchored PCIe slots, and easy-to-use management tools that help save IT operating costs.
Designed for Dual LGA3647 socket Intel Xeon Scalable Processors with 4x U.2, M.2, USB 3.1 Gen2, Dual Intel Gigabit LAN, support for 12 DIMMs of ECC DDR4, Intel VROC and Intel Optane Memory compatibility
Winner of 18 #1 Benchmark World Records by the Standard Performance Evaluation Corporation (SPEC)
2-Way Overclocking Performance unlocks the full power of the dual Xeon processors
Next-gen transfer speeds with up to 32Gbps M.2 and U.2, plus up to 10Gbps USB 3.1 Type-A and Type-C connections
Industry-leading 7.1-channel HD audio enhanced by ASUS exclusive Realtek S1220A featuring DTS Headphone:X and driven by Japanese capacitors for warm, immersive sound
Exclusive SafeSlot features an injection molding process that integrates metal framing for stronger, firmly anchored PCIe slots built for heavyweight GPUs, ideal for supporting 4-Way NVIDIA SLI or AMD CrossfireX
Complete IT Infrastructure Management with ASMB9 Out-of-band remote management and In-band ASUS Control Center providing a complete server management solution reducing IT operating costs with features like remote BIOS updating, monitoring multiple systems via mobile device, and one-click software updates/dispatching.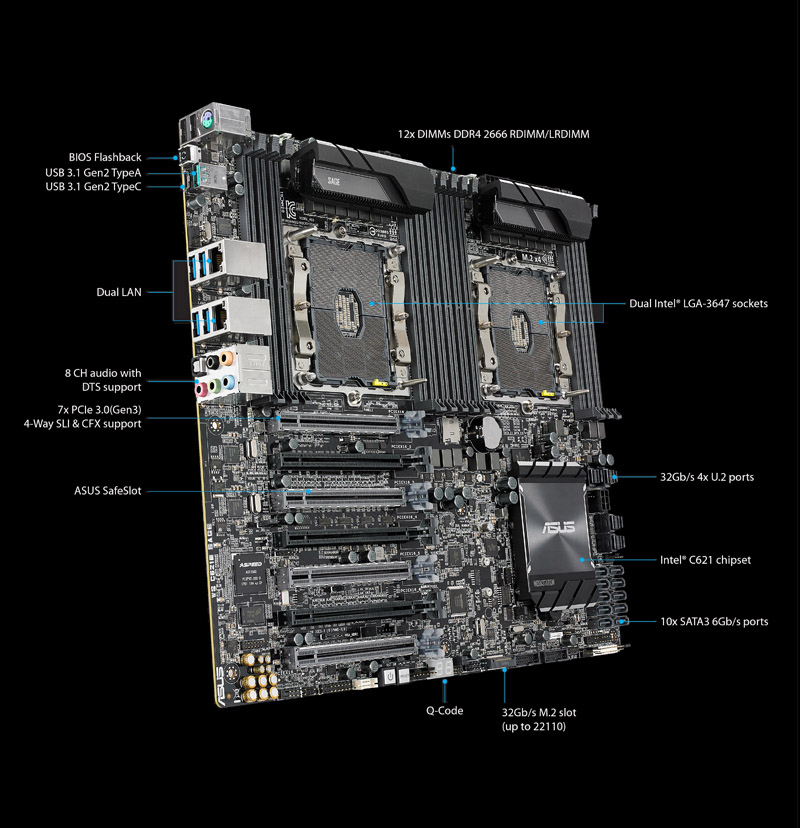 Extreme Power and Performance
Up to 4-Way Multiple-Graphic Cards
The Intel C621 chipset-based dual socket workstation motherboard features on-demand NVIDIA GeForce SLI, NVIDIA Quadro SLI, and AMD CrossFireX technology.
ASUS WS C621E SAGE accommodates up to four dual-width graphic cards with a four true PCIe Gen3 x16 link to unleash maximum graphic performance. With support for up to 4-way NVIDIA GeForce SLI, AMD CrossFireX, and 2-Way NVIDIA Quadro SLI, WS C621E SAGE is an excellent choice for content creators, mechanical or architectural engineers, and anyone with processing-intensive workloads.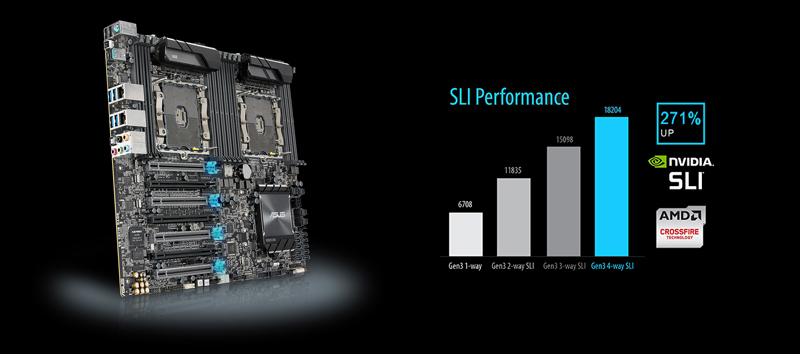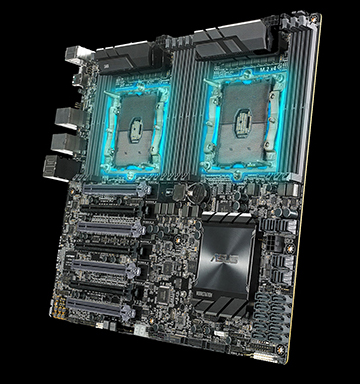 Extraordinary Performance with Dual Intel Xeon CPU Overclocking
Dual Intel Xeon CPU overclocking, pushes the power processing power beyond the extreme
ASUS WS C621E SAGE breaks performance barriers, giving you the capability to overclock dual Xeon CPUs. With its unique BIOS mechanism dedicated to boosting CPU performance, WS C621E SAGE can deliver incredible system speed.
Supporting Up to 12 DDR4 Error-Correcting Code Memory (ECC Memory)
Keeps your system running at a brisk pace, even when running multiple hardware-intensive programs!
ASUS WS C621E SAGE supports up to 12 DDR4 error-correcting code (ECC) memory to ensure fast and responsive system performance, even when running multiple RAM-intensive applications — such as video, audio and image editing applications — simultaneously.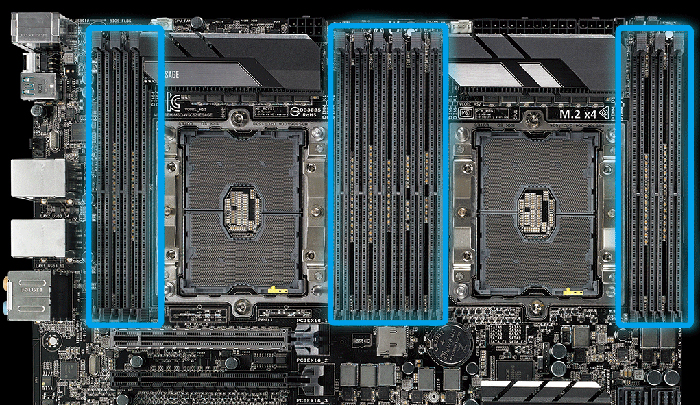 Lightning-Fast Storage Speed with NVMe PCIe SSD Raid 0 Support
With support for multiple NVMe PCIe storage devices configured as a RAID 0 array, ASUS WS C621E SAGEA lets you enjoy lightning-fast data transfers that are far beyond those provided by single drives.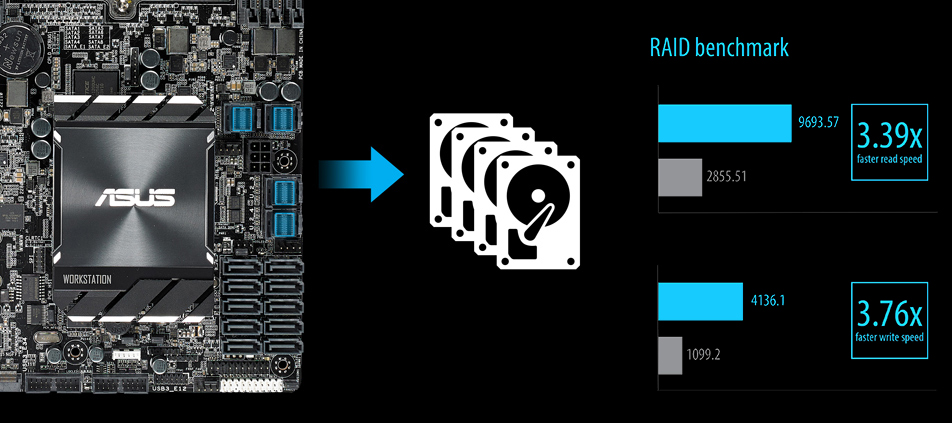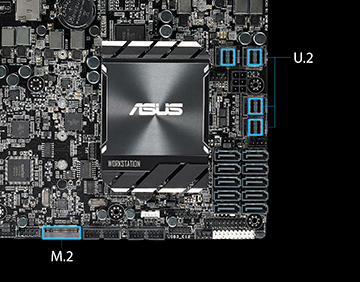 Super-Fast Transfers at up to 32Gbps with Onboard Four U.2 and M.2
ASUS WS C621E SAGE is built with onboard M.2 and U.2 connectors to fit both 2.5-inch NVMe and M.2 SSDs. By using the maximum PCIe Gen3.0 x4 bandwidth of 32Gbps, WS C621E SAGE enables theoretical data transfer speeds that are up to 5.3X faster than traditional storage devices.
10Gb/S USB 3.1 Gen2 Onboard
With backward-compatible USB 3.1 Gen2 Type-A and reversible USB 3.1 Gen2 Type-C ports, you'll experience ultimate connection flexibility and data-transfer speeds of up to 10Gb/s — twice as fast as USB 3.0 or USB 3.1 Gen1.
Exclusive Audio Features for Pristine and Powerful Audio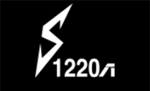 Superb Sound
ASUS WS C621E SAGE has a unique audio codec designed in close collaboration with Realtek. The Realtek S1220A features an unprecedented 120dB signal-to-noise ratio for the stereo line-out and an 113dB SNR for the line-in, providing pristine audio quality.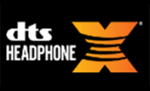 Immersive Headphone Audio with Dts Headphone:X
Offers 3D surround-sound technology for incredibly rich audio with all types of headphones.