ASUS WS C422 SAGE/10G Server Motherboard
Designed for 7th generation LGA-2066 socket Intel Xeon W-Series processors, the ASUS WS C422 SAGE/10G motherboard is a solid choice for your server. With support for ECC memory, multi-GPU setups, Intel Virtual RAID, M.2/U.2 cards, Thunderbolt 3 add-on card and more, it helps you create an ultimate platform that meets your growing demand for computing power. Thanks to an innovative thermal design, all your components can be pushed to their limits without overheating issues. ASUS Control Center software offers easy management of your workstation or server.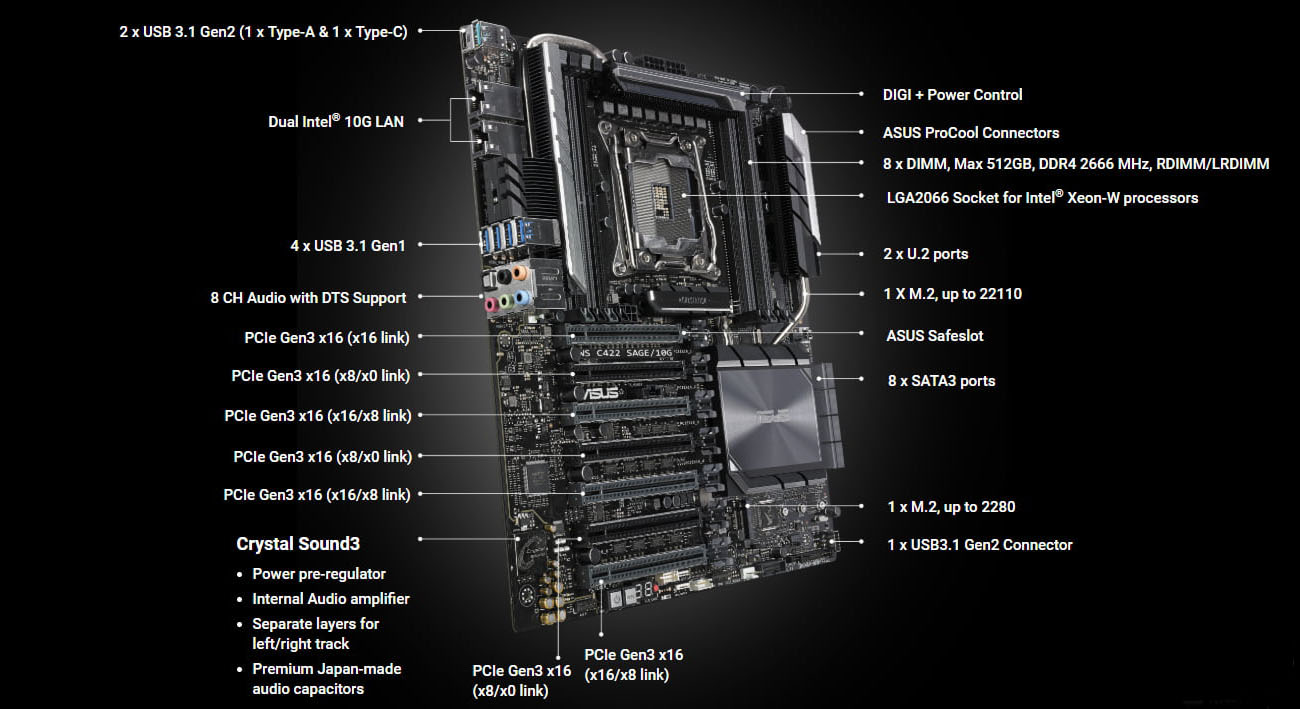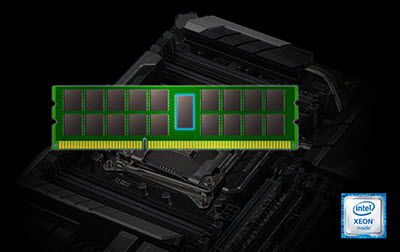 Powerful Performance with Intel Xeon W Processor and ECC Memory
WS C422 Sage/10G supports server-grade Intel Xeon W series processors to deliver powerful, optimized performance in always-on usage scenarios. Support for Error-Correcting Code (ECC) memory enables automatic detection and repair of single-bit memory errors, reducing the chance of system crashes and data corruption to ensure reliable and responsive workstation performance.
High-Speed Networking with Dual Intel 10G LAN
With built-in dual Intel 10GBASE-T networking, the WS C422 Sage/10G server motherboard increases data throughput and improves efficiency. This supports high-density, high-bandwidth and low-latency access-layer networks that are needed for extremely demanding applications, such as graphics or video production.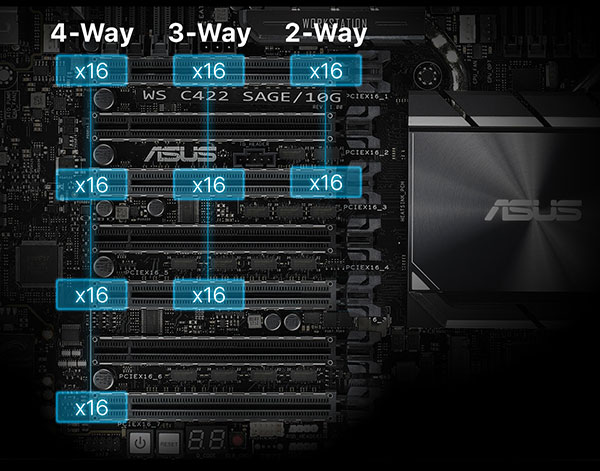 Ultimate Graphics Power with Up to 4-Way NVIDIA SLI and AMD CrossFireX
Each WS C422 Sage/10G server motherboard fits up to four dual-slot graphics cards and supports both NVIDIA SLI and AMD CrossFireX 4-way configurations to enable multi-GPU setups that harness the full power of the latest graphics technologies, including NVIDIA Quadro. NVIDIA Quadro is the perfect complement to WS C422 Sage/10G server motherboards, delivering the best performance for design, modeling, medical research and processing-intensive simulation + rendering applications.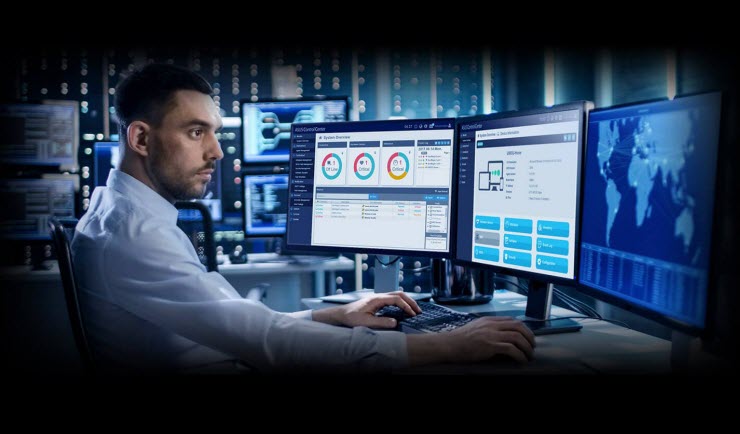 ASUS Control Center
The WS C422 Sage/10G server motherboard features ASUS Control Center (ACC), a centralized and integrated IT management platform for monitoring and controlling ASUS commercial products, including servers, workstations and digital signage. ACC enables remote BIOS updates, monitoring of multiple systems via mobile devices and one-click software updates + dispatching, allowing for easier server management for any IT infrastructure.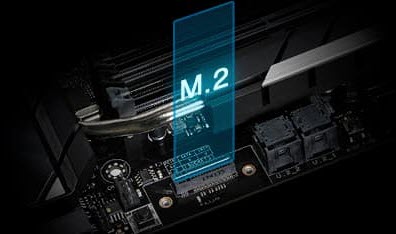 Unleashed Storage Speeds of Up to 32Gbps
WS C422 Sage/10G features dual onboard M.2 and U.2 slots that support up to 32Gbps, as well as a vertical design that supports 22110-length SSDs to reduce used space.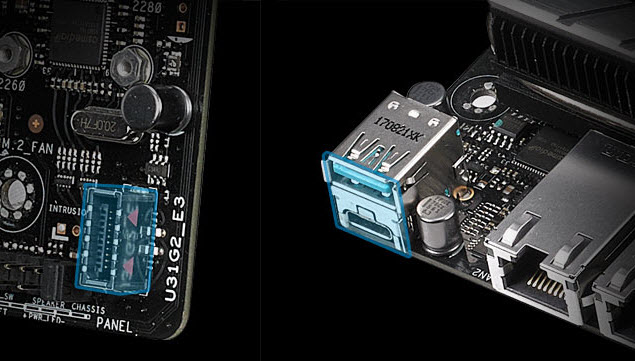 Next-Gen Transfer Speeds
The WS C422 Sage/10G 's front panel USB 3.1 connector is ready for next-gen PC cases and devices. With a backward-compatible USB 3.1 Gen 2 Type-A and reversible USB 3.1 Gen 2 Type-C ports, you'll experience ultimate connection flexibility and blazing data-transfer speeds up to 10Gbps.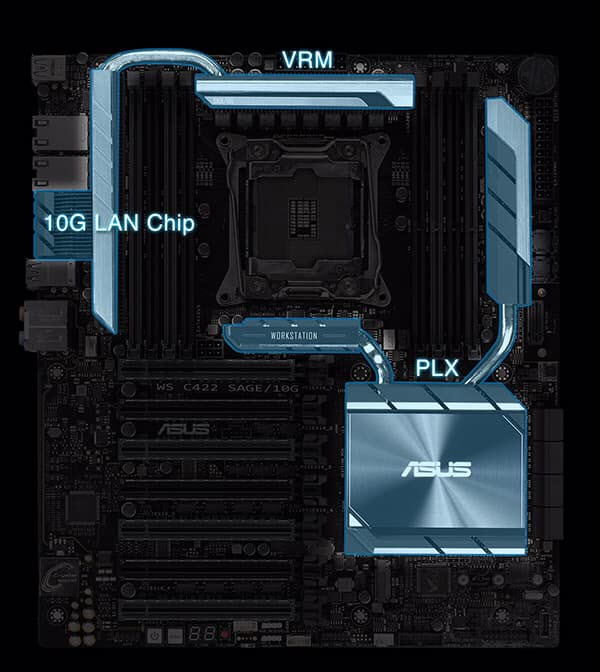 Multiple Ultra-Efficient Heat Sinks
Designed for the powerful Intel Xeon scalable processor with up to 28 cores, the ASUS WS C422 Sage/10G server motherboard features a capable thermal design to ensure maximum performance with no CPU throttling.
Consisting of an ultra-efficient VRM heatsink with a metal fin-array design that maximizes surface area for heat dissipation, plus two additional heat sinks and a connecting heat pipe to further increase cooling performance, this innovative thermal design ensures the WS C422 Sage/10G motherboard is always ready to handle any task, no matter how demanding.
With its dual PLX chips that increase the number of available PCIe lanes to enable 4-way GPU configurations, every WS C422 Sage/10G server motherboard features a robust thermal solution to dissipate the heat that comes with routing so much high-speed traffic. An additional heat-sink array and heat pipe cover the PLX chips and are positioned in the path of maximum airflow within the chassis, reducing PLX temperatures by up to 20C° to ensure optimal cooling and system stability.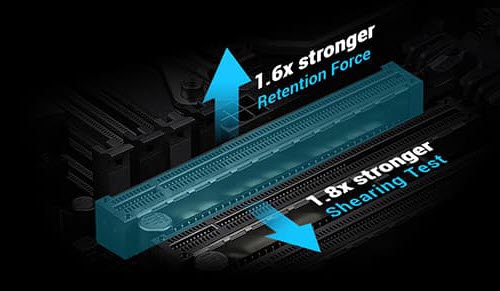 SafeSlot
SafeSlot is the PCIe slot reinvented by ASUS and engineered to provide superior retention and shearing resistance. Manufactured in a single step using a new insert-molding process, SafeSlot integrates the slot with fortifying metal for an inherently stronger slot, which is then firmly anchored to the PCB through additional solder points.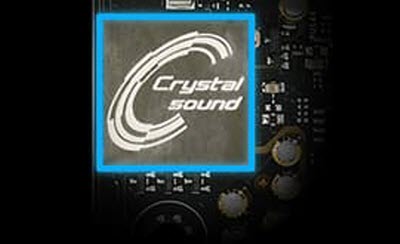 Outstanding Audio for Any Content Creator
The Realtek S1220A is a unique audio codec that features an unprecedented 120dB signal-to-noise ratio for the stereo line-out and an 113dB SNR for the line-in, providing pristine audio quality.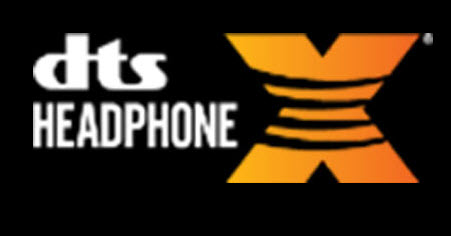 Immersive Headphone Audio
DTS Headphone:X offers 3D surround-sound technology for incredibly rich audio with all types of headphones.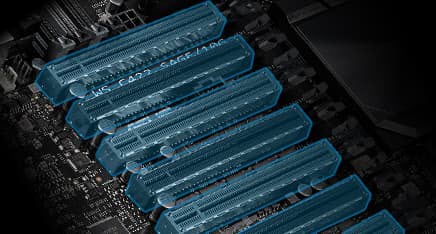 Upgrade Your RAID*
Intel Virtual RAID on CPU (VROC) obliterates PCH-based RAID arrays that are bottlenecked by the 32Gbps limit of the DMI bus, allowing you to utilize CPU PCIe lanes to configure a bootable RAID array that can transfer data at insane speeds.
Support for Thunderbolt EX3 Cards
The ASUS WS C422 Sage/10G server motherboard provides full support for a Thunderbolt EX 3 card. An Intel-certified Thunderbolt 3 add-on card enables breathtaking bi-directional speeds of up to 40Gbps through a single cable—up to 4X faster than other PC data-transfer protocols. Beyond sheer bandwidth, Thunderbolt 3 supports daisy-chaining up to six devices, utilizes a Type-C reversible connector for compatibility with the latest USB 3.1 Gen 2 Type-C devices, and meets USB power-delivery specifications for fast, high-power charging up to 36W.
Note:
* A VROC key is required to enable VROC RAID arrays. For information about VROC key availability, please contact your local Intel representative.