Z590-A PRO
EXCLUSIVE FEATURES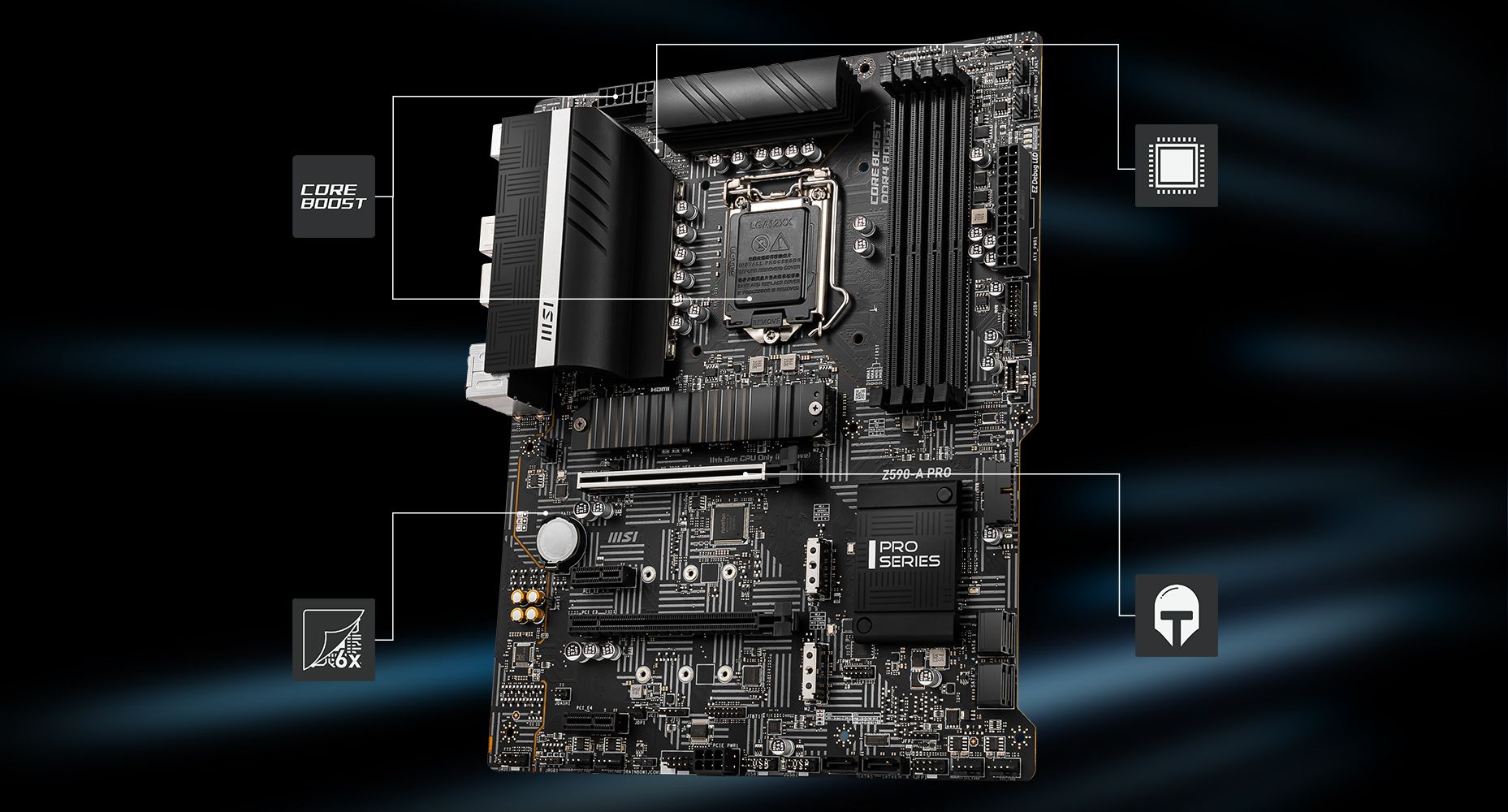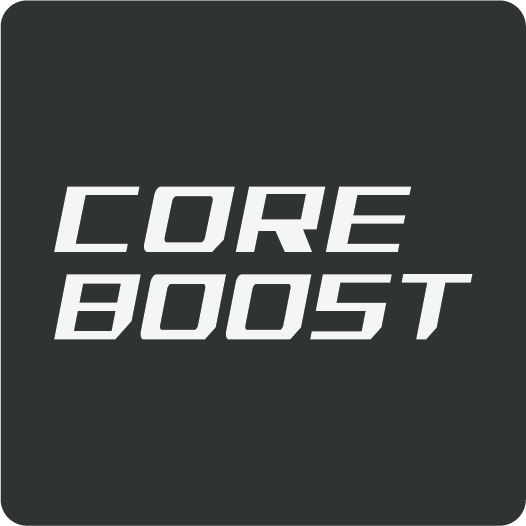 Core Boost Technology
8+4 pin CPU power connectors and optimized power circuits sustain steady electrical power delivery to the processor.
6 layer PCB with 2oz thickened copper
6 layer PCB improves signal transmission for high performance capabilities across the motherboard.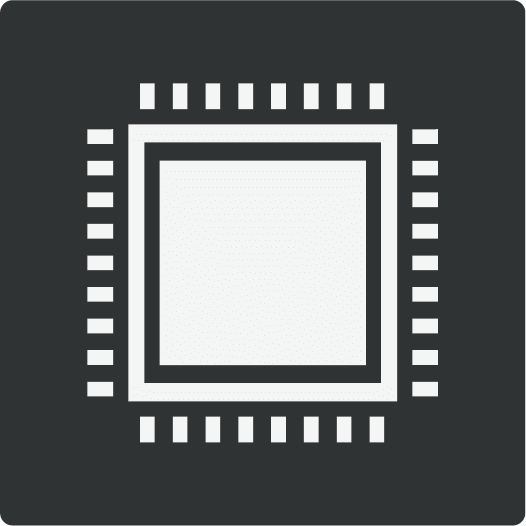 Digital PWM
A selection of the high quality power delivery components lets the system run reliably even under demanding conditions.
PCIe Steel Armor
Reinforced and shielded PCIe slots for strength and stability.
Z590-A PRO
PREMIUM THERMAL SOLUTION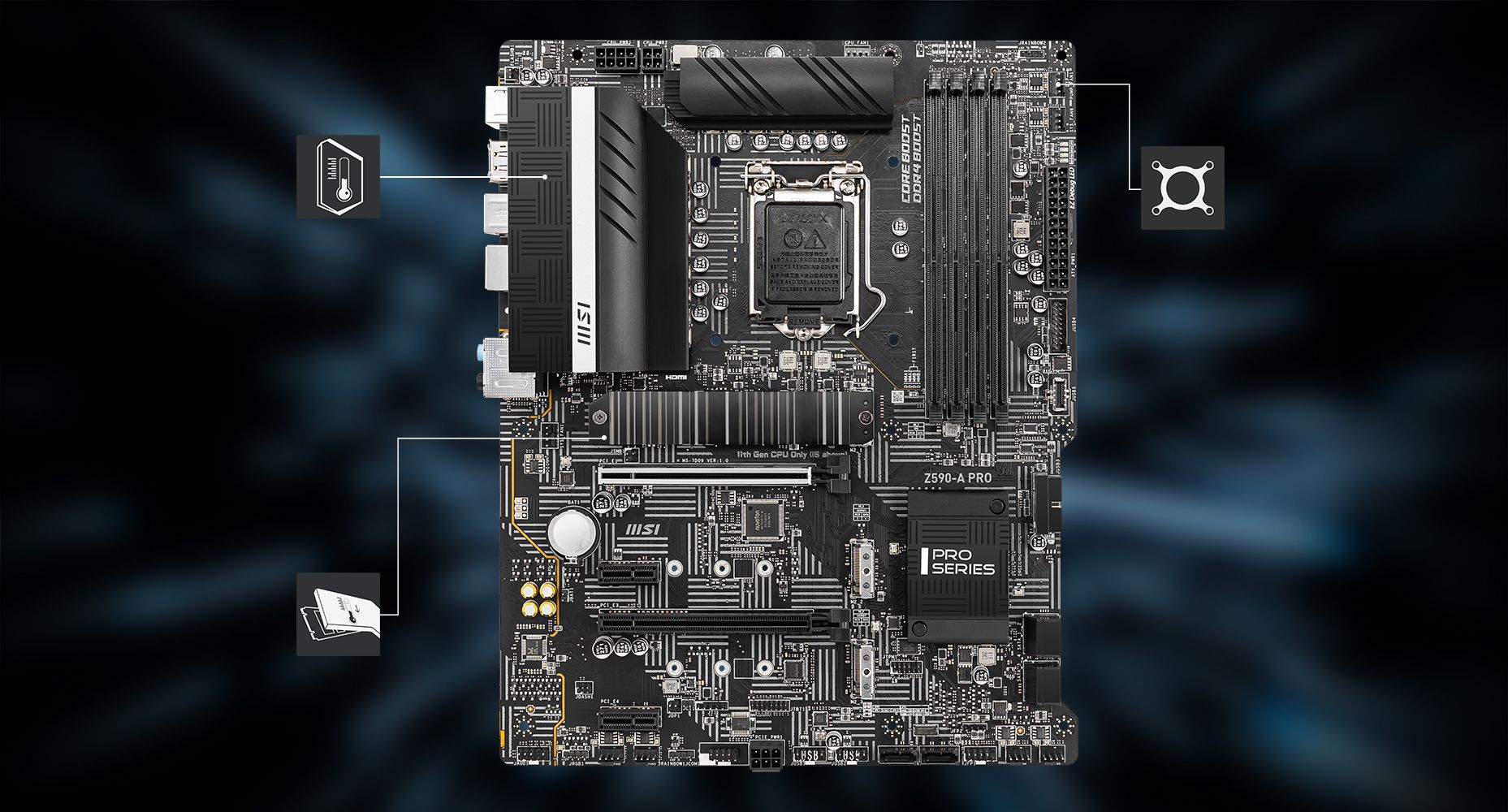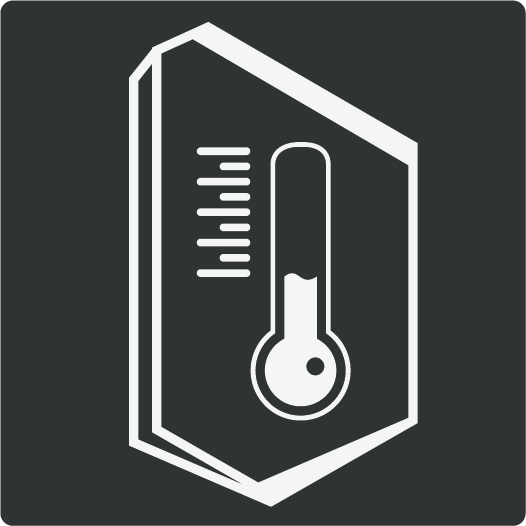 Extended Heatsink
Larger VRM heatsink design for cooling and performance.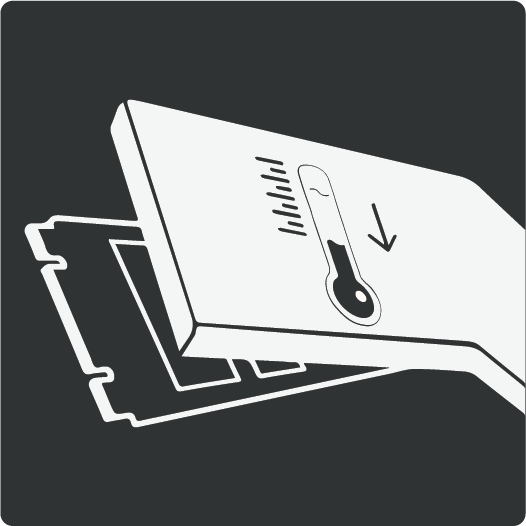 M.2 Shield Frozr
Sustain maximum high-speed M.2 SSD data transfer with M.2 SHIELD FROZR and prevent SSD thermal throttling.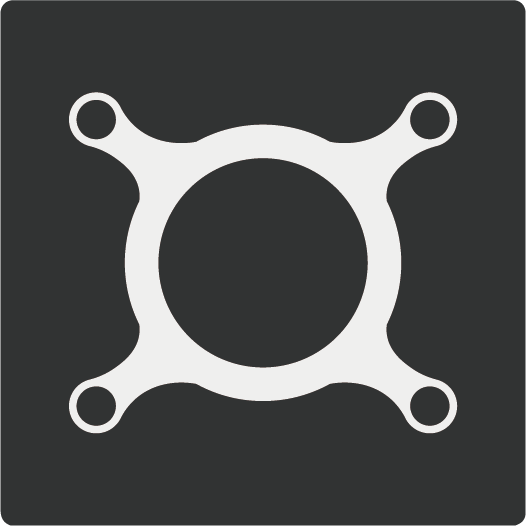 Pump Fan Support
Control watercooling pump speeds for flowrate and noise control.
Z590-A PRO
HIGH-SPEED TRANSMISSION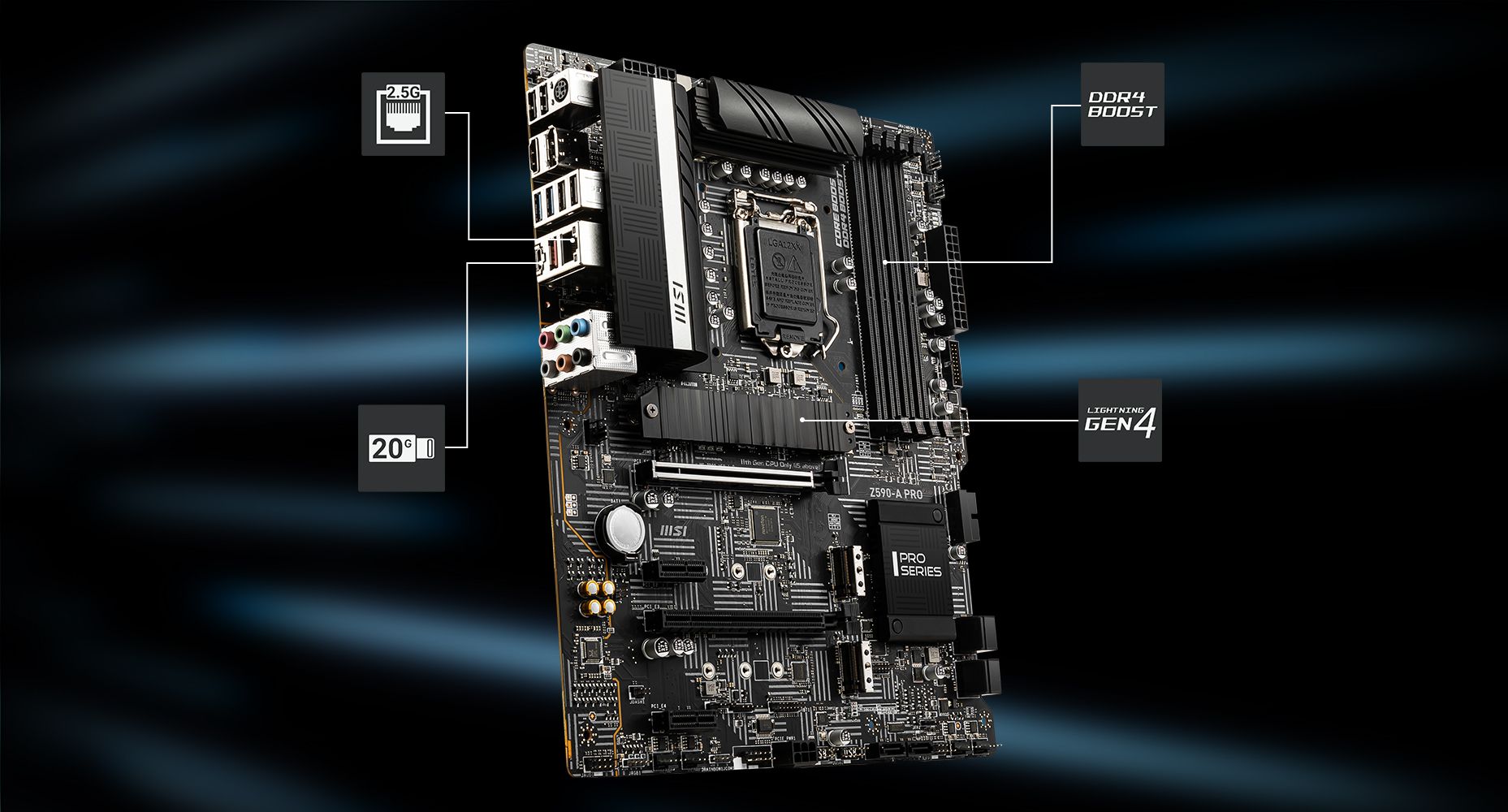 2.5G Network Solution
Onboard 2.5 Gigabit Ethernet LAN with LAN manager.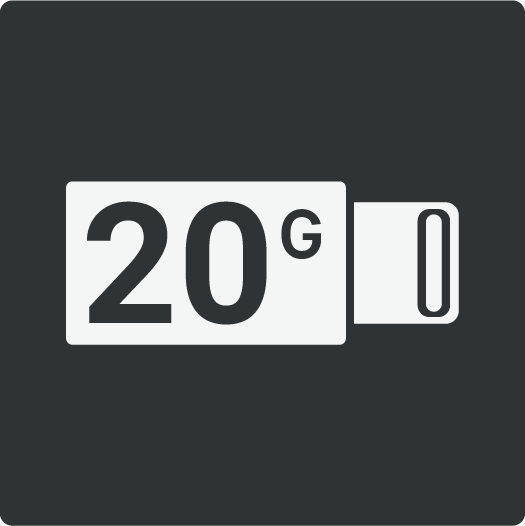 Lightning USB 20G
Built-in USB 3.2 Gen 2x2 port, up to 20Gbps transfer speed, 4X faster than USB 3.2 Gen1.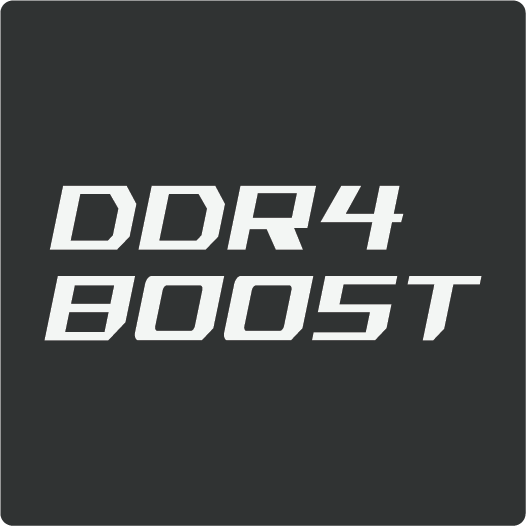 DDR4 Boost
The memory circuit design has been optimized on a reserved section of the motherboard fully isolated from other circuits.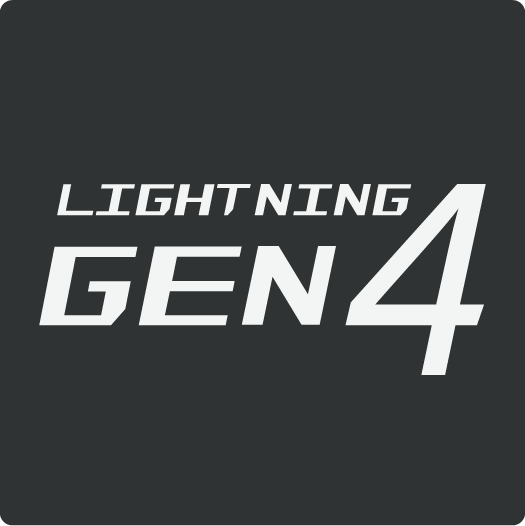 Lightning Gen 4 Solution
Transfer data lightning fast across Gen 4 PCI-E and M.2 with up to 64GB/s bandwidth.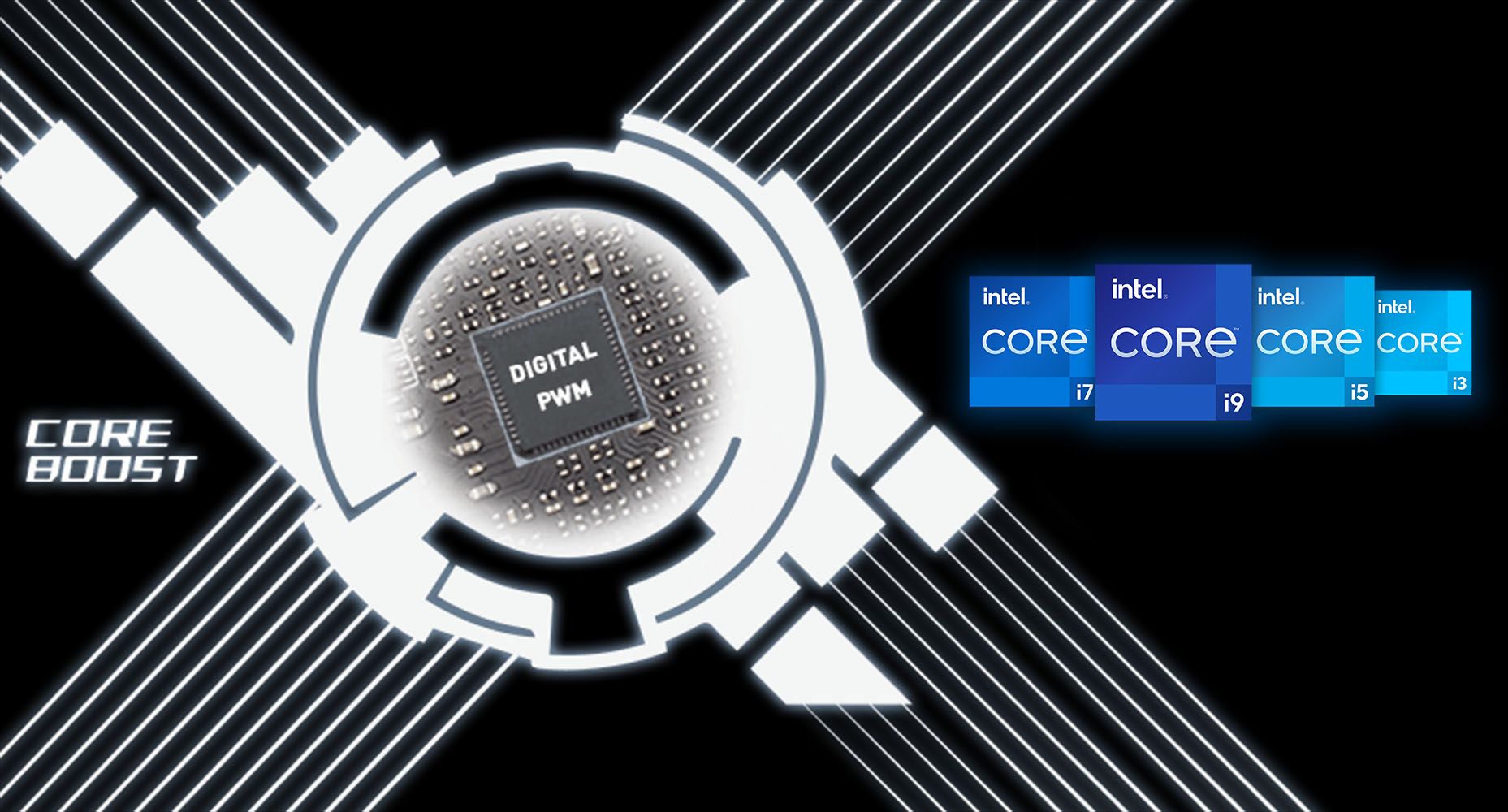 Core Boost
Core Boost combines a reserved zone of optimized circuits and premium power delivery components to create a highly efficient power system capable of precise current output to the CPU.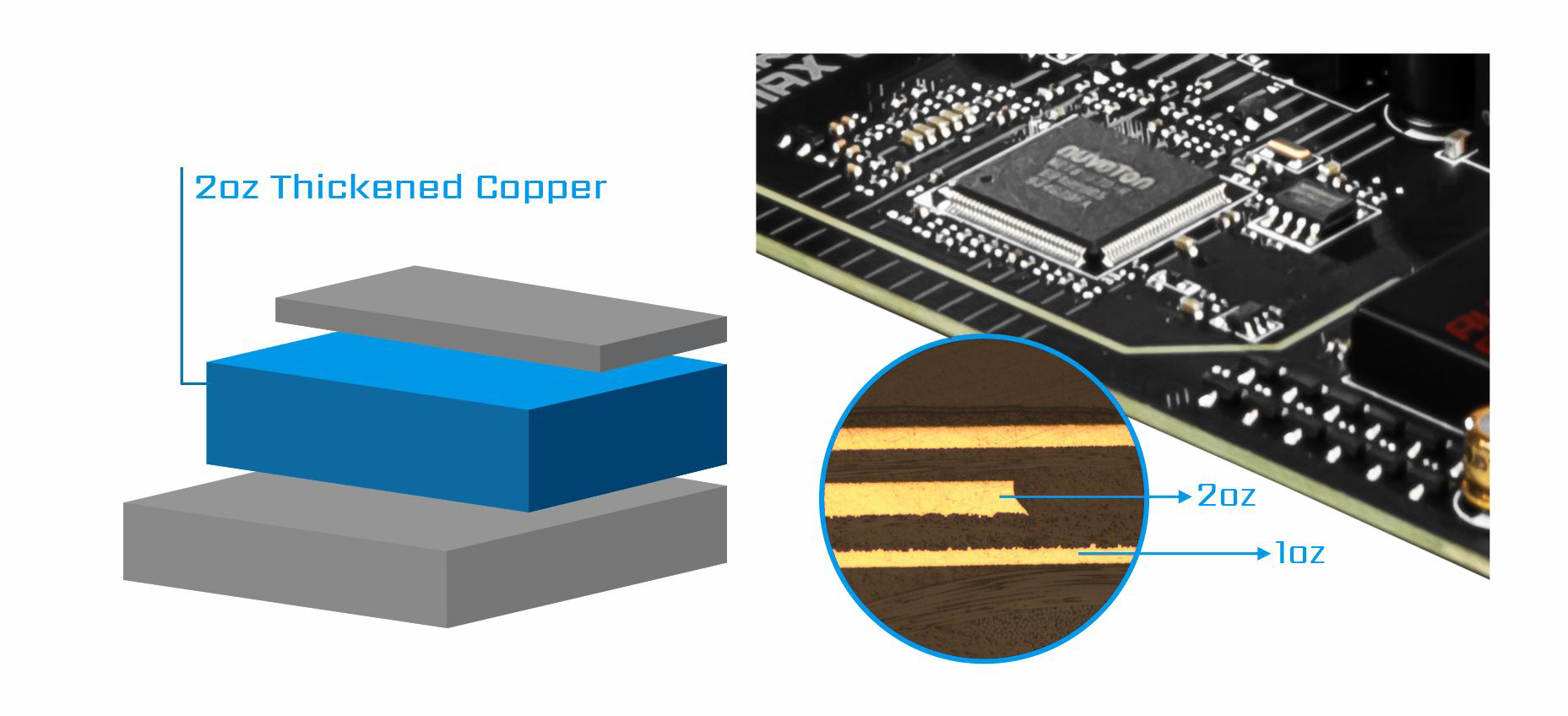 PCB WITH 2OZ THICKENED COPPER
An enhanced PCB material design with 2oz thickened copper increases conductivity, improving heat dissipation and high-performance reliability.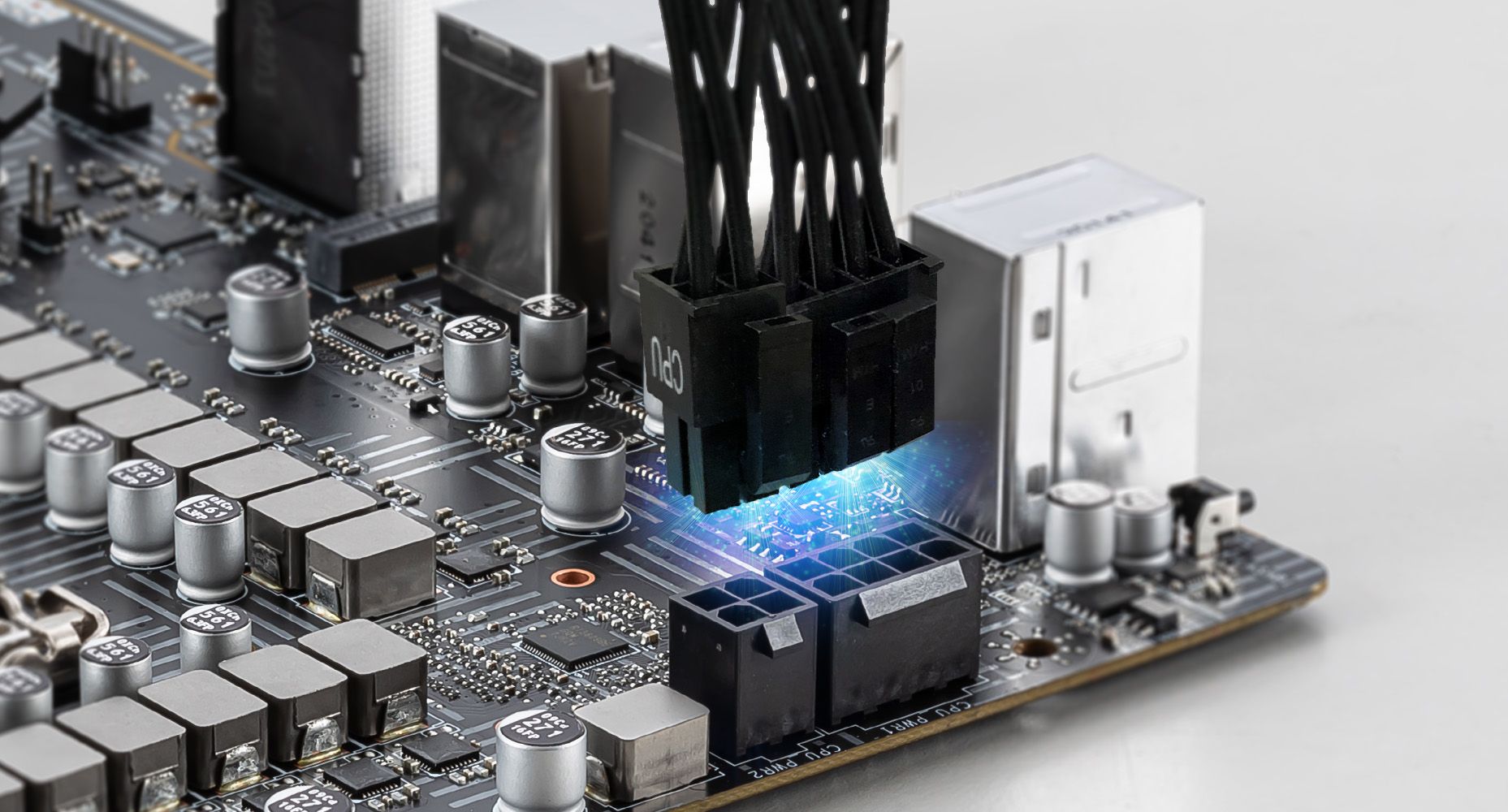 Double Power Connectors
8+4 pin connectors deliver adequate power for multi-core CPUs under heavy load.
EXTENDED HEATSINK
Heatsinks on top of the VRM help to dissipate excessive heat. Extended heatsinks have even more surface area for more thermal dissipation.
USB Type-C ready - Rear IO & Front Case Panel Support
Effortlessly plug in devices with reversible USB Type-C.
LIGHTNING GEN 4 M.2 WITH M.2 SHIELD FROZR
The world's fastest SSDs can slow down when they get too hot. M.2 SHIELD FROZR extends the motherboard's heatsink over attached M.2 SSDs to prevent thermal throttling and sustain maximum performance.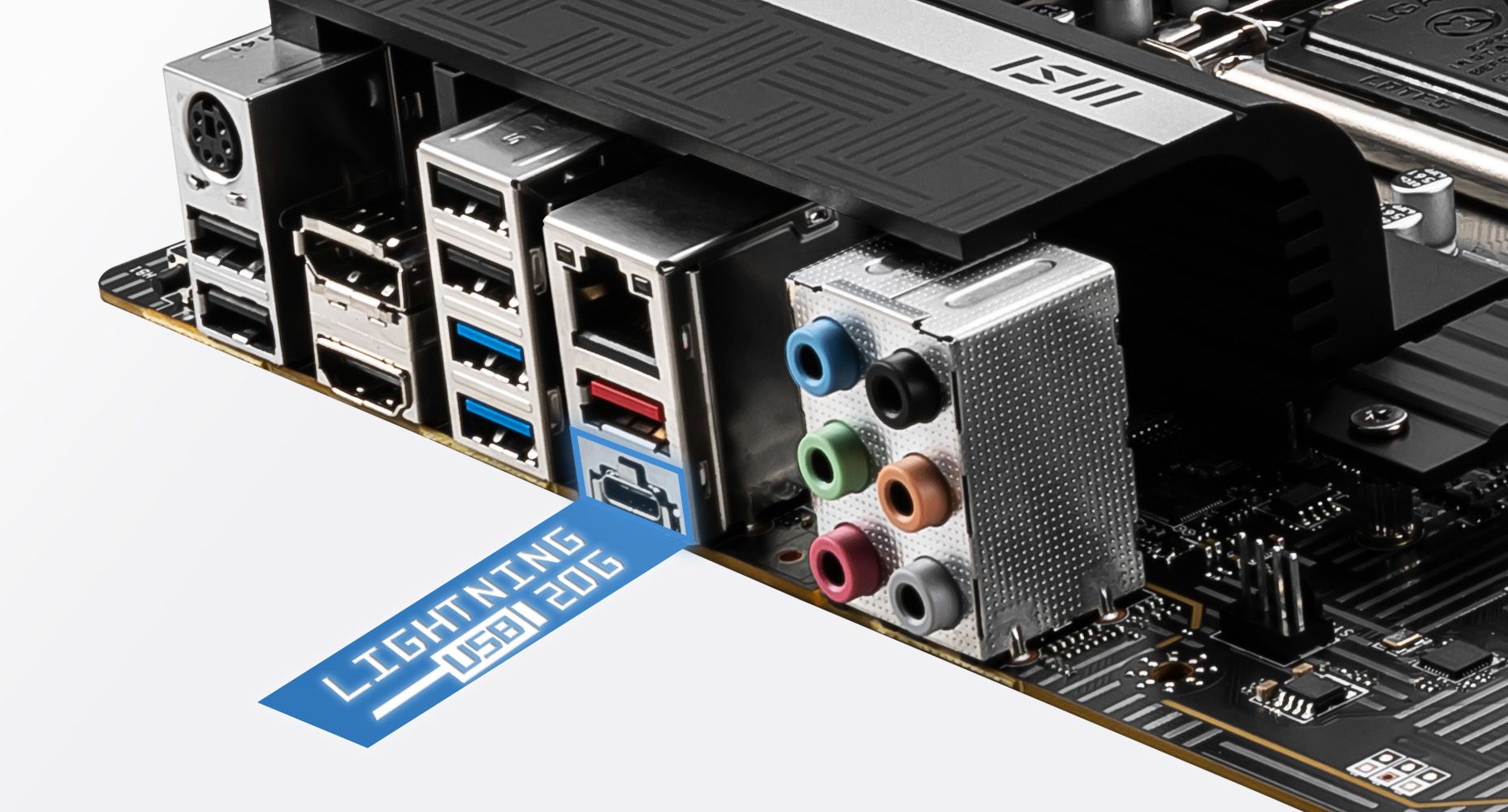 Ultra-Fast Lightning USB 20G
Connect the rear USB Type-C port and quickly move large files including uncompressed video, raw images, and bulky simulation data across USB 3.2 Gen 2x2 with transfer speeds up to 20Gbps.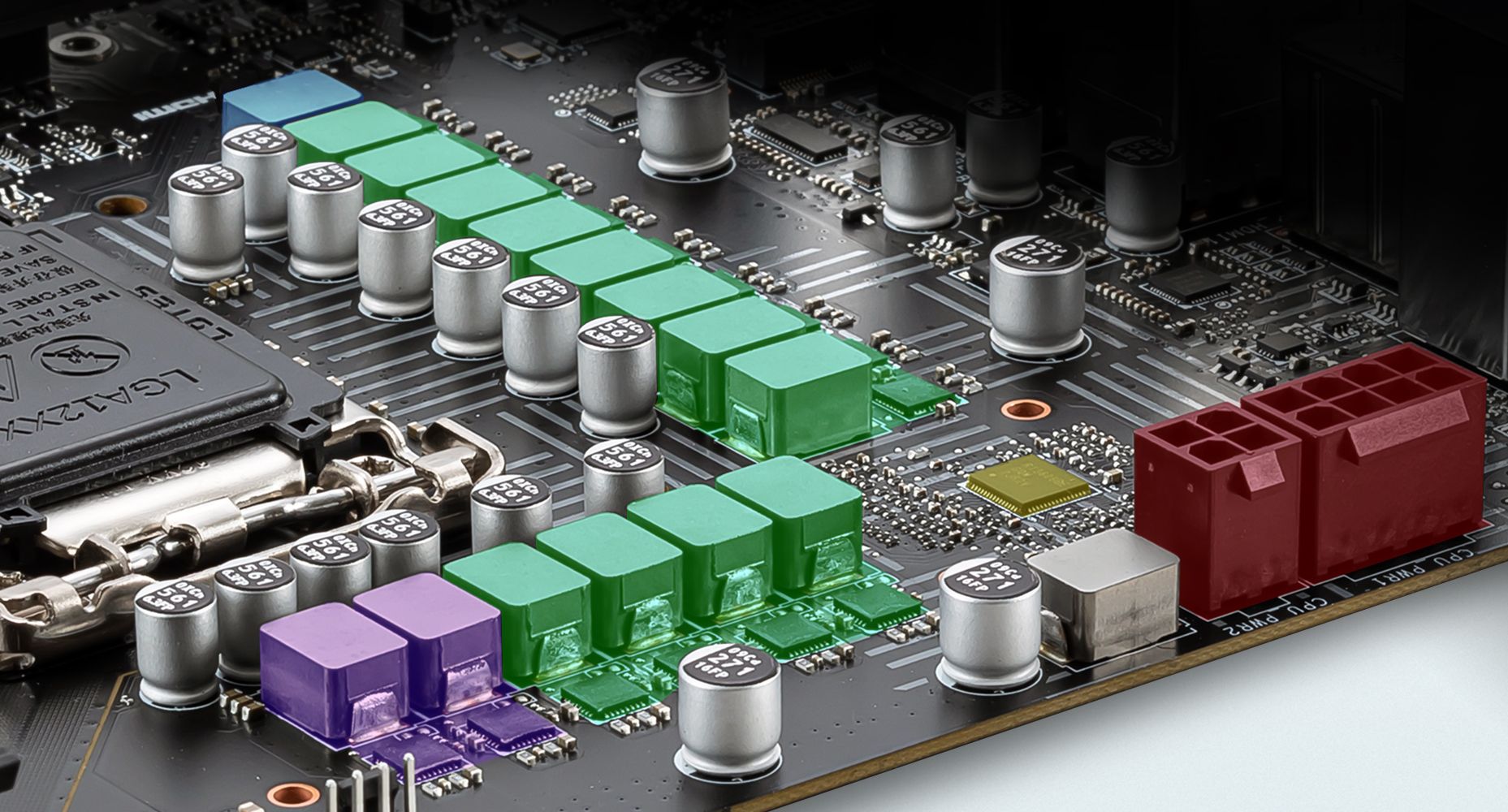 12 + 2 +1 DUET RAIL POWER SYSTEM
Unleash and sustain maximum performance with an aggressive VRM design built with a total of 16 Duet Rail Power System(DRPS). Combining 8+4 pin power connectors and exclusive Core Boost technology, Z590-A PRO motherboard is ready to sustain heavy daily work.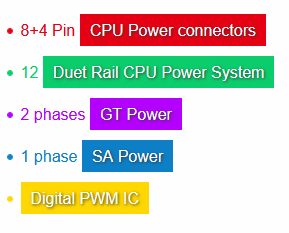 UNMATCHED MEMORY PERFORMANCE
MSI takes memory stability and performance to the extreme. The memory circuit layout has been optimized for reliability and tested extensively in partnership with major memory manufacturers for compatibility.
MAXIMIUM DATA TRANSFER WITH 2.5G LAN
Z590-A PRO features high-bandwidth and low-latency dual Ethernet networks for demanding creators and power users. Onboard 2.5Gbps connectivity provides incredible data transfer speed faster than ever before. MSI LAN Manager automatically classifies and prioritizes the latency-sensitive for your applications, giving you the best online experience with low latency.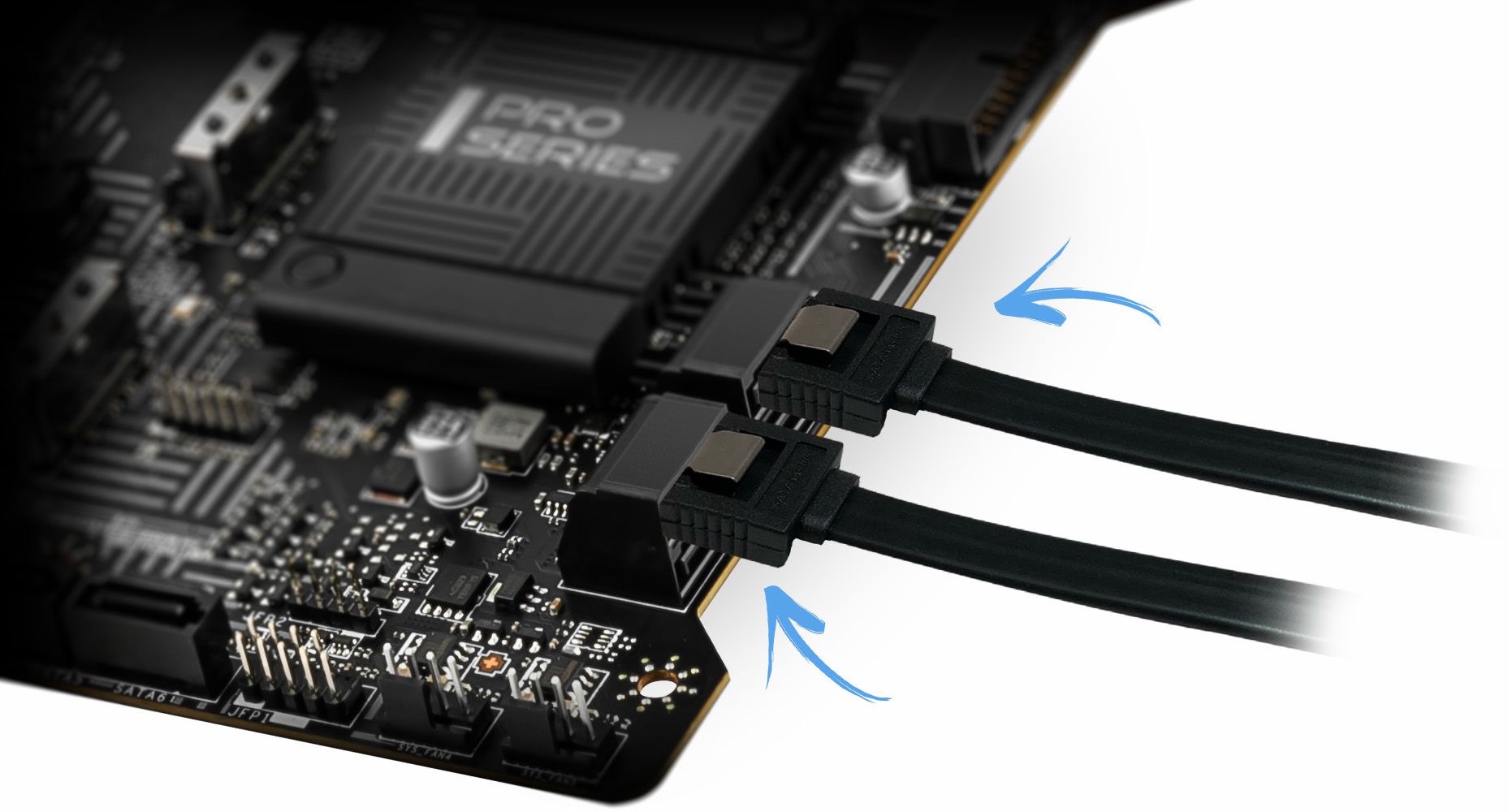 EASY TO ARRANGE YOUR CABLES
Tuck away SATA and USB cables neatly with MSI Atypical PCB edge.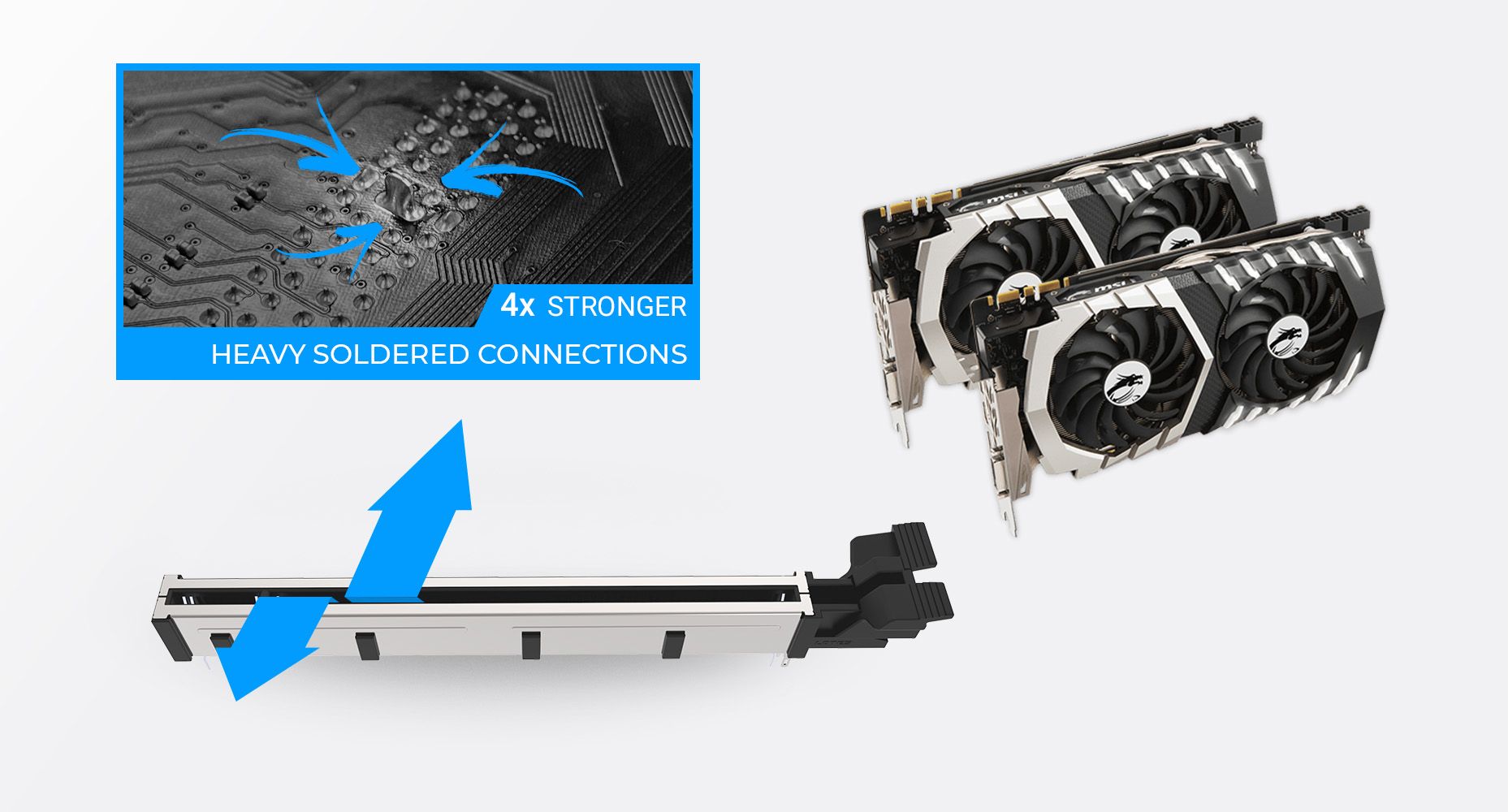 MULTIPLE GPU SUPPORT AND PCI-E STEEL ARMOR
Z590-A PRO ssupports AMD CrossFire multi GPU technology. PCI-E slot placements provide optimal airflow for graphics card cooling.
MSI PCI Express Steel Armor slots are secured to the motherboard with extra solder points and support the weight of heavy graphics cards. When every advantage counts, Steel Armor shields the point of contact from electromagnetic interference.