MEG X570S UNIFY-X MAX
OUTSTANDING COOLING SOLUTION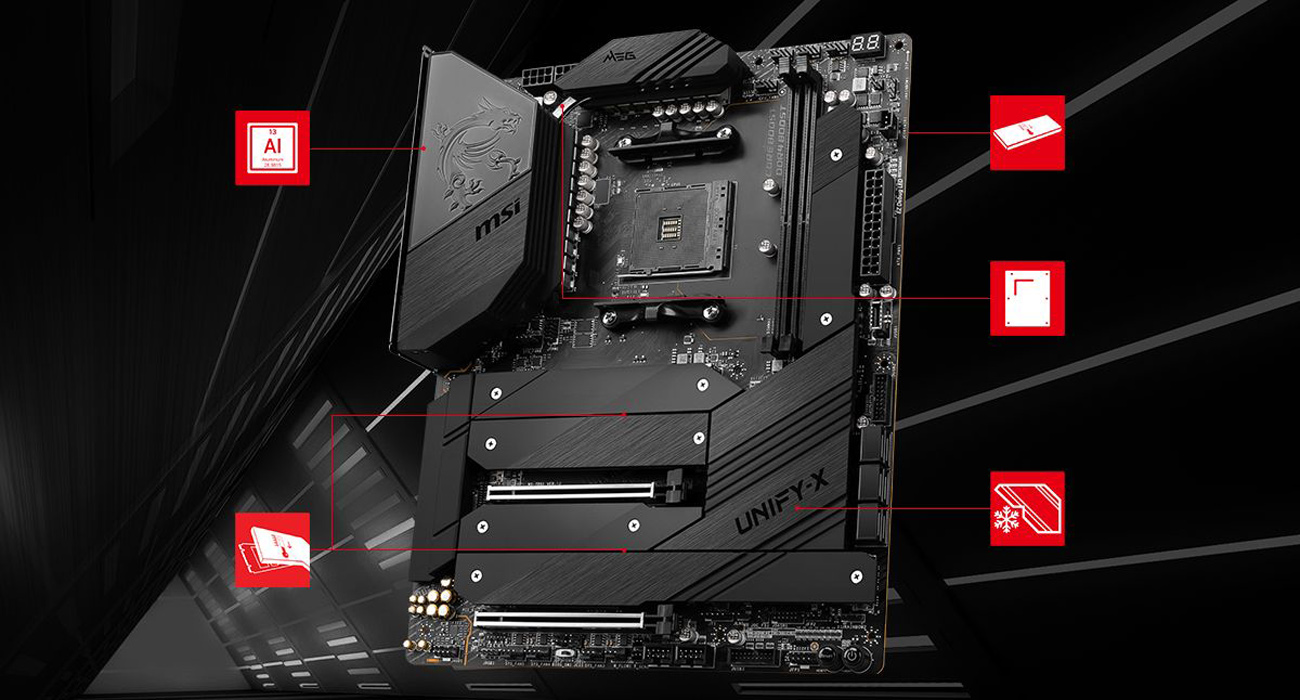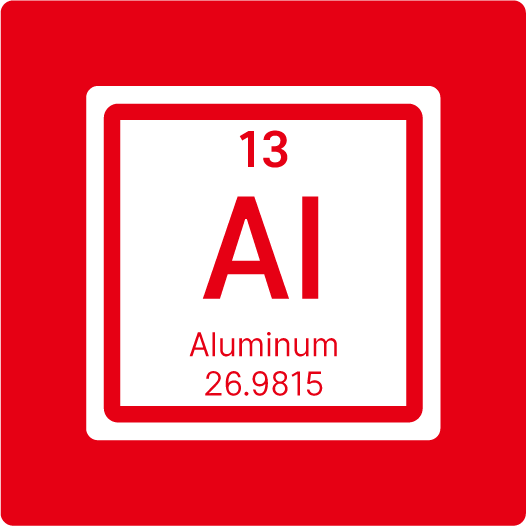 Aluminum Cover with 7W/mK Thermal Pad
A full aluminum IO cover and extended heatsink design provides large heat dissipation surface.
M.2 Shield Frozr
Sustain maximum high-speed M.2 SSD data transfer with M.2 SHIELD FROZR and prevent SSD thermal throttling.
MOSFET Baseplate
An aluminum baseplate cools down your Mosfet with a dedicated thermal pad.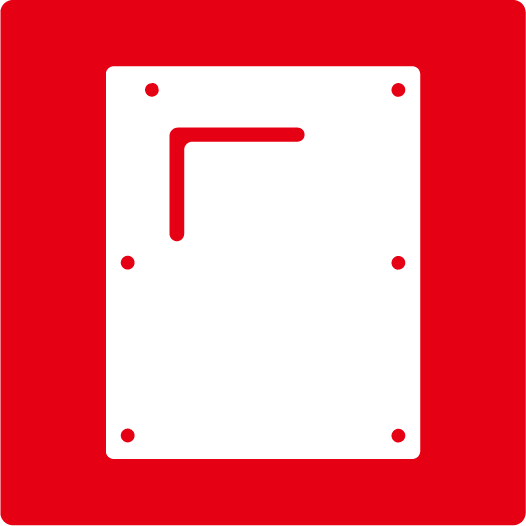 Heat-pipe Design
Connects the two MOS heatsinks to enlarge the heat dissipation surface.
Silent Cooling
The updated chipset heatsink is enlarged and fanless.
MEG X570S ACE MAX
UNLIMITED CONNECTIVITY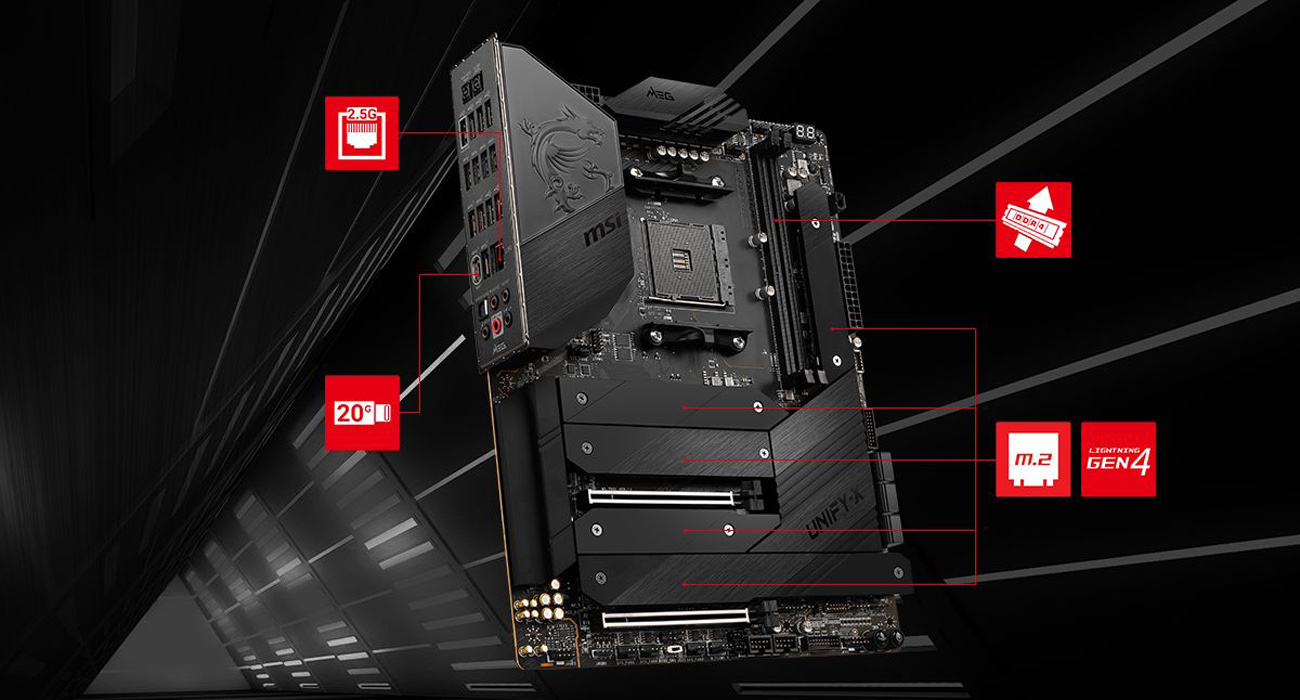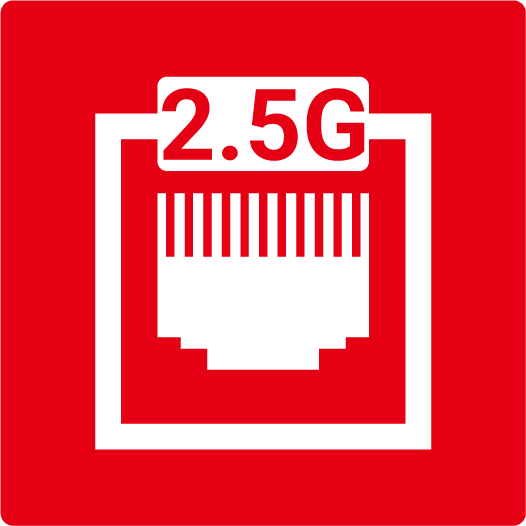 2.5G LAN
Onboard 2.5 Gigabit Ethernet LAN with LAN manager.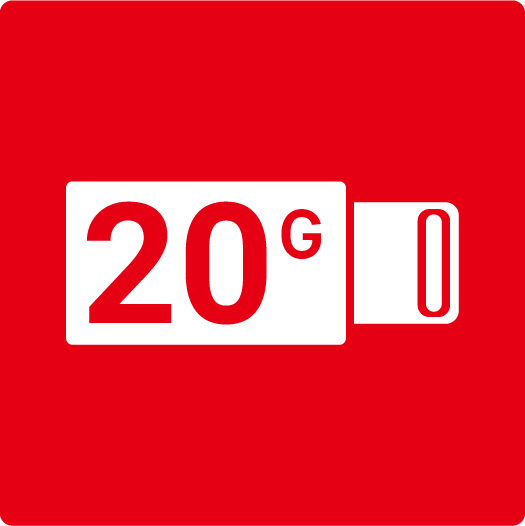 Lightning USB 20G
Ultra-fast rear USB Type-C port transfer speeds up to 20Gb/s powered by the ASMedia ASM3241 USB 3.2 Gen2x2 controller.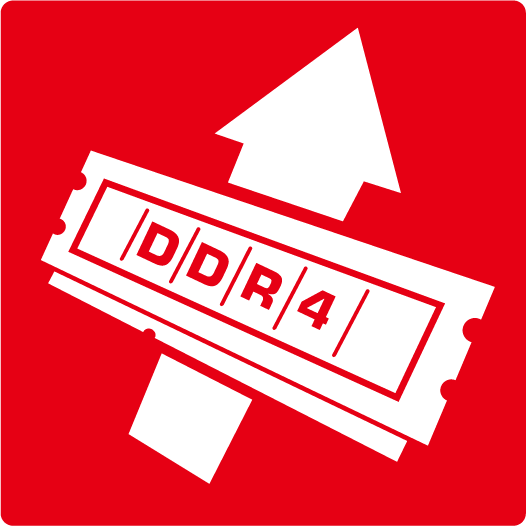 DDR Memory Extreme OC Design
Specialty R&D design with 2 DIMM solution is ready to deliver world class memory performance and break the world record!
Sextuple M.2 Connectors
Six onboard M.2 connectors for high-speed storage performance.
MEG X570S UNIFY-X MAX
stable cornerstone of your system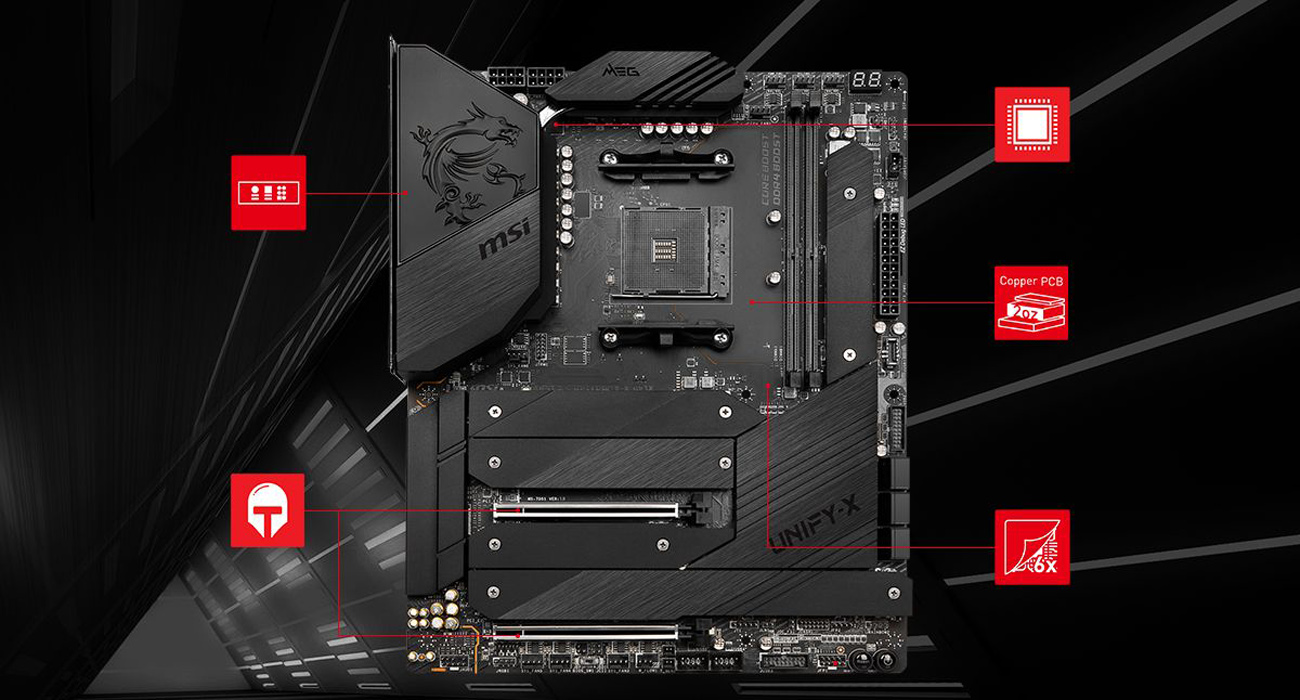 Pre-installed I/O Shield
Protect the IO ports from potential electrostatic discharge damage from the external environment.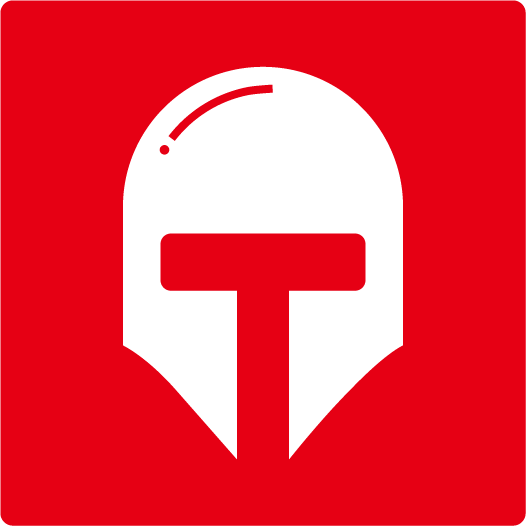 PCIe Steel Armor
Reinforced and shielded PCIe slots for strength and stability.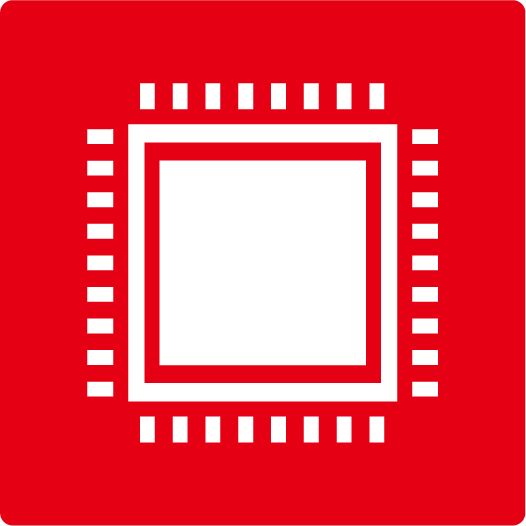 Direct 16+2 Phases with 90A Smart Power Stage
Extreme direct power solution with 16+2 phases and 90A Smart Power Stage reliably drive the CPU even during heavy workloads.
2oz Thickened Copper
An enhanced PCB material design improves heat dissipation and high-performance capabilities.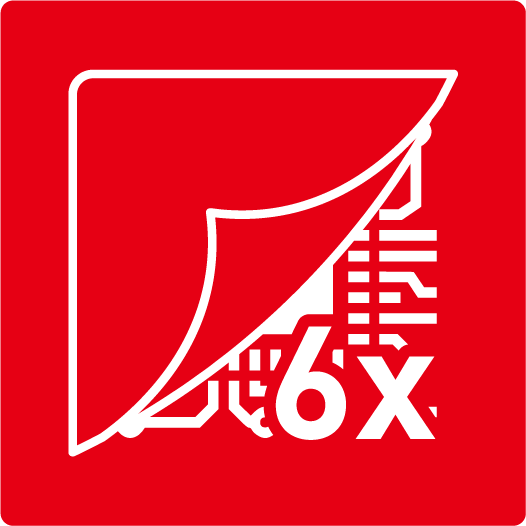 Server Grade PCB
Server-grade multilayer printed circuit boards are optimized for high power delivery and fast transfer speeds.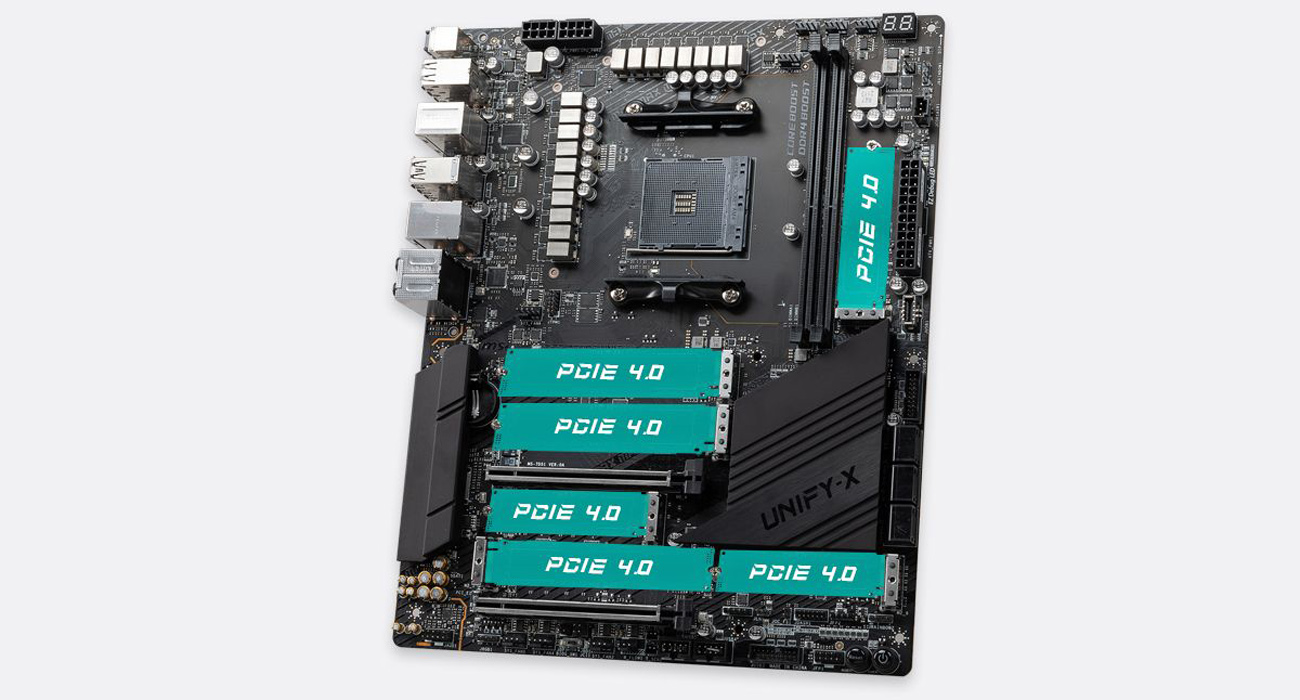 SEXTUPLE M.2 WITH M.2 SHIELD FROZR
MEG X570S UNIFY-X MAX features six onboard M.2 connectors for high-speed SSDs.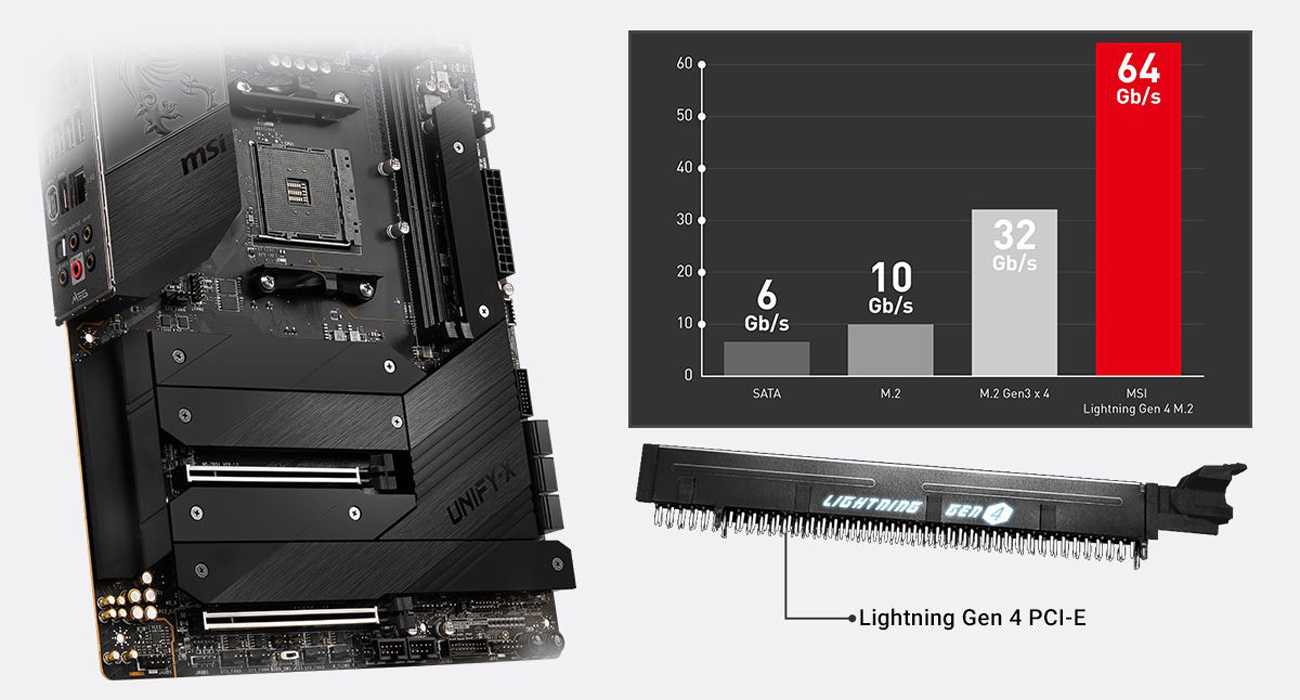 LIGHTNING GEN 4 SOLUTION
Strike fast with MSI Lightning Gen 4 PCI-E. Attach ultra fast PCI-E 4.0 devices and enjoy up to 64GB/s unidirectional transfer bandwidth. PCIe 4.0 maintains both backward and forward compatibility with older and newer specifications.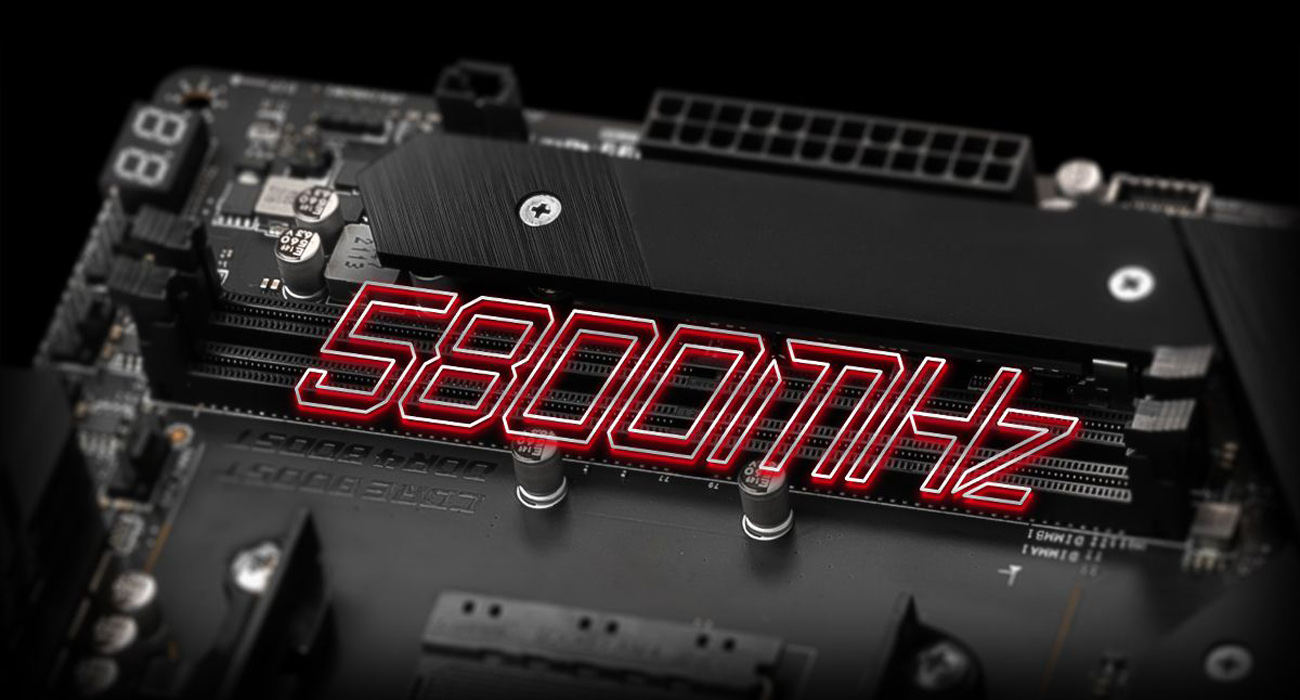 DEDICATED FOR EXTREME OC
A specialty R&D design uses a 2 DIMM solution for an even clearer memory signal to explore the boundaries of memory overclocking and deliver world class memory performance.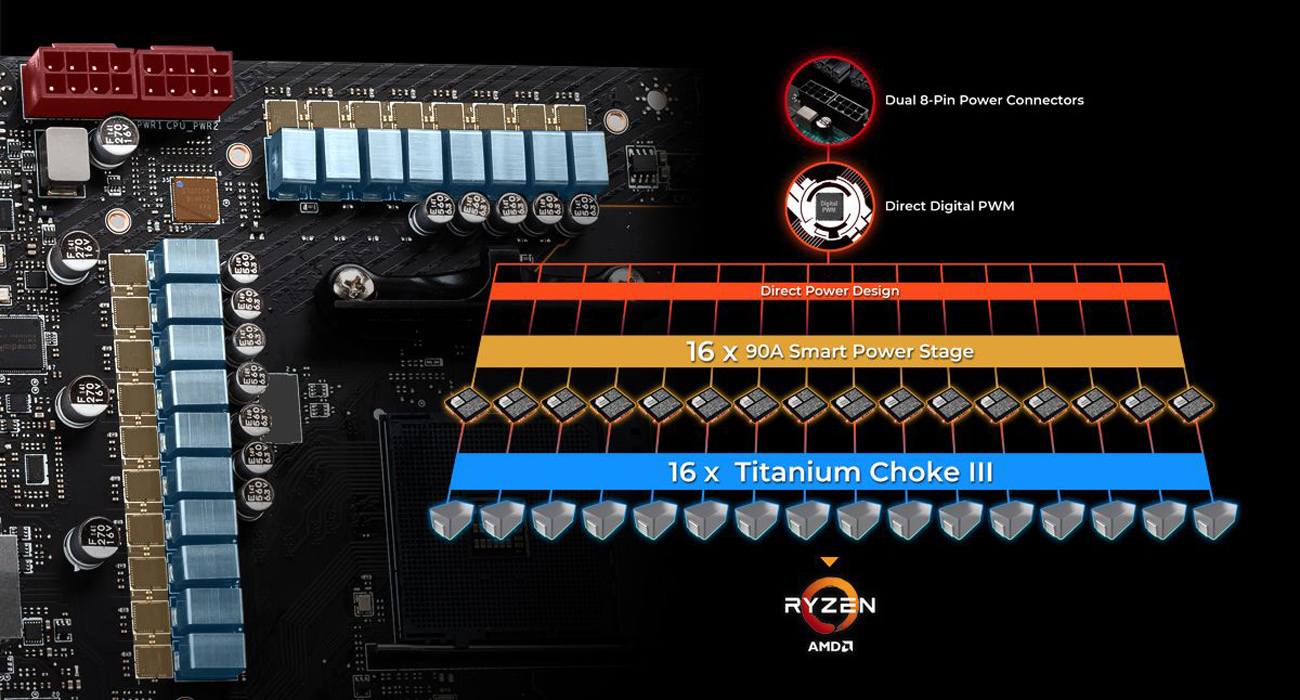 DIRECT 16+2 PHASES WITH 90A SMART POWER STAGE
MEG X570S UNIFY-X MAX features a premium power solution with direct 16+2 phases using 90A Smart Power Stage parts, Titanium Choke III, and dual CPU power connectors to unleash and sustain maximum processor performance.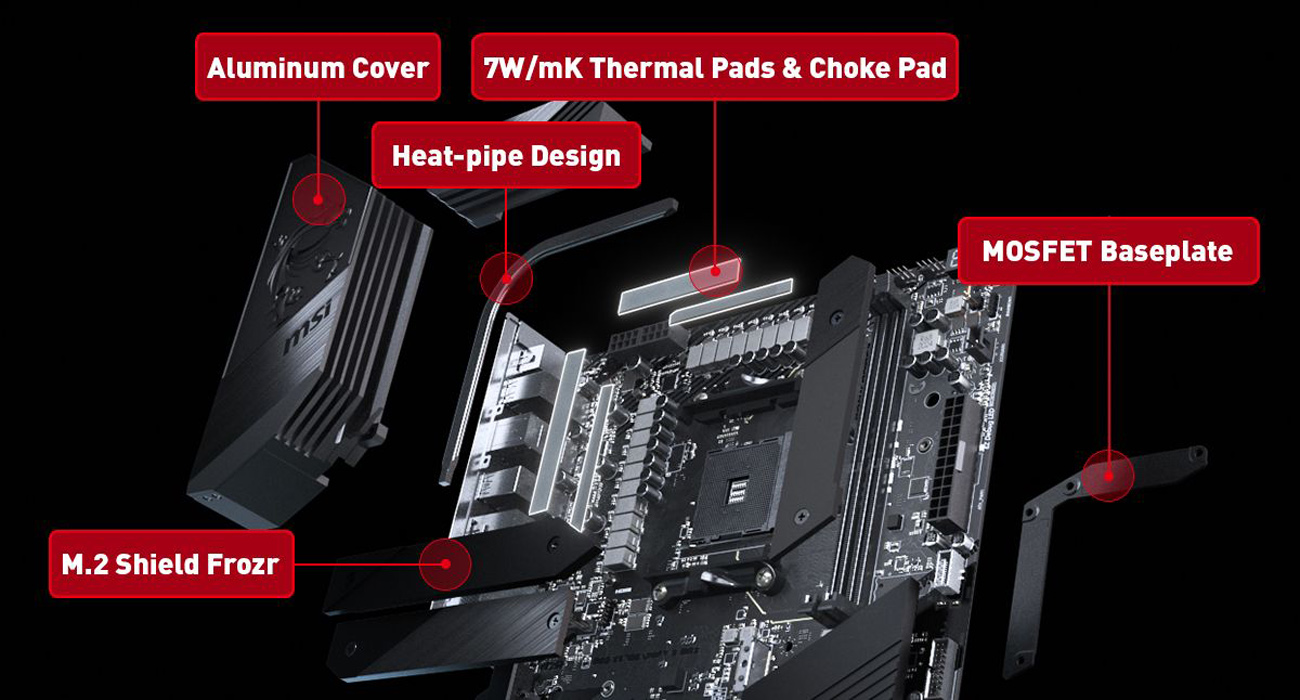 THERMAL SOLUTION FOR HIGH PERFORMANCE MULTI CORE PROCESSORS
MEG X570S UNIFY-X MAX features Aluminum Cover, VRM Heat-pipe, 7W/mK thermal pads, M.2 Shield Frozr, and MOSFET Baseplate let the CPU power delivery system sustain extreme performance.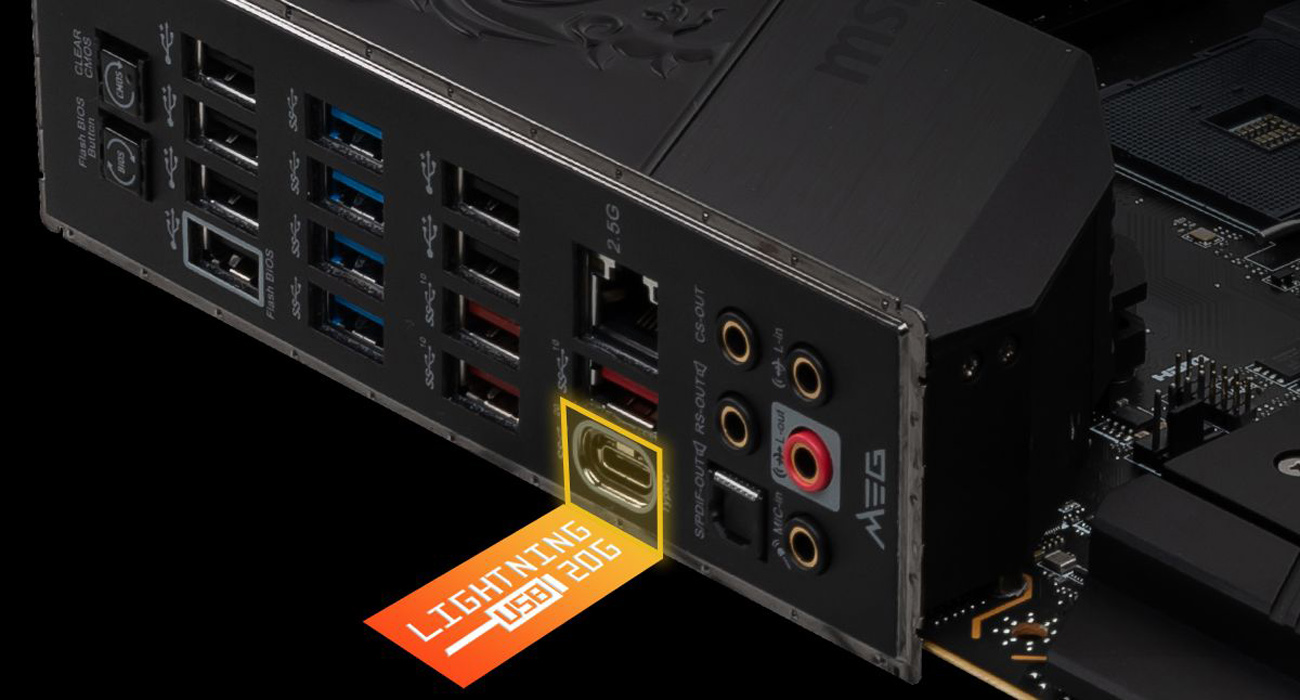 Ultra-Fast Lightning USB 20G
Connect the rear USB Type-C port and quickly move large files including uncompressed video, raw images, and bulky simulation data across USB 3.2 Gen 2x2 with transfer speeds up to 20Gbps.
MAXIMIUM DATA TRANSFER WITH 2.5G LAN
MEG X570S UNIFY-X MAX features onboard 2.5Gbps Ethernet LAN, for gamers and power users who demand high-bandwidth and low-latency network connectivity. Prioritize latency-sensitive applications with MSI LAN Manager for a superior online experience.
PCB WITH 2OZ THICKENED COPPER
An enhanced PCB material design with 2oz thickened copper increases conductivity, improving heat dissipation and high-performance reliability.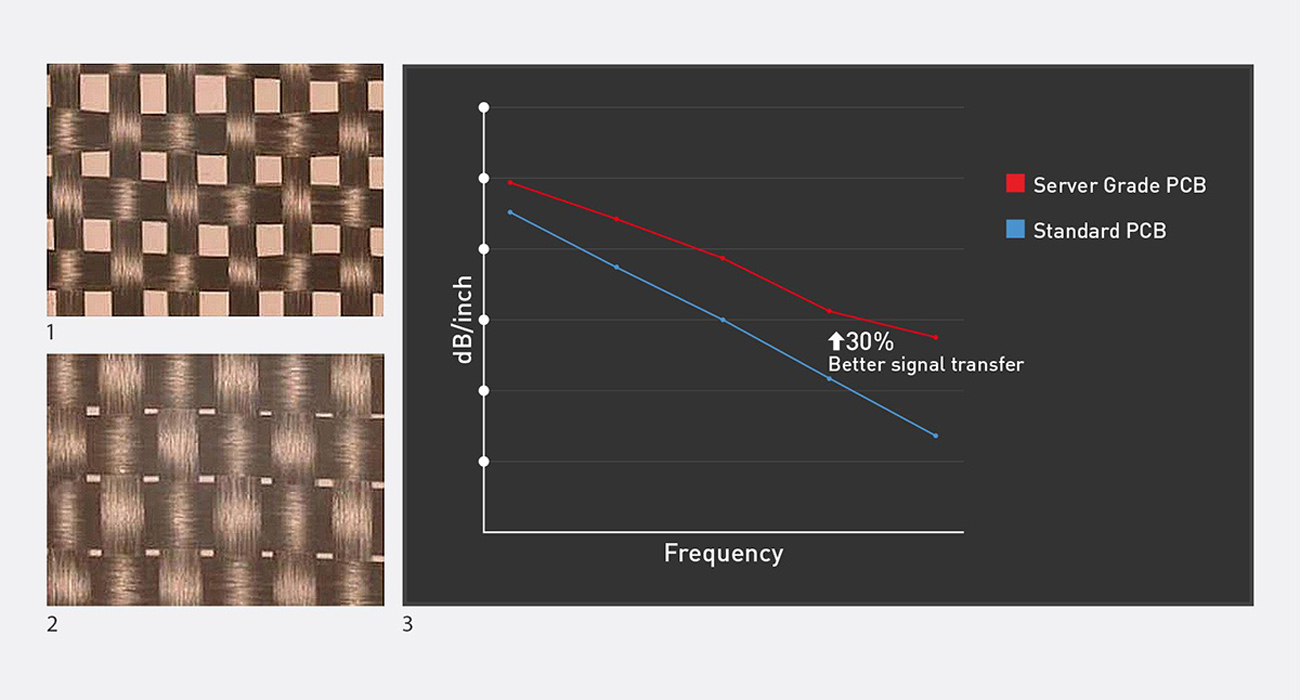 SERVER GRADE PCB
To fully support the latest PCI-E Gen 4 solution which features twice the transfer speed and bandwidth, MEG X570S UNIFY-X MAX motherboards adopt server grade PCB that provide reliable and long-lasting system performance for the lengthiest of gaming sessions.
1. Standard PCB construction
2. Server grade PCB construction
3. - Offers up to 3 times heat resistance, keeps PCB stable when high temperature
- Prevents PCB bending by stronger construction for the system foundation
- Reduces up to 30% signal loss for the better performance
UNMATCHED MEMORY PERFORMANCE
MSI takes memory stability and performance to the extreme. The memory circuit layout has been optimized for reliability and tested extensively in partnership with major memory manufacturers for compatibility.
AMPLIFY YOUR EXPERIENCE WITH AUDIO BOOST 5
Like a dedicated sound card, Audio Boost 5 offers a HD audio processor, dedicated amplifier and high quality audio capacitors all physically isolated from the rest of the motherboard circuitry to ensure the purest audio signal to locate enemies with pin-point accuracy. Powered by the ALC 4080 audio processor, this motherboard supports 120dB SNR, 32-bit/384kHz, and DSD Super Audio CD playback & recording.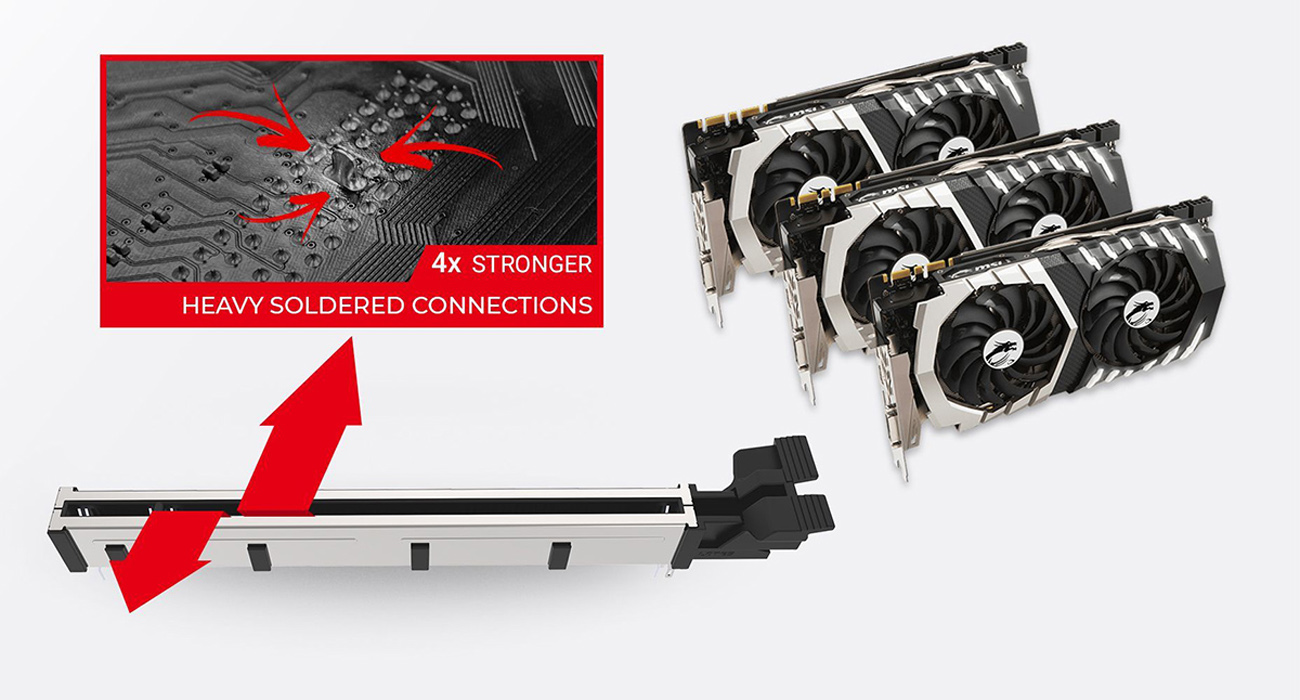 MULTIPLE GPU SUPPORT AND PCI-E STEEL ARMOR
MEG X570S UNIFY-X MAX supports AMD CrossFire multi GPU technology. MSI PCI Express Steel Armor slots are secured to the motherboard with extra solder points and support the weight of heavy graphics cards. When every advantage counts, Steel Armor shields the point of contact from electromagnetic interference.