GIGABYTE X570S AERO G
Creativity Starts Here
The X570S AERO G is expertly engineered to unleash the full potential of AMD Zen 3 architecture Ryzen processors. Oriented for creative professionals, this ATX motherboard is also well equipped with expandable graphics, ultra-fast storage and impressive connectivity for creators to deal with heavy design workloads like 3D rendering and feature-length video production. Performance aside, the X570S AERO G also catches eyes, sporting classic black & silver color scheme that complements the clean-designed heatsinks.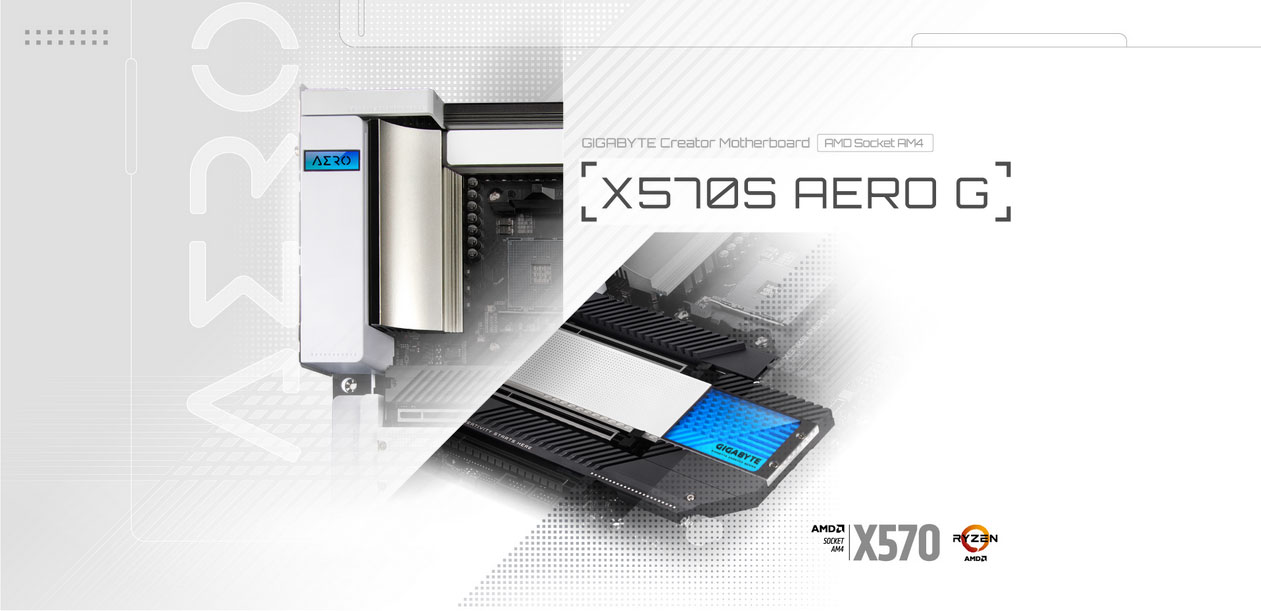 Go Further Without More Cables
GIGABYTE VisionLINK is an extension of your idea and creation. Transmitting data, video output, and power charging all through one USB Type-C cable will simplify the user experience than ever. With seamless multitasking between your PC and devices, it lets you work like a pro.
* Compatibility may vary according to system configuration and device specifications.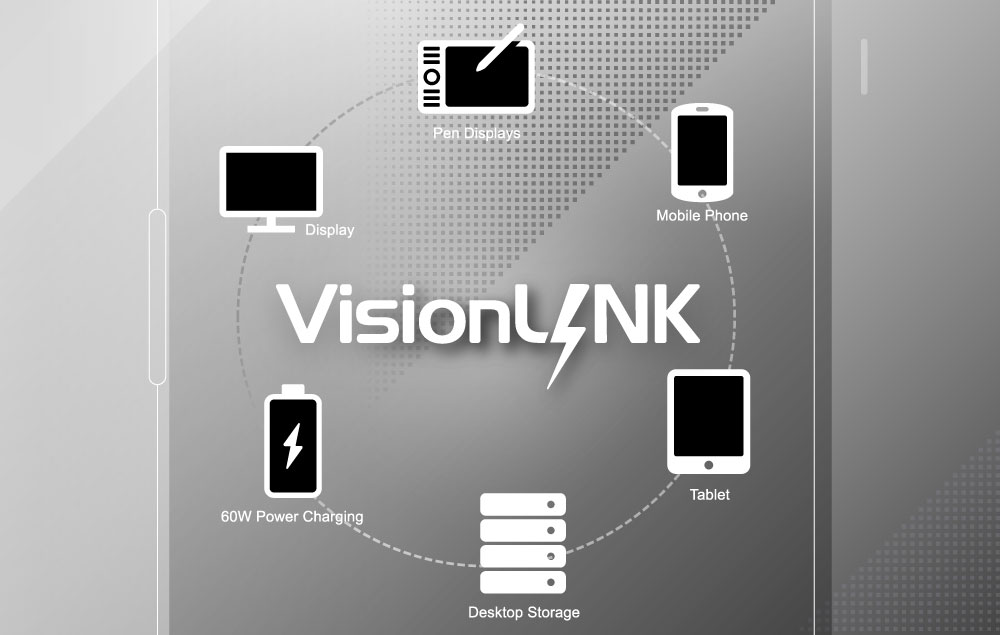 All at One Cable that Does It All.
Did you experience your pen display connecting to the PC with lots of cables? GIGABYTE VisionLINK not only eliminates cable clutter, but also offers the benefit of data, video, and power charging the same time. One USB Type-C cable connected, make your workspace neat and tidy.

Add Graphic Power to You
Ever wondered if you can have your discrete, high-end graphics card to power your pen display? Through the DisplayPort_In and VisionLINK connections, the performance of the discrete graphics card can be delivered to the pen display. Bring your creation into incredible realism and performance.

DisplayPortAlternate Mode with USB Power Delivery
VisionLINK provides the unique capability of data delivery, the DisplayPort Alternate Mode for video signal, and 60W Power Delivery design for device charging. It's a perfectly tailored connectivity for creators and professional artists.
USB Power Delivery
With the design of USB Power Delivery(PD) Profile 4 and goes up to 20V and 3A (60W) specific. It is a specification for handling higher power and allows a range of devices to fast charge over a USB connection.

DisplayPort Alternate Mode
Alternate mode is the feature in USB Type-C allowing for standard USB Type-C connectors to carry both USB signal and non USB data like video signal.

Intel 2.5GbE Connectivity
High-Bandwidth and Low-Latency Access
The adoption of Intel 2.5G LAN provides up to 2.5GbE network connectivity, with at least 2X faster transfer speeds compared to general 1GbE networking. It gives an immediate boost to overall network performance and improves the bandwidth required by large file transfers, video editing, and performance workloads.

Wi-Fi 6 — Ideal for All Your Online Activities
Onboard Wi-Fi 6 technology supports 802.11ax with Bluetooth module technology, enables gigabit wireless performance, fewer dropped connections, and reduced congestion in heavy bandwidth usage scenarios. Moreover, the antenna design provides better Wi-Fi signal strength compared to a traditional antenna.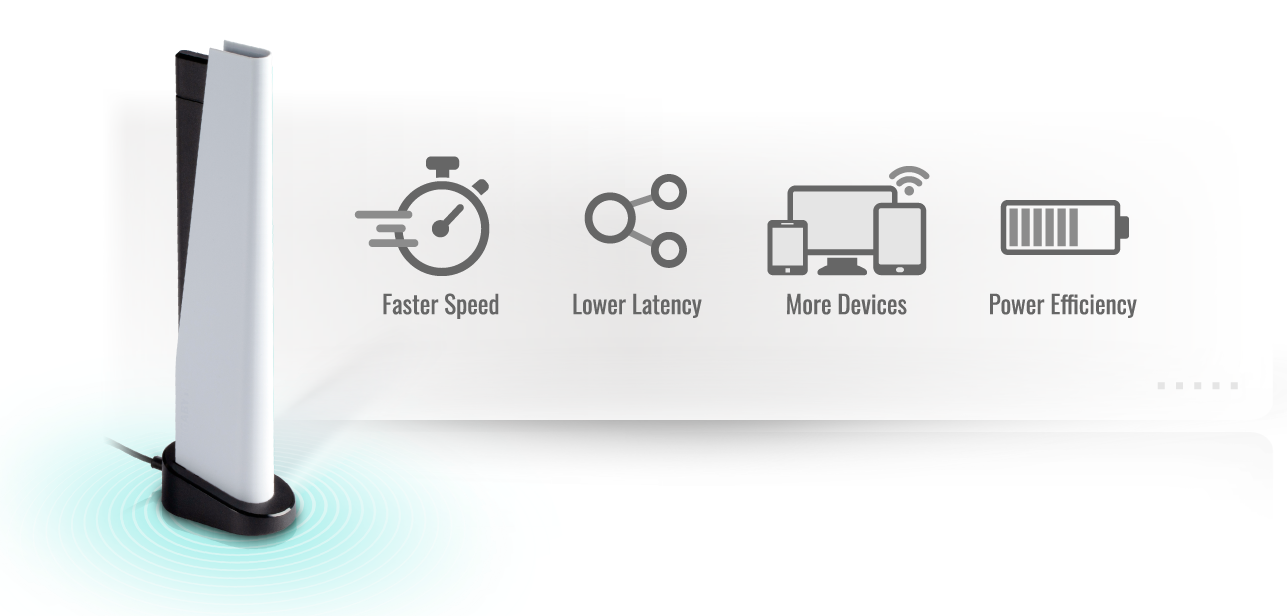 SuperSpeed USB 20 Gbps
Hassle-free Connection
To feature the USB 3.2 Gen 2x2 connectivity design, which offers double performance than the current USB 3.2 Gen 2. It works with up to 20 Gbps ultra-fast data transfer while connecting to USB 3.2 compliant peripherals. You can enjoy the ultimate connection flexibility to access and store massive amounts of data rapidly.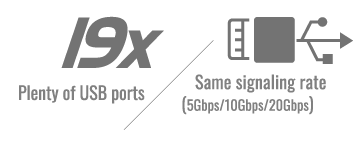 Multi-Card Support
Make Your Expandability Flexible.
Multi-graphics configurations offer better graphics performance for applications that demand the highest frame rates without compromising on resolution.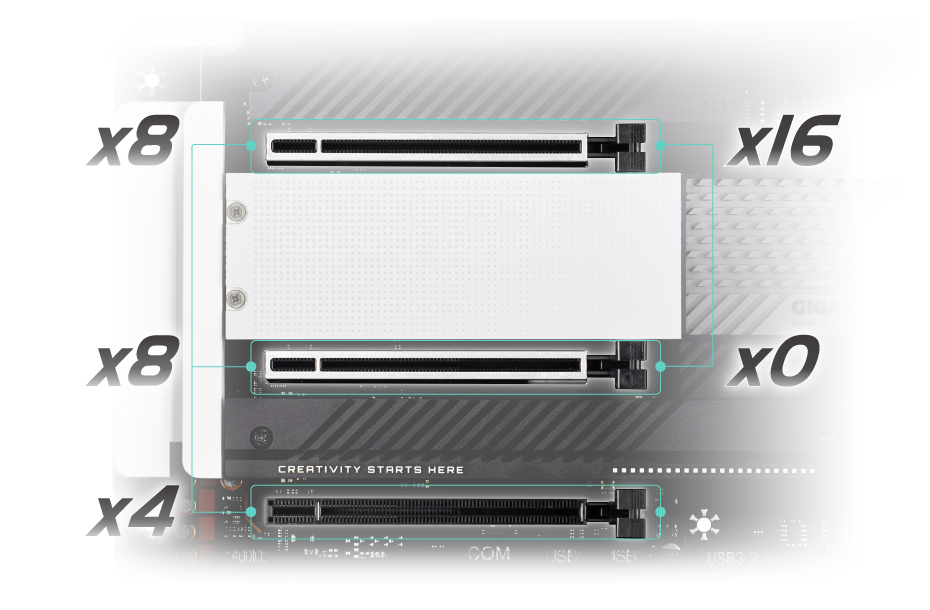 Full PCIe 4.0* Design
For most prosumers and content creators, high bandwidth storage and high performance graphics card or accelerator cards are critical for their projects. This is especially true for 3D rendering and creating high resolution textures. To support most cutting edge devices, this motherboard supports a variety of PCIe 4.0* devices, including graphics card and M.2 SSD.
1.PCIe 4.0* M.2 Slot
Supports new PCIe 4.0* M.2 SSD
2.PCIe 4.0* Components
Next generation components ensure full compliance with PCIe 4.0*
3.PCIe 4.0* Slots
Supports new PCIe 4.0* graphic card and accelerator card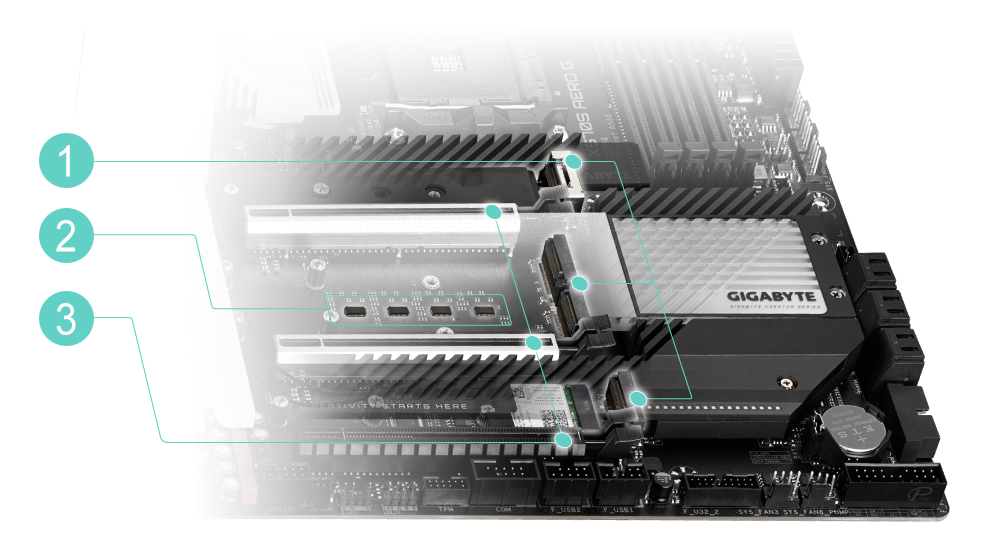 PCIe Bandwidth*
Up to 31.58 GB/s from new PCIe 4.0 x16 slot designs for the next generation add-on cards which need tremendous bandwidth, including the graphics card, deep learning accelerator card and the video capture card.

SSD Read Speed
Content creators' workflows constantly involve huge files, such as images, videos, and 3D models. Time for editing, saving, and transferring those huge files can be substantially reduced with the new generation PCIe 4.0 SSD.

Single 32 GB Support
Bring your tasks without lag.
A single memory slot of the X570 motherboard can support up to 32 GB. With populated 2 DIMMs per channel on GIGABYTE X570 motherboards, the maximum memory capacity support is 128 GB. You can experience faster performance and instant access without any lag.

Quad PCIe M.2
Fast Speed. More Space.
Equipped with four PCIe M.2 sockets, delivering superior bandwidth and upgrading your storage capacity to accelerate creative workflow. M.2 PCIe SSD gives you 7X faster data transferring experience compared to 2.5" SATA solid-state drives.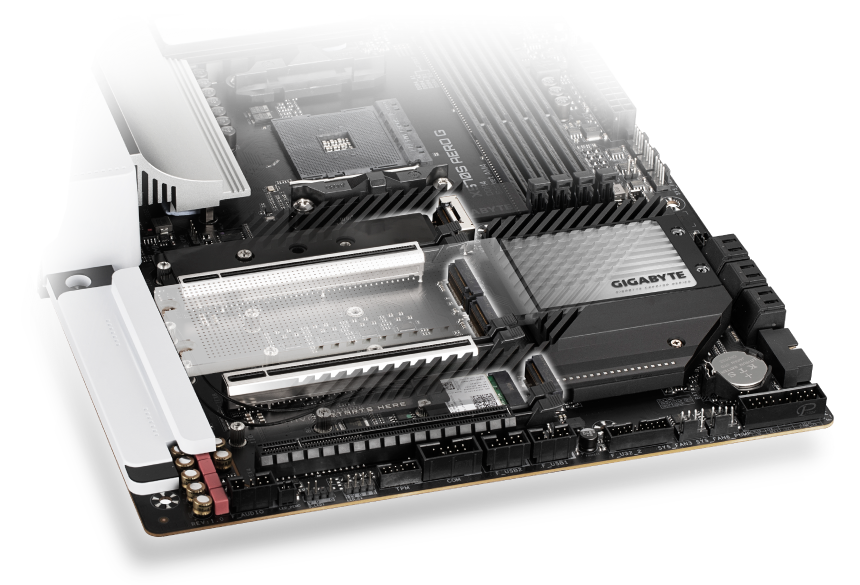 NVMe PCIe x4 M.2
GIGABYTE M.2 solution provides NVMe SSD RAID support for the considerably high storage performance. To feature full-speed PCIe 4.0* M.2 sockets as the best configuration for creators who demand high capacity and fast storage.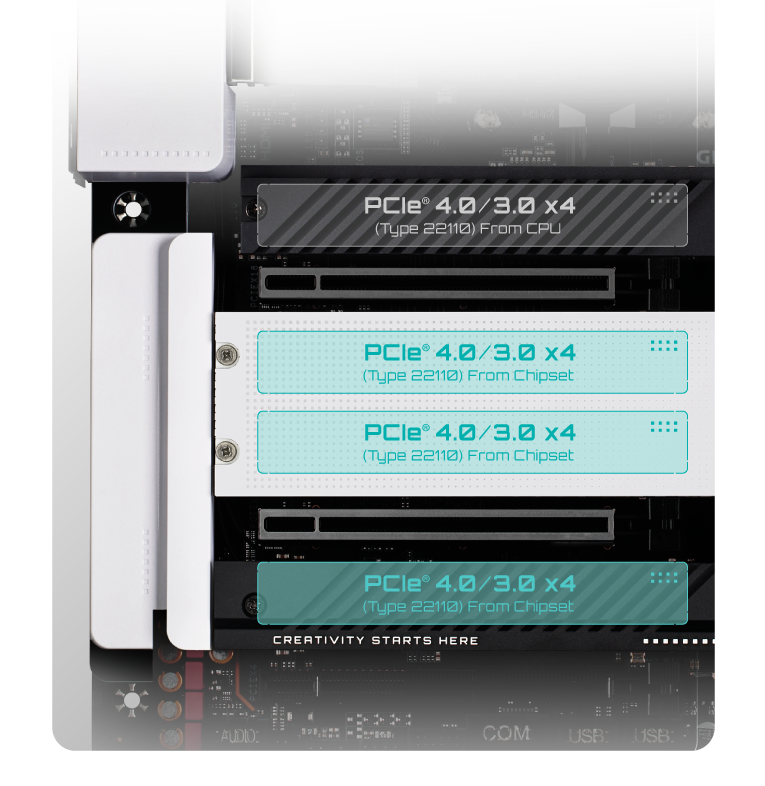 Creates Exclusive Storage Performance
The exclusive four PCIe 4.0* x4 M.2 sockets design that enables you to handle the most data-consuming tasks without extra configuration.

Thermal Technology
An effective cooling solution is essential for a heavy design workload to get away with slow down, crashes, and unexpected shutdown. GIGABYTE advanced thermal solution adopts the large curved aluminum heat sink to improve heat dissipation and ensures stability during creative work.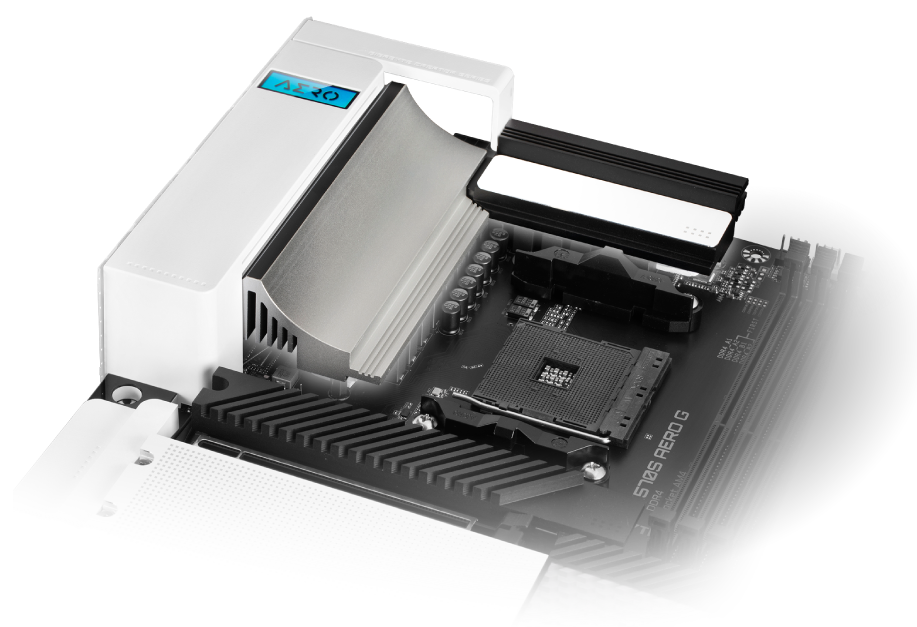 M.2 Thermal Guard III
The new GIGABYTE M.2 Thermal Guard III design elevates the height of the M.2 heatsink to reduce the temperature for high transfer speeds of M.2 SSD and dissipate heat before it becomes an issue.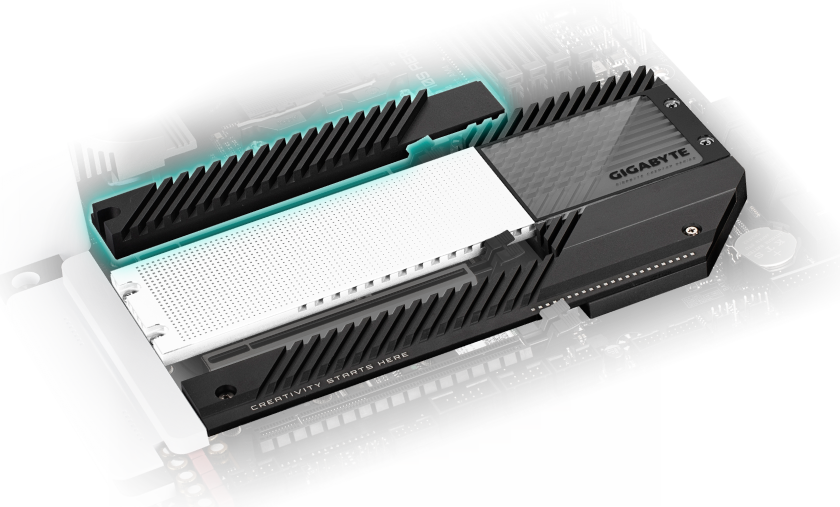 Throttle free performance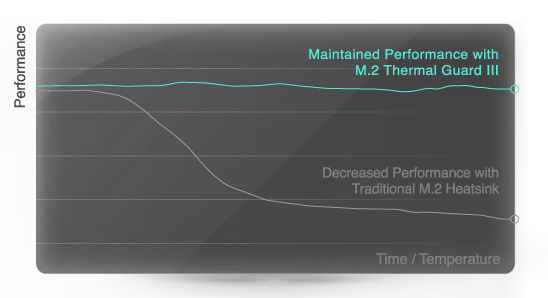 SMART FAN 6
Numerous hybrid fan headers and temperature sensors are planted on the motherboard to monitor in real time and configure fan mode to fit different workloads via Smart Fan 6. Creators are allowed to set the trigger point to activate the fan and its corresponding speed. The fan completely stops when performing light tasks to avoid noise.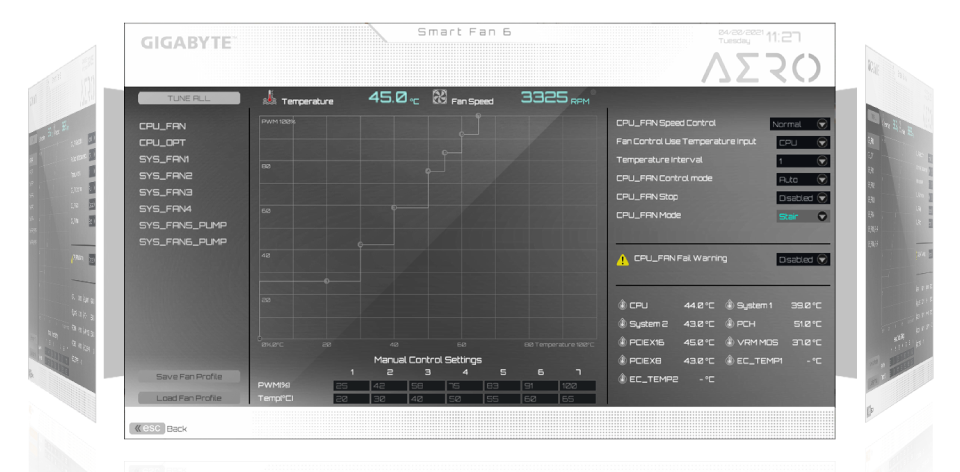 DTS:X Ultra
Immersive sounds to go
DTS:X Ultra is capable of delivering consumers a truly premium entertainment experience by completely surrounding the listener and expanding the sound stage to create a more immersive environment. Supports channel-based, scene based, and object-based audio. Also, it takes movies, music, and interactive gaming experiences to an exciting new level.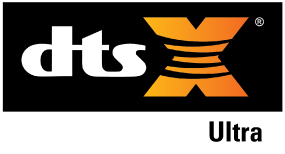 AMD X570 Creators Motherboard with unique VisionLINK I/O design, effective thermal solution, Wi-Fi 6 802.11ax and Intel 2.5GbE LAN, PCIe 4.0 x16 slots, Quad NVMe PCIe 4.0 x4 M.2 Connectors, and USB 3.2 Gen 2x2 Type-C
Support AMD Ryzen 5000 series / Ryzen 5000 G series / Ryzen 4000 G series / Ryzen 3000 series / Ryzen 3000 G series / RYZEN 2000 series / Ryzen 2000 G series processors
Dual Channel ECC / Non-ECC Unbuffered DDR4 memory, 4 DIMMs
Go further without more cables by VisionLINK I/O design
High-bandwidth and low-latency network support by Intel 2.5GbE LAN
Wi-Fi 6 2x2 802.11ax with all new antenna support for better signal
Comprehensive connectivity by front and rear USB 3.2 Type-C connectors
4 Ultra-Fast NVMe PCIe x4 M.2 connectors with unique thermal guards
Effective cooling solution design for the better thermal dissipation
Smart Fan 6 features hybrid fan headers and numerous temperature sensors for fan mode configuration
Q-Flash Plus Updates BIOS without Installing the CPU, Memory and Graphics Card