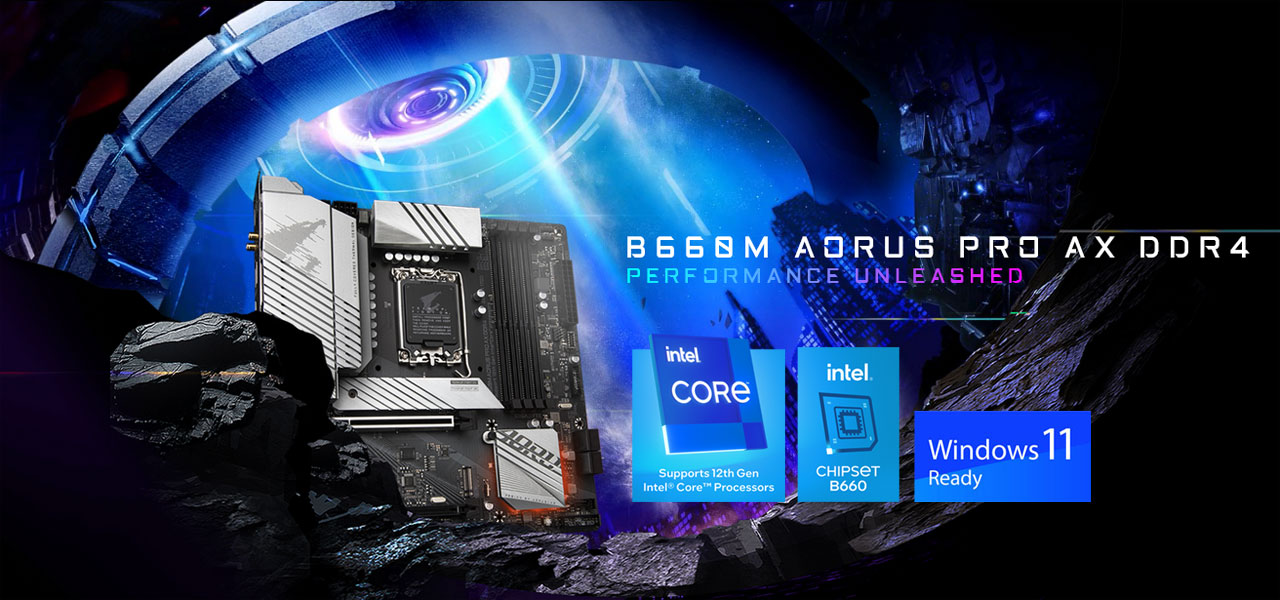 This ATX motherboard is expertly engineered with boosted power delivery, comprehensive cooling design and ultra durable components to unleash the full force of the latest 12th Gen Intel Core processors. It's luxuriously fitted with 2.5 GbE LAN, PCIe Gen4 M.2, 20 Gbps USB-C, and onboard RGB lighting to beautifully illuminate your build. The latest Wi-Fi 6 and Bluetooth 5 are built in, giving your wireless convenience out of the box.
Unparalleled Performance
With technology developing so fast, GIGABYTE still keeps up with the latest trends and provides our customers with advanced features and latest technology. GIGABYTE B660 Series motherboards come with upgraded power solution, latest storage standards and outstanding connectivity to enable optimized performance for gaming.
TWIN HYBRID VRM DESIGN
To ensure maximum Turbo Boost and performance of Intel new generation CPU, GIGABYTE B660 is equipped with the best VRM design we've ever built.
To unleash full potential of multi-core CPU performance

For CPU with integrated GPU

Provide stable power for CPU with integrated PCIe & Memory controller
* 6+6 phases parallel power design
Support for DDR4 XMP Up to 5333 MHz and Beyond*
AORUS is offering a tested and proven platform that ensures proper compatibility with profiles up to 5333 MHz and beyond. All users need to do to attain this performance boost is make sure that their memory module is XMP capable and that the XMP function is activated and enabled on their AORUS motherboard.
* XMP Profile support may vary depending on memory module.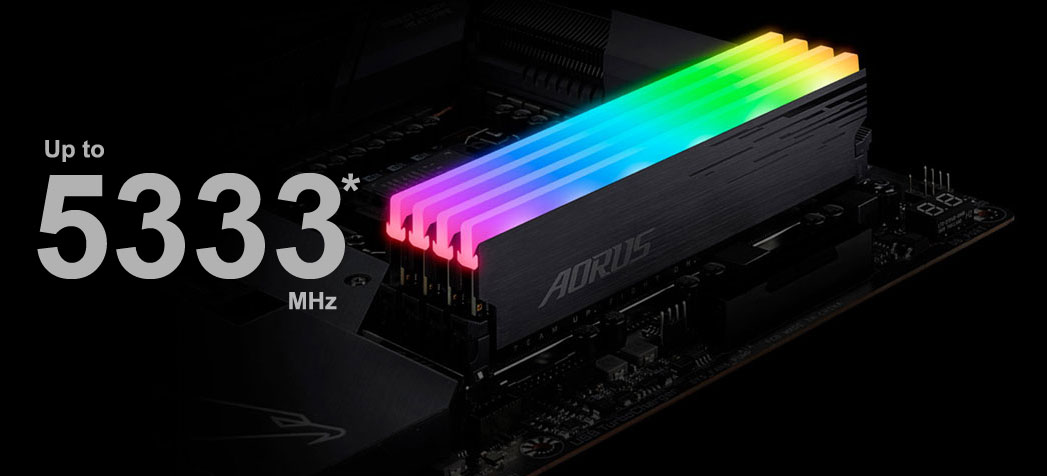 Shielded Memory Routing
All memory routing is under the PCB inner layer shielded by a large ground layer to protect from external interference.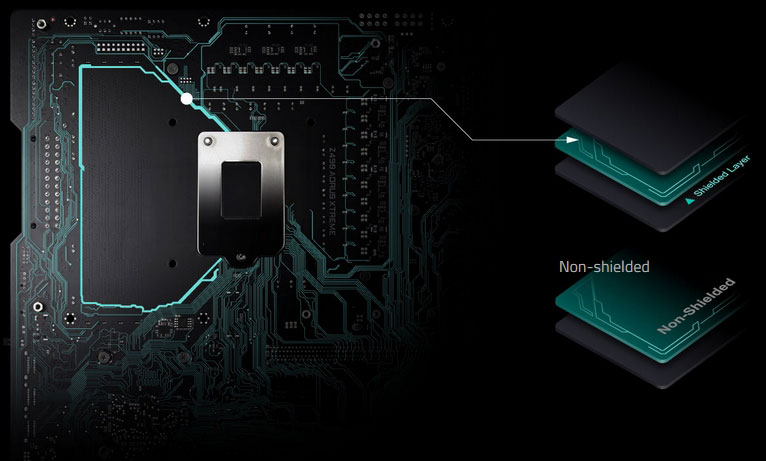 Single 32GB Memory Module Support
The maximum memory capacity support on the B660 motherboard is 128GB. After Intel updated the memory reference code, a single slot can support up to 32GB. Therefore with populated 2 DIMM per channel on both channel, total memory capacity is 128GB, which was only available on High End Desktop (HEDT) platforms. For users who always run out of memory capacity, there is more bandwidth now for memory-intensive application such as rendering and video editing.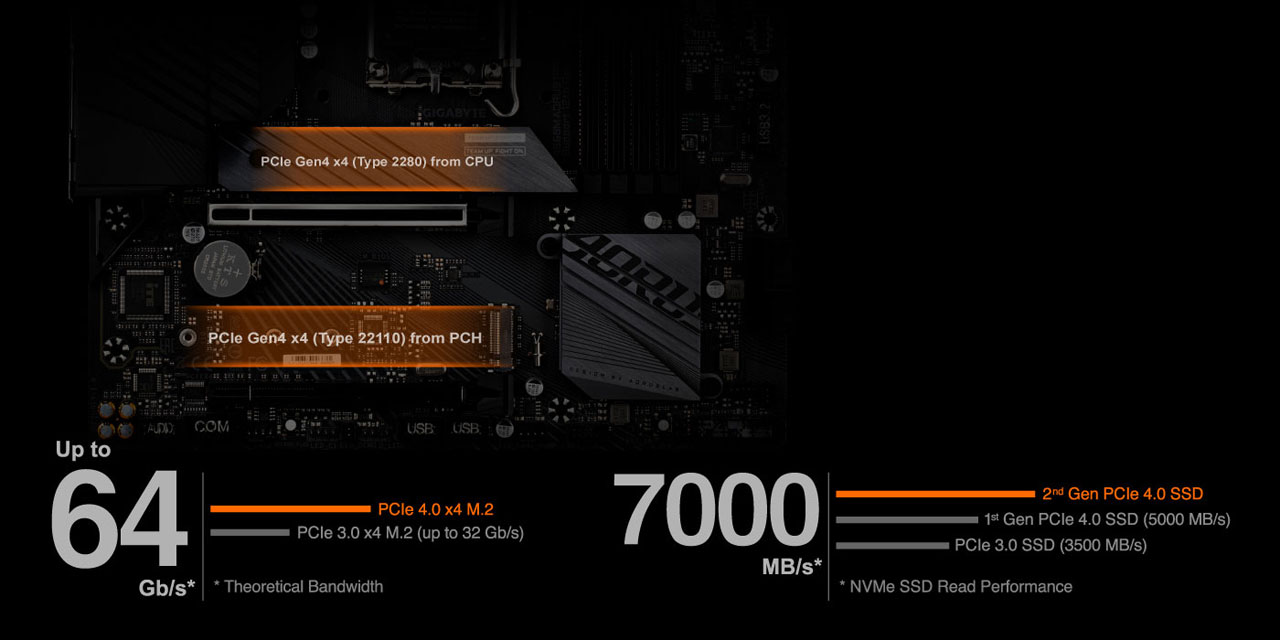 Dual PCIe 4.0 x4 M.2
GIGABYTE B660 Motherboards are focused on delivering M.2 technology to enthusiasts who want to maximize their system's potential.
Hybrid Cores Optimization
With new Intel Hybrid technology, GIGABYTE exclusively creates two new "CPU Upgrades" in BIOS profiles to meet different users' scenarios by adjusting P-Core and E-Core activation and voltage policy.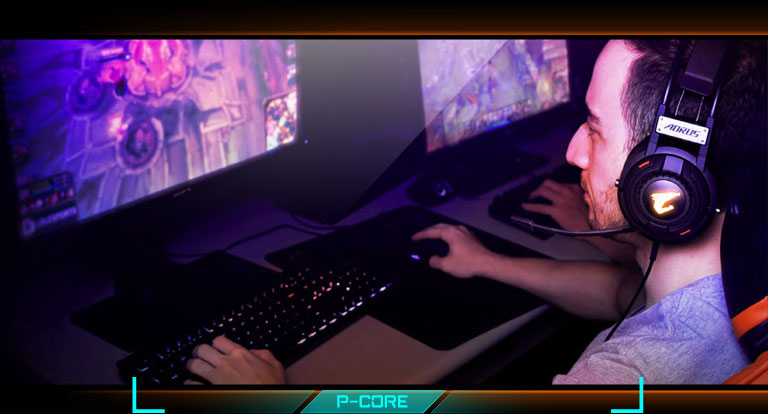 GAMING
Deactivate all E-Core
Zero compromise on gaming performance
Up to 20% lower CPU package power
Up to 5°C lower CPU temperature
Max Performance
Activate all P-Core and E-Core
Maximize full multi-core performance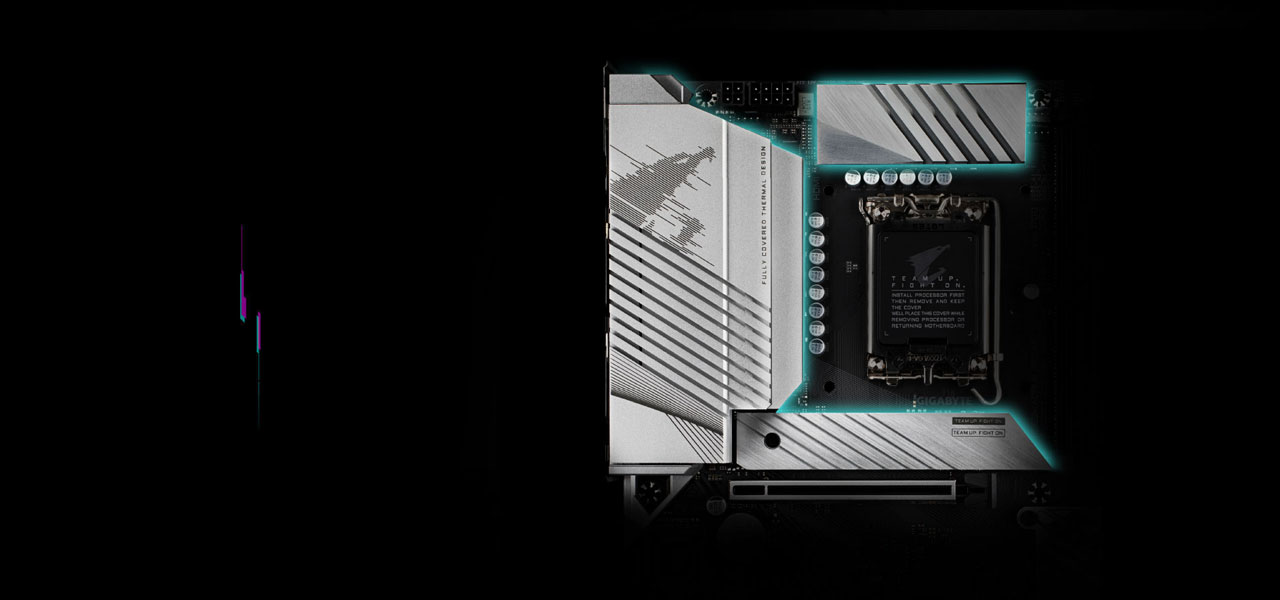 ADVANCED THERMAL SOLUTION
GIGABYTE B660 Series Motherboards' Un-throttled performance is guaranteed by innovative and optimized thermal design to ensure the best CPU, Chipset, SSD stability and low temperatures under full load application and gaming.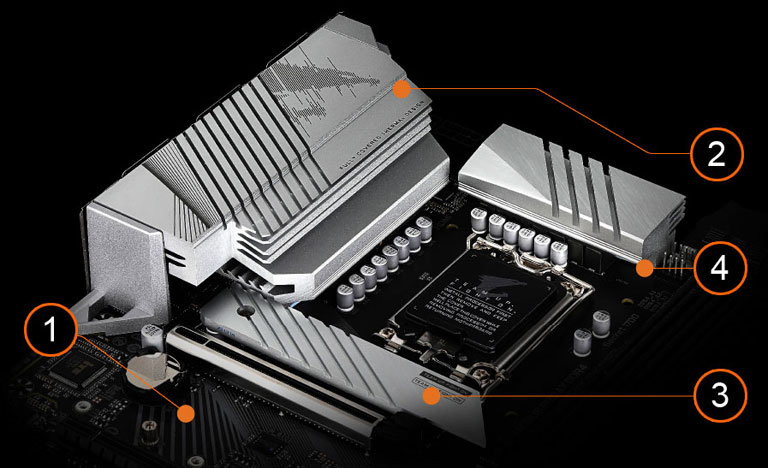 Thermal Design
1. 2X Copper PCB
2X Copper PCBs effectively lower the component temperature with its high thermal conductivity and low impedance.
2. Fully Covered Thermal Design
High coverage MOSFET and integrated molding Heatsinks to improve thermal efficiency with better airflow and heat exchange.
3. M.2 Thermal Guard
The M.2 Thermal Guard prevents high speed M.2 SSDs from throttling and bottlenecks as it helps to dissipate heat before it becomes an issue.
4. 5W/mK Thermal Pad
By using 1.5mm thicker 5W/mK thermal conductivity pads, it can transfer 2.7x more heat compared to traditional thermal pads in the same time.
Fully Covered MOSFET Heatsink
1. 2X Larger Surface
Increased surface area up to 2X larger compared to traditional heatsinks. It improves heat dissipation from the MOSFETs.
2. Real One-piece Build
TMOS is a TRUE single piece heatsink. Its one-piece design and larger surface drastically improve the cooling performance against competitors' multi-piece design.
3. Multi-Cut Design
TMOS features several channels and inlets on the heatsink. This design allows for the air flow to go through which leads to a great improvement on the heat transfer performance.
GIGABYTE Ultra-Efficient M.2 Thermal Guard
With durability in mind, GIGABYTE provides a thermal solution for M.2 SSD devices. The M.2 Thermal Guard prevents throttling and bottlenecks from high speed M.2 SSDs as it helps to dissipate heat before it becomes an issue.
Thermal Throttling As Temperature Rises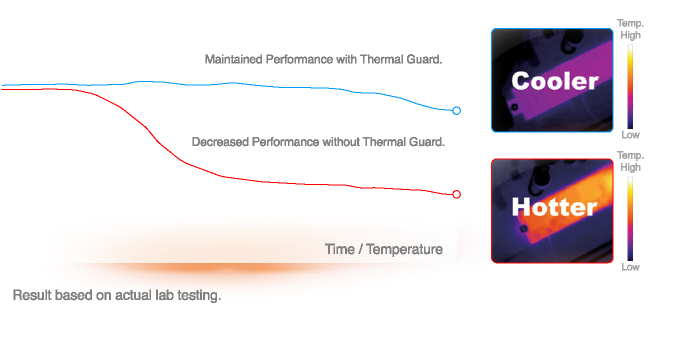 3% Cooler by Implementing 2X copper PCB Design
By adopting 2X copper on PCB inner layer, it lowers the components' temperature at least 3% by turning the PCB into a super thin PCB size copper heatsink to dissipate the heat from the components effectively, due to it's high thermal conductivity and lower impedance.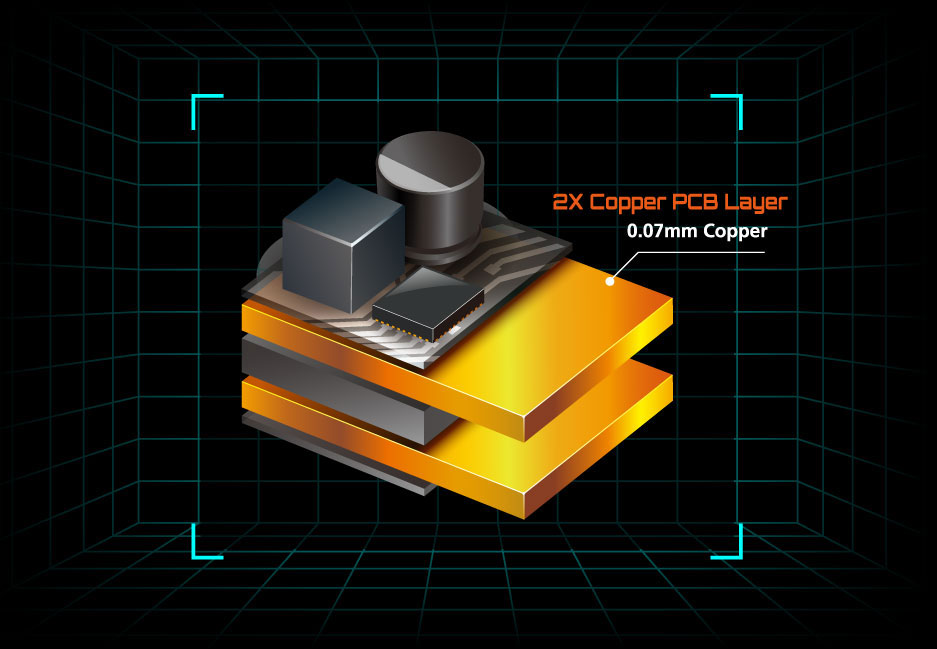 Intelligent Fan Control Design
Achieve fan silence. With Fan Stop, map any fan to stop completely when temperatures drop below a specified threshold. Which fan stops, based on readings from which sensor, and at what temperature—all of it can be customized to your liking.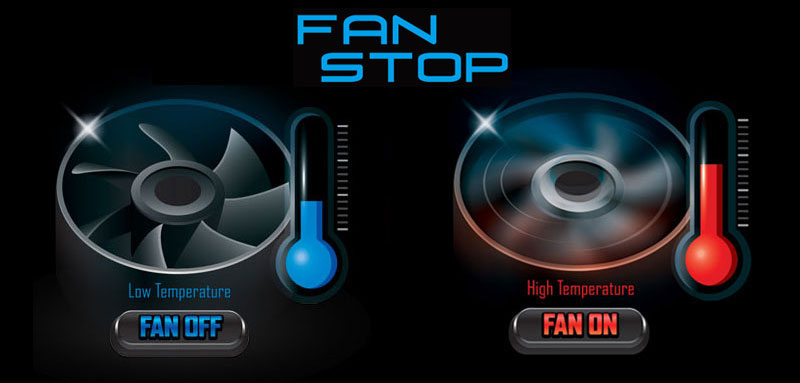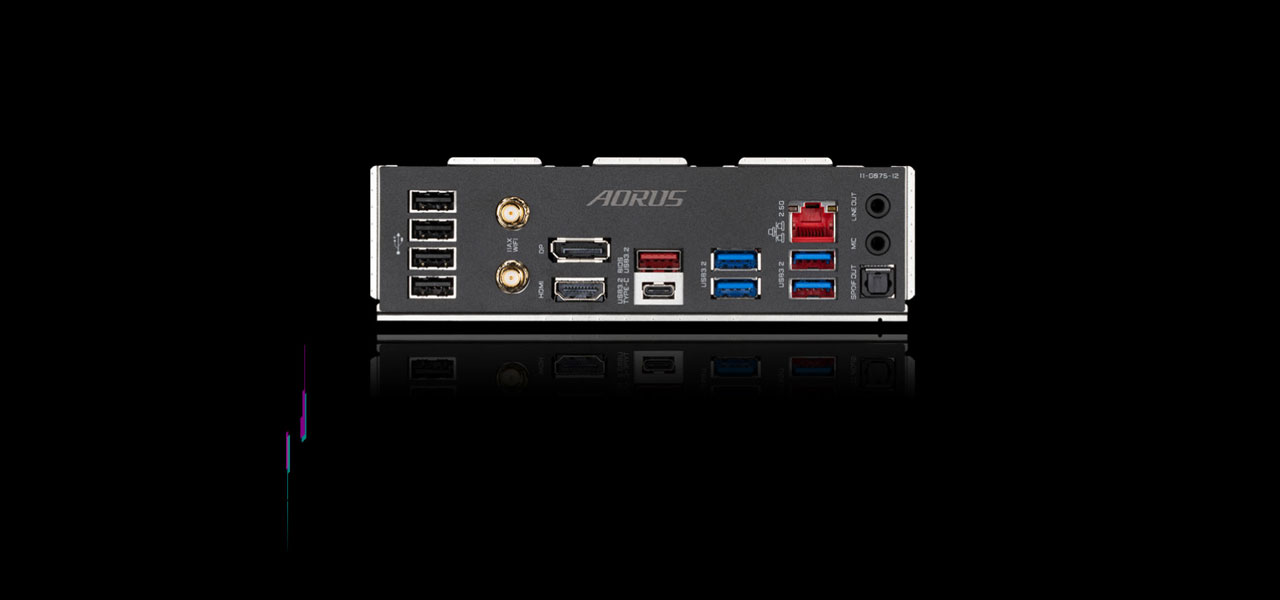 CONNECTIVITY
GIGABYTE B660 Series Motherboards let you experience ultimate connection flexibility and blazing fast data-transfer speed with next generation network, storage, and WIFI connectivity.
First Adopter of 2.5GbE LAN Onboard
2X Faster Than Ever
Adoption of 2.5G LAN provides up to 2.5 GbE network connectivity, with at least 2X faster transfer speeds compared to general 1GbE networking, perfectly designed for gamers with ultimate online gaming experience.
Support Multi-Gig(10/100/1000/2500Mbps) RJ-45 Ethernet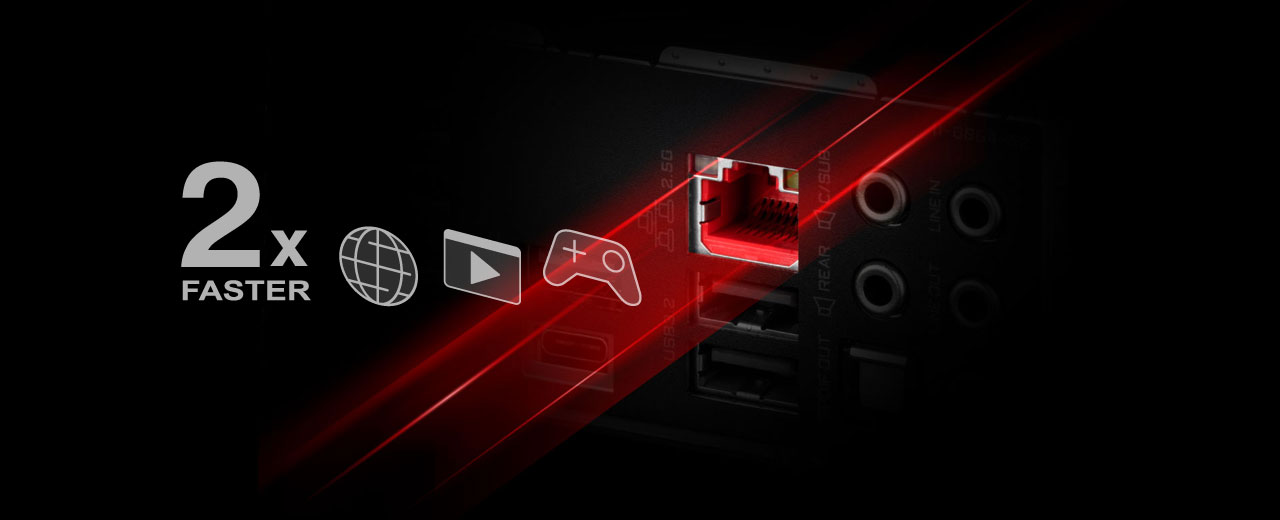 WIFI 6 802.11ax + BT 5 Module
Wireless solution 802.11ax WIFI 6 with new dedicated 6 GHz band, enables gigabit wireless performance, and provides smooth video streaming, better gaming experience, few dropped connections and speeds up to 2.4Gbps*. Moreover, Bluetooth 5 provides 4X the range of BT 4.2 and with faster transmission.
Benefit of WIFI 6
5.5X throughput than 802.11ac 1x1*
4X better network capacity, no traffic jams especially in those dense area with lots of devices
Network efficiency increases for better user experience
Connecting the Future — USB 3.2 Gen 2x2 Type-C
Featuring the USB 3.2 Gen 2x2 design which is doubled the performance than previous generation of USB 3.2 Gen 2. It works at up to 20 Gbps ultra-fast data transfer while connecting to USB 3.2 compliant peripherals. Through the USB Type-C connector, users can enjoy the flexibility of reversible connection to access and store massive amounts of data rapidly.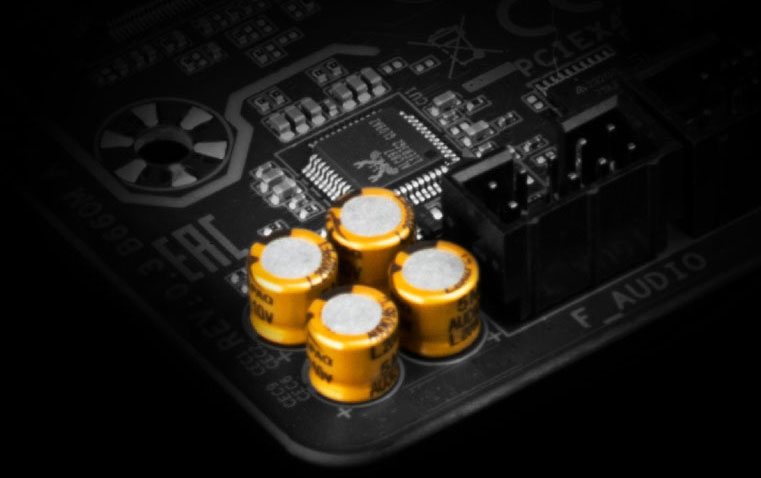 High-End Audio Capacitors
AORUS motherboards use high-end audio capacitors. These high quality capacitors help deliver high resolution and high fidelity audio to provide the most realistic sound effects for gamers.
Audio Noise Guard
AORUS motherboards feature an audio noise guard that essentially separates the board's sensitive analog audio components from potential noise pollution at the PCB level.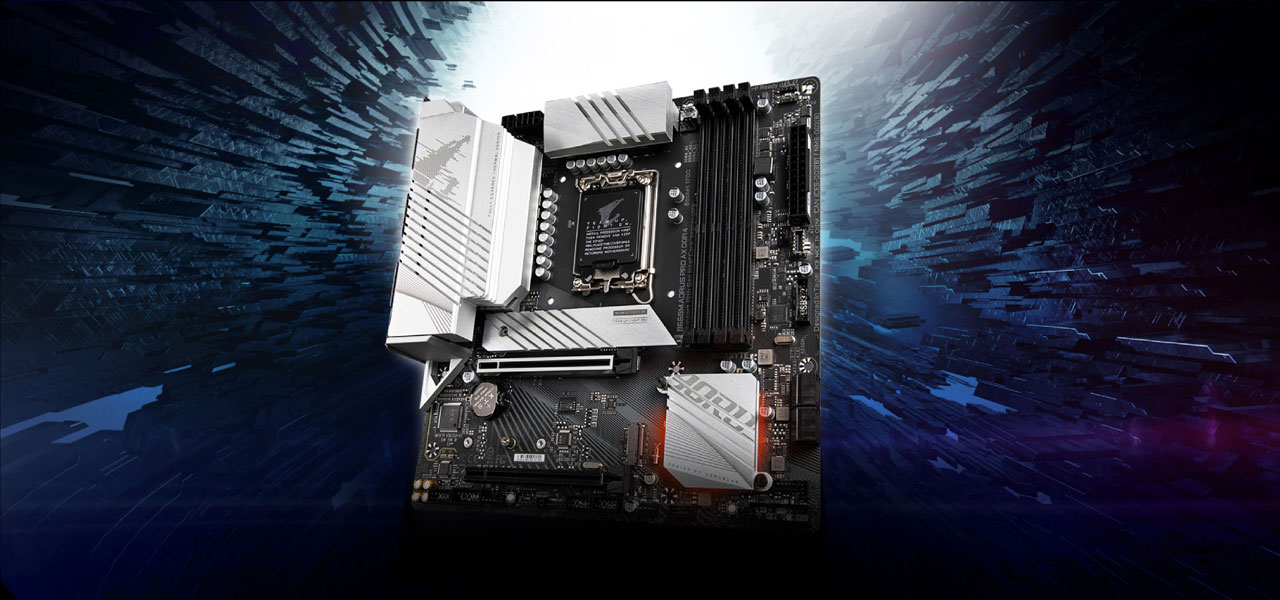 Personalization
GIGABYTE motherboards bundle several useful and intuitive utilities to help users to control every aspect of motherboard and provide customizable lighting effect with outstanding aesthetics to fit your unique personality.
RGB FUSION 2.0
With B660 Motherboard, RGB Fusion 2.0 is even better with Addressable LEDs.* RGB Fusion 2.0 offers users the option to control onboard RGB and external RGB / Addressable LED light strips for their PC. Already filled with colors and patterns, RGB Fusion 2.0 are now upgraded with Addressable LED support. With external Addressable LED strips*, where each LED is digitally addressable, users can experience even more patterns, styles, and illuminations.
B660 Motherboard will support either 5v or 12v Addressable LED lighting strips and up to 300 LED lights. RGB Fusion 2.0 with Addressable LEDs comes with new patterns and various speed settings and will have more to come.
* Addressable LEDs are available only on select Motherboards. External LED Strips and Addressable LED Strips are not included with Motherboard purchase.
New User Interface
All new EASY MODE shows important hardware information in one page including CPU, Memory, Storage, and Fan.
My Favorites
Add constantly used items to the favorite menu for quick access.
Storage Information
Show all kinds of storage information including SATA, PCIE and M.2 interface.
Changelog
List all changes before saving and exiting bios. Quickly review overall settings modification.
Intuitive Load Line Curve
Clearly show each loadline calibration setting in an intuitive curve graph.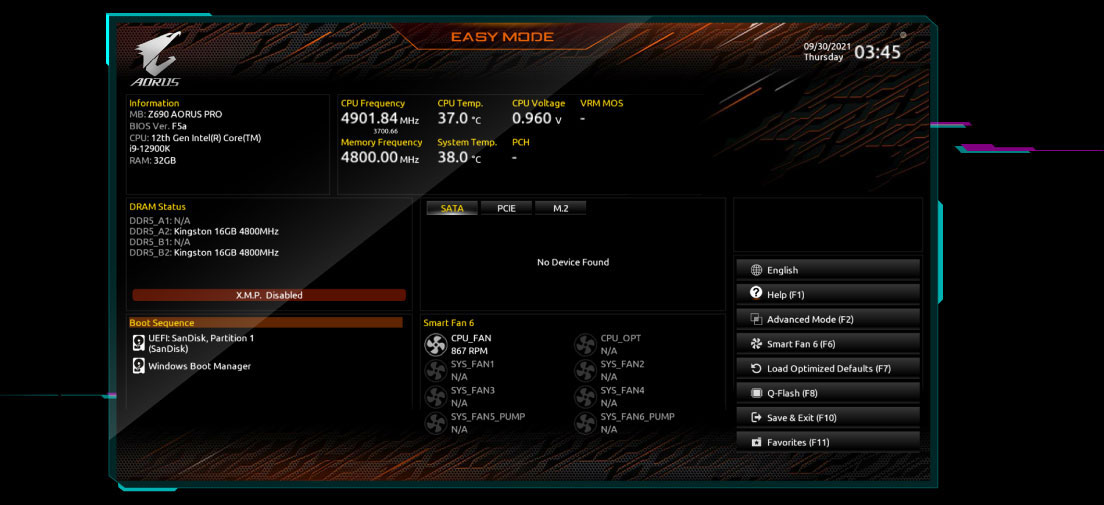 Easy Tune
GIGABYTE's EasyTune is a simple and easy-to-use interface that allows users to fine-tune their system settings or adjust system and memory clocks and voltages in a Windows environment. With Smart Quick Boost, one click is all it takes to automatically overclock your system, giving an added performance boost when you need it the most.

System Information Viewer
GIGABYTE System Information Viewer is a central location that gives you access to your current system status. Monitor components such as processor, set your preferred fan speed profile, create alerts when temperatures get too high or record your system's behavior; these are the possibilities of the System Information Viewer.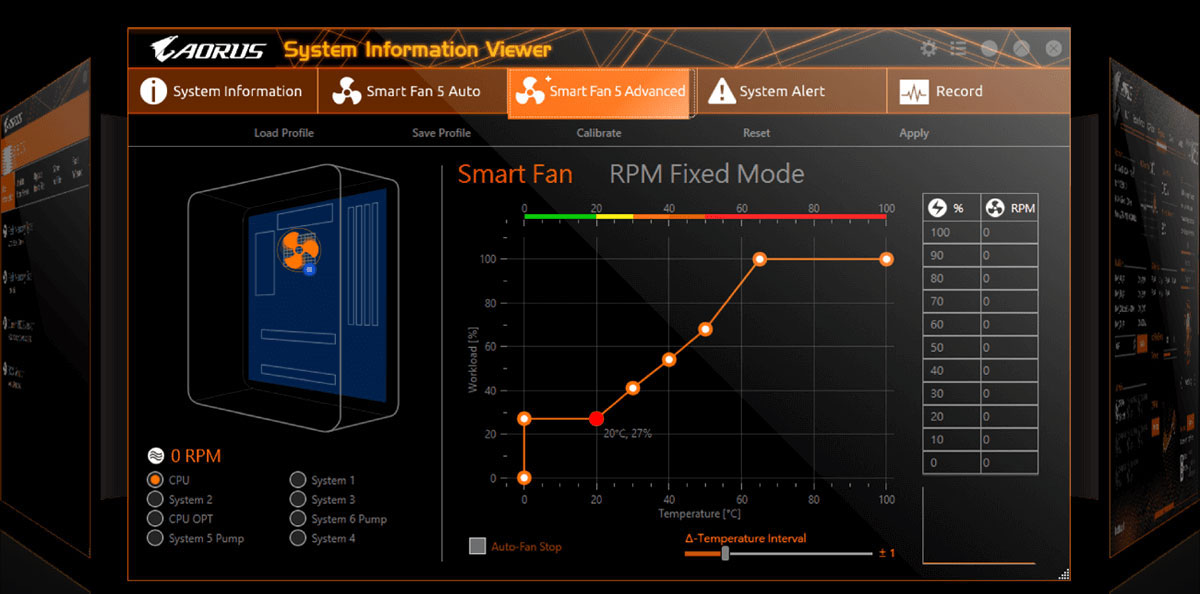 ULTRA DURABLE
GIGABYTE Ultra Durable features its product durability and high-quality manufacturing process. GIGABYTE motherboards use the best components and reinforce every slots to make each of them solid and durable.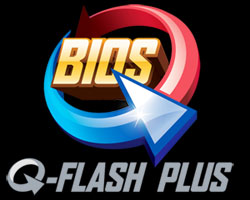 Q-Flash Plus
Update the BIOS easily without installing CPU, memory and graphics card.
With GIGABYTE Q-Flash Plus, you don't need to install CPU, memory and graphics card nor enter the BIOS menu to flash the BIOS. Just download and save a new BIOS file (rename to gigabyte.bin) on the USB flash drive, then press the dedicated Q-Flash Plus button and you're good to go!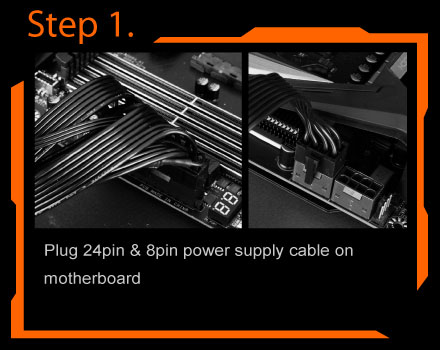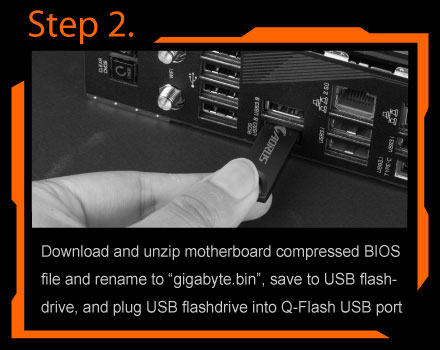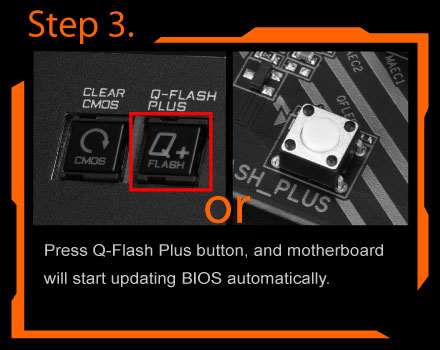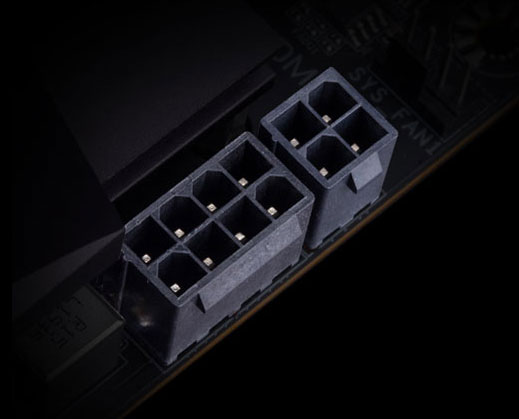 Solid Pin Power Connectors
AORUS motherboards feature solid plated ATX 12V 8pin + 4pin power connectors to offer a stable power supply during CPU overloading.
Solid Pin Power Connector Advantages
Larger contact area for electricity
More metal quantity to sustain higher power and generated heat
Ultra durable and longer lifespan