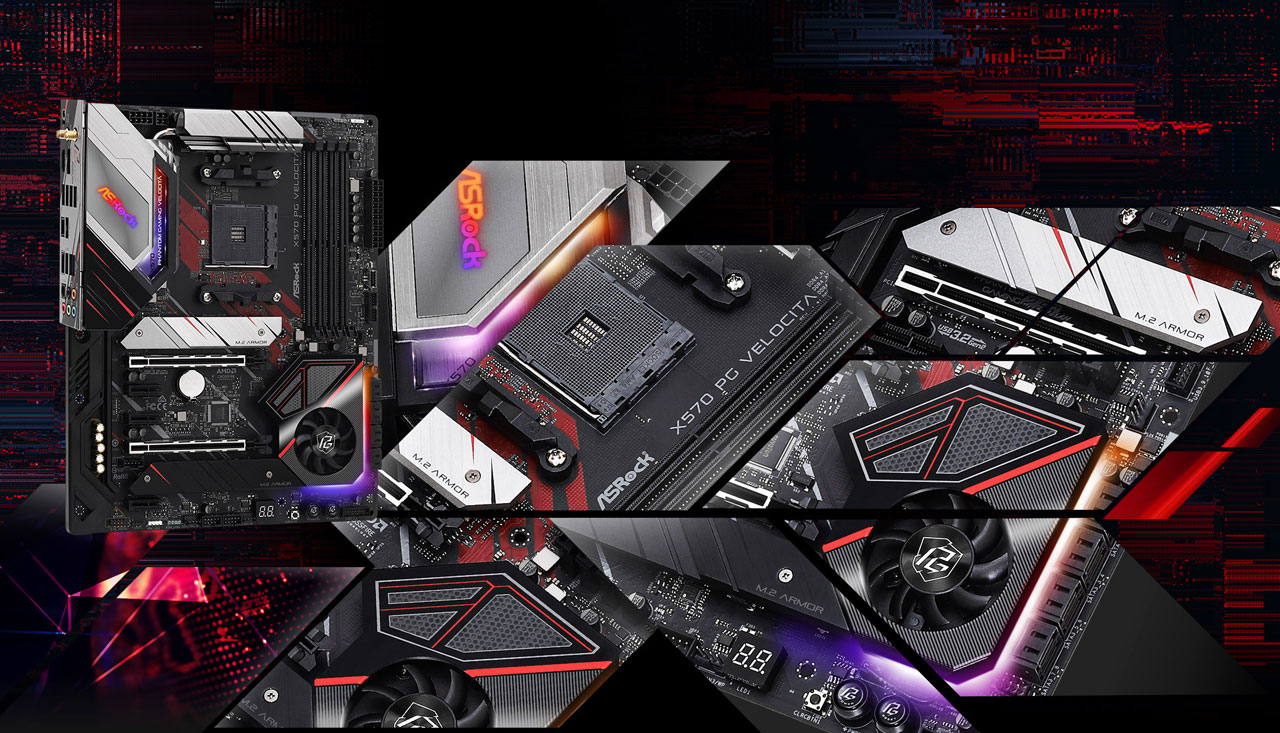 REVOLUTIONARY X570 MOTHERBOARDS: Your PC Transformed
Style. More reliable. Design that delivers.
ASRock X570 PG Velocita
With Digi Power design, 14 Power Phase and robust onboard cooling, this ATX motherboard is engineered to unleash the full potential of the latest AMD Ryzen 5000 series processors. Ultra-fast connectivity like the PCIe 4.0 for graphics cards and SSDs, USB 3.2 Gen 2 (10 Gbps), Wi-Fi 6 and 2.5 Gbps LAN puts everything on the fast lane. While premium materials, advanced circuit design and onboard lighting form a solid and good-looking foundation for your new powerhouse.
ASRock X570 PG Velocita - Out of Sight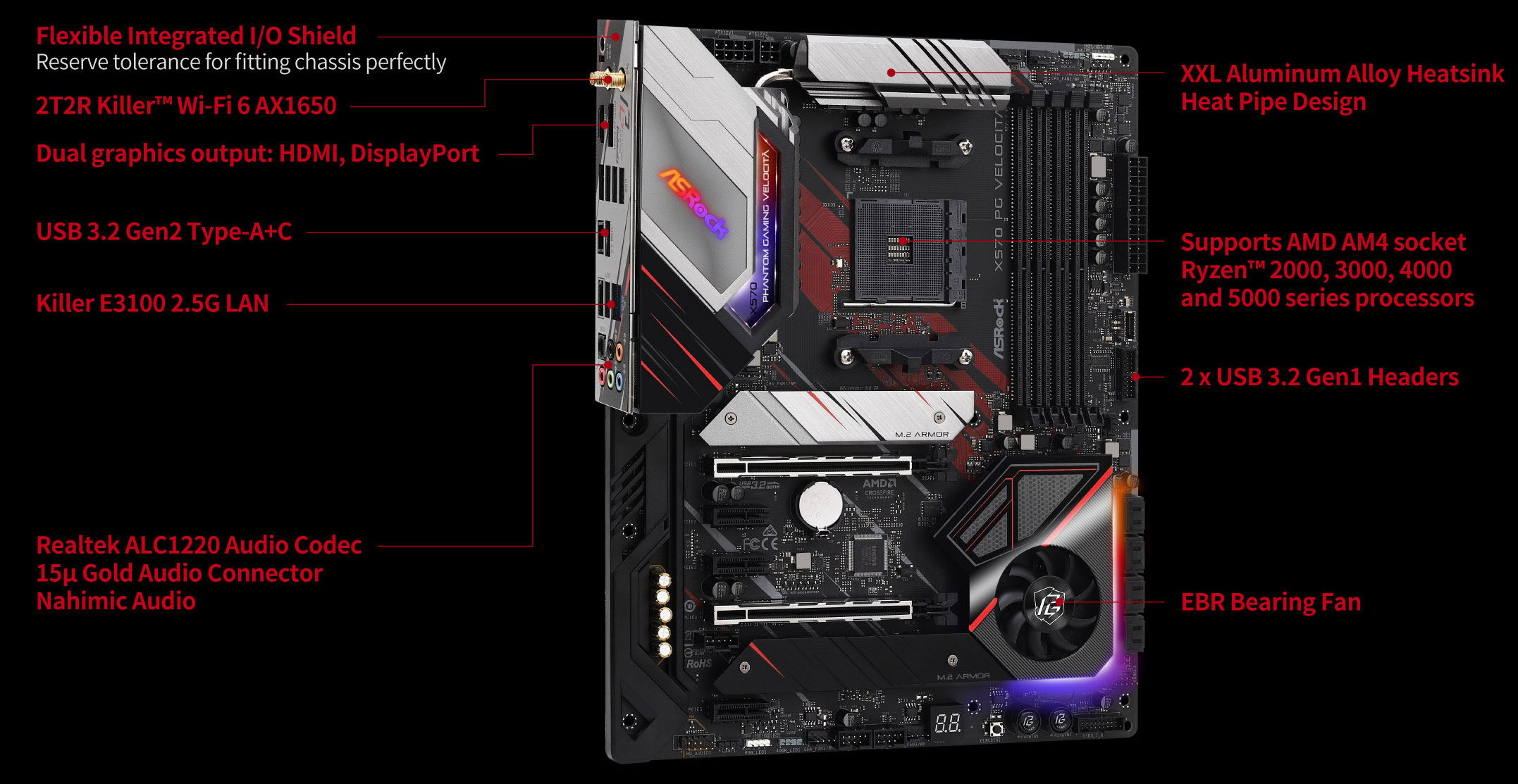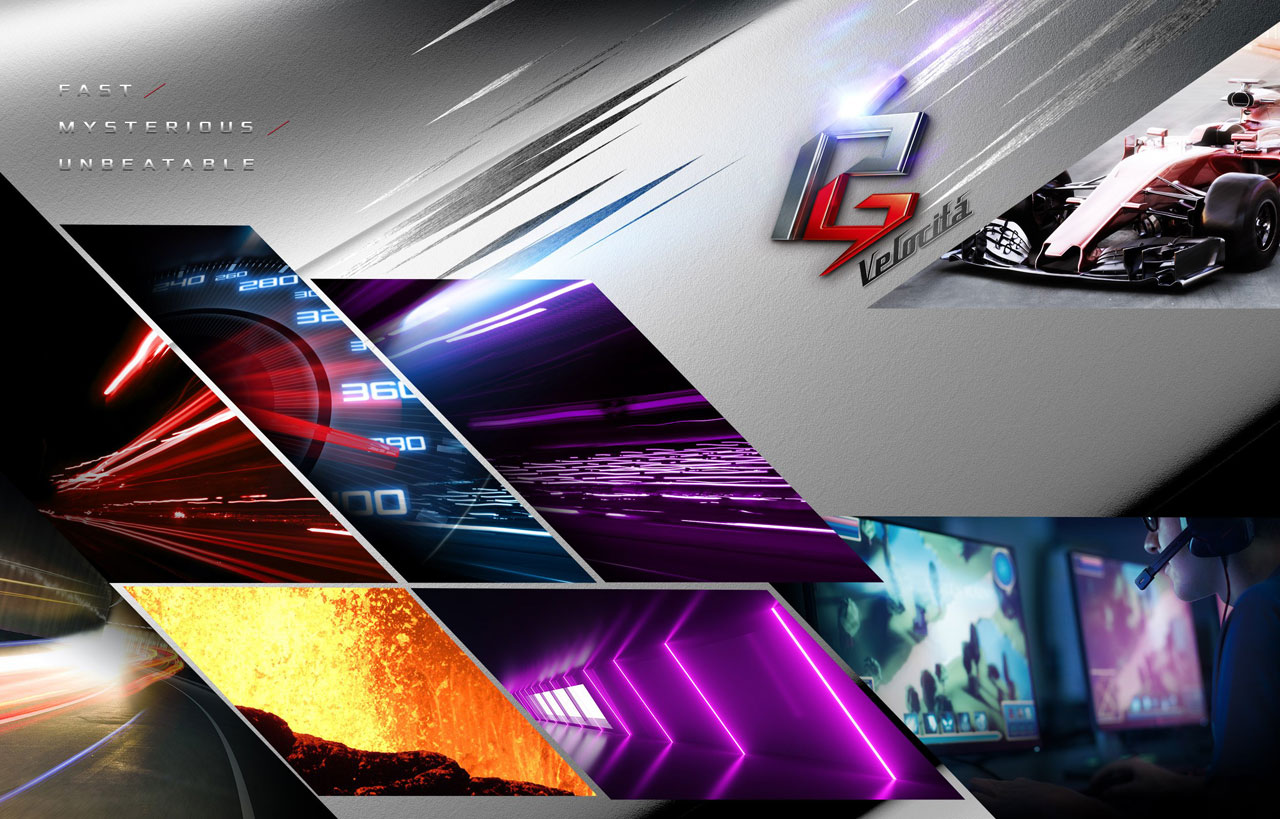 PG Velocita is a brand new high end product line under the Phantom Gaming family, the PG Velocita motherboard series packed full with uncompromised performance as well as relentless appearance. "Velocità" is Italian for "Velocity", destined to give a fast and unbeatable gaming experience to the gamers!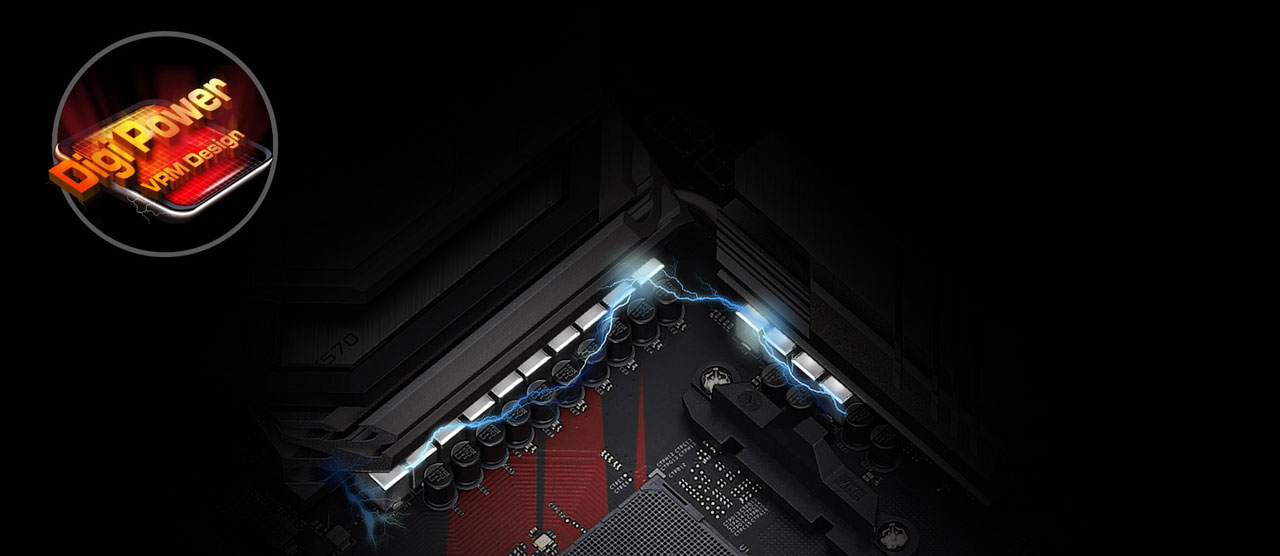 14 Power Phase Design
Featuring sturdy components and completely smooth power delivery to the CPU. Plus, it offers unmatched overclocking capabilities and enhanced performance with the lowest temperature for advanced gamers as well.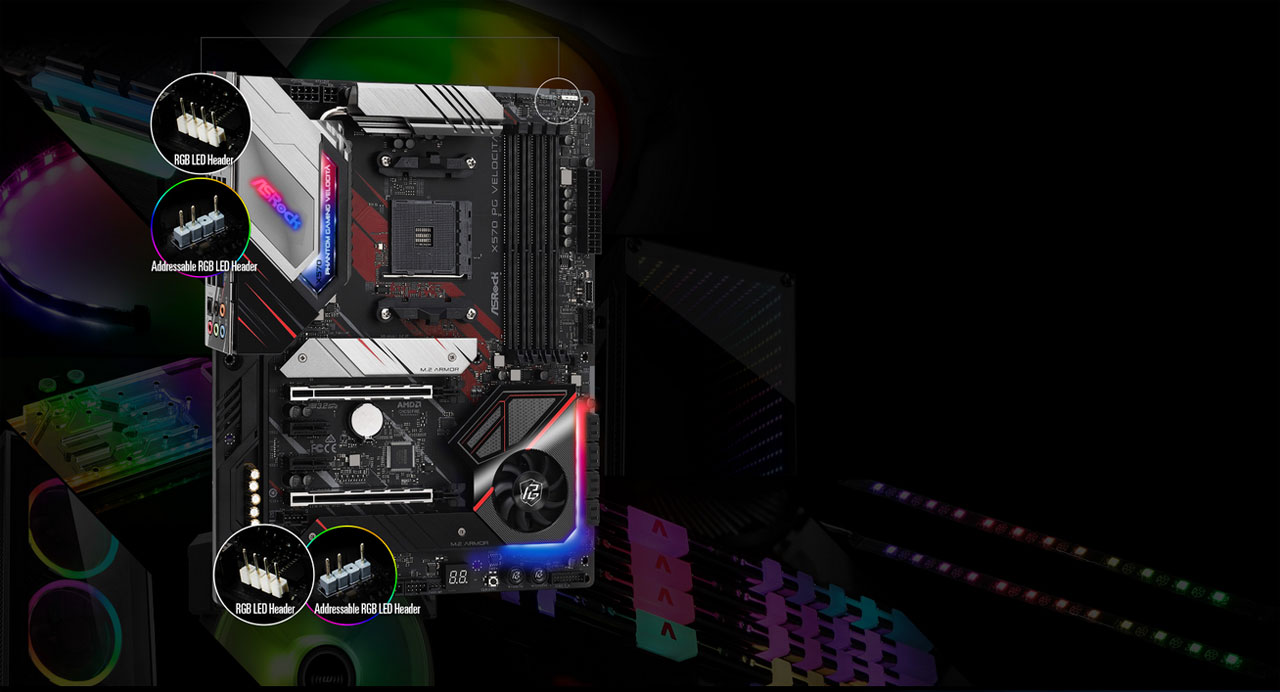 Rule Your Own Lighting Way - Polychrome RGB
ASRock motherboards deliver stunning performance and superior aesthetics to rule your own colorful lighting way! ASRock offers a very comprehensive control to perform the built-in RGB LEDs or the connected LED strips, CPU fans, coolers, chassis and any RGB devices smoothly. Devices can be synchronized across the Polychrome RGB Sync-certified accessories as well.

* The addressable RGB LED header supports WS2812B addressable RGB LED strip (5V/Data/GND), with a maximum power rating of 3A (5V), a max of 80 LEDs and length within 2 meters.
* The RGB LED header supports standard 5050 RGB LED strip (12V/G/R/B), with a maximum power rating of 3A (12V) and length within 2 meters.

Killer Wi-Fi 6 AX1650
Killer Wi-Fi 6 AX1650 is the world's first Wi-Fi 6 module specially designed to deliver the fastest gameplay, the best streaming, and the most immersive communication experiences.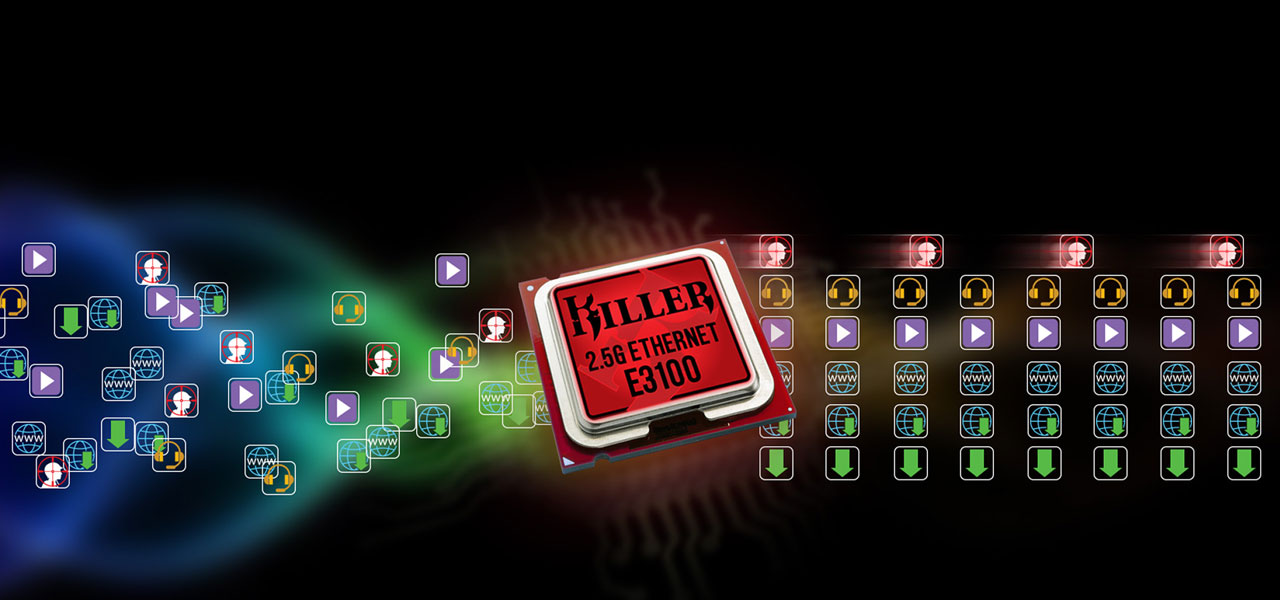 Killer Ethernet E3100
The Killer E3100 2.5 Gbps Ethernet controller is designed specially for competitive gamers and performance-hungry users. The enhanced detection and prioritization engine provides the ultimate networking experience for gaming and multimedia applications.

Killer DoubleShot Pro
Killer DoubleShot Pro allows both the Killer Wireless and Killer Ethernet interfaces to work at the same time which will give the end user max throughput as high as 4.9 Gbps. It automatically utilizes the fastest network connection for high priority traffic, and this ensures the highest priority traffic will always be put on the fastest and most reliable link.
Killer DoubleShot Pro Benefits:
Speed: DoubleShot Pro Technology delivers the maximum speed and throughput possible for your computer by allowing your computer to use all of your network adapters at the same time.
Intelligence: The Killer Prioritization Engine automatically classifies and prioritizes high priority traffic like online games, streaming video, and high quality audio to be handled by the systems fastest network interface. This will provide users with a higher quality experience with fewer interruptions.
Maximum Control: Utilize the Killer Control Center 2.0 to see and manage which network connection your applications are using. Set limits using Visual Bandwidth Control or shut them down completely with application blocking, so they don't interfere with higher priority apps.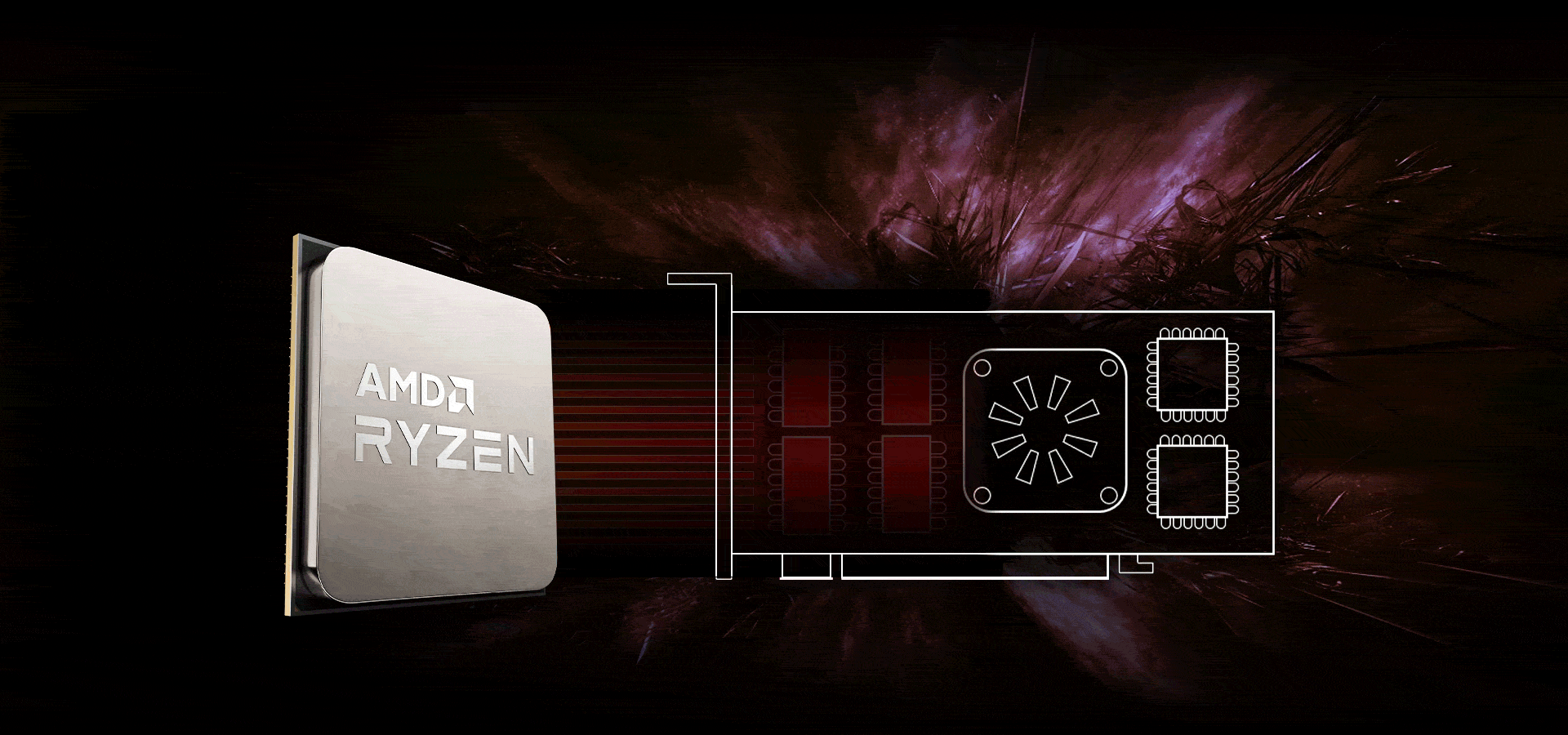 AMD Smart Access Memory
Conventional PC systems processor can only access a fraction of graphics memory and limits system performance. With AMD Smart Access Memory, the data channel gets expanded to harness the full potential of GPU memory, removing the bottleneck and increasing performance.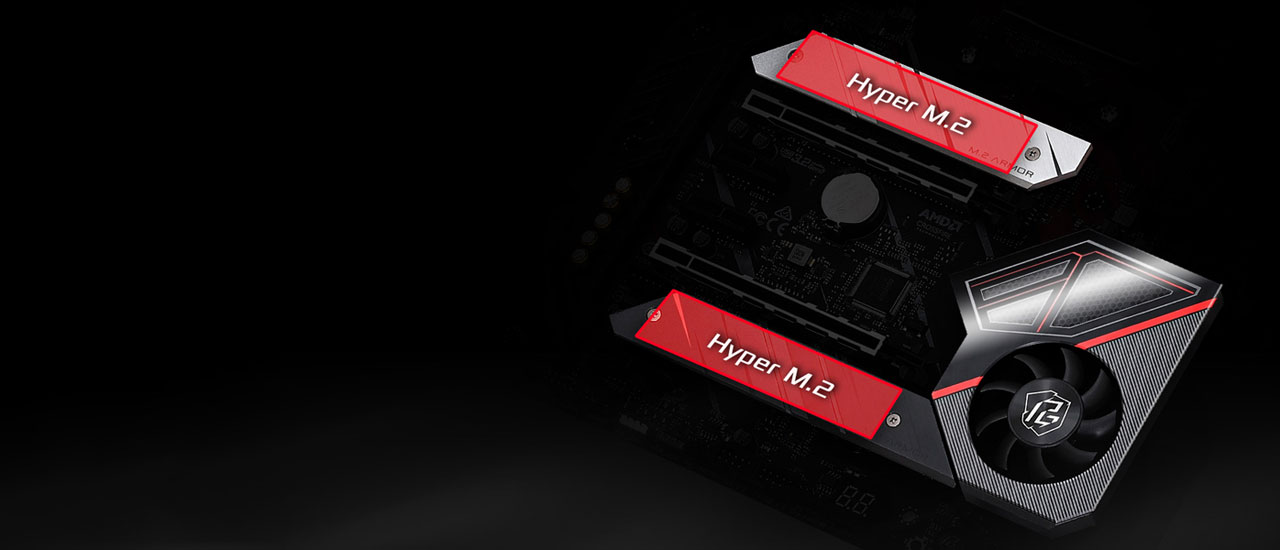 Dual Hyper M.2 For SSD
Supports the next generation PCI Express 4.0 M.2 SSDs, it is capable of performing twice the speed compared to previous 3rd generation, giving a lightning fast data transferring experience.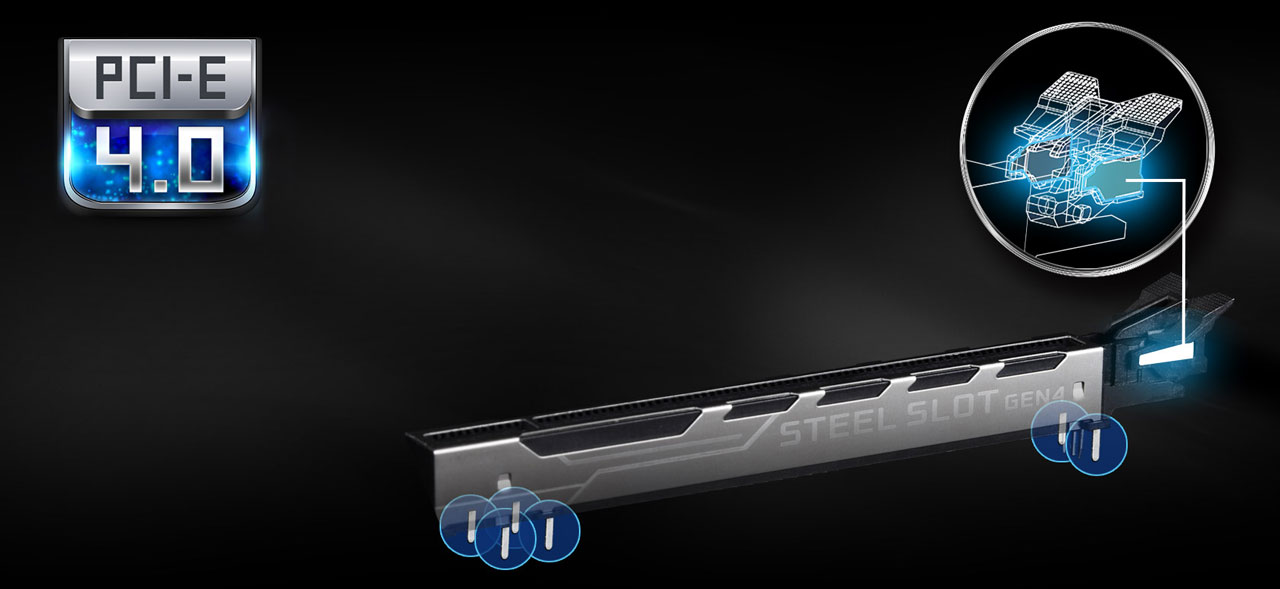 Reinforced Steel Slot [PCIe 4.0 Version]
The reinforced steel slot comes with the next generation PCI Express 4.0 standard. The various benefits include:
✓ Extra anchor points
✓ Stronger latch
✓ Ensure signal stability
✓ Make sure heavy graphics cards to be well-installed.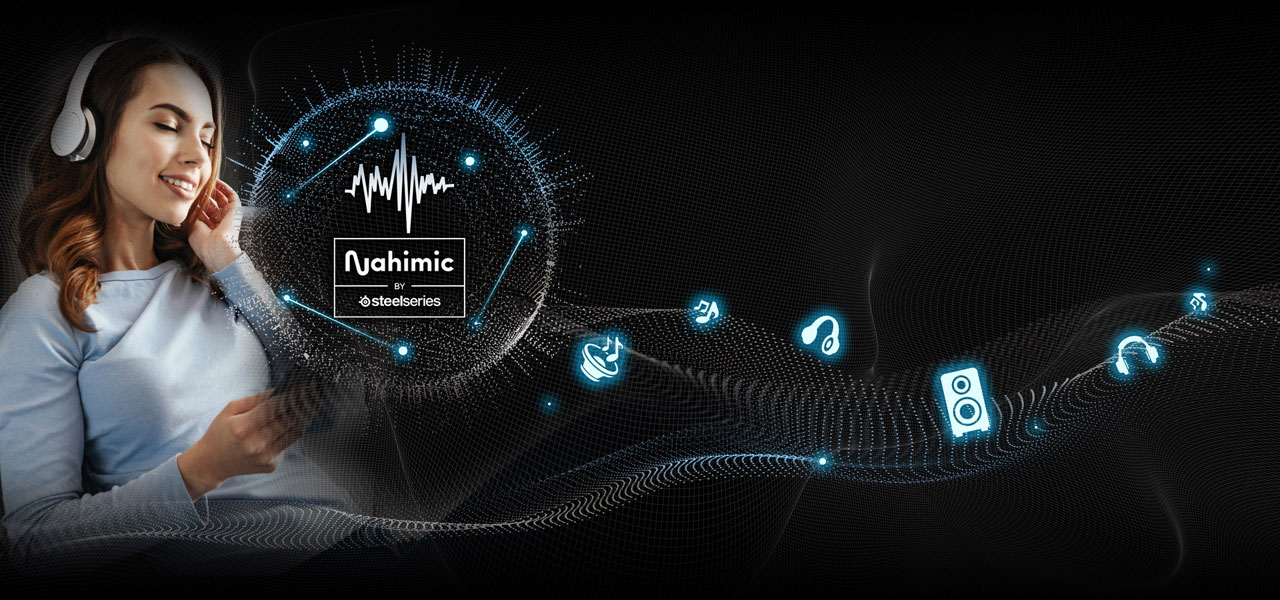 Nahimic Audio
Whether you are using headphones, a headset, external or internal speakers, via USB, Wi-Fi, analog output or even HDMI, Nahimic Audio offers you the most engaging listening experience, vibrant and rich with details.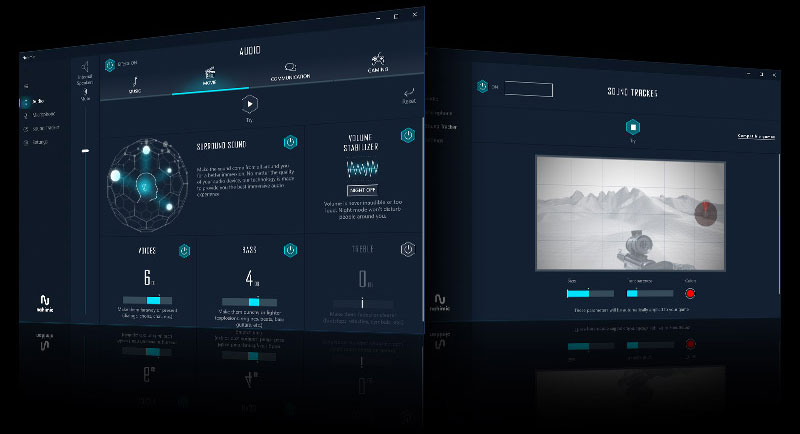 The Sound Tracker is a visual indicator that points out the directions from which predominant sounds are coming. Each sound is properly positioned in 360° on a radar for a full immersion during the game.

Flexible Integrated I/O Shield
Unlike most so called pre-mounted I/O shield that is only decorated with fancy color schemes. We reserve more tolerance space and allow IO shield to be adjustable when installing, thus fitting chassis perfectly without any mechanical issue.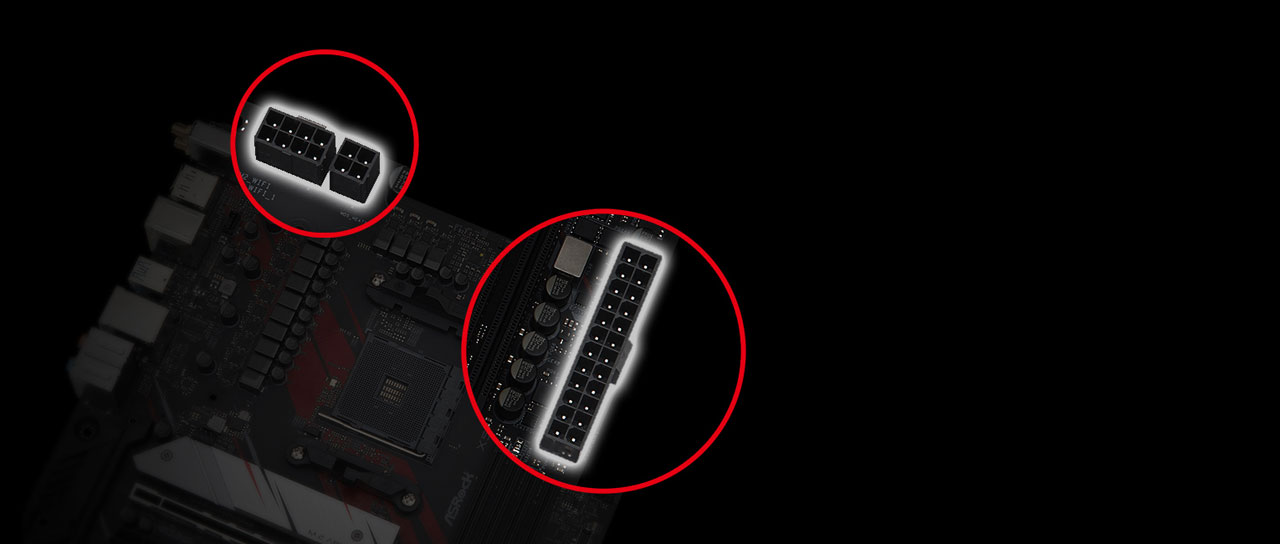 Hi-Density Power Connector
Reduces 23% power loss and decreases the connector's temperature by 22 degrees Celsius.
8+4 12V Power Connectors
24-pin ATX Power Connector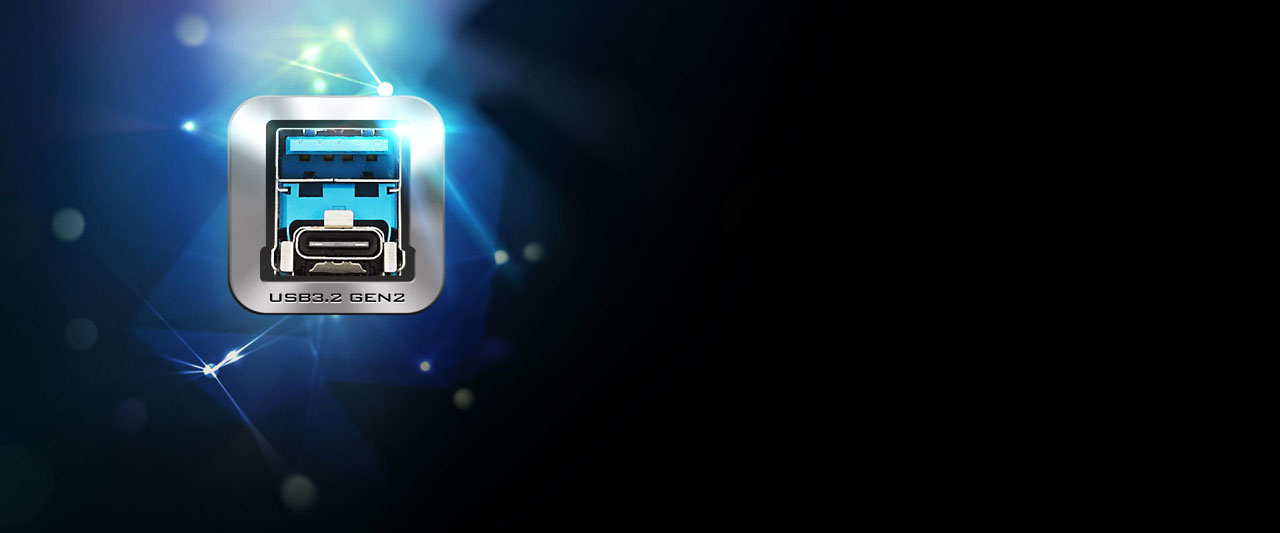 Dual USB 3.2 Gen2 (Type-A + Type-C)
This motherboard has a pair of onboard Type-A and Type-C USB 3.2 Gen2 ports built on the rear I/O for supporting next generation USB 3.2 Gen2 devices and to deliver up to 10 Gbps data transfer rates.
Front USB 3.2 Gen2 Type-C
Front USB 3.2 Gen2 Type-C header delivers up to 10 Gbps data transfer rate and next generation reversible USB design to the front panel of computer case.

Dual Graphics Outputs
Complete with two types of most used connectors! Packed with a HDMI + DisplayPort combo, you have more graphics output options now.

HDMI 4k @60Hz
Supports the most recent HDMI 4K 60Hz graphics output specification. With the larger bandwidth and increased frame rate, the motion on your screen becomes more fluid and less blurry.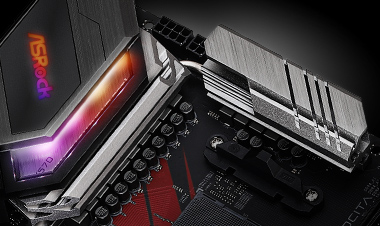 XXL Aluminum Alloy Heatsink
Extra large aluminum alloy heat sinks that effectively take away heat from the MOSFET and chipset so that your whole system may perform more stable.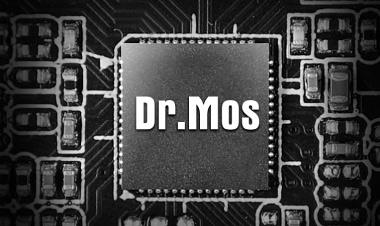 Dr. MOS
Dr.MOS is the integrated power stage solution which is optimized for synchronous buck-set down voltage applications! Intelligently delivering higher current and driving up to 50A continuous current for each phase, thus providing improved thermal result and superior performance.
Premium 60A Power Choke
Compared to traditional chokes, ASRock's premium 60A power chokes effectively make the saturation current up to three times better, thus providing enhanced and improved Vcore voltage to the motherboard.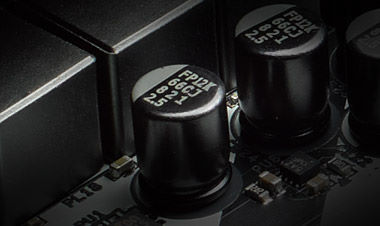 Nichicon 12K Black Caps
Supreme 12K black capacitors with lifespans of at least 12,000 hours. Compared to other counterparts on high-end motherboards that merely have lifespans of around 10,000 hours, ASRock applied Nichicon 12K Black Caps that offer 20% longer lifespans and provide more stability and reliability.
I/O Armor
A new designed protective cover for all of the crucial parts near the motherboard's rear I/O, so that they won't easily be damaged by static electricity.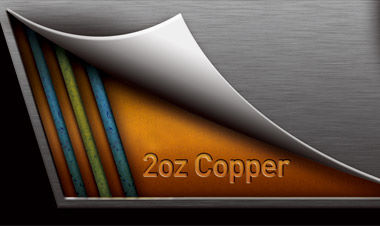 2oz Copper PCB
Using only carefully selected copper materials for PCB layers, 2oz Copper PCB delivers lower temperature and higher energy efficiency for overclocking.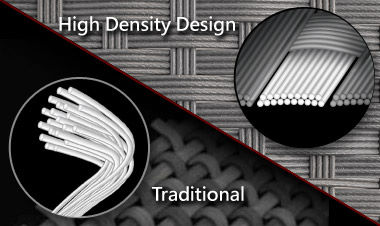 High Density Glass Fabric PCB
High Density Glass Fabric PCB design that reduces the gaps between the PCB layers to protect the motherboard against electrical shorts caused by humidity.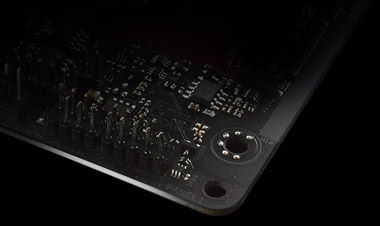 Matte Black PCB
A new mysterious matte black and copper color scheme to match the prestigious components on ASRock's high-end motherboards.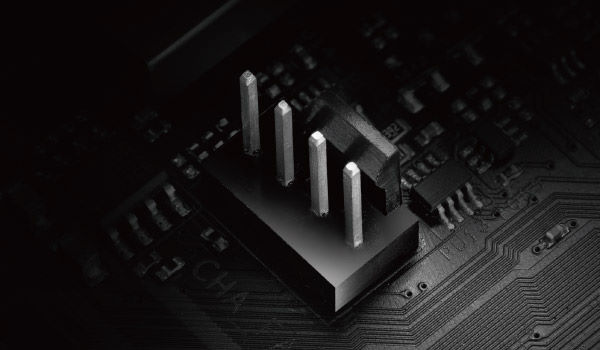 Water Pump Header
This is not only a standard CPU fan header, but also supports water pumps! This header provides a maximum of 2A power for supporting the most popular water pumps. User also can adjust the voltage of water pump to get higher cooling performance with lower noise.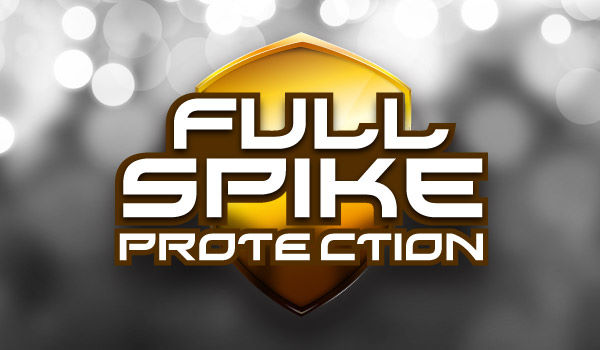 Full Spike Protection
Some sensitive digital components on the motherboard are vulnerable to power surges, the excessive current may cause your system to malfunction immediately. ASRock Full Spike Protection includes various technologies to prevent your motherboard's components from being damaged by these unexpected voltage spikes.
Live Update & APP Shop
ASRock Live Update & APP Shop is designed for your convenience. We provide various apps and support software for users to download. You can also easily optimize your system and keep your motherboard up to date with ASRock Live Update & APP Shop.