The Raspberry Pi 3 Model B is built on the Broadcom BCM2837 64-bit CPU for faster and more powerful performance than the previous Raspberry Pi model. It features four USB 2.0 ports, an HDMI output, and a 4-Pole stereo output and composite video port. Wi-Fi and Bluetooth are built in so you can get connected out of the box. It also has improved power management to support more powerful external USB devices.
Quad Core 1.2GHz Broadcom BCM2837 64bit CPU
1GB RAM
BCM43438 wireless LAN and Bluetooth Low Energy (BLE) on board
40-pin extended GPIO
4 USB 2 ports
4 Pole stereo output and composite video port
Full size HDMI
CSI camera port for connecting a Raspberry Pi camera
DSI display port for connecting a Raspberry Pi touchscreen display
Micro SD port for loading your operating system and storing data
Support for upgraded switched Micro USB power source up to 2.5A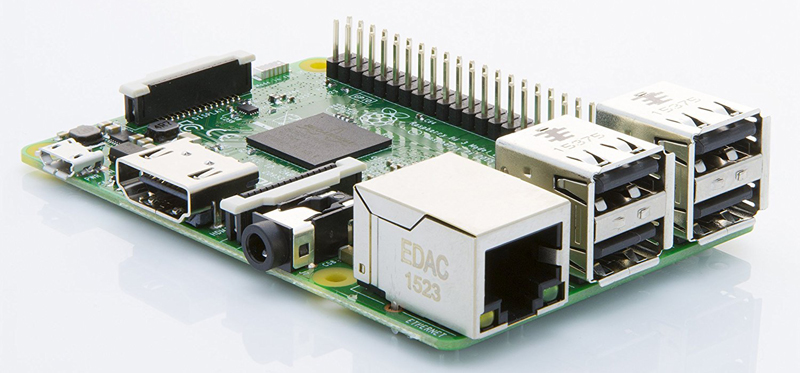 Not only is the Raspberry Pi a great, low-cost computing platform, it also makes a terrific player for all of your stored digital content. This kit includes the new Raspberry Pi 3 Model B, power supply, pre-loaded microSD card, enclosure, and necessary cables to create your own custom media player. The Raspberry Pi 3 Model B includes built-in WiFi, making it even easier to turn it into a cost-effective, power-efficient hub for all your digital content.
Simply install OSMC (was RaspBMC) or OpenELEC from the NOOBS menu (accessed by holding the 'shift' key on boot), plug into your TV with the included HDMI cable, and connect to your wireless network. From there you will be able to access content on shared or NAS drives, or stream content directly from the internet using add-ons. Additionally, you can play content from an attached USB drive and even use Apple AirPlay right from your iOS device.

What is a Raspberry Pi