The new EVGA GeForce GTX 970 is powered by the next-generation NVIDIA Maxwell architecture, giving you incredible performance, unmatched power efficiency, and cutting-edge features.
Maxwell is the most advanced GPU architecture ever made, designed to be the engine of next-generation gaming. Inspired by light, it was designed to solve some of the most complex lighting and graphics challenges in visual computing. For the first time, gaming GPUs can dynamically render indirect light using the new VXGI (Voxed Global Illumination technology. ) Scenes are significantly more lifelike as light interacts more realistically in the game environment.

EVGA is also proud to introduce the best graphics card cooler ever
26%
Cooler
36%
Quieter
250%
Lower fan power
400%
Longer Lifespan
With optimized Swept fan blades, double ball bearings and an extreme low power motor, EVGA ACX 2.0 delivers more air flow with less power, unlocking additional power for the GPU.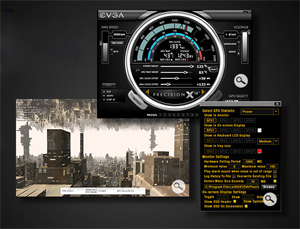 BUILT FOR DIRECTX® 12
Introducing EVGA PrecisionX™ 16 version 5.3.5 with full support for Microsoft DirectX® 12 OSD support. This latest version of EVGA PrecisionX™ adds new features, overclocking support, functionality, and full support for the upcoming Microsoft DirectX® 12 API.
Key Features
Full support for Microsoft DirectX® 12 API
Redesigned OSD interface with RGB color support
Available on Steam or as a separate download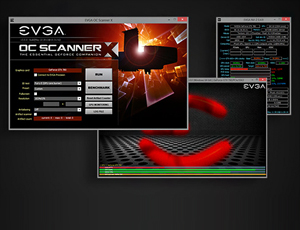 EVGA OC SCANNER
Featuring a brand new look and layout, this popular application has been updated to show all of the GeForce® GTX™ 960 vitals.
Key Features
Built-in stress tester to find and report artifacts
Benchmark function to quickly test your performance
CPU Burn In Module
Built-in log functionality
Specs
Features
NVIDIA Dynamic Super Resolution Technology
NVIDIA MFAA Technology
NVIDIA GameWorks Technology
NVIDIA GameStream Technology
NVIDIA G-SYNC Ready
Microsoft DirectX 12 (feature level 12_1)
NVIDIA GPU Boost 2.0
NVIDIA Adaptive Vertical Sync
NVIDIA Surround Technology
NVIDIA SLI Ready
NVIDIA CUDA Technology
OpenGL 4.4 Support
OpenCL Support
HDMI 2.0, DisplayPort 1.2 and Dual-link DVI
PCI Express 3.0
EVGA ACX 2.0 Cooling
Core
1664 CUDA Cores
Base Clock: 1165 MHz
Boost Clock: 1317 MHz
Bus: PCI-E 3.0
2-way, 3-way SLI Ready
Memory
Memory Detail: 4096 MB GDDR5
Memory Bit Width: 256 Bit
Memory Clock: 7010 MHz
Memory Speed: 0.28 ns
Memory Bandwidth: 224.3 GB/s
Awards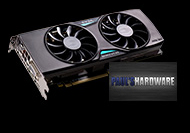 Paul's Hardware 2014/10/01
".. I was able to overclock significantly and that is one of the great benefits of the 970, one of the benefits of the Maxwell architecture allows for some pretty insane overclocks....."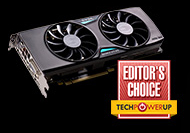 TechPowerUp 2014/09/01
"Overclocking our sample worked extremely well, reaching the highest clocks inn our GTX 970 test group. Memory topped out at beyond 2 GHz, in part due to the card's well-overclocking Samsung chips. EVGA's heatsink does not cool the memory chips with the baseplate, but uses the fans' airflow instead, an approach that works quite well."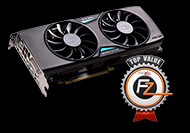 Fudzilla 2014/09/01
"With the ACX/ACX 2.0, EVGA designed a special heatsink with a lot of dissipation surfaces. To maximize dissipation volume, EVGA used a few tricks, such as tall fins at the sides of the cooler. The heatsink was designed in such a way to minimize airflow turbulence between the fans, with clever barriers directing the airflow."