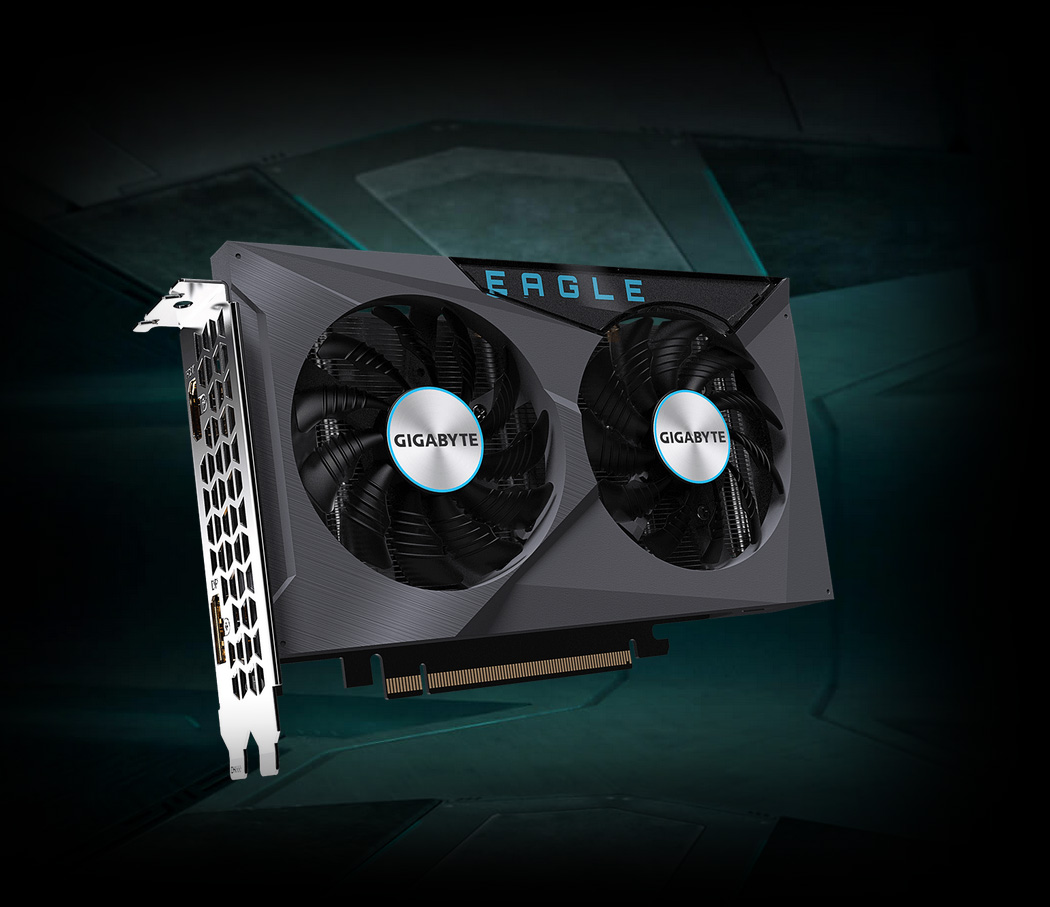 FEATURES
Powered by AMD RDNA 2 Radeon RX 6400
Integrated with 4GB GDDR6 64-bit memory interface
WINDFORCE 2X Cooling System with alternate spinning fans
Graphene nano lubricant
Core Clock
Boost Clock* : up to 2321 MHz
Game Clock* : up to 2039 MHz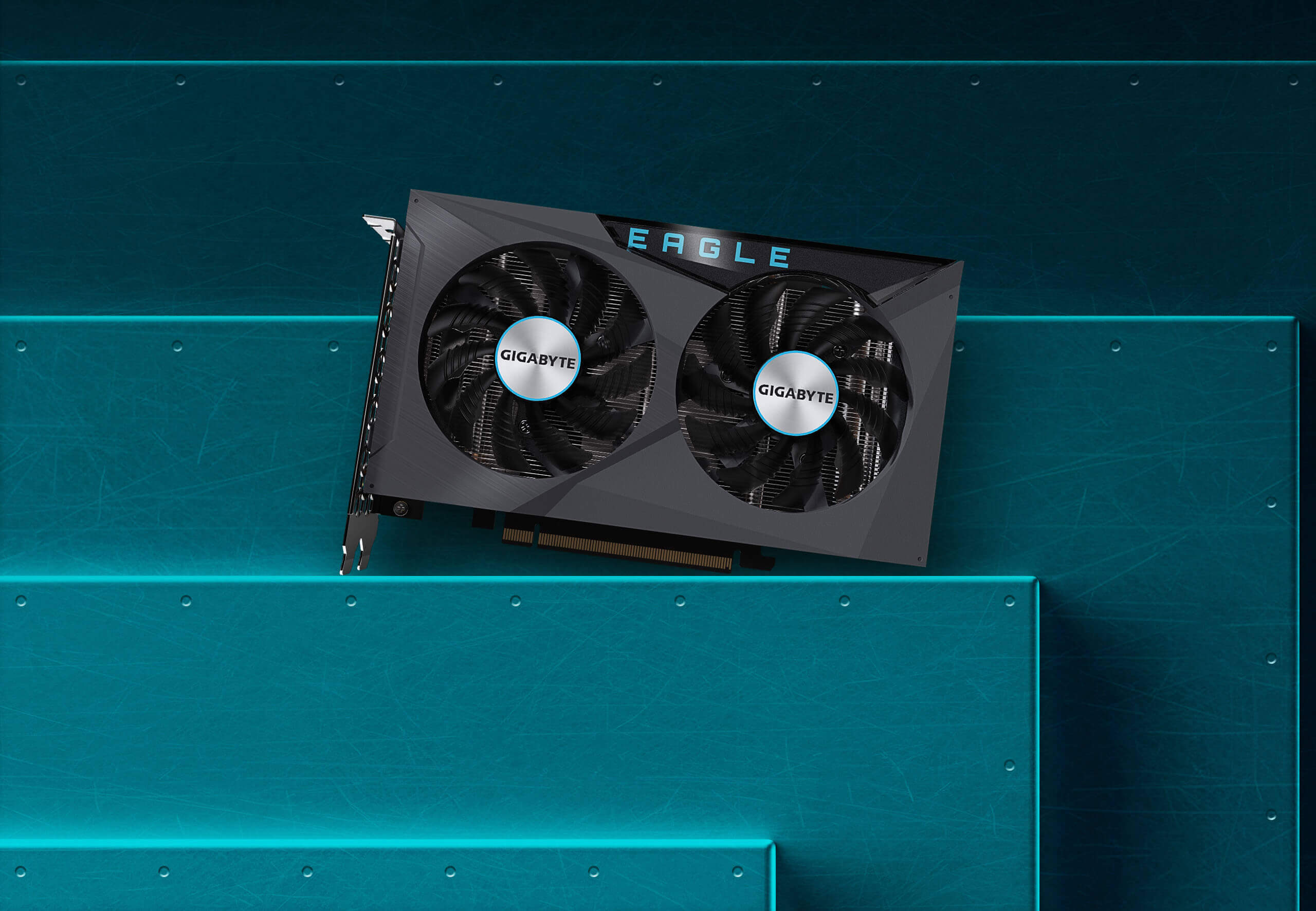 WINDFORCE 2X
COOLING SYSTEM
The WINDFORCE 2X cooling system features two unique blade fans, alternate spinning, composite copper heat pipes, copper plate and 3D active fan, which together provide high efficiency heat dissipation.
ALTERNATE SPINNING
Alternate Spinning can reduce the turbulence of adjacent fans and increase air pressure.
SMOOTH AIRFLOW
GIGABYTE turns the adjacent fans in the opposite direction, so that the airflow direction between the two fans is the same, reducing the turbulence and enhancing the airflow pressure.
3D ACTIVE FAN
The 3D Active Fan provides semi-passive cooling, and the fans will remain off when the GPU is in a low load or low power game.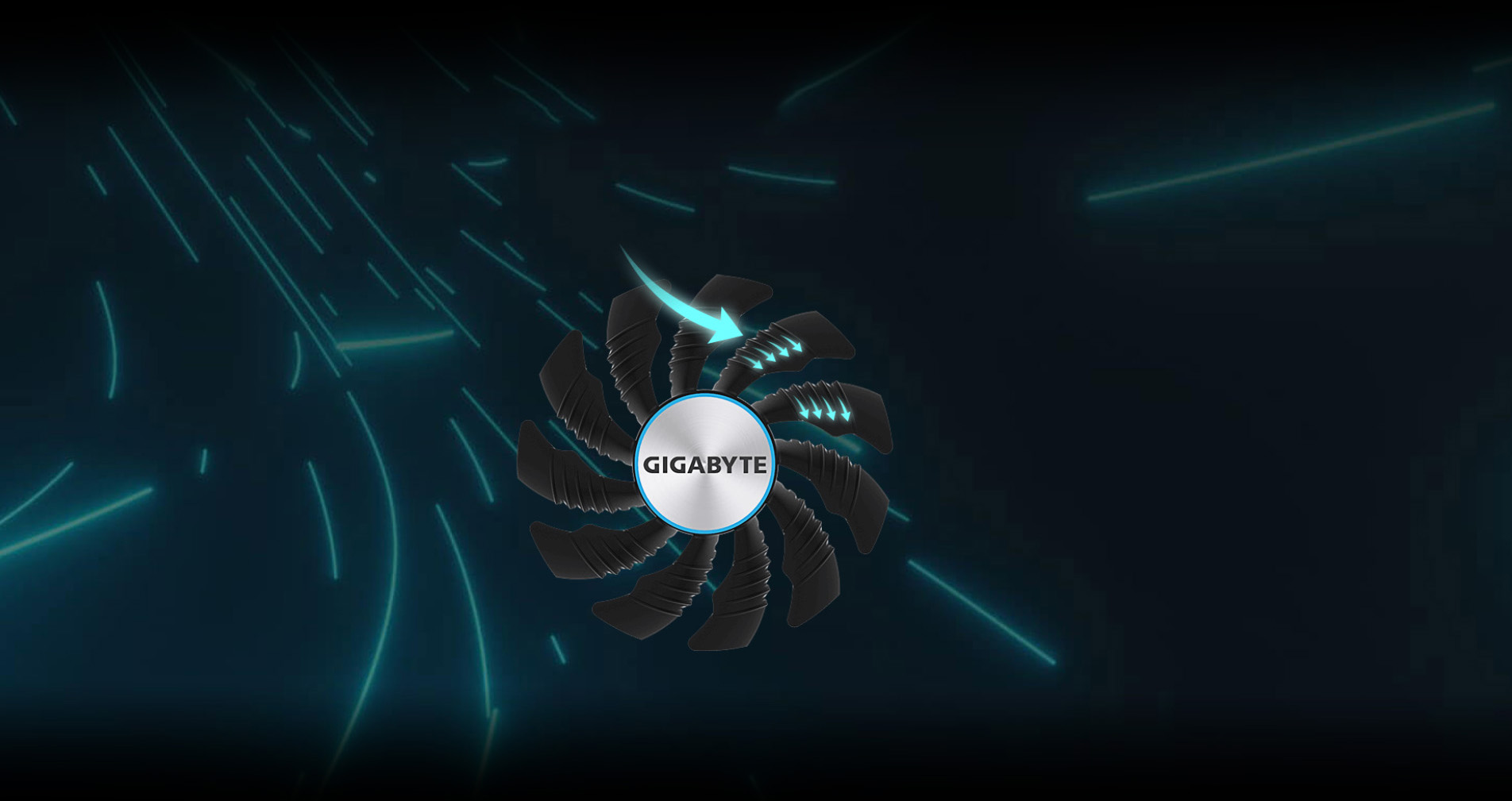 UNIQUE BLADE FAN
The airflow is spilt by the triangular fan edge, and guided smoothly through the 3D stripe curve on the fan surface.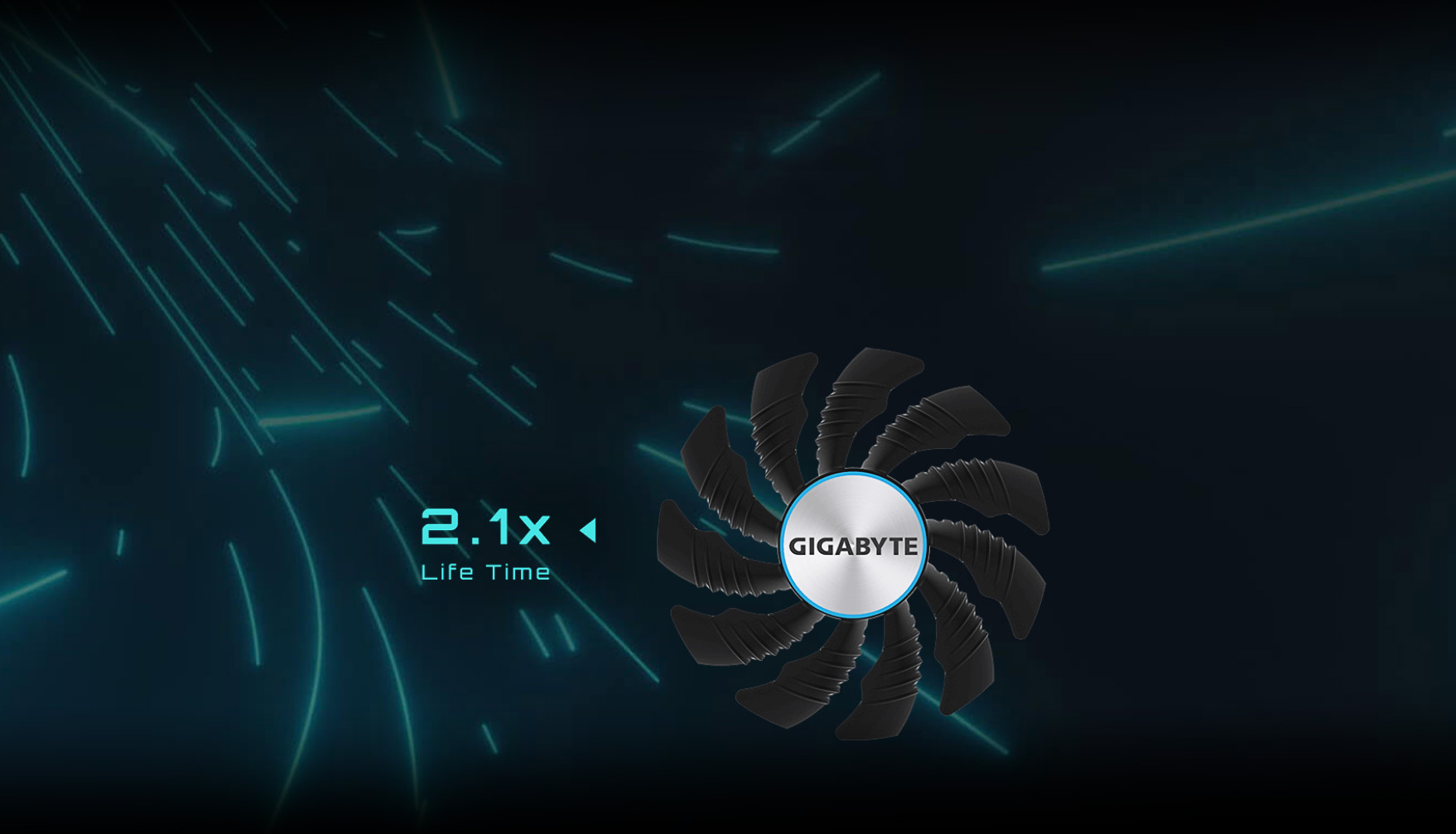 GRAPHENE NANO LUBRICANT
Graphene nano lubricant can extend the life of sleeve bearing fan by 2.1 times, close to the life of double ball bearing, and is quieter.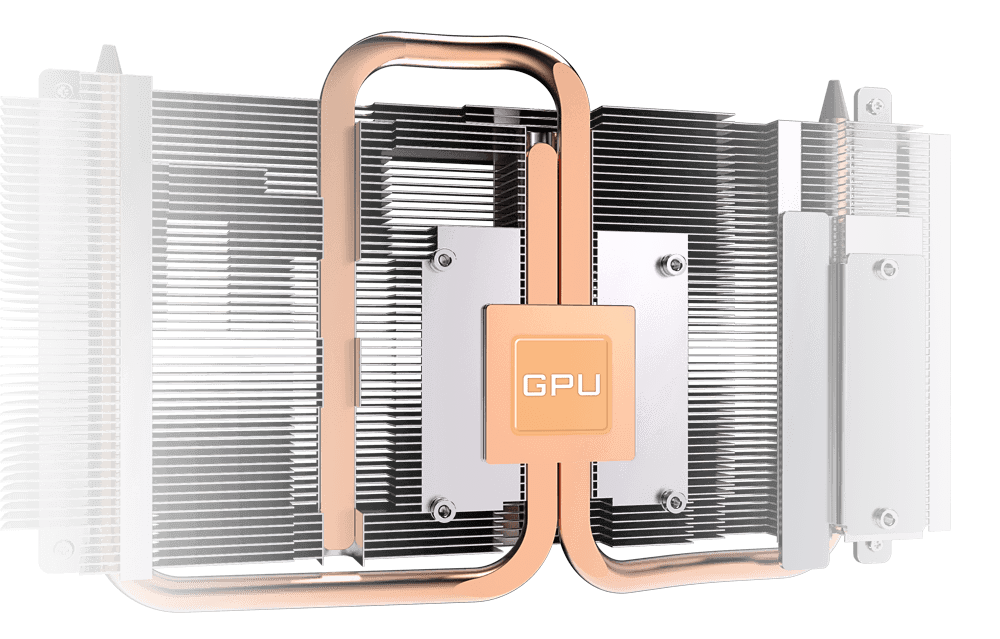 HEAT PIPES AND COPPER PLATE
The shape of the pure copper heat pipe contacts with the GPU through a copper plate.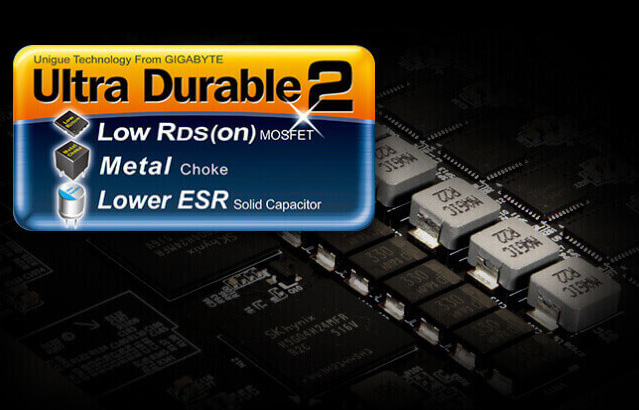 ULTRA COOLING
Lower RDS(on) MOSFETs are specially designed to produce lower switching resistance for faster electric current charging and discharging at extremely low temperature.
LOW POWER LOSS
Metal Choke hold energy much longer than common iron-core chokes at high frequency, thus effectively reduce core energy loss and EMI interference.
LONGER LIFE
Lower ESR Solid Capacitors ensure better electronic conductivity for excellent system performance and longer lifespan.
FRIENDLY PCB DESIGN
Fully automated production process ensures top quality of the circuit boards and eliminates sharp protrusions of the solder connectors seen on the conventional PCB surface. This friendly design prevents your hands from getting cut or inadvertently damaging components when making your build.
AORUS ENGINE
The cutting edge intuitive interface allows you to adjust the clock speed, voltage, fan performance and power target in real-time according to your game's requirements.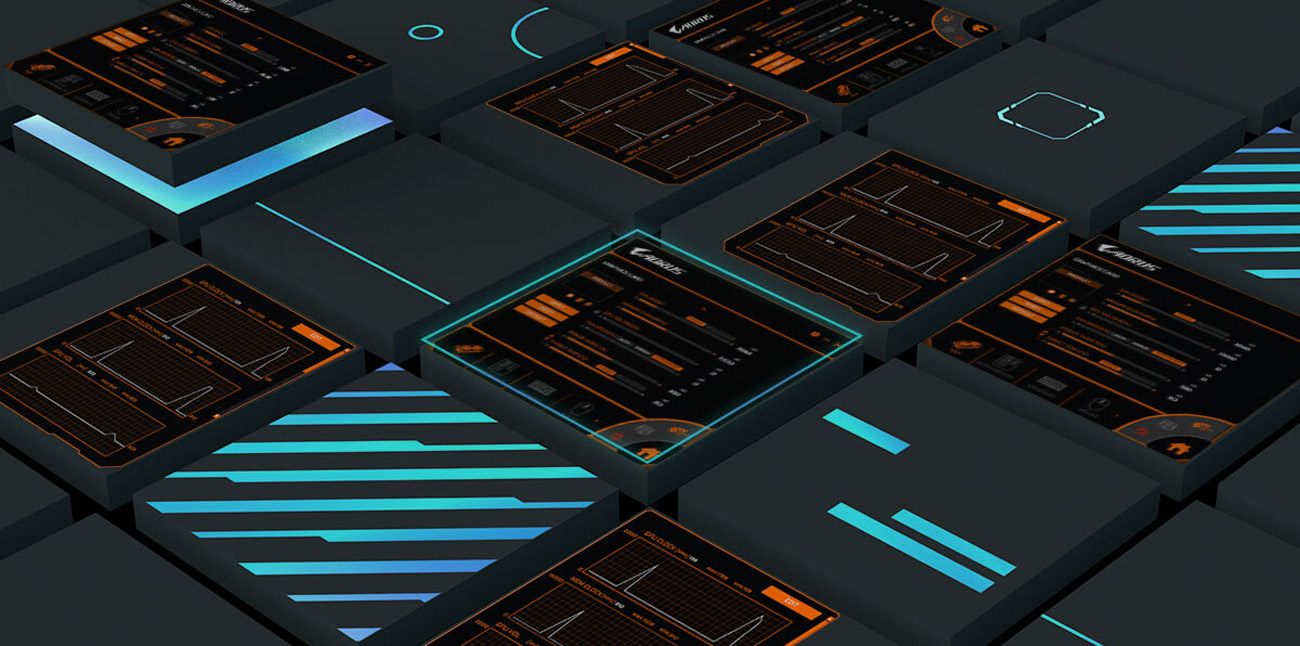 * All the images in this page are for illustration only.
FOOTNOTES
* "Boost Clock" is the maximum frequency achievable on the GPU running a bursty workload. Boost clock achievability, frequency, and sustainability will vary based on several factors, including but not limited to: thermal conditions and variation in applications and workloads.
* "Game Clock" is the expected GPU clock when running typical gaming applications, set to typical TGP (Total Graphics Power). Actual individual game clock results may vary.
1. AMD FidelityFX Super Resolution is available on select games and requires developer integration. AMD FidelityFX Super Resolution is "game dependent" and is supported on the following AMD products: AMD Radeon™ RX 6000, RX 5000, RX 500, RX Vega Series graphics cards & all AMD Ryzen Processors with Radeon Graphics, as long as the minimum requirements of the game are met.
2. Testing by AMD Performance Labs as of June 11, 2021, on the AMD Radeon 6900 XT, AMD Radeon 6800 XT, and AMD Radeon 6700 XT graphics cards with pre-release AMD Radeon Software 21.6.1 RC Prime 9 (21.20-210518a-367616E) driver with AMD Smart Access Memory enabled, on a test system comprising of an AMD Ryzen™ 9 5900X, 16GB DDR4-3200 RAM, ASRock X570 Taichi motherboard with BIOS version P3.61 at default settings, and Windows 10 Pro May 2020 Update (19041.508). Benchmark tests: Anno 1800, DX12, 3840 x 2160, Ultra Hight preset, no raytracing. Evil Genius 2, Vulkan, 3840 x 2160, Ultra preset, no raytracing. Godfall, DX12, 3840 x 2160, Epic preset, Raytracing ON. Kingshunt, DX12, 3840 x 2160, Ultra preset, no raytracing. The Riftbreaker, DX12, 3840 x 2160, Ultra preset, Raytracing ON. Terminator: Resistance, DX11, 3840 x 2160, Epic preset, no raytracing. Game 7, DX12, 3840 x 2160, High preset, no raytracing. Performance may vary and is dependent on the FSR Quality Mode selected. FSR requires developer integration and is available in select games only. RS-365.