The IOGEAR GWAVR enables your HDTV/Projector to wirelessly receive content from your smartphone, tablet, or laptop within 30 feet. You only need to connect IOGEAR GWAVR to your HDTV via an HDMI cable. It is the next step in connectivity for your wireless AV entertainment.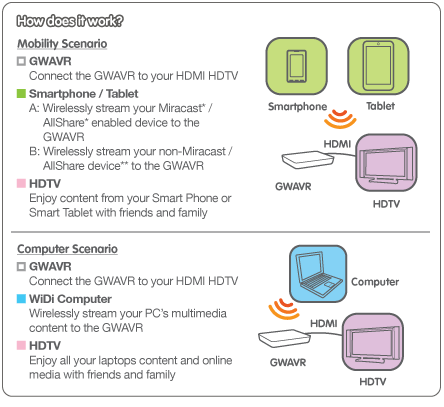 Works with electronics with different wireless technologies
The IOGEAR GWAVR works with electronics with different wireless technologies including Miracast/AllShare Cast certified devices*, Intel WiDi-certified devices, iPhone, iPad, iPod Touch, and Android Phones and Tablets via FreeiMediaShare Personalapp for iOS and Andriod. (*Samsung has introduced AllShare Cast based on Miracast, which is incorporated into most of Samsung's high-end smart mobile devices including the GALAXY S III/4, GALAXY Note 10.1, and GALAXY Note II/III. The devices also include New LG Optimus G.)
Stream contents from your electronics to your big screen HDTV
With support for the latest Intel and Wi-Fi certified technology, the IOGEAR GWAVR can wirelessly send your favorite apps, videos, photos, music, and Internet content from your smartPhone, tablet, and laptop to your big green HDTV. It is a great sharing solution anywhere: home, boardrooms, conference rooms, and schools.

Compact, and easy to use
Its small form factor makes it a convenient travel accessory for your mobile lifestyle. With the Plug-and-play feature, it is fast and easy to use.