Unleash your creativity with the DJI Inspire 1 PRO, one of the smallest, easiest professional aerial filmmaking platforms in the world. Aimed at professional photographers and filmmakers, the DJI Inspire 1 PRO incorporates DJI's unparalleled expertise in aerial technology and the first-class imaging capability of the Zenmuse X5 camera. The Zenmuse X5 Micro Four Thirds camera, equipped with a 15mm f/1.7 (35mm format equivalent 30mm) interchangeable lens, is able to record up to 4K videos @ 30 fps and capture 16Mp stills, and a field proven three-axis gimbal system assures you smooth, clear images even in demanding situations. The camera records internally to microSDHC/SDXC memory cards and can also beam a live 720p feed to a mobile device running the DJI GO app. Thanks to the retractable landing gear, you can get an unobstructed 360-degree view from the camera.
The next generation flight control system provides a more reliable flight experience, and Vision Positioning System (VPS) allows the aircraft to hover in position when GPS is not available. An ergonomic remote control allows you to control the flight, and gives pan/tilt the camera. The camera focus, shutter speed, aperture and ISO can be manually adjusted through DJI GO app. For ease of operation, an array of intelligent flight modes are included, thus you can set a course, keep you drone continuously facing an object, or bring it home in the event of signal loss at a press of button.
The Next Evolution of Aerial Cameras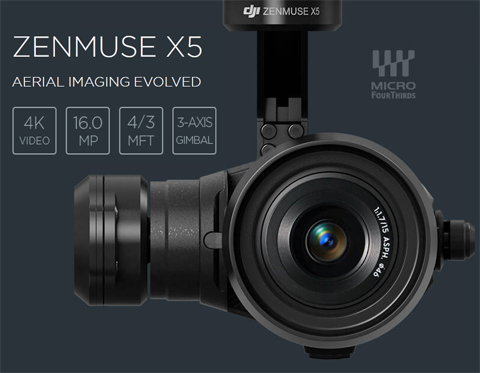 Meet the Zenmuse X5, the world's first mirrorless, compact Micro Four Thirds camera made specifically for aerial photography and cinematography. Designed to work with the DJI Inspire 1 ready-to-fly platform, the Zenmuse X5 packs a powerful sensor that's capable of recording 4K videos at up to 30 fps and capturing still images at 16MP. Equipped with the standard MFT interchangeable lens mount and allowing full wireless remote control over focus, aperture, and more, the Zenmuse X5 lets you shoot the way you want. Welcome to the future of aerial imaging.

Increased Dynamic range
With 12.8 stops of dynamic range, shadows and highlights in everything you capture is brought out in perfect clarity.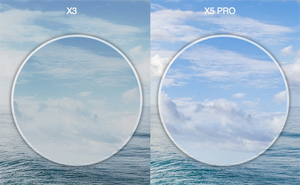 Greater Pixel Clarity
Shooting with the Zenmuse X5's M4/3 sensor results in images that are crisper and more detailed than any previous aerial camera. When compared with the X3 camera with the original Inspire 1, the difference is clear in images that truly come to life.
Revolutionary Sensor
Built inside the Zenmuse X5 is a powerful Micro Four Thirds sensor that's absolutely revolutionary for an aerial camera. With a sensor eight times the size of that in the previous X3 camera included with the Inspire 1, this new MFT sensor enables high quality, high sensitivity image recording at an ISO range of 100-25600. With a sophisticated balance of high-resolving power, accurate gradation, and low noise, you are realizing your artistic and creative vision as never before.
Ready to Fly
Say goodbye to frustratingly long setups. The Zenmuse X5 is perfectly compatible with the Inspire 1, DJI's professional, ready to fly aerial platform. Instantly ready and bringing a level of control and convenience that only a fully integrated system can provide, you have a combination of imaging prowess and ease-of-use that is unprecedented in any aerial imaging system.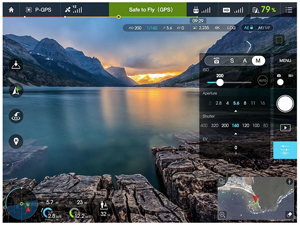 Take Control
With the Zenmuse X5, you have an unprecedented level of control right at your fingertips. In the intuitive auto-focus mode, simply tap on the screen of your mobile device to tell the camera to focus on a specific area. You can also easily manually change settings such as focus, shutter, and aperture through the user-friendly DJI GO app. With the Zenmuse X5, you are always ready to take control.
Unparalleled Stabilization
Thanks to DJI's unparalleled expertise in stabilization systems, the Zenmuse X5 is equipped with a highly reliable 3-axis gimbal that automatically stabilizes your camera in flight. The gimbal constantly communicates with the aircraft, and quickly compensates for every minor movement. With a precision accuracy of 0.02°, sub-pixel stabilization is occuring and as a result, the Zenmuse X5 produces silky smooth footage and sharp photos even with long exposure no matter how you fly.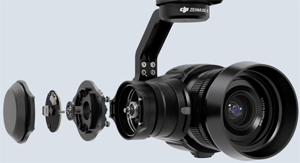 Built to Last
The Zenmuse X5 is precisely manufactured with high-grade magnesium alloys and aluminium alloys, enabling it to withstand heavy field use. Compact and lightweight to allow easy transportation and long flight times, the Zenmuse X5 is built to last.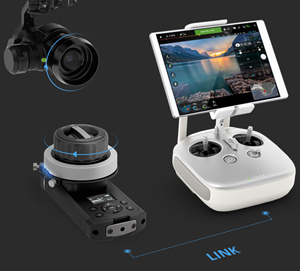 Precise Focus Control (Sold Separately)
As you fly, focus can be remotely adjusted using the GO app or the DJI Focus system. The DJI Focus uses DJI's expertise in brushless motors for previously unheard of levels of precision and accuracy. The brushless motor puts just ±0.02° of accuracy in your hands so that turning the remote is just like turning the lens itself. It also features high torque and a fast reaction speed so you can keep your subject in focus no matter how it moves.
Power to Fly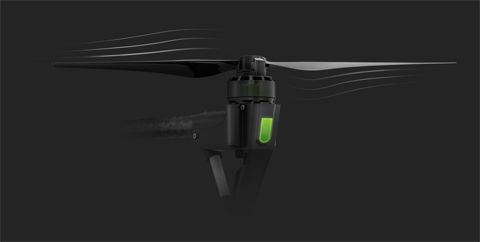 New propellers and motors designed with the Inspire 1 Pro in mind keep the Inspire agile and fast. You can expect flight times of 15-18 minutes with Zenmuse X5.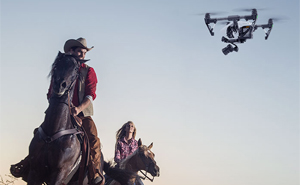 High Performance Rotors
A newly developed carbon fiber compound ensures excellent performance with increased stability while the same geometry of previous Z-blade series, known for aerodynamic efficiency, is used for the optimum flying experience.
Quick-Release Locking Mechanism
A newly designed quick-release locking mechanism greatly speeds up rotor mounting. This design also provides additional rotor security and extends the lifespan of the rotors.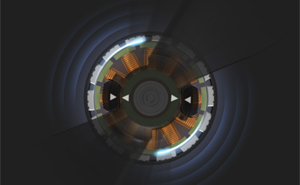 Stronger Motor
New motors increase thrust by over 30% over the original Inspire 1, ensuring responsive and accurate flight even when using the heavier Zenmuse X5 series cameras.
Advanced ESCS
Electronic Speed Controllers (ESC) with sinusoidal drives replace the square wave drive of traditional ESCs, completely redefining the whole drive system. The patented algorithm in the ESCs have been tuned and customized specifically for the Inspire 1 Pro and Inspire 1 RAW, offering features such as closed loop torque control and distinct functional redundancy with the highest efficiency and maximum reliability.
Comprehensive App Control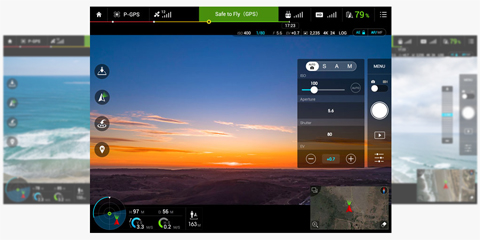 The DJI go app gives you an unprecedented level of control over your camera while you fly. Use the intuitive auto focus mode to compose the perfect shot and change everything from focus to shutter speed and aperture with the tap of a finger. Through the same app you also control how your Inspire flies, from auto take-off and landing, to fine tuning of your flying experience and even a set of intelligent flight modes.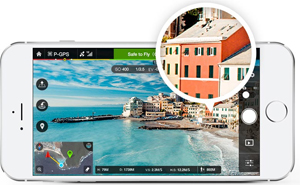 Live HD View
Watch a live HD video feed direct from the camera right on your screen. Adjust camera settings and use this real-time view to line up the perfect shot.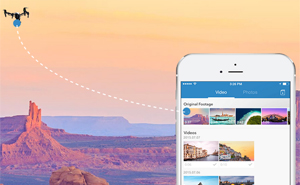 Instant Video Downloading
The live video stream from your camera is automatically saved on your mobile device for easy preview and editing later. Use this video as a reference, and download the full quality videos and photos with a few taps.
Easy Video Editor
Create professional-looking movies in minutes using the DJI Director video editor. With a wide variety of pre-designed templates, it's easy to pick one that suits you best and make a new video to share.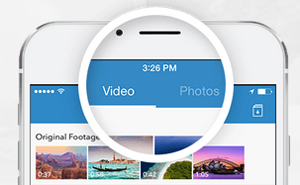 Comprehensive Media Library
All of your photos and videos that were shot using a DJI product and the GO app are stored in one place, making it easy to browse, share, and send your footage anywhere you like.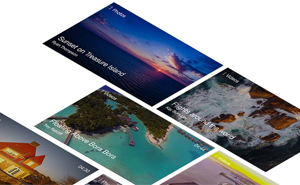 Sharing and Connecting Creativity
Share your best work on SkThe Aircraft speedyPixel, a dedicated platform for aerial photographers and filmmakers from around the world. The GO app also connects to your Facebook, Twitter, and Tumblr accounts for quick posting.
Live Map and Radar
See yourself or your flight platform on a live map, and log exactly where you are filming.
Detailed Records and Achievements
Every moment is an experience to remember. DJI GO records data on each of your shoots and flights, ready for your review later.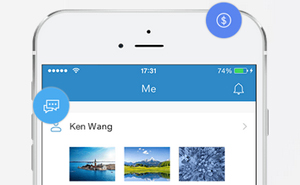 Manage Your DJI Account
Access all of your DJI information in one place. Participate in the DJI Forum, earn DJI Credit for future purchases, and review your preferences directly in the GO app.
Intelligent Flight Modes
Let your aircraft be your private photographer. In just a few taps, you can tell it to automatically fly in the way you want, allowing you to focus on capturing images and video. From your first flight, you can record unique content by using the Intelligent Flight Modes in the new DJI GO app.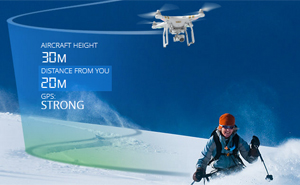 Follow Me
With Follow Me, the aircraft will automatically follow you and capture your every move from a unique aerial perspective.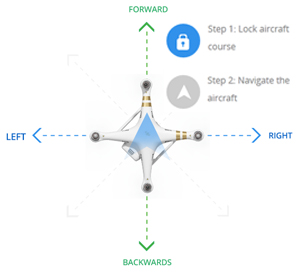 Course Lock
By activating Course Lock, the controls will be set to be relative to your aircraft's current path. This easy navigation allows you to fly in a set direction as you fly alongside moving objects or across scenes.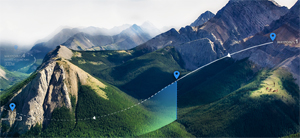 Waypoints
Set multiple GPS points, or Waypoints, and the aircraft will automatically fly to them while you focus on controlling the camera.
Home Lock
Fix your controls to be relative to the Home Point. Easily pull back on the control stick to bring the aircraft back home, or push forward to fly farther away, no matter which way it is facing.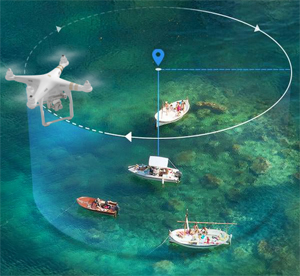 Point of Interest
Set a specific building, object or location as the Point of Interest and the aircraft will continuously circle around it while you record the perfect photos and video.