Featuring a DVI input and a VGA output, the Gefen EXT-DVI-2-VGAN DVI-to-VGA Converter allows content from a DVI source to be displayed on VGA monitor or projector, thus saving you the cost and hassle of upgrading to a DVI display. It supports output resolutions up to 1920x1200. And the compact footprint allows an easy fit into any setting.
How It Works
Connect a DVI cable from the DVI source to the DVI input. Connect a monitor to the VGA output connector. Connect the supplied 5V DC power supply to the unit, and connect the included AC power cord to an available electrical outlet.
Note:
This product does not support HDCP-protected content.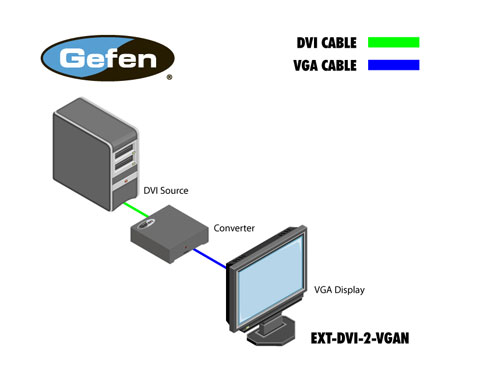 High Resolution Support
Supports output resolutions up to 1920 x 1200 for high picture quality.

EDID Support
Features EDID Management for rapid integration of source and display. The built-in EDID switch allows a choice between local EDID and external EDID.