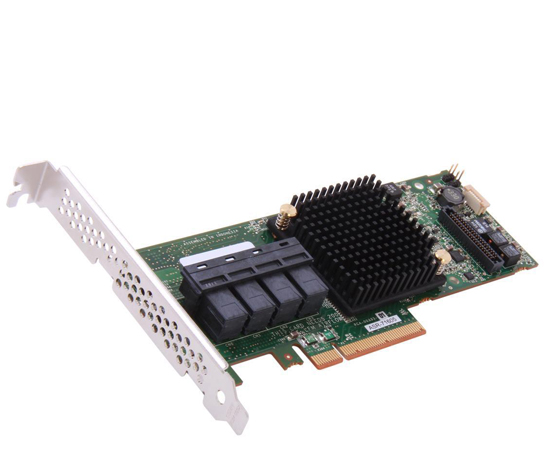 Adaptec Series 7
71605 SAS/SATA 6Gbps PCIe Gen3 RAID Adapter
It's well known that the effectiveness of data access is crucial to data center and server environments. With robust 6Gbps performance and proven Adaptec reliability, the Adaptec 71605 SAS/SATA 6Gbps PCIe Gen3 RAID adapter is great for entry-level server to high-end server platforms and high-performance workstations.
The Series 7 adapter family features a PMC's 24-port PM8015 RAID-on-Chip ROC which combines an x8 PCIe Gen3 interface with 6Gbps SAS ports to enable a new generation of high performance, high native port count RAID adapters that are unmatched by any other ROC in the industry. It perfectly balances protection and performance for critical applications, with RAID level of 0, 1, 1E, 5, 6, 10, 50, and 60.
The adapter has four internal mini SAS HD (SFF-8643) connectors. It's able to connect up to 256 SAS or SATA devices using SAS expanders. The intuitive management utilities let you efficiently manage your adapter.
The low-profile MD2 form factor, along with the included low-profile vented bracket, allows for easy installation into any size of server systems.
Optimized Disk Utilization
Supported RAID levels: 0, 1, 1E, 5, 6, 10, 50, 60
HBA Mode and Simple Volume Mode for automatic deployment
Support for up to 256 SAS or SATA devices using SAS expanders
Hybrid RAID 1 & 10
Quick initialization
Online capacity expansion
Copyback hot spare
Dynamic caching algorithm
Native Command Queuing (NCQ)
Background initialization
Hot-plug drive support
RAID level migration
Hot spares - global, dedicated, and pooled
Automatic/manual rebuild of hot spares
SES and SAF-TE enclosure management
Configurable stripe size
S.M.A.R.T. support
Multiple arrays per disk drive
Dynamic sector repair
Staggered drive spin-up
Bootable array support
Support for Tape Devices, Autoloaders
Software
Adaptec maxView Storage Manager
Web based GUI Management Utility
OS Support: Windows, Linux, Solaris VMware
Remote configuration, monitoring & notification
Remote firmware updates
SMI-S Support
SMTP
ARCCONF
Command Line Interface
SMI-S support for VMware
Adaptec BIOS Configuration Utility (ACU)
BIOS level configuration utility
Flashable BIOS support
Adaptec uEFI BIOS Configuration Utility
HII based configuration utility
Flashable BIOS support
Broad Operating System Support
Microsoft Windows
Red Hat Linux
SUSE Linux
Fedora
Debian Linux
Ubuntu Linux
Sun Solaris
FreeBSD
VMware ESX