Rack-Optimized Design with Supreme Computing Power
ASUS RS700-E8-RS4 is a flagship 1U rack server. Offering everything you'd expect from a high-end server – high-level computing power, flexible expansion, excellent cooling performance, advanced remote manageability as well as simple and quick deployment – in a space-saving 1u form factor, it's ideal for datacenters, enterprise databases and business-critical, front-end server applications.
Features
Optimized for Rack-mounting
ASUS RS700-E8-RS4's internal layout is optimized for rack-mounted configurations. Both the CPU and memory are placed in a parallel arrangement directly behind the fan inlet to promote maximum cooling for increased efficiency. This design makes it perfect for datacenters.
Industry-leading Performance
With dual LGA 2011-3 sockets, the ASUS RS700-E8-RS4 supports industry standard Intel Xeon E5-2600 v3 and E5-2600 v4 processors for massive computing performance. It supports high-bandwidth DDR4 memory and features up to 24 DIMM slots for large memory configurations*, delivering improved memory performance.
*Maximum up to 1536GB.
2+2 Expansion Slots
ASUS RS700-E8-RS4 has high expandability with one Full-high PCI Express 3.0 x16 slot (x16 link) and one Low-profile PCI Express 3.0 x8 slot (x8 link), plus one proprietary PCI Express 3.0 x8 (x8 link) for the optional ASUS PIKE II card and one PCI Express 3.0 x8 (x8 link) for mezzanine cards, such as the OCP 10Gbit/s LAN card. This flexible expansion offers diverse applications in storage and networking to meet the demands of future expansion and high scalability in a 1U case.
Premium Components for Premium Efficiency
ASUS RS700-E8-RS4 benefits from premium components which are hand-chosen and carefully arranged by ASUS engineers to provide premium efficiency. With ASUS Beat Thermal Chokes, Dr. MOS and 1+1 80 PLUS 800W Platinum power supplies, it delivers great durability and up to 94% power efficiency. The 1+1 power supply design allows the server to keep working even if one power supply requires maintenance, enabling uninterrupted operation. ASUS RS700-E8-RS4 has durable 12k solid capacitors that are able to withstand up to 12,000 hours of high ambient temperatures. These 12K capacitors also boast lower equivalent series resistance (ESR) for increased efficiency and minimal heat generation.
Instant Deployment
ASUS RS700-E8-RS4 benefits from an exclusive tool-less rail kit design, easing deployment for systems administrators for increased efficiency. ASUS RS700-E8-RS4 includes a front-side VGA port, so you're able to connect a display quickly and easily. The server also carries an asset tag for fast and accurate identification within a cabinet. It also offers great freedom when it comes to the choice of operating system drive type and placement, with M.2 slot available.
Complete Remote Server Management
With the Intelligent Platform Management Interface (IPMI) 2.0-compliant ASMB8-iKVM module in the server, you'll be able to monitor, control and manage the server remotely. ASUS Server Web-based Management (ASWM) Enterprise has a simple and intuitive web-based graphical user interface. Save time and effort by flashing the BIOS remotely, use the new screen-recording function for quick and easy trouble-shooting and exploit the many efficiency benefits of one-to-many centralized management afforded by ASWM Enterprise.
Gallery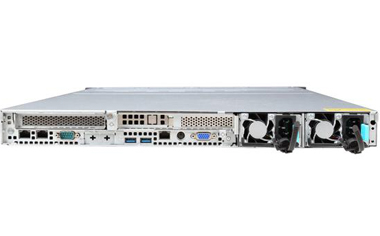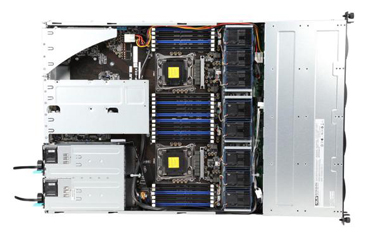 Package Content