This card supports up to four M.2 NVMe SSDs which can operate independently or in RAID as bootable volume. It runs over PCIe 3.0 x16 slots, and delivers PCIe 3.0 x4 bus bandwidth for each M.2 SSD to fully unleash the drive's performance. Active cooling with a quiet fan keeps the card running stable and always at peak performance. Its PCIe add-on card form factor offers universal compatibility, and makes it a practical upgrade solution which eliminates the hassle or cost of replacing your motherboard.
Suggested applications include media workstations, media servers, virtual host servers, and more.
Comprehensive NVMe Boot Support for Linux & Windows
Cost effective NVMe Storage Upgrade for Intel platforms
Up to 4 off-the-shelf M.2 MLC, TLC & QLC NVMe SSD's
RAID 0, 1, 1/0
Microsoft Hyper-V & Xen Server
Proxmox 6.1 and later
Dedicated PCIe 3.0 x16 bus bandwidth
Dedicated PCIe 3.0 x4 bandwidth for each NVMe M.2 SSD
The Ultimate Bootable NVMe RAID Solution
Powered by our next generation NVMe hardware architecture, industry-proven RAID stack, and comprehensive boot capability, the SSD7103 delivers unbeatable performance and versatility, all packaged in a compact device no larger than your average video adapter. The SSD7103 is a direct replacement for the SSD7102, and was designed for easy integration into any Intel based and AMD X399 desktop, server or workstation PC with a free, dedicated PCIe 3.0 x16 slot, and can deliver up to 14,000MB/s of transfer performance and support up to 4 individual boot volumes, in single-drive or RAID modes.
Ultra-High Performance NVMe Architecture
Like every HighPoint NVMe solution, the SSD7103 benefits from our market-proven, performance-focused NVMe hardware architecture, which delivers end to end PCIe 3.0 x16 bus bandwidth. 4x dedicated lanes are allocated to each M.2 port to ensure each SSD can interface directly with the host system's CPU for maximum transfer performance, and immediate response time.
Satisfies any Budget, Performance or Capacity Requirement
Unlike the majority of motherboard-based NVMe solutions, the SSD7103 is capable of supporting any mainstream MLC, TLC & QLC M.2 SSD in today's marketplace. Customers are free to mix and match up to four drives to meet each application's budget, performance or capacity requirement. The SSD's can be configured to operate independently as either storage or boot volumes, or combined into one or more RAID arrays.
The SSD7103 is a simple NVMe performance upgrade for workstation and server platforms. Instead of a costly, time consuming motherboard upgrade, customers can easily integrate a compact PCIe device into their existing infrastructure. It enables any system with a current Intel-based motherboard to support bootable NVMe RAID configurations.
Comprehensive Boot Support
The SSD7103 is the industry's fastest and most versatile NVMe-based booting solution. The four M.2 channels can support individual boot drives or multiple bootable RAID arrays. Customers can easily tune the NVMe configuration for maximum performance, security or a combination of both.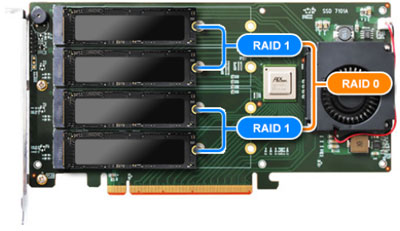 Security & Speed
Customers can now configure bootable RAID 1/0 arrays. A RAID 1/0 configuration is comprised of two RAID 1 arrays, striped. The RAID 1 functionality ensures a duplicate copy of your data is available in case of failure, while the stripe (RAID 0) relationship boosts performance. RAID 1/0 requires 4 M.2 SSDs.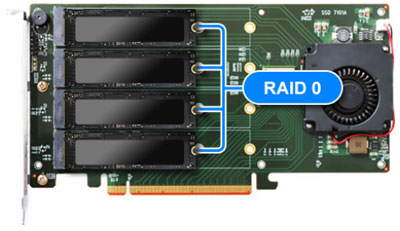 Rapid Boot
RAID 0 will both minimize boot-time and maximize transfer performance. Customers can configure up to 2 RAID 0 arrays, composed of 2 M.2 SSDs, or a single large RAID 0 array using all four M.2 slots.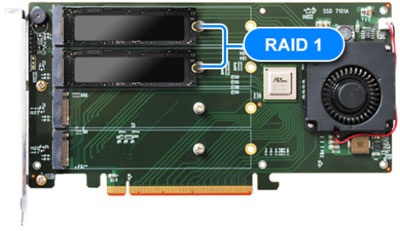 Secure Boot
RAID 1, also known as mirroring, is ideal for applications that require additional layers of data security for their boot volumes. Customers can configure up to two RAID 1 arrays, comprised of two M.2 SSDs, and set each to operate as a separate boot volume.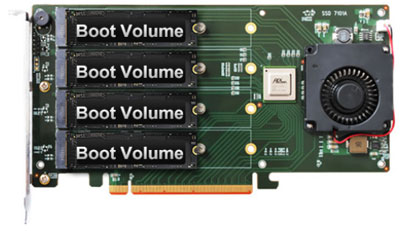 Multi-Boot
Each M.2 SSD can be used independently, if RAID is not desired or required. Customers are free to install a different operating system to each volume.
Expanded Compatibility
The second generation SSD7103 was designed for easy integration into industry standard motherboard platforms using off-the-shelf M.2 SSD's. It has been extensively tested with a wide range of commercially available M.2 NVMe drives from all major manufacturers, including MLC, TLC & QLC models, in a variety of hardware environments across both Windows and Linux platforms.
Accepts any M.2 form Factor
The SSD7103 supports any industry standard M.2 form factor including 2242, 2260, 2280, and 22110. The first two digits of each form factor represent the width of each SSD, in millimeters (standardized for all models). The remaining digits represent the length of each SSD.
Designed for Intel & AMD Platforms
Unlike many NVMe controllers or solutions, which are often restricted to specific motherboards or chipsets, the SSD7103 is compatible with Intel and AMD X399 based workstation and server platforms. Its blazing fast performance, combined with comprehensive NVMe boot capability, makes it an ideal fit for nearly any modern computing platforms with a free PCIe 3.0 slot with dedicated x16 lanes.