LSI 9300-8i
12Gbps SAS Host Bus Adapter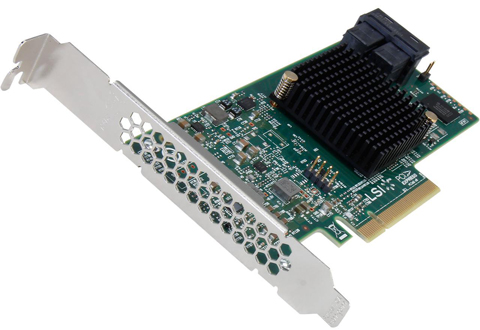 Add Internal 12Gbps SAS and 6Gbps SATA Connectivity to Rack-mount Servers and Workstations
The LSI 9300-8i 12Gbps SAS Host Bus Adapter provides increased connectivity and maximum performance for high-end servers and appliances within internal storage, or connecting to large scale storage enclosures. The low-profile form factor, along with the included full-height bracket, allows for easy installation.
KEY FEATURES
Improved Connectivity
The LSI 9300-8i is based on the SAS 3008 IO controller, integrating the latest enhancements in SAS and PCI Express technology. It supports eight PCI Express lanes that comply with the latest PCI Express 3.0 specifications. The support for both SAS and SATA drives gives flexibility in designing storage architectures and helps protect existing infrastructure investments. Now, you can easily connect to up to 1024 SAS and SATA devices with its built-in eight internal 12Gbps SAS and SATA ports.
High Performance
The LSI 9300-8i provides up to 12Gbps SAS and up to 6Gbps SATA performance across eight lanes of PCIe 3.0 connectivity. In addition, it's also backwards compatible with previous SAS and PCIe generations through automatic negotiation, and provides SAS data transfer rates of 6Gbps and 3Gbps per lane, and SATA data transfer rates of 3Gbps per lane.
Easy Installation
The LSI 9300-8i fits into 1U/2U rack-mounted servers and workstations with a low-profile form factor (full-height bracket included.)