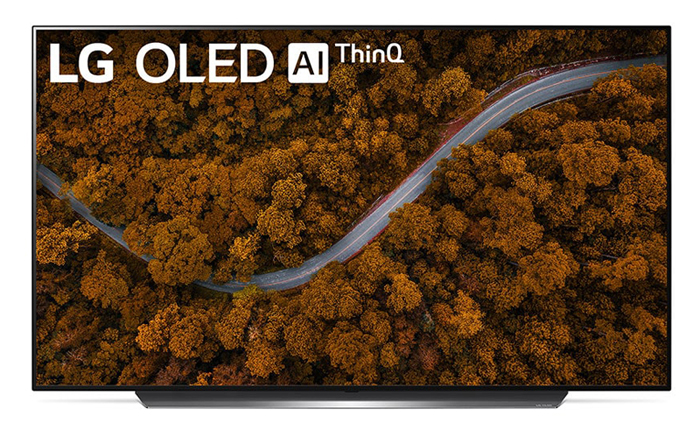 LG CX Series 4K Smart OLED TV w/ AI ThinQ
Movies, sports and games all will be optimized with the latest technologies, and come alive on the LG CX Series self-lighting OLED panel. The TV is intelligent as hell with an AI processor and ThinQ AI function.
SELF-LIT LG OLED
See how OLED redefines picture quality
Once you've seen LG OLED TV with your own eyes, you'll understand. It's stunning picture that redefines quality. Millions of OLED pixels emit their own light independently and can be completely turned off. This unveils perfect black, over a billion rich colors and infinite contrast1. From the gridiron to the iron throne, no detail goes unseen.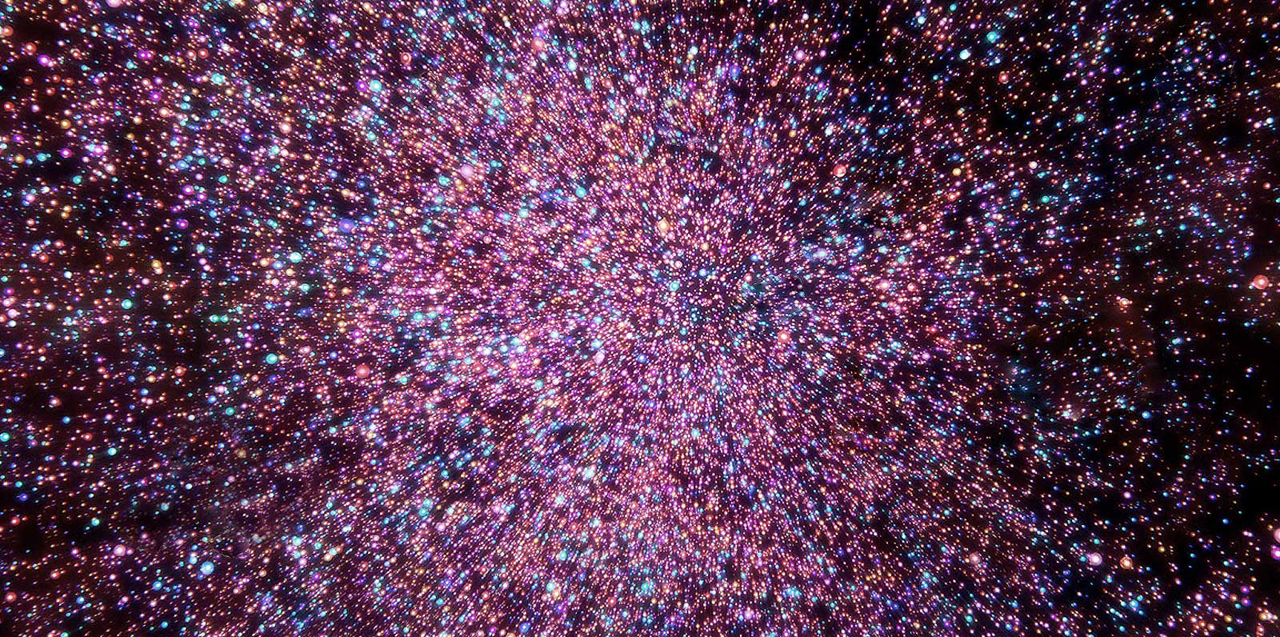 a9 Gen3 AI Processor 4K
See more of your content in 4K
Just because it wasn't filmed in 4K doesn't mean you can't see it that way. Our most advanced 4K processor uses AI and deep learning to authentically upscale lower resolution content, translating the source to 4K's 8.3+ million pixels. The technology is so good, you might mistake non-4K for true 4K2.
ThinQ AI
World's most intelligent TVs
LG ThinQ AI TVs are the only TVs with the Google Assistant and Alexa built-in3. LG ThinQ fully integrates the voice assistants you already use. No need to buy a separate device. Convenience and connected home control are at your command, making it easy to control other smart devices and LG smart products.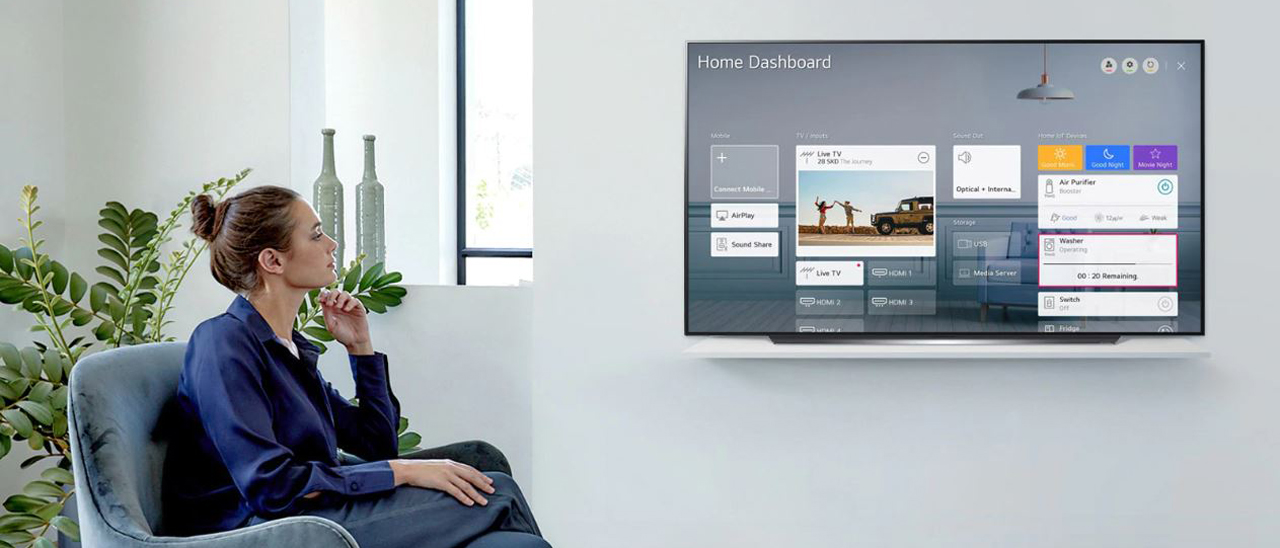 True Cinema Experience
Make your home the best movie theatre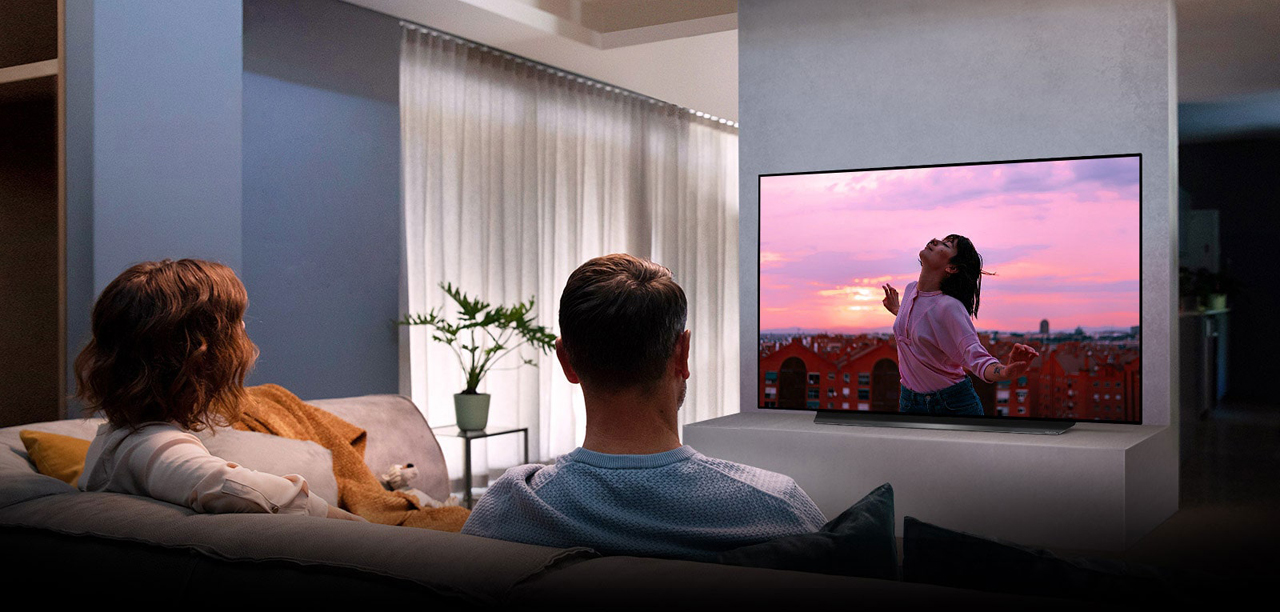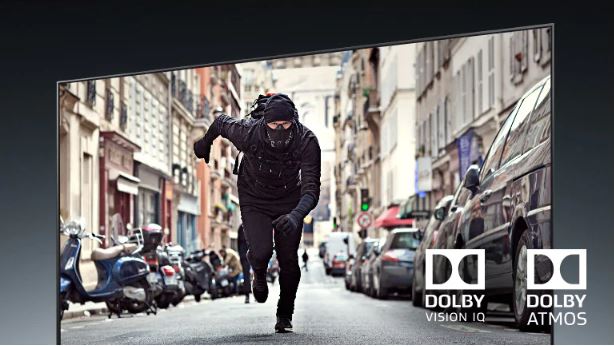 Dolby Vision IQ & Dolby Atmos
The leading name in cinematic sight and sound
Dolby ups the action, driving their best-in-class HDR format to new cinematic heights. Dolby Vision IQ4 automatically adjusts picture settings depending on ambient lighting conditions and content genres. Dolby Atmos puts you in the middle of the action with multi-dimensional surround sound that seems to flow all around you.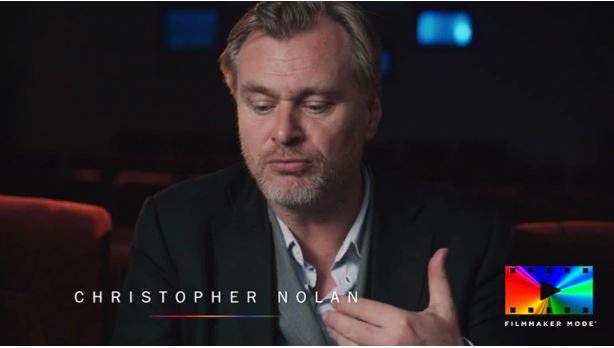 FILMMAKER MODE
See a director's vision for sound and picture settings
Film buffs can see what directors envisioned. Filmmaker Mode5 is a setting that respects the craft. It translates a director's cinematic vision to your TV with automatic picture and processor settings and brings true authenticity.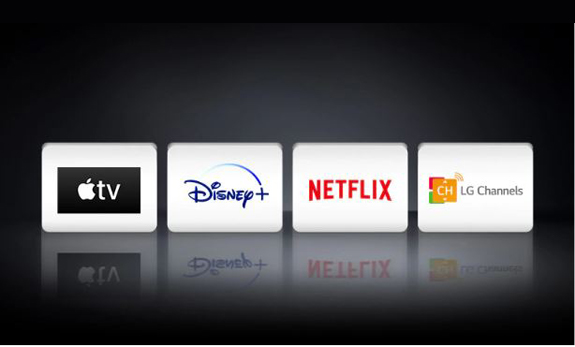 Unlimited Entertainment
Housing all your entertainment
Dive into the wide variety of content to choose from Disney+, the Apple TV app, Netflix, and LG Channels6. From the latest movies, TV shows, and documentaries, the live sports and more, find them all here in one place. Just sit back and enjoy.
Disney+
All your favorites, all in one place
Disney+7 gives you full access to stream classics, binge on new Originals, or catch the latest movies. With Disney, Pixar, Marvel, Star Wars and more—there's something for everyone.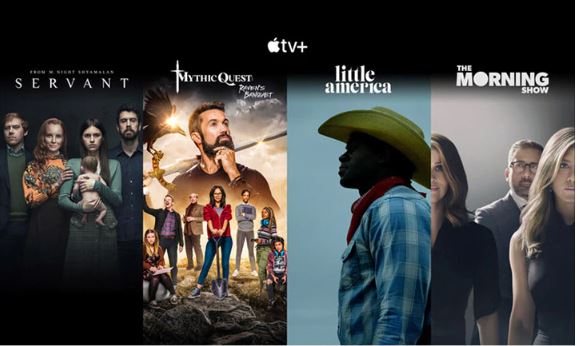 The Apple TV App
The home of Apple TV+8 and much more
Original shows and movies from Apple TV+. Just the premium channels you want and thousands of movies to buy or rent. It's personalized and expertly curated, so you'll discover the best of what's on. And it's all in the Apple TV app.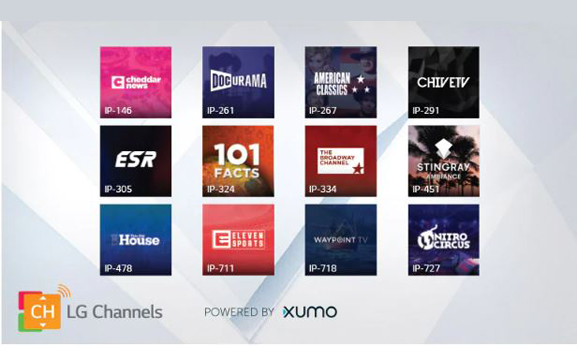 See more, stream more with LG Channels
LG OLED TVs are bringing more entertainment options than ever. LG Channels deliver free access to over 180 IP streaming channels offering movies, shows, breaking news, sports, comedy and more—integrated alongside over-the-air channels and channel guide.
Who. Where. What?
Search for what you see
Instantly search the names of actors, venues, and even outfits worn on your favorite shows, you can even buy them on the spot, straight from your TV.
Complete Sports Experience
Get closer to the action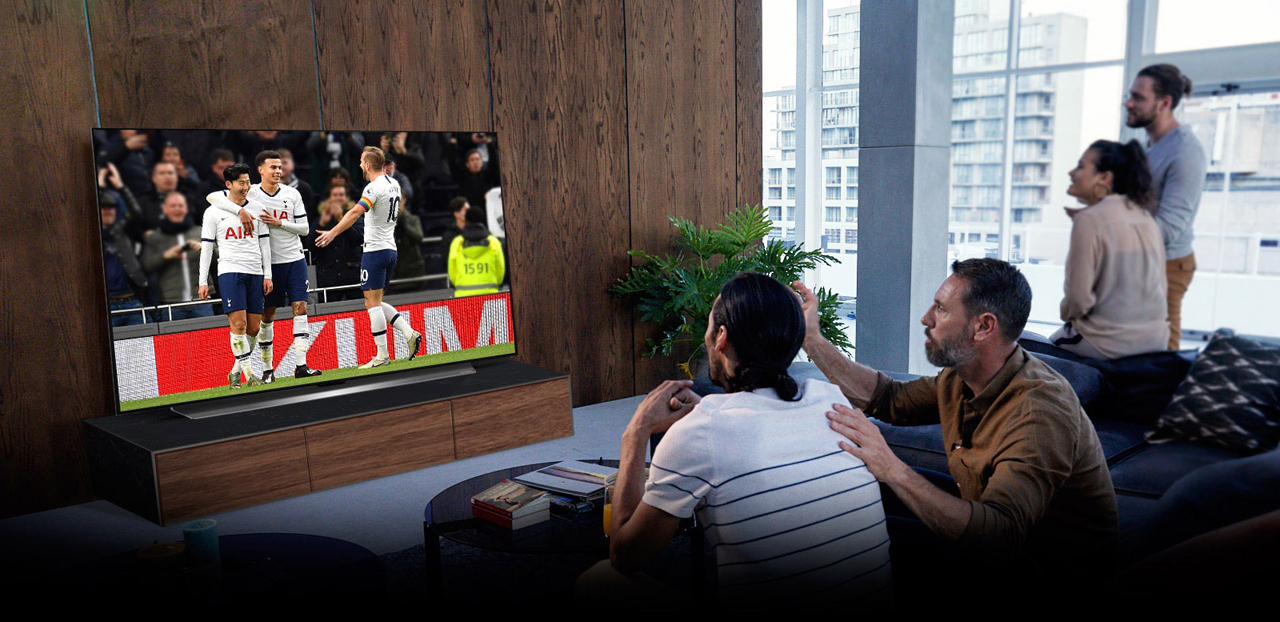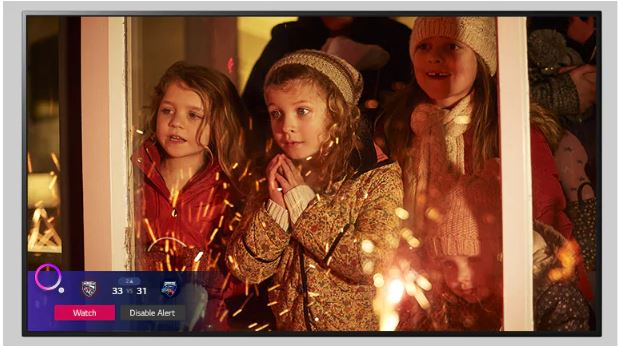 Sports Alert keeps you up to date on your favorite teams
Sports fans have a new way to stay informed. Sports Alert gives updates on your favorite teams, start times, and scores—even while you're watching other content. Easily switch to games without searching for the channel. NFL, NBA, MLB, NHL, Premier League and more—it's all here.
OLED Motion Pro
Fluid motion puts you in the moment
OLED Motion Pro is technology you see, but don't notice. It's our most advanced motion handling for fast movements in sports and action sequences9. Kickoff returns look just as smooth at home as from 50-yard line seats, with less stuttering to slow down the big car chase.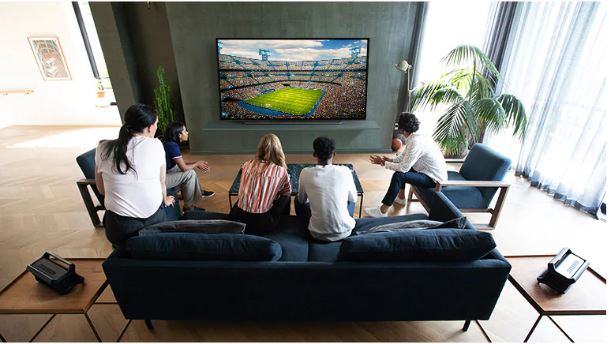 Bluetooth Surround Ready
Connect Bluetooth speakers for instant surround sound
Connecting LG Bluetooth speakers10 for wireless surround sound has never been easier. Connect up to two speakers, including LG XBoom Speakers, for a true surround sound experience—not a wire in sight.
Ultimate Gaming Experience
Complete your dream gaming set up
G-SYNC Compatible
LG OLED TVs work seamlessly with NVIDIA G-SYNC
Experience immersive gaming like never before. Only OLED TVs with NVIDIA G-SYNC11 compatibility can provide the exceptional picture quality of perfect black and intense colors combined with smooth gameplay to take gaming to new heights.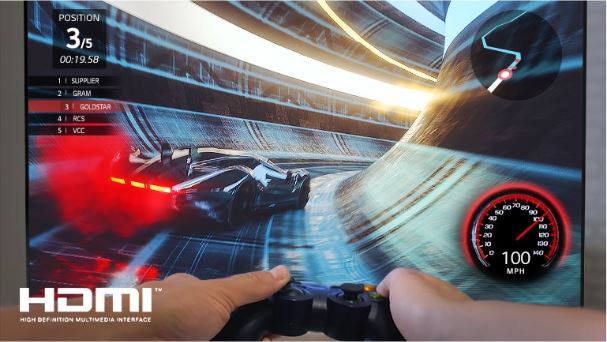 HDMI
Smoother gameplay for the win
A higher frame rate, 48Gbps bandwidth, VRR, ALLM, and eARC with the latest version HDMI support12. These latest features allow fast-moving content in higher resolution and smooth, synchronized graphics. It's a more lifelike gaming experience.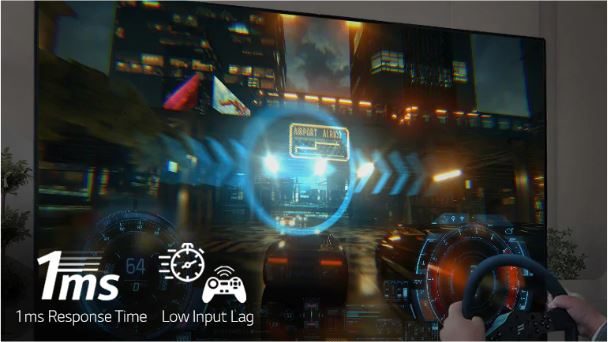 Low Input Lag & Fast Response Time
Don't lag behind the competition
Dominate your way to victory with LG OLED TV. With a low input lag and fast 1ms response time, get ready to play in full-force with reduced blurring and added clarity. Feel truly in-game with high-speed motion and gameplay.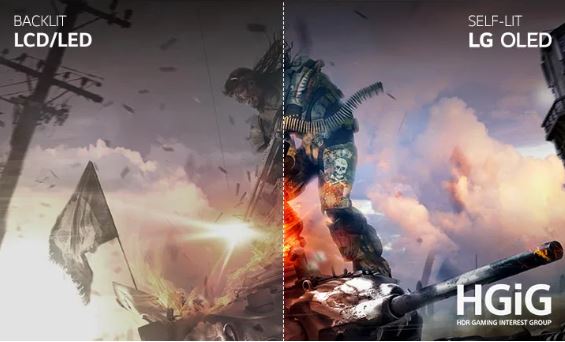 HGiG Profile for HDR Gaming
Turn up your HDR gaming experience
High Dynamic Range isn't just for movies. HDR gaming9 drops players right into the action for a new level of immersive gaming. LG has joined some of the biggest developers and tech companies in gaming to ensure the best HDR gaming experience.
Full Design Experience
See a work of artistic design
Perfect lines. Unbelievably thin bezel. Impossibly slim. Flexible by nature. LG OLED TVs are designed, crafted, and engineered to put the spotlight on your content, yet complement your home's interior even when it's turned off.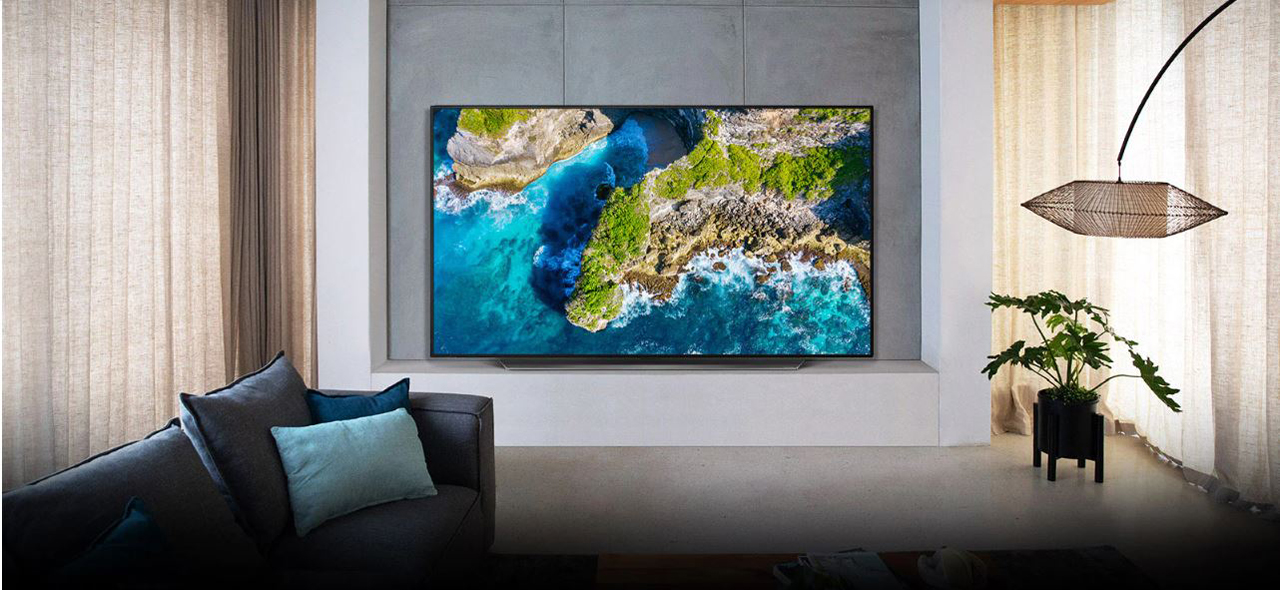 Note:
1. Calculation based on multiplying 8K resolution (7680 x 4320) and four sub-pixels.
2. Image quality of upscaled content will vary based on the source resolution.
3. Some features require 3rd party subscription or account. Google is a trademark of Google LLC.
4. Dolby Vision is a trademark of Dolby Laboratories. Dolby, Dolby Atmos and the double-D symbol are registered trademarks of Dolby Laboratories.
5. FILMMAKER MODE logo is a trademark of UHD Alliance, Inc.
6. Apple, the Apple logo, and Apple TV are trademarks of Apple Inc., registered in the U.S. and other countries. Apple TV+ is a trademark of Apple Inc.
7. Disney+ subscription required. Subject to terms at https://www.disneyplus.com © 2020 Disney and its related entities.
8. Watch Apple TV+ with a subscription.
9. Screen images simulated.
10. Connection Available : LG PK7/7W/5/5W, PL7/5, PN7/5, RL3, RM2, RN9/7/5, ON9/7/5, JBL Clip3/Go2/Go, MARSHALL STOCKWELL II, B&O Beoplay P2, Canston LX-C600, Sony SRS-XB22.
11. Screen images simulated. NVIDIA G-SYNC compatible with RTX 20 and GTX 16 graphics card series. G-SYNC included only in ZX, GX, CX and BX models. FreeSync included in ZX model; software update required for GX, CX and BX models. FreeSync may not be available at the time of purchase of this product.
12. 4K@120Hz, eARC (Enhanced Audio Return Channel), VRR (Variable Refresh Rate) and ALLM (Auto Low Latency Mode) with HDMI 2.1.