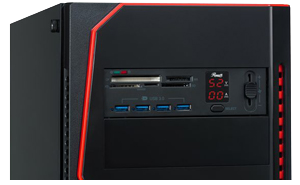 Add more flair to your desktop with the Rosewill RCR-300 all-in-one multi-function panel. This gadget fits into any available 5.25" drive bay, and its black design allows seamless match with the vast majority of computer chassis. With this multi-function panel, you can quickly and easily access the most popular flash card formats, sync and charge multiple USB devices, and control the fan speed. The USB 3.0 host interface eliminates bottleneck for data transfer, thus you can get the most out of your high speed cards and high-end portable devices.
Multi-in-One Card Reader
With five memory slots, you can access virtual all flash memory card formats available on the market.
Slot 1: Compact Flash I, Compact Flash II, CF Extreme, CF Extreme III, CF Extreme IV, Micro Drive
Slot 2: MS, High Speed Memory Stick (HS MS), MS PRO, MS PRO-HG, Memory Stick XC, MS Duo, MS PRO Duo, MS PRO Duo Mark2, MS PRO-HG, MS PRO-HG Duo, MS PRO-HG Duo HX, MS Micro, MS PRO Micro, MS-HG Micro, MS XC-HG Micro, M2
Slot 3: XD, XD type M, XD type H
Slot 4: Micro SD, Micro SDHC, Micro SDHC Ultra, T-Flash
Slot 5: SD, SD Ultra, SD High Capacity (SDHC), SD Ultra, SDHC Ultra, SDXC, SDXC Ultra, MMC, mini SD, MMC mobile, RS-MMC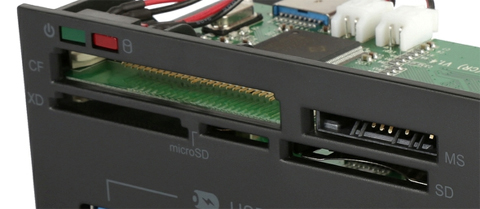 Four-Port USB Hub
Four USB 3.0 ports allow syncing and fast-charging of connected devices. An LED display shows the charging voltage and current, and a Select button allows switching between four USB ports thus you can monitor charging status of all connected equipment.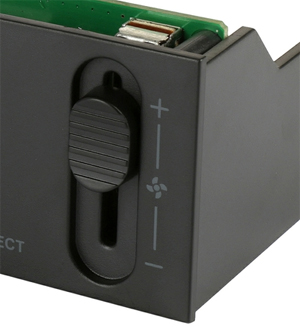 Fan Control
A slider control adjusts the speed of fan, helping achieve the performance balance between cooling and acoustics.