EVGA 500W 80 PLUS Certified Active PFC Power Supply
When building on a budget, the EVGA 500W 80 PLUS is a great choice at a low cost. Supporting 40A on a single +12V rail provides more options without having to reduce your component requirements. Save space with the 500W's compact design, well-placed power switch and fully sleeved cables. The 500W offers the connections and protections needed for basic system builds. With a standard three-year warranty and ultra quiet fan design the 500W will be a great asset for your next build on a budget.
Features
Exceptional three-year warranty and unparalleled EVGA customer support
80 PLUS Certified, with up to 80% efficiency under typical loads
High Amperage single-rail design for maximum power and efficiency
Quiet and intelligent auto fan for near-silent operation
Heavy-duty power protections provide peace of mind during operation
---

Continuous Power
Trust EVGA to label all of our power supplies in Continuous Power, the steady power a PSU can generate continuously, rather than the amount delivered at its short-lived peak.

Single 12V Rail
A single 12V rail offers the best power output, rail stability and compatibility with the latest hardware.
Energy Efficient
See the difference with top-quality 80 PLUS certified power supplies by EVGA to offer highly efficient, clean power to all products and devices.
Gallery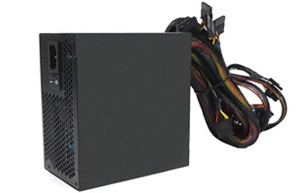 SPECIFICATIONS
Heavy-Duty Protection, Including:
OVP (Over Voltage Protection)
UVP (Under Voltage Protection)
OCP (Over Current Protection)
OPP (Over Power Protection)
SCP (Short Circuit Protection)
OTP (Over Temperature Protection)


AC Input
100 ~ 240VAC
DC Output
+5V
+3.3V
+12V
-12V
+5Vsb
MAX Output
20A
24A
40A
0.3A
3A
Combined
120W
480W
3.6W
15W
Output Power
500W @ 122°F (50°C)
Connectors:
1 x 24-Pin ATX
1 x 4 + 4-Pin EPS12V
2 x 6 + 2-Pin PCI-E
6 x SATA
3 x Molex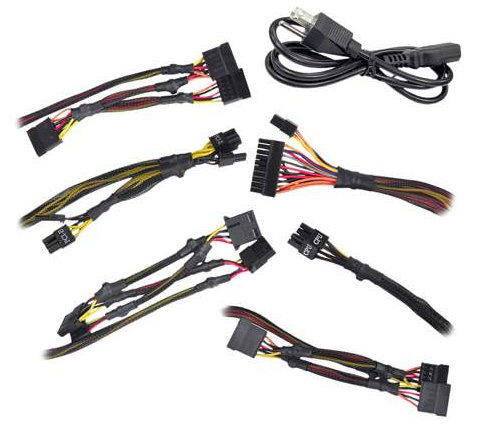 Cable Length
ATX Cable
1 x 21.66" (550mm)
EPS Cable
1 x 23.66" (600mm)
PCIE Cable
1 x 21.66" (550mm), 26.33" (670mm)
SATA Cable
2 x 17.75" (450mm), 22.5" (570mm), 27" (690mm)
Four-Pin Peripheral Cable
1 x 17.75" (450mm), 22.5" (570mm), 27" (690mm) (f)
Floppy Cable
1 x 4.75 (120mm)
AC Power
1 x 47.25" (1200mm) (m)
What's in the Box