AMD FX Processors
Transform your PC into a multimedia powerhouse
Take your PC's megatasking abilities to extreme levels with the first native desktop processor built with dynamic, tuneable performance to handle multiple intensive apps without breaking a sweat.
Advanced 3D gaming
Complex 3D modeling
HD video editing
---
Get more with the AMD FX™ - 6300 Series Processor in your system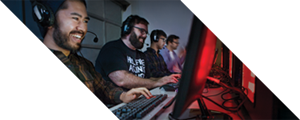 Enjoy the highest clocks and the most cores you can get on a consumer desktop PC with the AMD FX™ - 6300 Series Processor family, from the company behind proven high-performance processors in the PlayStation® 4 and Xbox One™ gaming consoles, and Radeon™ graphics cards.

---
AMD FX Processors unlock maximum, unrestrained processing performance for extreme responsiveness you can see and feel.
Maximum Performance
The industry's only 6-core desktop processor
Overclock with easy to use AMD Overdrive™ technology and AMD Catalyst™ Control Center™ software suites
Supreme power available from virtually every core configuration - also available in 6- and
4-core variants
Aggressive performance for mega-tasking and intensive applications like video editing and
3D modeling
Innovative Architecture
The industry's first and only native 6-core desktop processor for unmatched multitasking and pure core performance with "Bulldozer" architecture
New 32 nanometer die shrink designed to reduce leakage for improved efficiency, increased clock rate headroom and improved thermals
Can deliver cores and performance you need without raising the power requirements
An Industry Leader in Price for the Performance
Unlocked processors allow the maximum in tunable performance
AMD Turbo CORE Technology dynamically adjusts performance to give you the best experience, no matter what you are doing
Get superior performance at a competitive price with unlocked technology
Features
New Instruction Capabilities
AVX

- Advanced Vector Extensions increase parallelism for scientific and 3D apps using heavy floating point calculations

FMA4 and XOP

– Floating-Point Vector Multiply-Accumulate and eXtended Operations improves throughput and performance on many integer and floating point vector functions

AES

- Advanced Encryption Standard increases performance on encryption apps like TrueCrypt® and PCMark®
AMD Turbo CORE Technology
AMD FX Processors come equipped with AMD Turbo CORE Technology. AMD Turbo CORE Technology is a performance boosting technology that helps increase performance on the applications that need it the most.
AMD Balanced Smart Cache
Shared L3 cache ( up to 8MB)

Improved scheduling and pre-fetch capabilities
64-ways (16-ways/sub-cache)
Increased data queue sizes
AMD Wide Floating Point Accelerator
Shared FP Scheduler
Dual 128-bit Floating point engines – capable of teaming together for 256-bit AVX instructions or operating separately with each core
HyperTransport™ Technology
One 16-bit link at up to 5600MT/s
Up to 8.0GB/s HyperTransport™ I/O bandwidth; Up to 16GB/s in HyperTransport Generation 3.0 mode
Up to 37GB/s total delivered processor-to-system bandwidth (HyperTransport bus + memory bus)
Integrated DRAM Controller with AMD Memory Optimizer Technology
A high-bandwidth, low-latency integrated memory controller
Supports up to DDR3-1866
Supports new low voltage memories of 1.35V and 1.2V
Up to 29.9GB/s memory bandwidth for DDR3
New Pre-Fetcher improvements
Direct communications to each core in Dual-Core module (APIC registers in each core)
Benefit: Optimized memory controller to feed more cores.
AMD Virtualization™ (AMD-V™) Technology with IOMMU
Silicon feature-set enhancements designed to improve the performance, reliability and security of existing and future virtualization environments by allowing virtualized applications with direct and rapid access to their allocated memory.
IOMMU is an extension to AMD64 architecture to support address translation and access protection on DMA transfers
Security for User Level application and Virtual Machine guest operating system
Address translation and access control
Device isolation
Device assignment in virtualized systems
Security and trusted boot support
Unified interrupt management
Benefit: Helps virtualization software to run more securely and efficiently enabling a better experience when dealing with virtual systems
AMD PowerNow!™ AMD Technology (Cool'n'Quiet™ Technology)
Enhanced power management features which automatically and instantaneously adjusts performance states and features based on processor performance requirements
C6 power state flushes the cache and removes voltage from individual cores to help reduce power consumption
CC6 power state puts all cores in C6 into an even lower power state

for quieter operation and reduced power requirements

Separate memory controller power control
IO-based c-state interface
Works automatically without the need for drivers or BIOS enablement.
Power can be switched on or off within a single clock cycle, saving energy with minimal impact to performance