TOSHIBA B-EX4T2
Toshiba B-EX4T2 printing solutions feature high quality and economical industrial products which deliver low running costs and total costs of ownership. They are ideally suited to "no-nonsense" replacement of competitor estates and are available in a variety of resolutions for the most diverse industrial printing applications. Free your business from the constraints of legacy systems, simply plug and play with Toshiba B-EX4T2 industrial solutions.
Features
CUSTOMER BENEFITS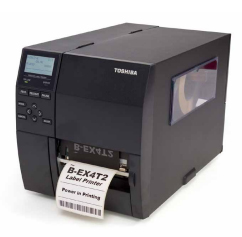 Low cost industrial printing
Flat head for compatibility with competitor estates
Cost-effective, for legacy system replacement
High-specification, high-throughput, high-performance and extremely durable
Media compatibility
Longest ribbon in the marketplace
USB and Ethernet as standard - serial, parallel, USB host and WLAN are optional
Emulation for quick & easy replacement of competitor's products
COMPATIBILITY
The B-EX4T2 Series is designed to seamlessly replace competitor products, using Z-Mode emulation to integrate into legacy software systems. Flat-head technology, left justified media and the use of inside and outside wound ribbons allows for replacement of ageing and costly to operate legacy printing estates (with easy transition from old label and ribbon stock).
PERFORMANCE WITHOUT THE COST

With speeds of up to 12ips*, the 4-inch B-EX4T2 range is designed for demanding industrial printing. Advanced processing power ensures not only fast output, but also efficient throughput.
RIBBON & MEDIA

Left-hand aligned media, with the option for inside or outside wound ribbon, ensures compatibility and competitiveness within the media marketplace. A 1968.5-foot (600m) ribbon is also available, for fewer media changes and further lowering the total cost of ownership.
EASY MAINTENANCE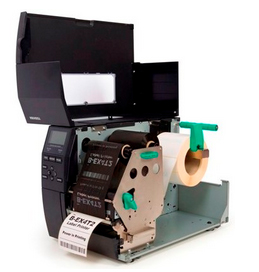 With innovative technology like double-ribbon motor control, snap-in printheads and field upgradeable options**, the B-EX4T2 series continues to lower maintenance costs.
PROTECTING THE ENVIRONMENT

Green credentials include the coveted Energy Star program and a solvent-free ribbon, as well as delivering "Carbon Zero" printing. All this, combined with the lowest power consumption in the marketplace***.
SPECIALIST PRINTING
The B-EX4T2 is available in either 203/300 or 600dpi variants, allowing for specialist high resolution printing with superior print quality.

*Maximum speed of EX4T2-HS is up to 6ips.
**The 600dpi head option is only for use with the EX4T2-HS.
***The B-EX4T2 was benchmarked against competitor products in stand-by mode.
Specifications



B-EX4T2 GS/TS

B-EX4T2 HS

CHARACTERISTICS
Printhead
Flat-type
Dimensions (H x W x D)
12.2 x 10.9 x 18.2" (310 x 278 x 460mm)
Interface
USB 2.0, Ethernet
Optional Interface
Parallel, serial, wireless LAN, RTC & USB host
Network Tool
SNMP
Memory
32MB SD RAM, 16MB Flash ROM
PRINT
Method
Direct Thermal / Thermal Transfer
Print Width
4.09" (104mm)
Max. Print Speed
12ips (304mm) per second
6ips (152mm) per second
Resolution
203dpi / 300dpi
600dpi
Font
Bitmap and outline
Barcode
Includes GS1 DataBar (RSS) compatibles
MEDIA
Paper Width
4.4 in. (114mm)
Paper Alignment
Left

Paper Roll
7.9" (200mm)
Std. Ribbon Length
1476' (450m), 1980' (600m)
OPTIONS


Cutter, peel off & internal rewinder