Dell OptiPlex 7050 Tower & Small Form Factor
Flexible Expandability. Maximum performance.
The OptiPlex 7050 business desktop meets today's high-productivity workforce with outstanding performance, security and manageability, in a stylish, space-saving chassis that also offers easy access for easy system upgrade.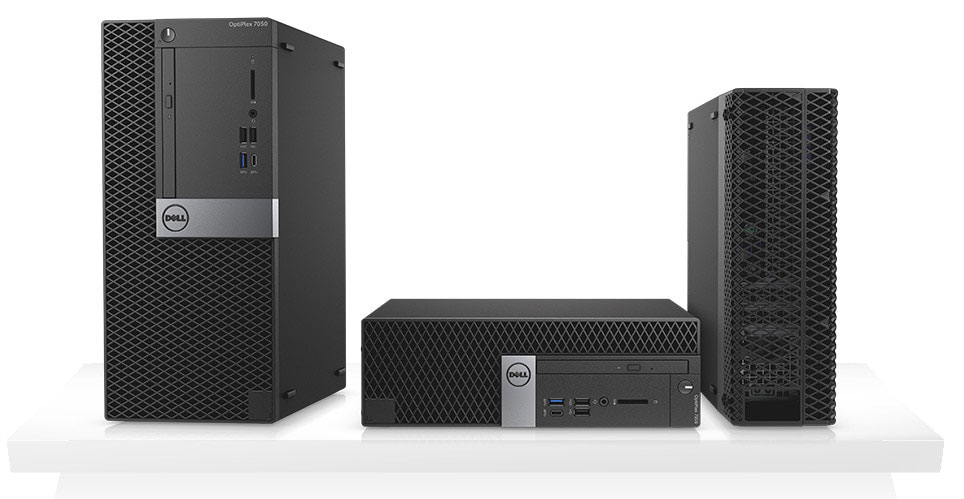 Designed to fit the way you work.
Incredible versatility: The OptiPlex 7050 has an adaptable, compact design that allows you to maximize your environment. The new towers conveniently fit on or under your desk, while the small form factor models are available with a Small Form Factor All-in-One Stand.
Easy access: With a tool-less design and a simple removable side panel, you have easy access to key system components such as drives and memory, allowing full expandability to meet your specific needs.
Secure and sleek: Cable covers (optional) reduce clutter and provide sleek and secure cable management to prevent access to the ports and cables on the back of the system.

Powerful productivity.
Power your success: Intel 7th/6th Gen processors allow for the fastest OptiPlex yet with up to 64GB of 2400MHz DDR4 memory.
Faster access: PCIe NVMe drives (optional) provide fastest boot and data access times, or alternatively, two hard drives can be purchased with RAID.
Stunning and versatile: Supports 3 displays natively without the need for additional graphics cards while also supporting next generation AMD graphics options for those who need better performance with dedicated/discreet graphics. And with a USB 3.0 Type-C port, you can connect with the latest peripherals and devices, as well as legacy port options.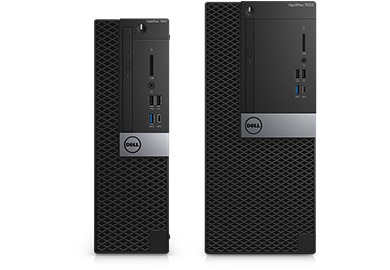 Trusted reliability. Security you can count on.
Work remotely, with confidence: Optional Intel vPro technology allows for remote and advanced out-of-band management capabilities for increased productivity and lower risk.
A partner you can trust: MTBF Certified & MIL SPEC tested, the OptiPlex 7050 delivers the reliability and consistency your work demands.
End-to-end protection: Dell's advanced Endpoint Security Suite offers comprehensive threat protection from end-to-end, all centrally managed so your data and devices stay secure.

Ports & Slots – Small Form Factor
1. Power Button | 2. Optional SD Media Card Reader | 3. Universal Audio Jack | 4. USB 2.0 Ports | 5. USB 3.0 Ports (1 type-A and 1 type-C) | 6. Line Out | 7. HDMI | 8. 2 X DP | 9. Accessory Port | 10. USB 3.0 Ports | 11. Wired NIC | 12. USB 2.0 ports | 13. Optional Platinum 92% Efficient PSU
Ports & Slots - Tower
1. Power Button | 2. Slim 9.5mm Optical Drive (Optional) | 3. Optional SD Media Card Reader | 4. Universal Audio Jack | 5. USB 2.0 Ports | 6. USB 3.1 Gen 1 Ports (1 type-A and 1 type-C) | 7. Line Out | 8. HDMI | 9. 2 x DisplayPort 1.2 | 10. Serial Port | 11. USB 3.1 Gen 1 Ports | 12. USB 2.0 Ports |13. RJ-45 | 14. Optional Platinum 92% Efficient CPU

Dimensions & Weight
Small Form Factor: 1. 9.26cm (Width 3.7") | 2. Depth 29.0cm (11.4") | 3. Height 29.2cm (11.5") | Weight 5.26kg (11.57lbs)
Tower: 1. Width: 15.4cm (6.1") | 2. Depth 27.4cm (10.8") | 3. Height 35 cm (13.8") | Weight 7.93kg (17.49lbs)