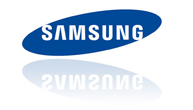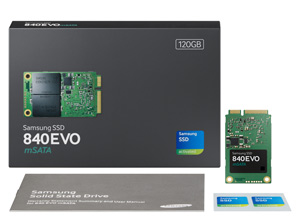 Samsung 840 EVO Series MZ-MTE500BW 500GB mSATA Internal SSD (Single Unit Version)
Upgrade ultra-thin PC performance with 500GB mSATA SSD
Higher random read performance accelerates common tasks
TurboWrite for write speeds up to 520MBps
RAPID Mode analyzes data and applications to enhance system performance
Hardware-based AES 256-bit encryption for security
Includes security management and migration software
Uses 100% genuine Samsung memory components
Shock and vibration resistant, and backed by 3-year warranty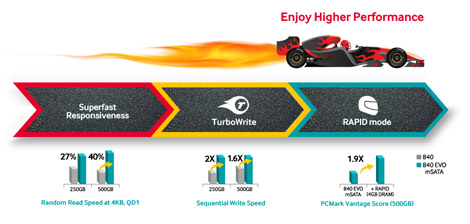 Upgraded Performance for Ultra-Thin Machines
The Samsung 840 EVO Series mSATA SSD offers ideal performance for today's ultra-thin laptops and desktops. The 840 EVO mSATA brings blazing speed and 500GB of storage space to machines equipped with an mSATA slot.
TurboWrite for Speeds up to 520MBps
The Samsung 840 EVO mSATA SSD has faster write speeds than previous-generation SSDs thanks to TurboWrite, an innovative write acceleration algorithm. A high-performance write buffer created in the SSD allows for significantly increased sequential write speeds reaching 520MBps.
RAPID Mode Dynamically Optimizes I/O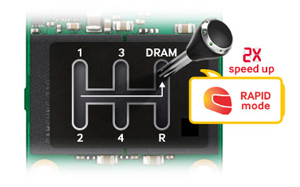 RAPID (Real-time Accelerated Processing of I/O Data) Mode enhances disk performance by processing data on a system level utilizing free DRAM memory as a high-speed cache. RAPID Mode dynamically analyzes application usage and accelerates frequently used data to optimize system performance and eliminate bottlenecks.
Superfast Responsiveness for Standard Tasks
A faster controller and improved firmware allow the 840 EVO mSATA to deliver higher random read performance. This translates to faster speeds for everyday use--snappier startup, shutdown, application loading, and more.
Optimized for Lower Power Consumption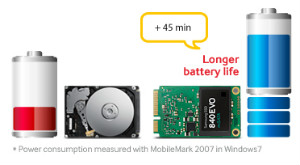 The 840 EVO mSATA draws less power than previous-generation SSDs so your battery lasts longer and the drive stays cooler. The latest generation NAND memory and Samsung MEX controller make the mSATA SSD remarkably efficient, with idle power consumption below 2mW when the drive is in optimized device sleep mode.
256-Bit Hardware-Based Encryption
The mSATA SSD's Self-Encrypting Drive technology safeguards your data, and hardware-based AES 256-bit encryption means you don't have to sacrifice performance for protection.
Advanced Disk Management Software
Samsung's 840 EVO Series mSATA SSDs come with Samsung Magician software, which allows you to set up and maintain your SSD, enable RAPID Mode and adjust your security settings. Data Migration software simplifies the upgrade process, and a custom cloning option helps you avoid a separate backup process when the target disk is smaller than your original drive.
Product Information
Samsung's 840 EVO mSATA SSD is shockproof, vibration proof, and made entirely of genuine Samsung components. Dynamic Thermal Guard protection ensures optimal operating temperature.
The drive is backed by Samsung's 3-year limited warranty.
Package Contents
Samsung 840 EVO Series 500GB mSATA Internal SSD, Samsung Data Migration software, and Samsung Magician software.
Samsung 840 EVO mSATA SSD
For Ultra-Thin Laptops and Desktop PCs with an mSATA Port
Capacity
120GB
250GB
500GB
1TB
Model #
MZ-MTE120BW
MZ-MTE250BW
MZ-MTE500BW
MZ-MTE1T0BW
Form Factor
mSATA
Interface
SATA III 6Gbps (compatible with SATA II 3Gbps and SATA I 1.5Gbps)
Sequential Read/Write (Mbps)
540 / 520
540 / 520
540 / 520
540 / 520
Random Read/Write (4KB, QD1) (IOPS)
95K / 37K
97K / 71K
97K / 88K
97K / 88K
Controller
Samsung 3-core MEX Controller
Type of NAND Flash
1x nm Samsung Toggle DDR 2.0 NAND Flash Memory (400Mbps)
Type of Cache
256MB Samsung LPDDR2
512MB Samsung LPDDR2
1GB Samsung LPDDR2
1GB Samsung LPDDR2
Dimensions (H x W x D)
0.14 x 2 x 1.18 inches