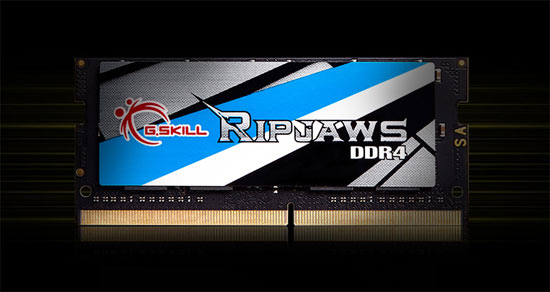 A New Standard of Speed - Ripjaws DDR4 SO-DIMM
Install G.SKILL Ripjaws DDR4 SO-DIMM in NUC and small form factor PCs, and enjoy exceptional computing experience with faster data transfer and higher energy efficiency. Built with hand-picked components, it will work stably and reliably.
Designed for Ultra Performance and Reliability
Built only with specially screened components, hand-picked from G.SKILL's rigorous and highly selective binning process, every single memory kit is prudently tested to guarantee maximum performance and reliability assurance.
Small and Fast
Ripjaws DDR4 SO-DIMM is compatible with high performance gaming laptops and small form factor PCs that support DDR4 SO-DIMM memory. It is one of the easiest and most cost-effective ways to upgrade your PCs, no matter for gaming or working.
More Power Efficient
Requiring only 1.2V to 1.35V, the Ripjaws DDR4 SO-DIMM reduces power consumption and at the same time, lowers heat output that helps your systems run cooler, more stable, and more efficient.
XMP 2.0 Support
Just set and go. Programmed with the latest Intel XMP 2.0 profiles, the only thing between you and extreme performance is a simple setting.